By Zach Johnson
In this special series of intimate interviews, D23.com speaks with the most talented, prolific, and articulate storytellers from across The Walt Disney Company.
Dan Povenmire's imagination knows no bounds.
In fact, the imitable co-creator and executive producer of Phineas and Ferb recently entered into an overall deal with Disney Branded Television to produce 40 all-new episodes of the beloved animated comedy series. That's in addition to working on Season 2 of the Disney Channel hit series Hamster & Gretel, which debuted last August and where Povenmire is also the creator and executive producer.
For the past 15 years, Povenmire has made a home for himself at The Walt Disney Company—and, according to him, there's no place he'd rather be. "There's this cliche about 'being part of the magic,' but there's something great about being part of the magic," he says. "The first time I saw the walk-around characters of my characters at Disneyland—that's a magic memory for me. That makes me tear up when I tell people about it—seeing the Phineas and Ferb's Rockin' Rollin' Dance Party they used to host at Disney California Adventure. Those kind of things were such a part of my childhood. To now be a part of that culture—what Disney is in people's hearts and minds—is a very cool, 'pinch me' kind of thing."
Winner of five Emmy® Awards, Phineas and Ferb remains the most successful animated series for kids ages 6–11 and tweens ages 9–14 in Disney Television Animation history. It premiered on Disney Channel in January 2008 and became the No. 1 animated television series of 2009 among tweens. Its global success spawned two feature-length films—Phineas and Ferb the Movie: Across the 2nd Dimension (2011) and Phineas and Ferb the Movie: Candace Against the Universe (2020)—and by 2012, its popularity skyrocketed with a live touring show and junior novels, with extensions across every consumer products category, from apparel and food to health and toys.
Over the years, Povenmire also co-created and executive produced Disney Channel's animated series Milo Murphy's Law, which earned three Emmy Award nominations. His most recent creation, the animated series Hamster & Gretel, was renewed for a second season in January. Povenmire wrote and co-wrote some 500 songs for Phineas and Ferb, Milo Murphy's Law, and Hamster & Gretel, many of which have become Gen Z favorites and continue to trend on TikTok and other social media platforms where he has built a worldwide fan base, known for also providing the voice of the Phineas and Ferb character Dr. Heinz Doofenschmirtz.
With more than 25 years of experience in directing, storyboarding, and writing, Povenmire has been part of The Walt Disney Family for decades, having worked on multiple critically acclaimed animated series, such as Family Guy and The Simpsons. And, as part of his new overall deal, Povenmire will develop various live-action projects.
Now, Povenmire joins D23: The Official Disney Fan Club for a wide-ranging Q&A…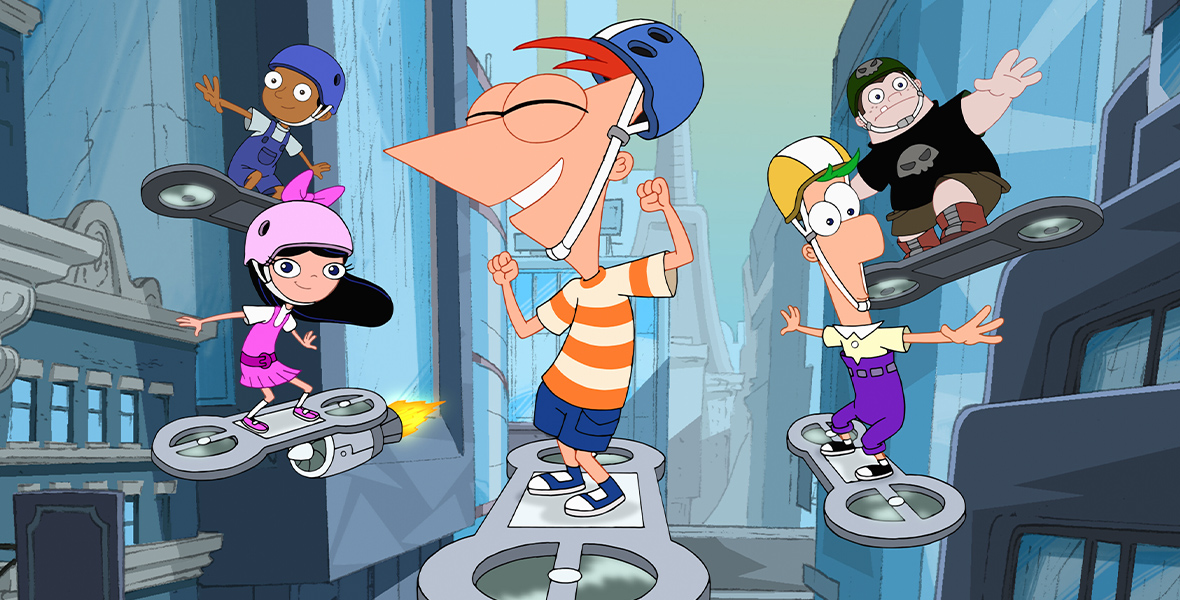 D23: I can't think of anywhere besides Disney where characters you created for television end up in theme parks, in feature films, etc. How does that make you feel?
Dan Povenmire (DP): It's spectacular. It's great to be part of a company like Disney, because when they get behind something, they really get behind it. Having created a show that became a such a huge hit so quickly made our heads spin. Back then, we [Povenmire and Phineas and Ferb co-creator Jeff "Swampy" Marsh] thought, "We're funny guys. We can make a good show that will get a second season." But for it to take off the way that it did has been incredible. Even seeing Perry the Platypus dolls in the shops at Disneyland, I'm still amazed. It's like: "Oh, my God! There's a whole rack of Perry the Platypus and Phineas and Ferb dolls out there." So, it's been really fantastic.
D23: Phineas and Ferb has a devoted and still-growing fanbase. How has being a part of the Disney family helped you to touch the hearts of millions of viewers worldwide?
DP: I always try to put myself in the mind of the viewer. I can have a very sophisticated sense of humor, and I can also have a very childish sense of humor. I'll often think: "Where is this going to make me laugh? Where is this going to make me tear up?" There are moments, as we were writing songs for the episodes, when I would listen to them over and over again, on my walks or in my car, building in my brain the visuals that would go with those songs. I would get so excited thinking about what it would be like to be a kid watching that moment. I would sometimes hit something that felt of, "Oh, this is such a great moment. Kids are going to get really excited about watching this!" That would always hit me hard, that Disney was allowing me to give kids moments like that. Now, when I watch TikTok or any social media, I see the people who are reproducing Phineas and Ferb songs from first season—there's so many different versions of "Busted" online—and they're hilarious! I'll scroll through them sometimes, and I've never gotten to the end of them. This is 15 years later, and people are still singing these songs to themselves and even remember the choreography—choreography I drew in a little office in the Frank G. Wells building on the Studio lot!
D23: How has the legacy of Disney storytelling impacted your own work?
DP: I was always a big fan of Walt Disney, and as I learned more about filmmaking and as I read more about him, he said something along the lines of, "Story is the is the only thing that really matters." Are you telling a story that will get someone to the end of it? If the story is boring, it doesn't matter how well you're telling it visually. You need to tell a story that involves people emotionally—and that's what I think the real legacy of Walt Disney is. It's not that we did that in every single episode of Phineas and Ferb; a lot of them are just romps to entertain you on a comedic basis. But we tried to have a heart at the core of our shows. And when we'd do a special episode that really tugs at the heartstrings, I always felt like they really, really worked. When I would screen those episodes for people, we'd always have somebody getting out tissues at the end to wipe their eyes. Those are Walt's footsteps we're following. With all of the people who've done such amazing work at Disney, it's a little inspiring to think that—at some point—we just may be remembered with the same reverence that they were.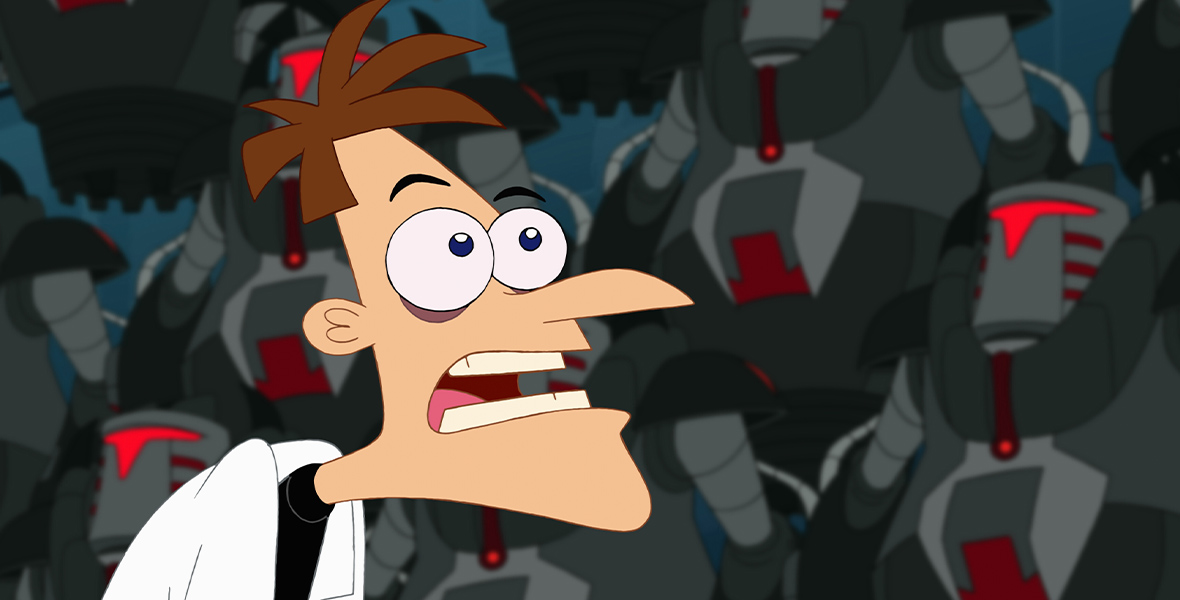 D23: How has Disney enabled you to collaborate with other storytellers?
DP: Other than the pilot, which Swampy and I wrote by ourselves, Phineas and Ferb was done very collaboratively. It was great to hire people we thought were funny, whose visual humor we really enjoyed, and then put them in a sandbox with our toys and see how they played. We tried to listen to as many different voices as we could. Disney introduced us to our composer, Danny Jacob. It became this really great collaboration where we knew exactly what we needed to give him musically to tell the story. Suddenly, I could write a song every week, and I didn't have to go through producing it and playing all the instruments. I just had to play it on guitar using a recording program, then send it to him and say, "We want this to sound like ABBA," or, "We want this to sound like a Broadway showtune." And he would do all of that stuff and make it work. All along, we tried to create an environment for everybody on staff to feel as if their creative voice would be heard if they raised their hand and said, "Hey, what about this?" We would listen to their ideas and put them in. I always felt like the more minds in a room, the better. Even our logo was designed by our production coordinator, who happened to have a background in graphic design. Lance LeCompte came in with this logo where their faces appeared in the letters; I designed the characters, and I didn't even realize that would work! Different people would pitch gags, and if they were funny, I always put them in. I think a lot of the people stayed on for the whole run because they felt like they were really being heard and that their ideas were getting into the show. I was always open to hearing what the best idea was.
D23: How would you summarize your time working within Disney?
DP: We did Phineas and Ferb very differently… We would go from an outline straight to storyboards, and all the dialogue would be written in storyboards, which isn't something they were terribly familiar with at the time. But we told them, "This is how we think we can build a show that's as funny as the pilot was, because that's how we wrote the pilot." It was great that they took a chance and said, "OK, let's try that. We haven't done that before." They took a couple big leaps for us, and once it started working, they were like, "We're glad we did that." Now, after all these years, they have a lot more faith in me and in my decisions, so I don't have to really push them on anything when I say, "This is how we want to do this." Now, they'll tell us, "We've never seen that before. Let's try that!"
D23: How has Disney helped you to realize your dreams—and dream new ones?
DP: It's great to be at a place that is always looking for new content and new ways of doing things. I was a kid who would write songs, play guitar, draw pictures, tell funny stories, and talk in silly voices with my friends for free—for years and years and years! Disney is the first place where I've been able to do all of those things in the same place every day. I don't know if I can ask for anything better than that. I'm basically doing all the things I'd be doing if I was unemployed, but I'm getting paid for it. It's a good gig!