By Jocelyn Buhlman
Avatar dazzled the silver screen with incredible imagery and groundbreaking special effects in December 2009. More than a decade later, the heroes we first saw soar on Banshees through floating mountains have returned. Yesterday, Hollywood transformed into Pandora as the cast and crew of Avatar: The Way of Water walked the blue carpet to celebrate the new film.
Avatar: The Way of Water follows Jake Sully (Sam Worthington) and Neytiri (Zoe Saldaña), who have made a life together on Pandora. Together, they have four children: Neteyam (Jamie Flatters), Lo'ak (Britain Dalton), Tukirey (Trinity Jo-Li Bliss), and Kiri (Sigourney Weaver). Kiri is adopted—as you may have noticed, she's played by Weaver, taking on a new role as a teenage Na'vi.

Jake and Neytiri would do anything for their family—even traveling across Pandora to live alongside the Metkayina clan. This is very different from their rainforest home, as the Metkayina clan lives in harmony with the surrounding oceans.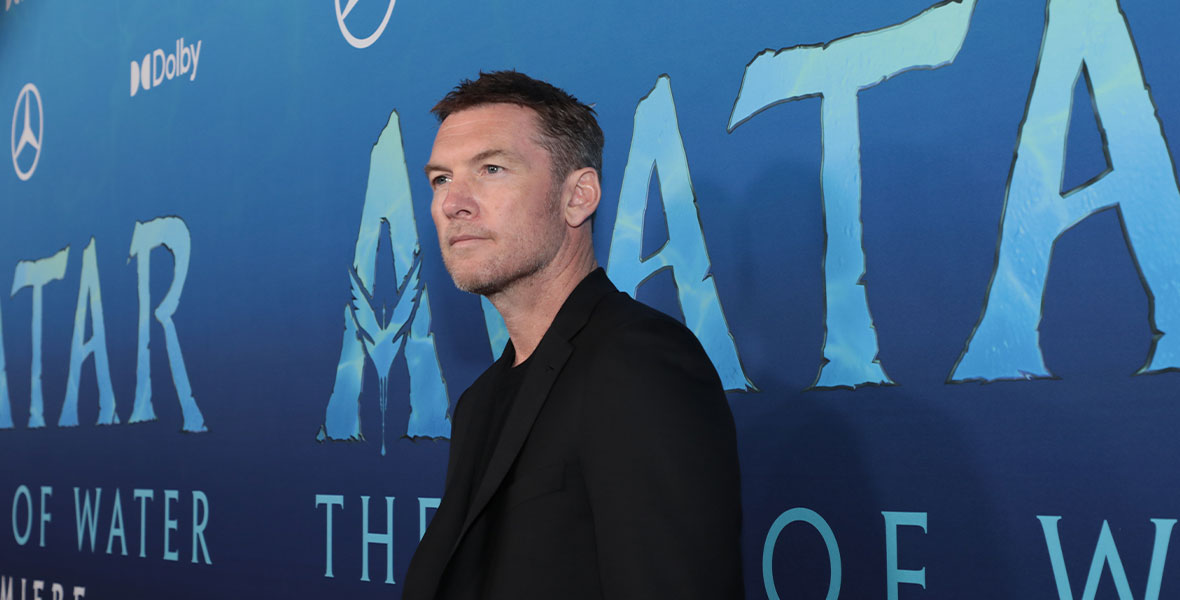 Since the first Avatar film debuted, a lot of things have changed for the cast and crew—for one, Worthington is now a father, just like his character!  "You get instincts when you become a dad that you just can't control, like protection," he explains of the similarities between his character and himself; "The movie is about protecting your family—about protecting what you love." While he and Jake have a lot in common, he claims his kids are "crazier" than the four Sully kids.
Speaking of the Sully kids, Bliss stopped by to tell us about her character—Tukirey, or "Tuk" for short—and the relationship she has with Weaver's character, Kiri. "Kiri is always there for Tuk, and Tuk's always there for Kiri," she tells us. As the youngest in the family, Kiri feels a lot of pressure. As Bliss puts it, "She feels underestimated, but she doesn't underestimate herself. She wants to prove that she can do what the older kids do."
Kiri herself is still an enigma to fans—all we know so far is that she's the daughter of Dr. Grace Augustine, Weaver's character from the original film. While her history is still a mystery, Bliss can confirm that Kiri is awesome… at least in the eyes of young Tuk. "I think she wants to be Kiri when she grows up," Bliss says of Tuk.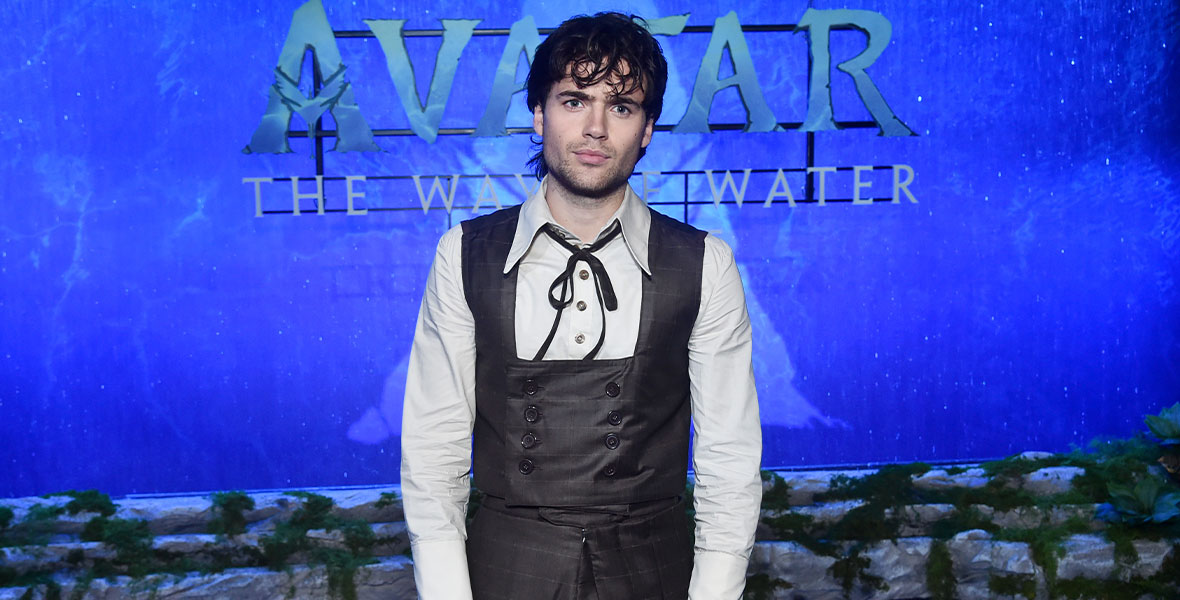 Flatters, who plays the eldest Sully child, Neteyam, also has a bond with one of the other Sully kids—both in real life and in the film. Flatters was eager to track down Dalton while on the carpet, but he paused his quest to tell us a little about the two brothers: "He's his only brother by blood," Flatters explains, "I personally think Neteyam just loves him and wants to protect him."
Also new to the Avatar franchise are the members of the Metkayina clan. Ronal (Kate Winslet) and Tonowari (Cliff Curtis) lead the clan, and have two children of their own, Tsireya (Baily Bass) and Aonung (Filip Geljo). We had a chance to chat with Bass about her experience as part of the Metkayina clan—and in playing Winslet's daughter! Bass described the actress as a "mama bear" and said she was "a great role model."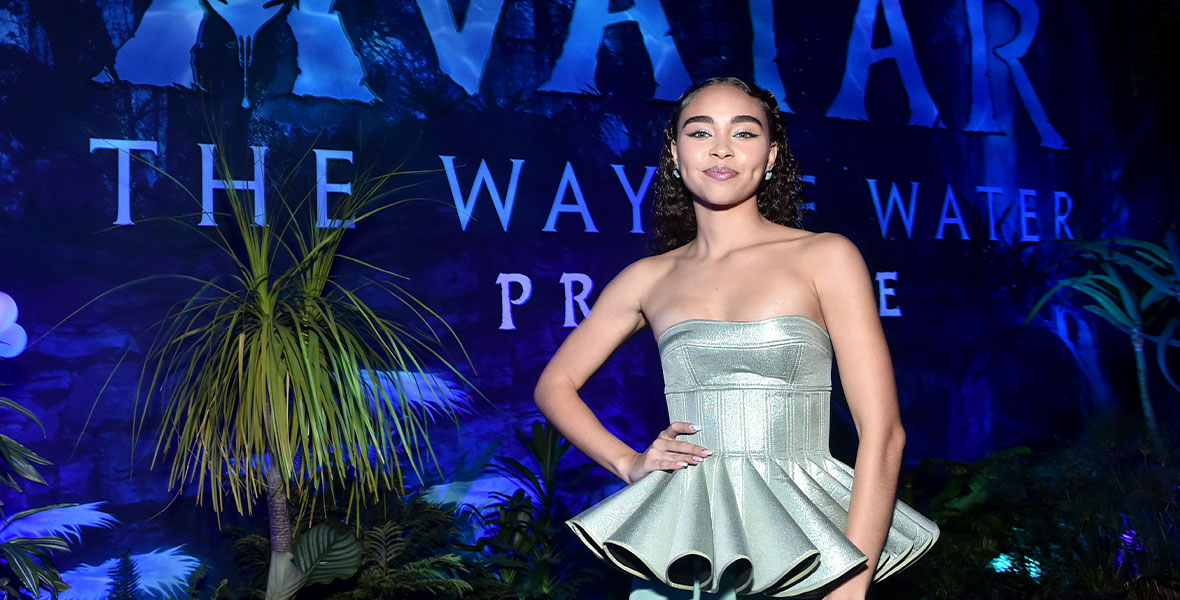 As a member of a water-focused family, Bass had to appear as a natural in the water. She spent quite a while training, "to make sure when I play Tsireya I know what it's like to be underwater." She considered this training to be "such a gift to have as an actor."
Water is very important to this film (it is literally in the title), which meant much of the Na'vi cast needed to be SCUBA certified and undergo thorough training to film their underwater scenes. Bliss described the experience as "the most fun parts of filming"—declaring that "we got to learn 'the way of water'!"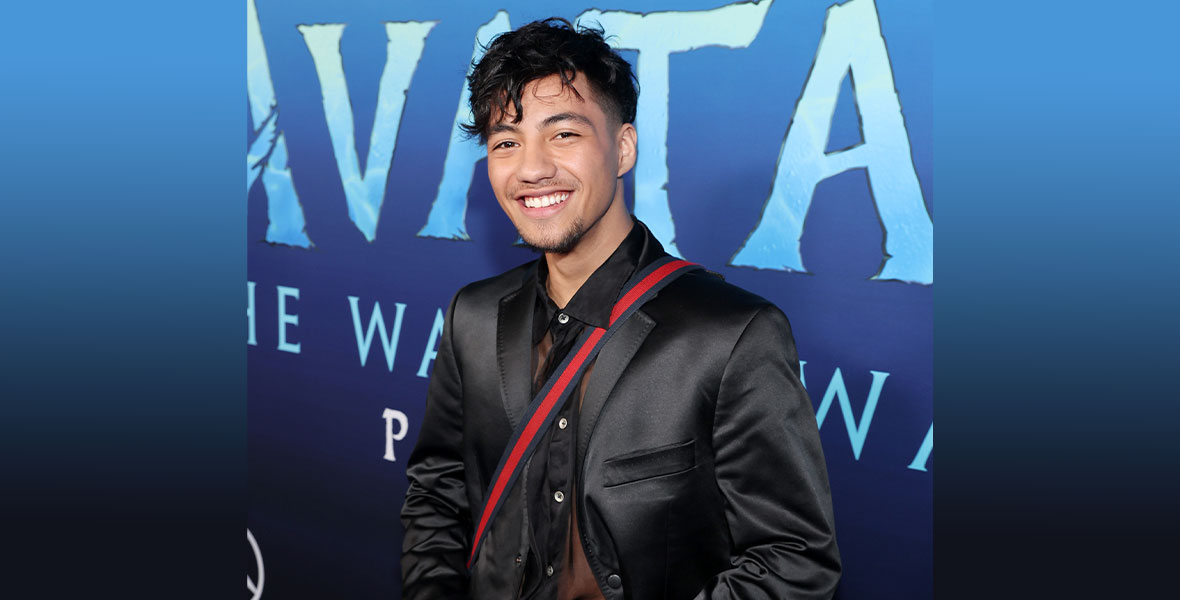 Another thing the cast learned: ate Winslet has an impressive lung capacity, apparently! Duane Evans Jr., who plays Metkayina clan member Roxto, told us, "Kate could hold her breath for a long time—somewhere around nine minutes, something like that? She can hold her breath a long time!"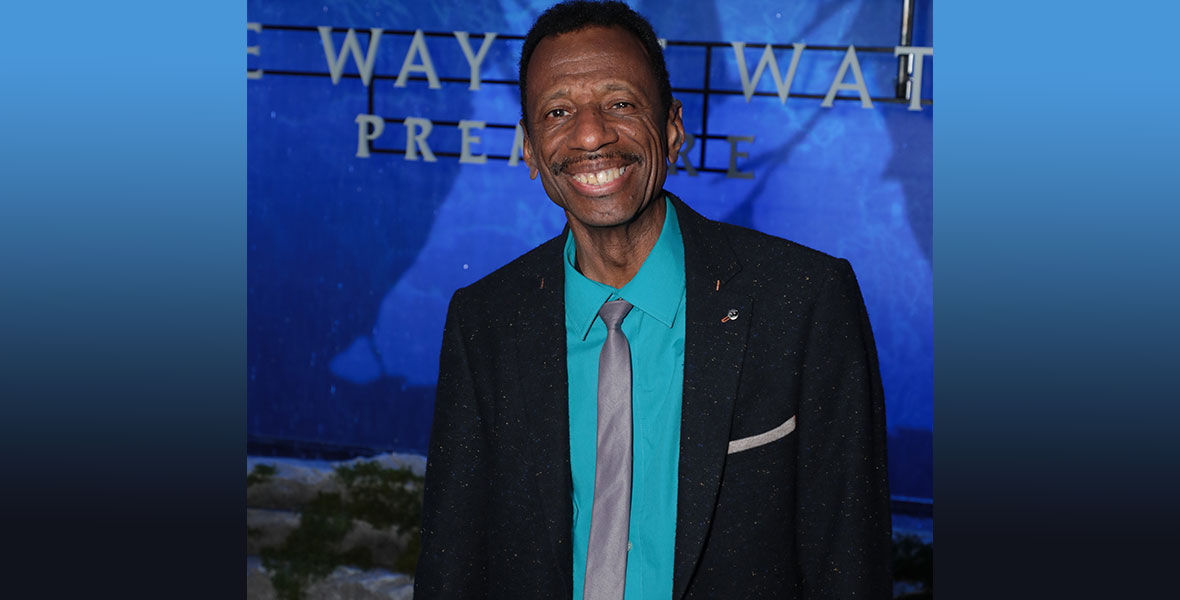 When it came to scenes underwater, there was another challenge for the filmmakers: How do they Na'vi communicate with each other? Through sign language, of course! CJ Jones was tasked with the challenge of making a unique sign language for the Na'vi vocabulary. "To create signs is not easy, because you have to think about how to fit the Na'vi world," he explained, "I had to really immerse myself and develop underwater communication, as well as on land." Jones worked for two years to create over 300 signs for Na'vi sign language. "My goal is to have this become the 201st signed language in the world," he signed.
Avatar: The Way of Water is the second in a planned five-film story, which wasn't always the case. Producer John Landau explained, "This went from being one movie to being five movies. Jim [Cameron] went out and wrote 1,500 pages of notes. And when we broke down those notes, there was five stories to tell!"
We're about to discover the next chapter in the Avatar story when Avatar: The Way of Water arrives in theaters December 16. Until then, you can dive into this gallery of photos from the film's Hollywood premiere.