By Jim Frye
For the second time in its history, the San Diego Comic-Con held its annual pop-culture and entertainment convention completely online, with three full days of panels from the worlds of comic books, television, films, collectibles, and fandom. Disney presented panels covering Marvel, Star Wars, animation, television, and more. Here are some news highlights from the July 23-25 event; each panel is available to view now at the links provided.
Marvel Comics: X-Men
Some of Marvel Comics' biggest names discussed what's in store for the future of the X-Men during this panel. They teased that the upcoming X-Men titles The Trial of Magneto (which will include fallout from the murder of a longtime fan-favorite character) and Inferno will be gamechangers. Villains, both old and new, will be threatening the mutants—and Earth—including some classics from Disney Legends Stan Lee and Jack Kirby! The panel included Vita Ayala (Children of the Atom, New Mutants), Gerry Duggan (Marauders, X-Men), Benjamin Percy (Wolverine, X-Force), Leah Williams (X-Men: The Trial of Magneto), and senior editor Jordan D. White.
Star Wars: The High Republic – We Are All The Republic!
The new titles of books and comics in the Star Wars: The High Republic line coming in January 2022 were revealed during Lucasfilm Publishing's panel. Authors Claudia Gray, Charles Soule, Cavan Scott, Justina Ireland, and Daniel José Older discussed the latest books and comics in this exciting new era, moderated by Star Wars: The High Republic Show host Krystina Arielle. Some of the highlights of this panel included:
Wave 3, Phase I of Star Wars: The High Republic will begin releasing in January 2022.
Adult Novel No. 3 will be written by Claudia Gray, titled The Fallen Star(Del Rey).
Young Adult No. 3 will be written by Daniel José Older, titled Midnight Horizon (Disney Lucasfilm Press).
Middle Grade No. 3 will be written by Justina Ireland, titled Mission to Disaster(Disney Lucasfilm Press).
Charles Soule will pen two 30-page issues (Marvel Comics) called The Eye of the Storm that will tell the backstory of Marchion Ro.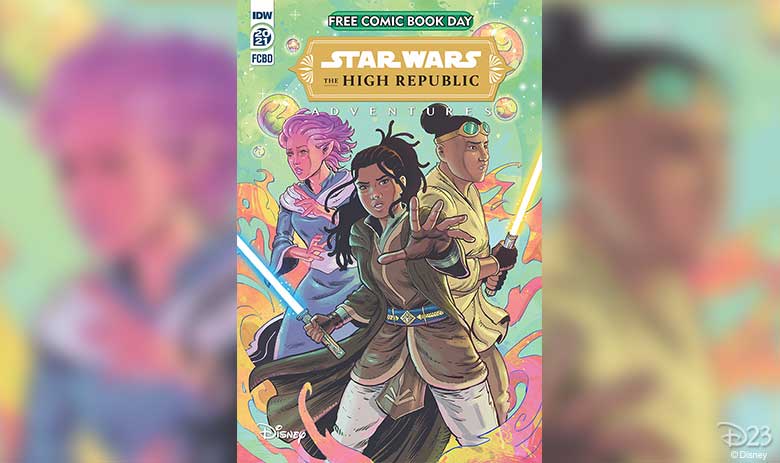 For more highlights from the panel, read the full article on StarWars.com.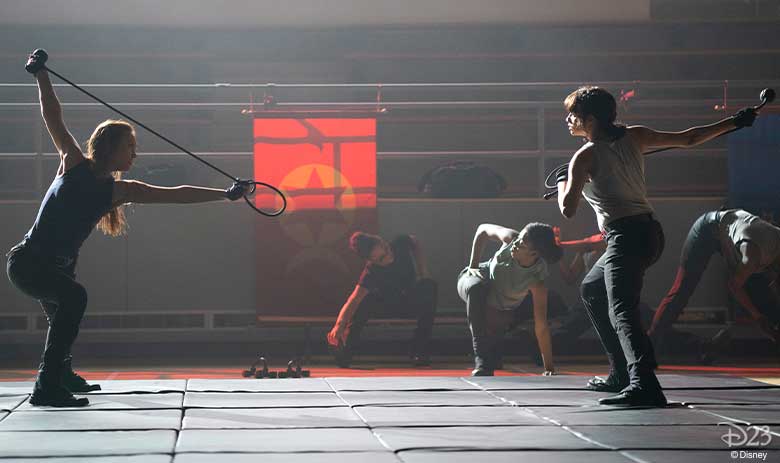 Motherland: Fort Salem – A Look Into Season Two
Actors Taylor Hickson, Jessica Sutton, Ashley Nicole Williams, Amalia Holm, Lyne Renee, Demetria McKinney, and creator Eliot Laurence discussed Season 2 of the hit Freeform show. Upcoming episodes will introduce more male witches to the show, in addition to the Spree and the witch army realizing that they face a common foe.
Duncanville
It was a star-studded affair at the Duncanville panel. Executive producers Mike Scully & Julie Thacker-Scully, executive producer and star Amy Poehler, and stars Ty Burrell, Riki Lindhome, Joy Osmanski, Yassir Lester, and Betsy Sodaro were on hand.
The Simpsons Season 33 and Beyond!
The Simpsons executive producer Matt Selman said that the Season 33 premiere of the long-running series will be a musical episode titled "The Star of the Backstage"—the "most musical episode we've ever done," he said—airing September 26. It will feature all original songs with guest star Kristen Bell (Frozen) providing the singing voice of Marge. Executive producer Al Jean also revealed that this year's Halloween special will feature five different segments instead of the three segments of past years. Other episodes this season will see a romance for bartender Moe (Hank Azaria); the greatest tragedy of Homer's life (guest-starring Crazy Ex-Girlfriend's Rachel Bloom); and a two-part tribute to the show Fargo with guest stars Timothy Olyphant (Fargo), Cristin Milioti (Made for Love), and Brian Cox (Succession). The panel was moderated by Yeardley Smith (who voices Lisa Simpson).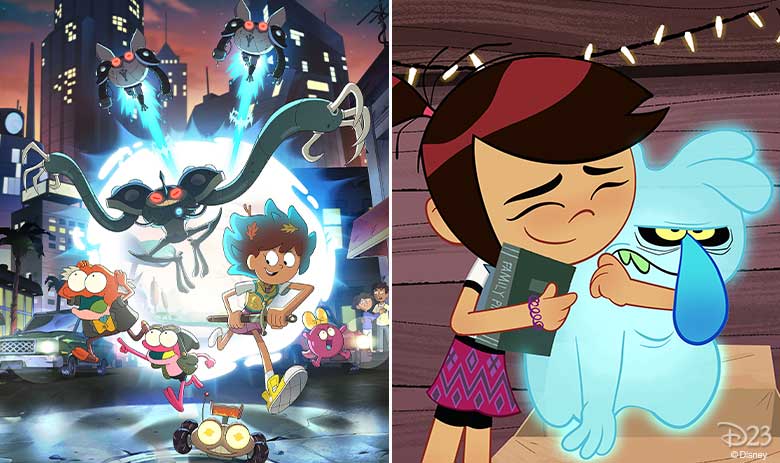 Disney Television Animation: Amphibia and The Owl House (and The Ghost and Molly McGee)
The creative teams of Disney Channel's Amphibia and The Owl House jointly hosted a panel with a table read featuring stars of both series. Creators/executive producers Matt Braly (Amphibia) and Dana Terrace (The Owl House) and art director Ricky Cometa (The Owl House) were joined on the panel by Amphibia stars Brenda Song (Anne Boonchuy), Justin Felbinger (Sprig Plantar), Disney Legend Bill Farmer (Hopadiah "HP" Plantar), and Amanda Leighton (Polly Plantar), as well as The Owl House stars Wendie Malick (Eda), Sarah-Nicole Robles (Luz), and Mae Whitman (Amity).
We learned that Amphibia Season 3 will be premiering on Disney Channel and DisneyNOW on Saturday, October 2, at 9:30 a.m. EST, with a special extended-length episode. The Amphibia team also debuted a new poster—and a special sneak-peek clip from the premiere episode that you can watch in the video above! Plus, they announced a new 22-minute Christmas special episode that will feature a song written by Steven Universe creator Rebecca Sugar. Guest stars for the new season include Whoopi Goldberg, RuPaul Charles, Kate Micucci, Brad Garrett, Anika Noni Rose, Archie Yates, Wallace Shawn, Wayne Knight, Jason Ritter, Dana Davis, and Melissa Villaseñor. Following the season three premiere, new episodes of Amphibia will debut every Saturday through November 27 on Disney Channel and in DisneyNOW.
At the beginning of the panel, Disney Television Animation also shared an exclusive clip from the premiere episode of The Ghost and Molly McGee, an upcoming animated buddy-comedy series about tween optimist Molly and her unlikely friendship with grumpy ghost Scratch, which premieres this October. You can watch the clip above.
Storytelling Through Music
Disney's Peter DiCecco (EVP, music business affairs, Disney General Entertainment), Jeremy Summers (EVP, music, 20th Television), Dawn Soler (SVP, television music, ABC Signature) and Jay Stutler (VP, music, Disney Television Animation) discussed the strategic and creative process of bringing music to our favorite TV shows.
Central Park
Co-creators Loren Bouchard and Josh Gad appeared together with cast members Leslie Odom Jr. and Tituss Burgess, as well as writers/producers Kelvin Yu and Steven Davis. They teased musical collaborators for the second season, which will include Regina Spector, Ingrid Michaelson, Rufus Wainright, They Might Be Giants, and Danny Elfman. The second season is currently airing on Apple TV+.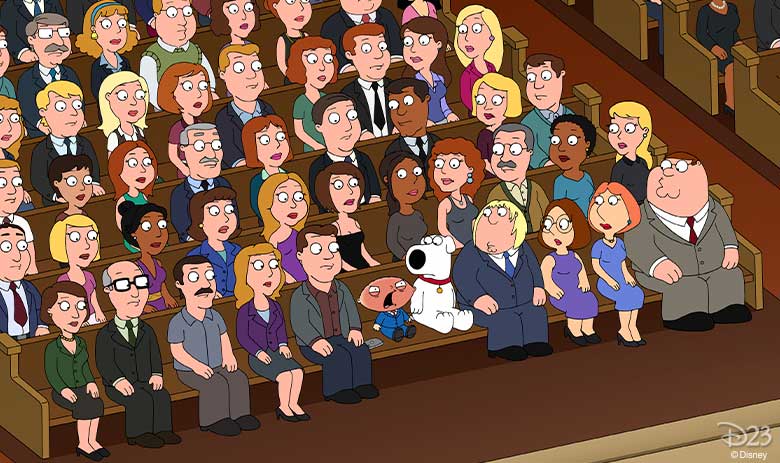 Family Guy
The cast and creative team behind the long-running animated hit Family Guy celebrated 20 years during their Comic-Con@home panel, which featured Seth MacFarlane, Alex Borstein, Mila Kunis, Seth Green, Arif Zahir, and executive producers Rich Appel and Alec Sulkin. New guest stars for the upcoming 20th season will include Zachary Levi, Elizabeth Gillies, Justin Hartley, and Patton Oswalt.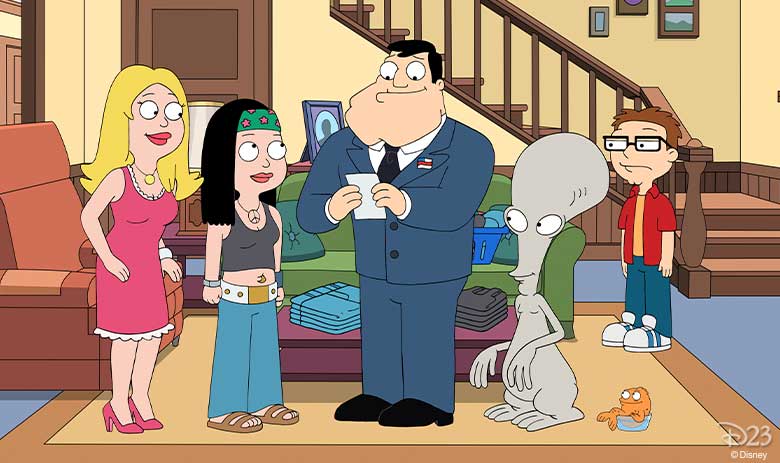 American Dad!
Participants in the American Dad! panel included series co-creator Matt Weitzman and co-executive producers Joe Chandler, Nic Wegener, and Parker Deay, along with voice cast Rachael MacFarlane (Hayley Smith), Wendy Schaal (Francine Smith), Scott Grimes (Steve Smith), Dee Bradley Baker (Klaus), and Jeff Fischer (Jeff Fischer). Watch an exclusive clip from American Dad!, released during the panel: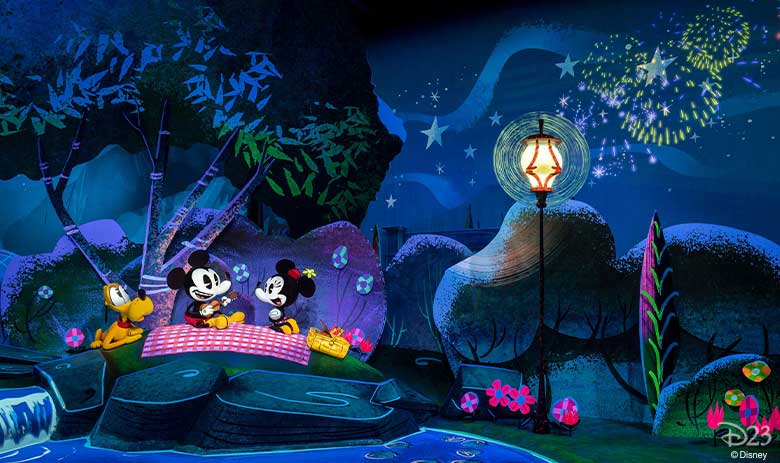 Mickey & Minnie's Runaway Railway: From Animation to Imagineering
This panel included Charita Carter (senior producer, Walt Disney Imagineering); Kevin Rafferty (retired Imagineer and executive creative director for Mickey & Minnie's Runaway Railway); Paul Rudish (executive producer and supervising director, The Wonderful World of Disney); Christopher Willis (composer, The Wonderful World of Mickey Mouse and Mickey & Minnie's Runaway Railway); and Elsa Chang (character designer, The Wonderful World of Mickey Mouse and Mickey & Minnie's Runaway Railway). Interesting tidbit from the panel: The sound of the train's whistle was made from the actual whistle that was used to create the original Steamboat Willie short!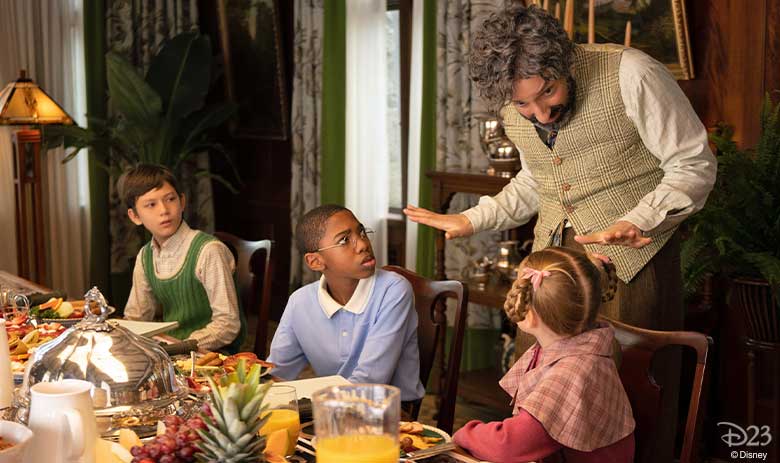 The Mysterious Benedict Society
Moderated by TV Guide Magazine's Damian Holbrook, the panel included stars Tony Hale, Kristen Schaal, Ryan Hurst, MaameYaa Boafo, and Gia Sandhu, as well as executive producers/writers Phil Hay and Matt Manfredi, and showrunners Todd Slavkin and Darren Swimmer. The first six episodes of The Mysterious Benedict Society are currently streaming on Disney+.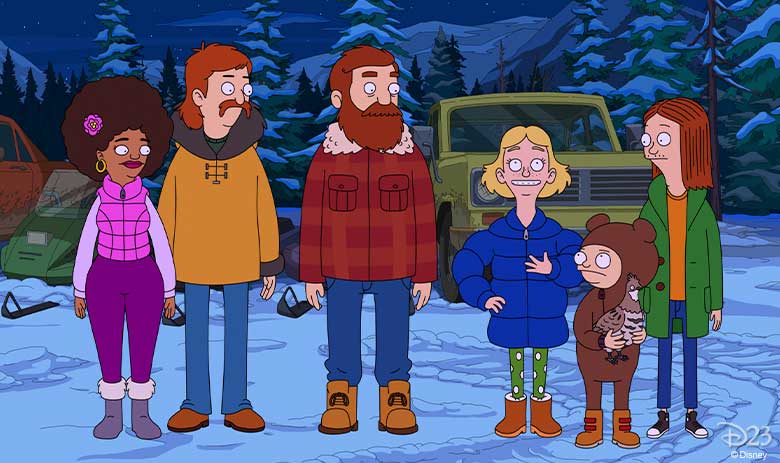 The Great North
The panel for The Great North included creators and executive producers Wendy Molyneux and Lizzie Molyneux, executive producer Loren Bouchard, and the all-star cast including Nick Offerman, Jenny Slate, Dulcé Sloan, Will Forte, Paul Rust and Alanis Morissette. It was revealed that upcoming season will have the series' first Halloween episode, where Will Forte's character tells a story about "Lumber Zombies." The Great North returns for its second season this fall on FOX.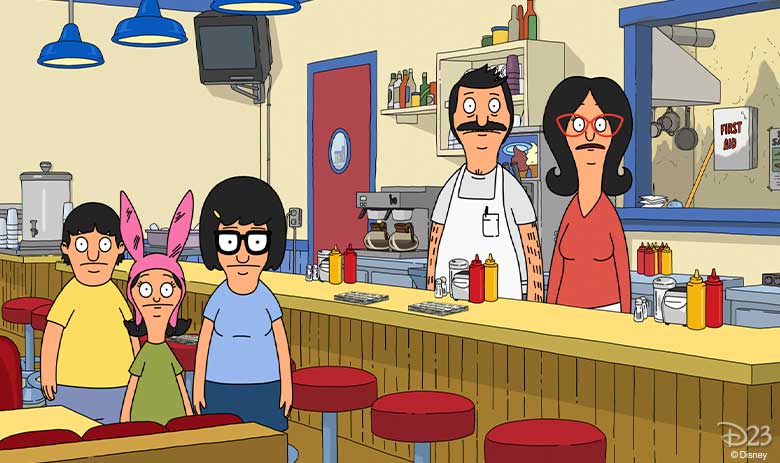 Bob's Burgers
The Bob's Burgers panel featured H. Jon Benjamin, John Roberts, Kristen Schaal, Eugene Mirman, Dan Mintz, Larry Murphy, Nora Smith, and series creator Loren Bouchard—who assured fans that the Bob's Burgers movie is still on its way, although no official date was given. Bouchard also announced a number of guest stars for the upcoming 12th season, including Stephanie Beatriz, Ashley Nicole Black, Joel Kim Booster, John Early, Zach Galifianakis, and more.