By Courtney Potter
Listen to Beyoncé Knowles-Carter as Nala for the first time, and celebrate The Lion King on Broadway's 9,000th performance… See more, along with other news from around Disney, in this week's news briefs!
Beyoncé Knowles-Carter Gives Voice to Nala in New The Lion King Clip
In just a few weeks' time, we'll finally return to the Pride Lands in director (and soon-to-be-inducted Disney Legend) Jon Favreau's The Lion King… and now, we finally know what adult Nala is going to sound like! Check out this brand-new sneak peek at the film, above, featuring the voice of Nala—Beyoncé Knowles-Carter—herself.
Staying true to the classic 1994 story, Favreau's The Lion King utilizes incredible filmmaking techniques to bring some iconic characters to the big screen in a whole new way! Simba (voice of Donald Glover) idolizes his father, King Mufasa (voice of James Earl Jones), and takes to heart his own royal destiny. But not everyone in the kingdom celebrates the new cub's arrival; Scar (voice of Chiwetel Ejiofor), Mufasa's brother—and former heir to the throne—has plans of his own. The battle for Pride Rock is ravaged with betrayal, tragedy, and drama, ultimately resulting in Simba's exile. With some help from a pair of playful new friends, Timon (voice of Billy Eichner) and Pumbaa (voice of Seth Rogen), Simba will have to figure out how to grow up and take back what is rightfully his… Catch The Lion King in a theater near you beginning July 19.
Save the Date!
Be sure to mark these upcoming Disney events on your calendar:
D23 and Walt Disney Archives


June 8, 2019


Lunch with a Disney Legend – Paige O'Hara


June 10, 2019


The Official Walt Disney Studios Tour – Presented by D23


June 13, 2019


Mickey Mouse's Roller Disco Party


June 15, 2019


Celebrate Toy Story 4 with D23 Shopping Mixers


June 20, 2019


Celebrate the Induction of Disney's Cinderella into the National Film Registry!


June 22, 2019


The Official Walt Disney Studios Tour – Presented by D23


August 23-25, 2019


D23 Expo 2019
Parks


August 16, 20, 23, 27, 30; September 2, 6, 8, 10, 13, 15, 17, 20, 22, 24, 27, 29; October 1, 3, 4, 6, 8, 10, 11, 14, 15, 17, 18, 20, 21, 24, 25, 27, 29, 31, 2019




Mickey's Not-So-Scary Halloween Party at Magic Kingdom park




August 29, 2019


Star Wars: Galaxy's Edge Opening at and Walt Disney World Resort


August 29—November 23, 2019, 2019




November 8, 11, 12, 14, 15, 17, 19, 21, 22, 24; December 1, 3, 5, 6, 8, 10, 12, 13, 15, 17, 19, 20, 22, 2019




Mickey's Very Merry Christmas Party at Magic Kingdom park




2019 Epcot International Food & Wine Festival




November 29—December 30, 2019, 2019




2019 Epcot International Festival of the Holidays




Studios




June 21, 2019


Toy Story 4 opens in U.S. theaters


July 19, 2019


The Lion King opens in U.S. theaters


October 18, 2019


Maleficent: Mistress of Evil opens in U.S. theaters


November 22, 2019


Frozen 2 opens in U.S. theaters


December 20, 2019


Star Wars: The Rise of Skywalker opens in U.S. theaters


Television




June 21, 2019


Final episodes of Andi Mack begin airing (8 p.m. EDT/PDT)


August 2, 2019


Descendants 3 premieres on Disney Channel and DisneyNOW (8 p.m. EDT/PDT).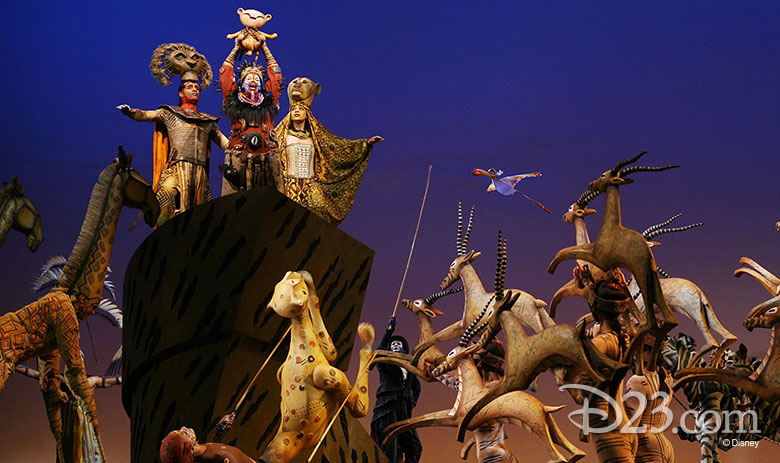 The Lion King on Broadway Celebrates Its 9,000th Performance!
Speaking of Simba and all his cohorts, Disney Theatrical Productions' The Lion King (which opened on Broadway in November 1997) is celebrating a truly incredible achievement this week: On Wednesday, June 5, the musical presented its 9,000th performance—a milestone only attained by two other shows in Broadway history!
Over the course of those 9,000 performances (and 21 years), "Hakuna Matata" has been said and sung 234,000 times; 1,098,000 steps have been climbed to the top of Pride Rock; and 109 talented child performers have taken on the role of Young Simba or Young Nala (roles the musical's company affectionately calls "The Cubs").
Julie Taymor—the show's original director, costume designer, and mask co-designer, who was the first woman to win a Tony® Award for Direction of a Musical—continues to play a huge part in the show's ongoing success, supervising new productions of the show around the world… You can now find The Lion King literally across the globe and in nine different languages! For more information, or to purchase tickets for a production near you, visit LionKing.com.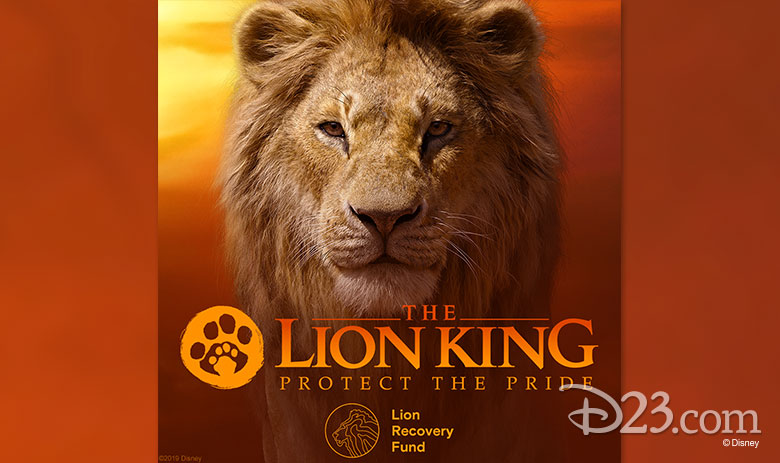 The Lion King "Protect the Pride" Global Conservation Campaign
And here's one more piece of exciting news related to The Lion King… Just this week, The Walt Disney Company announced a very cool global conservation campaign to raise awareness of the crisis facing lions and other wildlife across Africa.
The Lion King "Protect the Pride" campaign focuses on protecting and revitalizing the lion population, with Disney lending its support to the Wildlife Conservation Network's (WCN) Lion Recovery Fund (LRF) and their vision to double the lion population across Africa by 2050 through efforts that engage communities to ensure a future for African wildlife and their habitats. Only about 20,000 lions remain in the wild—but research shows their numbers can be bolstered by adequately protecting the habitats they share with both humans and other African wildlife, in addition to protecting the lions themselves. Disney has already donated more than $1.5 million to the LRF and its partners, and plans to double that amount through additional grants—as well as participation from fans—for a total contribution of up to $3 million!
To kick off The Lion King "Protect the Pride" campaign, Disney and WCN recently assembled more than 80 of the world's leading lion conservation experts (from a whopping 18 countries) for the Lion Footprint Forum at Walt Disney World Resort, where participants brainstormed on strategies to address lion populations. To find out more about all things "Protect the Pride," including how you can help, visit Disney.com/LionKingProtectThePride.
Walt Disney World Resort Has Your Holiday Plans Covered
Sure, we haven't even gotten to the "official first day of summer" yet (that's June 21, by the way)—but longtime readers know that's never stopped us from starting to plan our holiday shenanigans! (You can never plan too early, we always say.) Thankfully, our pals at Walt Disney World Resort have started planning too—and they just announced some of the holly-jolly fun in store later this year. Jingle your way over to our rundown by clicking here.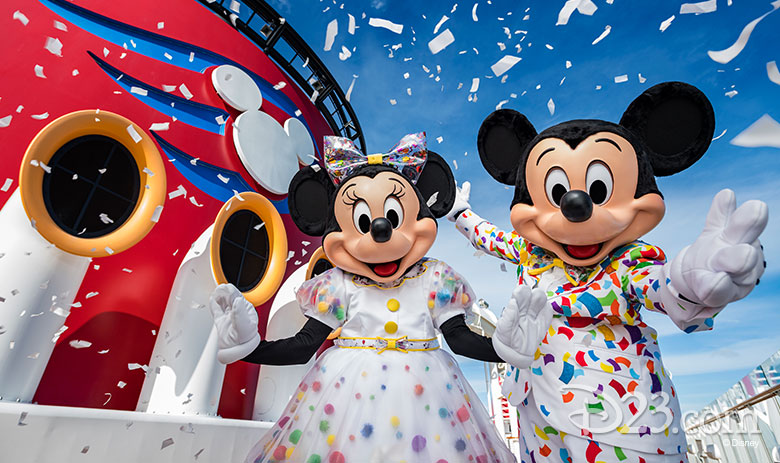 Mickey and Minnie's Surprise Party at Sea is Now Underway
Looking for a way to continue celebrating 90 incredible years of Mickey Mouse? (And Minnie Mouse too!) Well, Disney Cruise Line can help—from now through the end of August aboard the Disney Fantasy…
Mickey and Minnie's Surprise Party at Sea is now delighting guests on the Fantasy, on select Caribbean and Bahamian sailings—with a high-energy afternoon deck party complete with music, dancing, games, food, and super cool décor! The guests of honor will, of course, be on hand, as will a host of their best pals, and guests can feast on some truly tasty treats including Mickey ice cream bars and Mickey-shaped pretzels. Plus, the surprise-filled show even includes a special song created just for the occasion ("It's a Good Time").
It's not too late to join the surprise party—check out DisneyCruise.com for more information!
ICYMI: Meet the Elf Brothers of Disney and Pixar's Upcoming Onward
Have you met Ian and Barley Lightfoot? These hilarious elf brothers—voiced by Avengers: Endgame stars Tom Holland and Chris Pratt, respectively—are the stars of Disney and Pixar's animated adventure Onward, set for release in March 2020 and directed by the team behind Monsters University. Find out more about Ian and Barley by clicking here.