By Beth Deitchman
From Bambi's first adoring smile at his mother to newborn Simba's wondrous gaze at the circle of life he has just joined, we've always found Disney's youngest animals to be simply irresistible. The same might be said for the very real animals that live at Disney's Animal Kingdom Theme Park. Sumatran tiger cubs Anala and Jeda made their official debut on Maharajah Jungle Trek in December, just a few months after their birth, followed by the arrival of Augustus, a baby Nile hippopotamus, in January. Since the park opened, 20 years ago this Sunday, on April 22, 1998, the dedicated members of the animal care team have kept careful and respectful watch over the more than 1500 animals that call Disney's Animal Kingdom Theme Park home. We spoke with two of the managers whose teams provide unparalleled care for the tigers and hippos about what goes into nurturing Disney's Animal Kingdom's newest bundles of joy.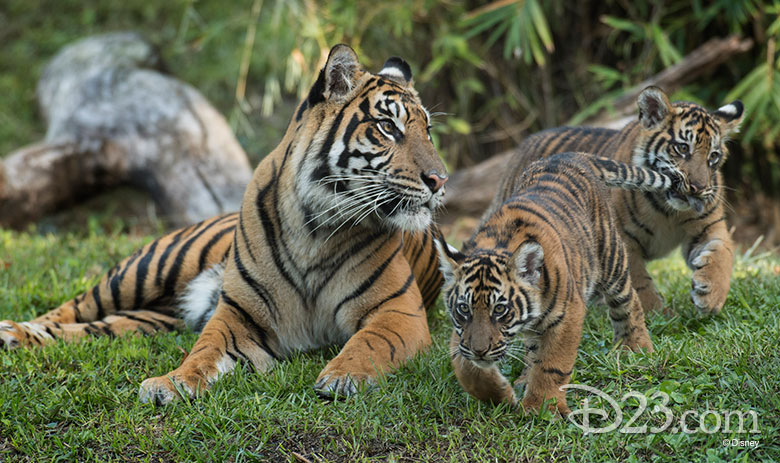 Anala and Jeda are the first tigers ever to be born at Disney's Animal Kingdom, which was home to six female tigers in its earliest days. According to Zoological Manager Jill Piltz (pictured below left), who has been with the park since its beginning, as the park began to look to a next generation of tigers, the decision was made to participate in the tiger Species Survival Plan breeding program through the Association of Zoos and Aquariums.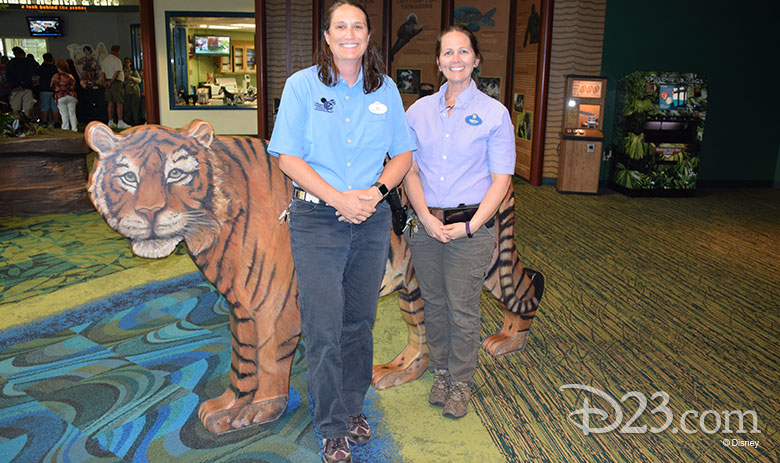 Zoological Manager Kristen Wolfe (pictured above right), a 13-year veteran of the park, emphasizes that Animal Kingdom and the zoos that participate in the Species Survival Plan are committed to caring for animals responsibly. This means they need to have room in their populations for the new additions, and they need to match potential mothers and fathers very carefully so that would-be parents are set up to succeed, taking into account genetics, temperament, and recommendations from Species Survival Plan coordinators. "It's not as easy as in the wild, where a male and female meet and that's what happens. There's a lot of planning," Wolfe says. Three years worth of planning led the cubs' parents, mother Sohni and father Malosi, to Disney's Animal Kingdom, where the rest, as they say, is history.
Piltz's team closely monitored Sohni throughout her pregnancy, and when it was time for her to deliver, they followed a practice that she terms "eyes on, hands off." They gave Sohni the privacy she needed to feel that her cubs were safe, but supervised through a camera system so that they would be ready to intervene in case of an emergency. "That was the scariest moment, just watching from a distance," Piltz says, "but she (Sohni) had to do it—she did it all on her own—and everything came out OK." The care team had the enviable task of naming Sohni's babies, choosing Anala, which means "fiery" or "feisty" for the little girl with the big personality, and the name Jeda—which means "pause"—for the male cub, a reference to a marking he bears, which resembles a pause symbol. Now eight months old, the cubs have grown—Jeda currently weighs 92 pounds, while his slightly smaller sister comes in at 88.5 pounds—and you just might spot them playing in the water in the Sumatran tiger exhibit, where they're having a blast.
Disney's Animal Kingdom cares for one of the largest groups of hippos in North America, but it had been 13 years since the bloat—as groups of hippos are called—included a baby. Wolfe and her team worked with the Species Survival Plan to determine that Tuma, a dominant female, was the ideal candidate to deliver a baby hippo and acclimate it to the ways of the herd. "She's (Tuma) able to tell the other hippos what to do and what not to do," Wolfe says.
Wolfe's team kept a close eye on Tuma as she prepared to deliver and for the first eight weeks of Augustus' life. At first, Tuma may have been a little overprotective, Wolfe recalls, but that tapered off as Augustus learned what is proper social behavior for hippos. "Just like a kid, if he does something that gets him in trouble, he learns not to do that again," Wolfe explains, noting that Augustus has matured. "What people don't realize is that hippo behaviors are a lot like human behaviors—there's that growing and learning period for them that we need to let happen."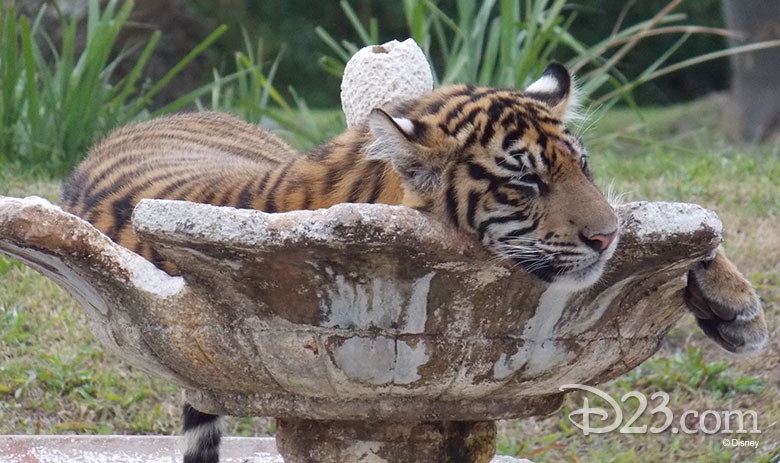 Letting the animals learn for themselves is key to how Disney's Animal Kingdom approaches their care. "The animals teach their babies all the natural behaviors they should, and then someday, when those babies become parents on their own, they already know all those behaviors because they learned them from mom growing up," Piltz says.
The members of the care team want the animals to feel like they're keeping their distance, but these highly attentive cast members are grateful for the brief encounters that remind them of the unique perspective they have with respect to these wild animals. "Last night I took two seconds to sit down at the computer and write a work order, and I look over—and the office door is open—to see a rhino off in the distance, eating dinner. And there are people on this earth that will never see a live rhino ever," Wolfe marvels.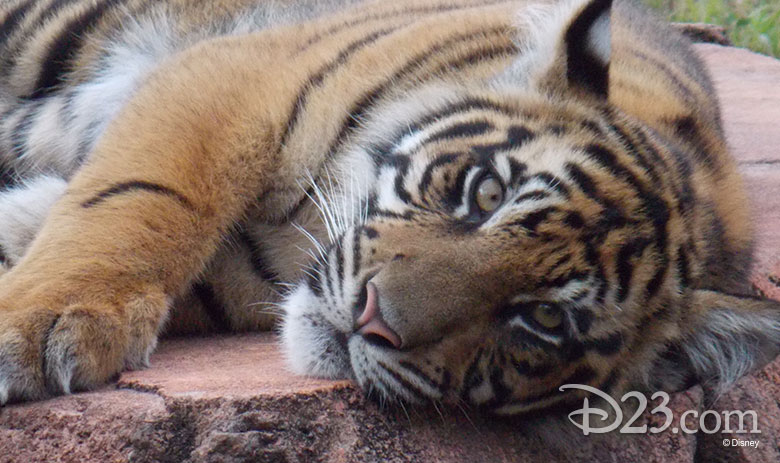 After 20-plus years with Disney's Animal Kingdom, Piltz agrees that the small moments have the biggest impact. "With the Sumatran tiger cubs, you see new behavior. Seeing them wrestle with a coconut and play with it…," she says. "Those are the moments that you've got to just stop, watch, and take a moment and enjoy it. You're working with endangered species that are very rare on this planet and they're awesome animals."
"I've been here 20 years," she continues. "I've seen some animals born here, grow up, have their own kids already, and raise their own offspring. That, to me, is magical."
To learn more about what Disney is doing to help tigers and hippos in the wild, visit DisneyAnimals.com.