By Beth Deitchman
Over the last 12-and-a-half years, Meredith Grey (Ellen Pompeo) has gone from insecure surgical intern to acclaimed Head of General Surgery. She and her Grey Sloan Memorial colleagues have saved lives and lost patients; they've found true love, and they've suffered devastating heartbreak. And, after 299 episodes, they feel like close friends or part of fans' extended families. On November 9, ABC's Grey's Anatomy aired its 300th episode—an impressive milestone that few broadcast dramas will ever reach.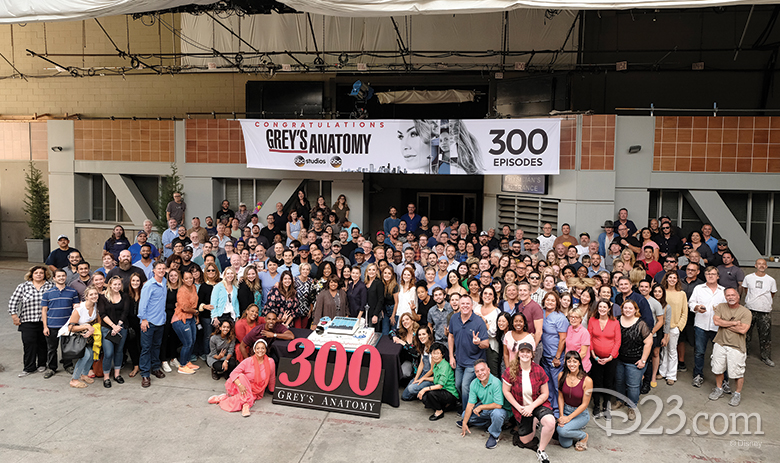 Executive Producer Betsy Beers has been with Grey's Anatomy since Meredith, Cristina, Izzie, George, and Alex arrived at Seattle Grace Hospital. "The show was very much developed and created by people who had no idea what they were doing—we were just like the interns," she laughs; and as the actors and members of the creative team grew into their roles, the stories changed because they were reflecting more mature points of view. The world has continued to stay relevant because fans feel so connected to the characters, Beers says, "Even when we would introduce a new series of interns or a group of residents, or when residents would move on—or, in the case of Grey's Anatomy, sadly they often die off. There's a relatively high ratio of folks who didn't do so well."
Fans have embraced newcomers to Grey Sloan, but Beeers acknowledges that they've reacted very, very passionately when they've had to say goodbye to beloved characters. Derek "McDreamy" Shepherd, Mark "McSteamy" Sloan, and George "007" O'Malley are just a few of the characters whose deaths hit viewers particularly hard. "Some people have still not forgiven us," Beers says, and she notes that the fan connection to the show was almost instantaneous. During season one, Beers recalls, actress Kate Walsh returned to the set after attempting to shop at a store where the employees berated her for the behavior of her character, Addison Montgomery. "They yelled at me the entire time because they said I was being unfair to Meredith," Betsy remembers Walsh detailing.
Beers attributes the series' enduring popularity to the incredibly relatable characters and world that Creator/Executive Producer Shonda Rhimes has conceived. "I always say, 'There's a doctor for everybody,'" she says. "No matter what kind of mood you're in or how you're feeling. It changes from episode to episode and from season to season, but there's always somebody on the show to identify with." And the hospital's name may have changed over the years, but Grey Sloan Hospital continues to be an ideal setting for compelling, emotional stories that everyone can relate to. "By absolute nature and design, a hospital is a place where you experience the highest highs and the lowest lows," Beers says, "and we're focusing on a group of people whose hands are literally in the middle of both of those polar emotions."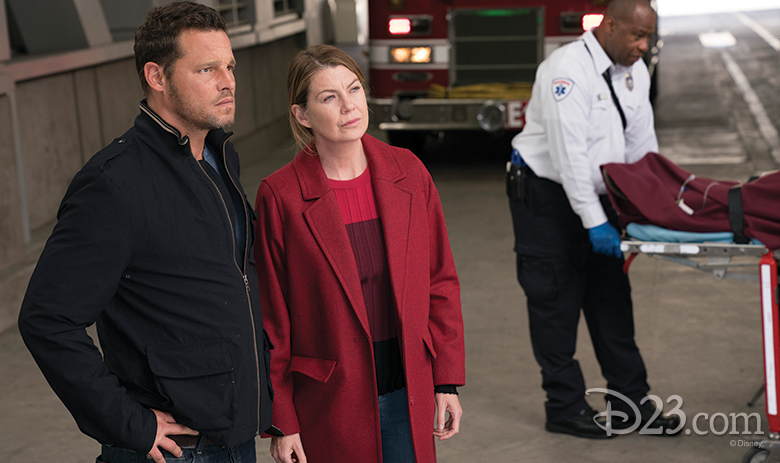 Viewers can look forward to falling in love with a new cast of characters in an upcoming spin-off. The untitled series will debut later in the season, as part of an episode of Grey's Anatomy. The series will be set in the world of first responders and fire fighters and is created by Stacy McKee, who has been part of the Grey's Anatomy family since the series' pilot back in 2005. "If there is anybody who is qualified to spread the DNA of Grey's Anatomy into another workplace in Seattle, it's Stacy McKee," Beers says.
If you haven't watched the first 299 episodes of Grey's Anatomy, it's never too late to start! Every month, hundreds of thousands of new viewers watch the series' first episode on Netflix and are able to binge-watch and "catch up" to the current season on ABC. Beers says, "What's great is you can become addicted to the show without the sad desperation of the fact that you know it's going to end."
If you missed the 300th episode, "Who Lives, Who Dies, Who Tells Your Story," which finds the Grey Sloan docs tending to patients who have been injured in a roller-coaster accident at the county fair, you can catch up on the ABC app. There's something eerily familiar about the patients, and they spark memories for Meredith, Alex and the other doctors. Look for additional Easter eggs throughout the special 300th episode.