The real winners of the 2015 Radio Disney Music Awards (RDMA)—music's biggest event for families—were the fans, both those lucky enough to be in attendance on Saturday at Nokia Theatre L.A. LIVE and the ones who spent their Sunday evening watching Disney Channel Presents the Radio Disney Music Awards. Here are some of our favorite moments from the 90-minute special, which did, indeed, achieve "Fandemonium," as Zendaya, the evening's host, had set as her goal: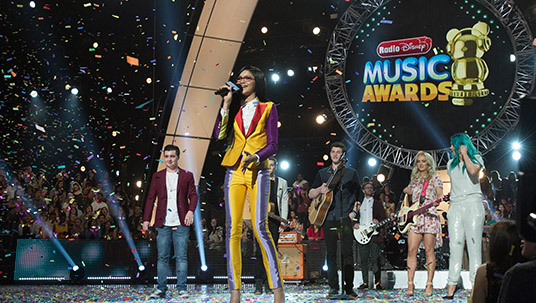 Actress-singer-teen icon Zendaya showed us why she's a multi-hyphenate, going undercover—or should we say, K.C. Undercover?—with different hairstyles and looks for the opening sequence. Zendaya continued this spirit of transformation throughout the evening, with a captivating series of wardrobe changes that would befit even the most veteran awards show host.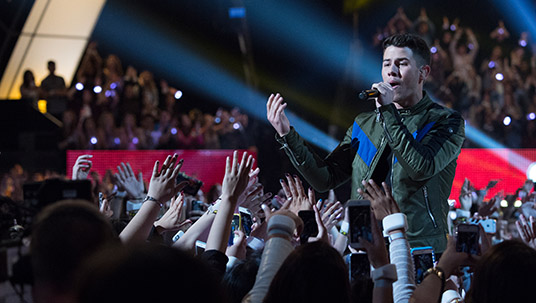 The introduction of Nick Jonas' performance was almost "Fandemonium" by itself. Nick was introduced by his former JONAS co-star, Chelsea Kane, his "co-Jo-Bro," Joe Jonas, and Rowan Blanchard, of Girl Meets World.
The evening featured our first extended look at Disney Descendants, in which the children of iconic Disney heroes and villains come together. The Disney Channel Original Movie makes its debut this summer.
In other exciting "DCOM" developments, Ross Lynch, Maia Mitchell, and the rest of the Teen Beach 2 cast are back in the upcoming sequel, as we saw in the music video for a song from the movie, "Gotta Be Me." The Teen Beach 2 cast was also on hand as presenters, awarding the "ARDY" to Ariana Grande, who won for both "She's The One—Best Female Artist" and "The Bestest—Song of the Year" for her hit, "Problem" (featuring Iggy Azalea).
Girl Meets World's Sabrina Carpenter performed "We'll Be Stars" and "Eyes Wide Open" at the RDMA—where she was the recipient of "XOXO—Best Crush Song" for "Can't Blame a Girl For Trying."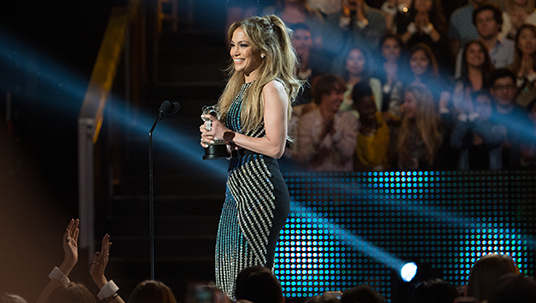 And as much as Disney fans love hit Disney Channel series and movies and top musical artists, they also recognize how important it is to give back to the community. This year's RDMA acknowledged Jennifer Lopez's work with the Boys & Girls Clubs of America, The Lopez Foundation, and her philanthropic efforts in the U.S. and around the world by awarding her the Hero Award. Radio Disney also honored two youth leaders, Maryah Sullivan, 19, of Orlando, and Sloan Peterson, 10, from Los Angeles. Boys & Girls Clubs of America nominated Sullivan for her volunteer work at the Ronald McDonald house and a local nursing home, while Free The Children nominated Peterson for establishing a chapter at her school where she has led several fundraising and volunteering efforts for local and global issues—like access to clean water.
D23 congratulates all of the 2015 winners, who were determined from an astounding 101 million votes. If that doesn't qualify as "Fandemonium," then we don't know what does.