By the D23 Team
If you need an extra dose of adorableness in your life, be sure to pick up the new book Ellie Makes a Friend, heading to shelves on April 7. We have the chance to share some exclusive art from this new book by author Mike Wu, which explores what happens when an artistic elephant befriends a panda named Ping with impressive painting skills. After everyone starts praising Ping's art, Ellie begins to doubt her own skills—but soon she learns an important lesson about how different perspectives lead to fresh inspiration. To get some perspective on the book ourselves, we sat down with Wu to discuss his super cute story.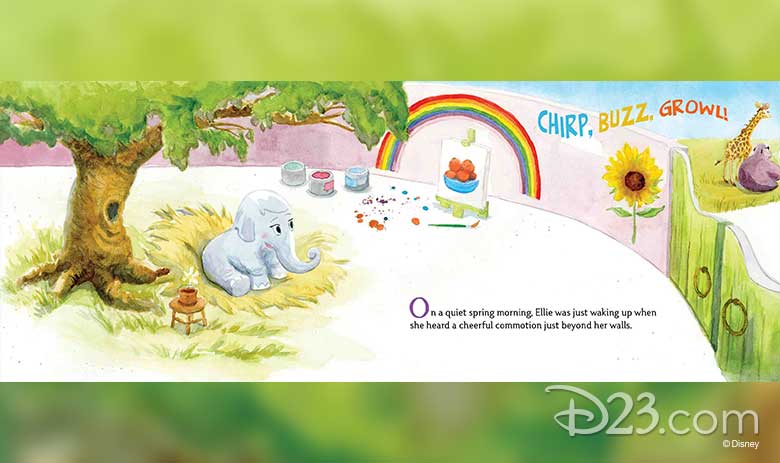 D23: The Official Disney Fan Club: What was the inspiration behind Ellie Makes A Friend?
Mike Wu (MW): I wanted to go back to my roots. I thought it was important to write a story that was honest and with experiences I've had. Besides, who doesn't want to draw cute a Panda.
D23: When did you first realize you wanted to write children's books?
MW: I've wanted to write children's books since I was young. Growing up in New York City, I was influenced by art, illustration, comics, and visual storytelling. Children's books combined all of these things. I love working on the Pixar films but I felt I needed to tell my own stories as well and Children's books were a perfect way to express that.
D23: How do you balance working as an animator at Pixar and writing and illustrating your stories?
MW: It is challenging to juggle both, but I keep the Pixar work at the studio and I carve out time in the evening after my kids go to bed. This is my time to be creative and work on my personal art.
D23: What advice would you give to young artists and writers?
MW: Believe in your work. Everyone has a story to tell because we are all unique with different experiences. Keep writing and drawing or whatever medium you use to express yourself. Share your work and accept feedback even if it is critical. Then go back and rewrite and redraw and keep improving.
D23: This is the third book in the Ellie series—what made you want to keep going with Ellie's story?
MW: Ellie is a champion of the arts and I feel Ellie's story is just beginning. I have many Ellie stories I'd like to write and I love that kids respond so positively to her.
D23: What do you hope young readers take away from this story?
MW: I hope they take away an important message we have facing us today. We should not give into fear, but rather celebrate our differences so that you can accept and learn about new things and new people. We have so much we can learn about others that will in turn, help us grow as individuals.