By Tim Lammers
Without question, one of the most uplifting Disney-Pixar films in the last 10 years is 2009's Up, which not only went on to become a Best Animated Feature Oscar winner, but one of only three animated films in Academy Award history to earn a Best Picture Oscar nomination (Walt Disney's 1991 classic Beauty and the Beast was the first, while Disney-Pixar's smash hit Toy Story 3 from 2010 was the third).
Up follows the emotional story of Carl Fredricksen (voice of Ed Asner), an elderly widower who attempts to fulfill his late wife Ellie's dream to travel to the beautiful South American destination of Paradise Falls. Taking flight in his house kept afloat by helium-filled balloons, Carl soon discovers that a young Wilderness Explorer, Russell (Jordan Nagai), is an accidental stowaway on his front porch, but that's not the only unusual turn the trip takes: They also encounter a lovable canine named Dug, whose thoughts are interpreted through a talking dog collar; an exotic bird that Russell names "Kevin"; and lastly, Carl's long-lost boyhood hero, Charles Muntz (Christopher Plummer), who is not all that he seems.
To celebrate the 10th anniversary of Up on May 29 as D23 continues to celebrate its own 10th anniversary, here are 10 uplifting facts about the film, taken from interviews conducted in 2009 with co-writer/director Pete Docter, co-writer/co-director and the voice of Dug, Bob Peterson, and Ed Asner.
1. A simple drawing at Pixar sparked the idea for the film.
Trying to unwind from his years of work co-writing and directing Disney-Pixar's smash hit Monsters, Inc., Docter said he spotted a simple image that was drawn at Pixar that mirrored his desire to escape from everyday life.
"We had a drawing of a house buoyed by balloons at the studio, and there was something that was rather poetic and intriguing about it," Docter recalled. "We started asking ourselves, 'Who's in there and where are they going?' So, then I drew a picture of these colorful, fun, happy balloons and this super-grouchy guy, and Bob Peterson and I sat in a room and developed it all."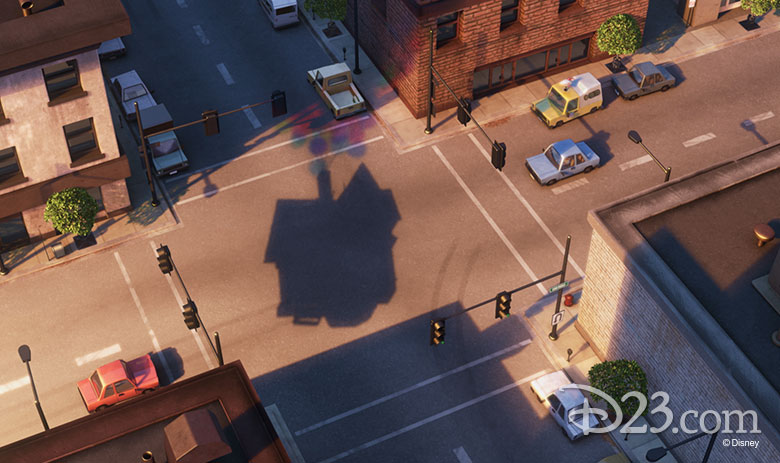 2. Carl would have needed a lot more balloons to lift his house off the ground.
Priding themselves on details and plausibility, Docter, Peterson and their Pixar crew went so far as to investigate out the number of helium-filled balloons it would take in real life to raise a full-sized house off the ground. While thousands of balloons were suggested to complete the task in Up, Docter learned it would realistically take more like 20-30 million of them.
"We work with scientists, so they approach things from a very logical standpoint. We needed to find out how much lift and loft each balloon has to figure it out," Docter explained. "There's a ton of research that goes into every detail. Even the artist who designed Carl's house, Don Shank, consulted with an architect and learned how a house attaches to a foundation in modern day versus a house that would have been built a lot earlier. All the stuff is there in the movie. It's all stylized, of course, but it starts with reality."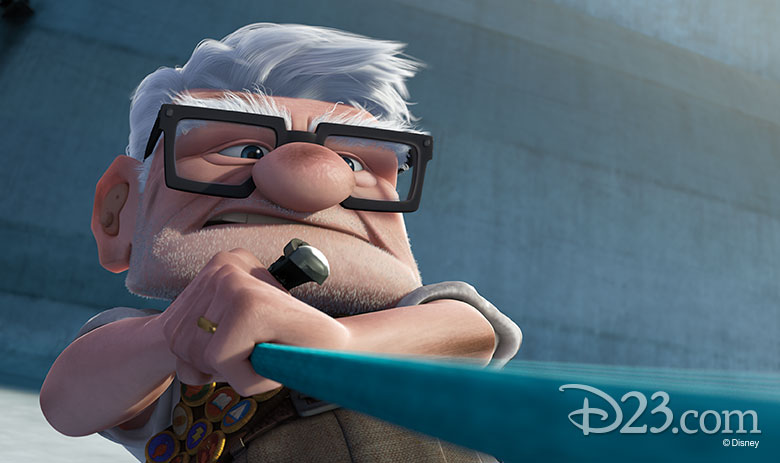 3. Upwas a rare film in that it featured a geriatric hero.
Peterson said Up was a departure from most movies in that it featured a geriatric person as the hero of the movie, someone who could deliver the comedy instead of being used as a punchline.
"We talked about characters that had never been done, and truly an underrepresented group of people in society—and just movie characters in general—are old people," Peterson said. "We knew that the character of Carl would be original, but it also supported a lot of emotional things that old people do. Old people are great comic characters because they've truly earned the right to say what they think. It's funny even thinking about it."
4. Asner completed the role wanting to be more like Carl.
Even though Asner acquired a fair amount of wisdom by the time worked on Up at age 79, he said there was so much to learn about life after completing the role.
"I love finding characters that, in the end, make me realize, 'I wish I would have been more like him,'" Asner said. "When I think of Carl, I tend to think of an ideal man, not a grouch. I think of somebody who is wise beyond his years and is finer than most mortals and represents somebody we should all look up to and emulate."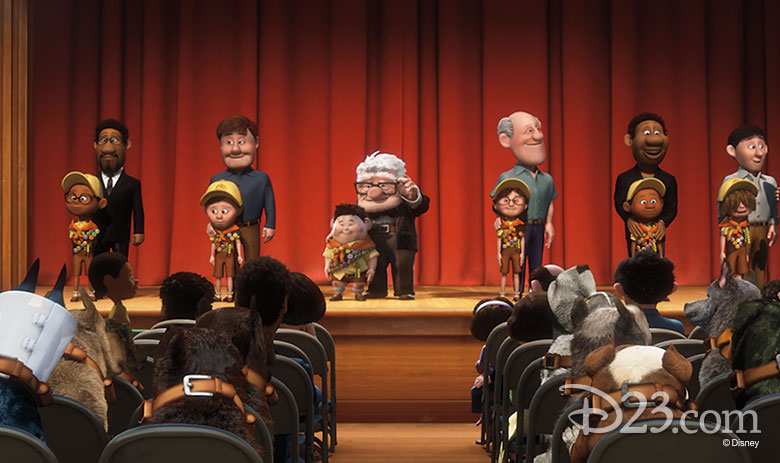 5. Carl's character was shaped by classic Hollywood films.
Docter said it was important that Carl's adventure included an emotional journey that changed the widower's outlook on life.
"The interesting thing is that the film starts as anything but optimistic. Carl is this closed-off guy who is shutting the world out and trying to live in denial," Docter said. "But by the end of the movie he's reached out to all these different characters and has become a vital, alive person again, like Rick from Casablanca or Scrooge from A Christmas Carol. I love those sorts of uplifting stories."
6. Asner said he was humbled after seeing the film for the first time.
While Asner knew it was an honor to be chosen to star in a Disney-Pixar film, the acclaimed actor admitted that he underestimated all the artistry it took to bring Up to life on the big screen.
"Well, frankly, during the year and a half that I worked on the film, it was highly inflating to my ego," Asner said. "Then, when I went to see the first screening of the movie, it was a revelation. It punctured my balloon to see all the unbelievable art up there on screen that I only added a grace note to."
7. Docter said Asner brought a perfect balance to Carl.
Asner's work was as the curmudgeonly Carl came with a bit of a personal touch, Docter said.
"He's such a perfect guy for the role. He does this great, grouchy curmudgeon character, but that also makes him likable," Docter said. "He's also kind of like that as a person. He'd come to the studio to record with us and say (mimicking Asner grumbling), 'You again!' But as he would leave, he would shake your hand warmly and say, 'Thank you so much.' You really got the sense that he loves what he's doing."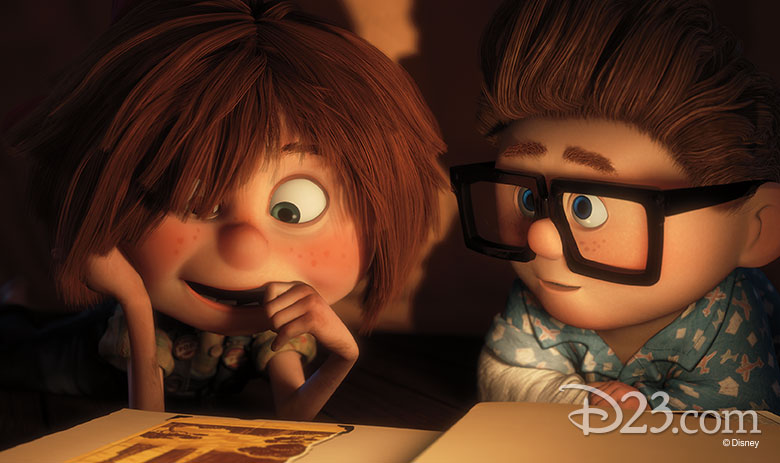 8. Docter said the success of Up hinged on the relatability of its characters.
Despite all of its visual wonders, Docter said from a story standpoint that Up's characters needed to be relatable for the film to resonate with its audiences.
"They have problems that we see in our own lives and have a hole in their lives that prevents them from being a complete person," Docter said. "Russell has an absentee father and Carl lost his wife. Those holes make for a richer character."
Docter added that the relatability factor also applied to the dog characters in the film: "When we get to animation, we try to be as specific as we can. You've seen a lot of animated dogs, and most of them stand on two legs and talk, and there's nothing wrong with that. But in our film, we tried to look at real dogs and be inspired as much as we could by what real dogs think about, how they move and how they act. We had a dog behaviorist come in and talk about individual dog behavior and group dog behavior, and all of that went into the movie. The more specific you can be, the more relatable they become."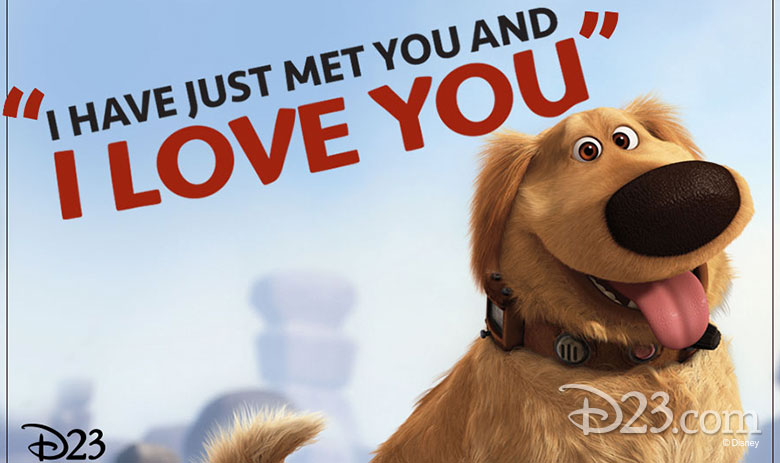 9. Peterson was proud to voice Dug, and not just because of the comedy he brings to the film.
While Dug and other canines in Carl Muntz's dog pack seem to always have rodents on their minds ("Squirrel!" is frequently blurted out loud), Peterson said there's much more to Dug's character than his comedic interludes.
"The undying love that dogs give us—the unconditional love—is exactly what Carl needed in the story," Peterson observed. "Carl is given a new family, effectively, with a new grandson in Russell and a dog with Dug, and it was up to him to connect with these new family members after his wife passed on. What sort of better gauntlet was there to put in front of him than a dog who immediately loves you for who you are? I just love dogs, and I feel honored to play them in their essence."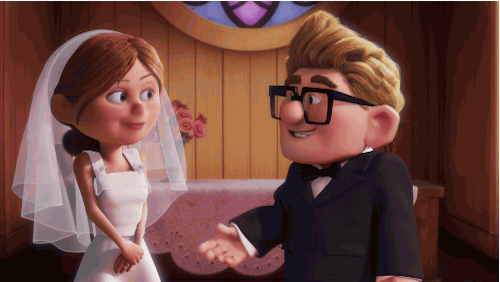 10. Carl and Ellie's 'Married Life' scene was inspired by silent home movies.
Docter said that he and Peterson initially designed Up's classic "Married Life" scene with snippets of dialogue, but ultimately decided to go a "silent movie" route (accompanied by Michael Giacchino's Oscar-winning score) after recalling the atmosphere of his parents' home movies.
"I grew up in a time where our parents took a lot of Super 8 movies of us," Docter said. "When you watch them, of course it's without dialogue—just the whirring of the projector. There's something almost more emotional about it without the sound. With Up, as an audience member you're asked to contribute to the scene, and it comes to life in your own head."