By Jocelyn Buhlman
We're celebrating the 35th anniversary of Indiana Jones and the Temple of Doom this month as part of our year-long FAN-niversary celebration! Of course, whenever we want to celebrate something big, there's only one place to go—Disney parks! To help wish a happy 35 years to Indy's second cinematic adventure, we've rounded up our favorite attractions, details, entertainment, and more at Disney parks all over the world that reference everyone's favorite archeologist. If you want to take the Temple of Doom celebration with you no matter what Disney park you're at, don't forget to pick up our 10 FAN-tastic Milestones Pin Set, which features a special Temple of Doom pin designed by Disney artist Ricky De Los Angeles.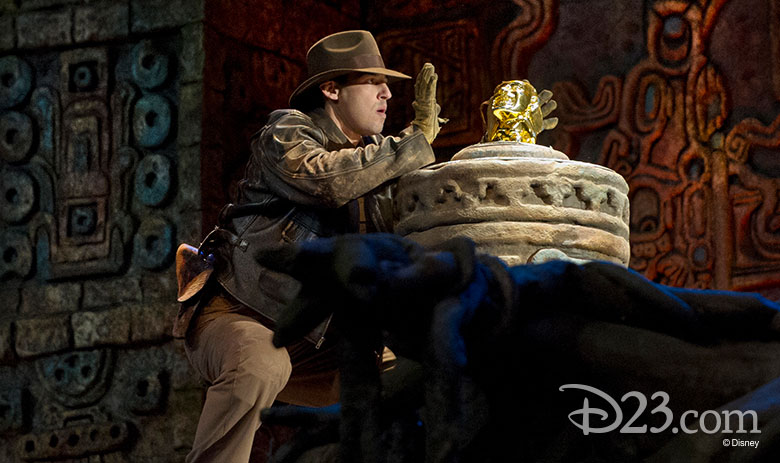 1. Indiana Jones Epic Stunt Spectacular (Disney's Hollywood Studios)
What better way to celebrate Indiana Jones than with a behind-the-scenes look at how the beloved films were made? This show—which marked Dr. Jones' first full attraction at a Disney park—features re-creations of scenes from Raiders of the Lost Ark, including the iconic boulder scene, the climactic fight around (and atop!) an airplane, and more!
2. Indiana Jones Adventure Outpost (Disney's Hollywood Studios)
If you're planning to stock up for your next adventure, you better get your gear from the best. This shop near Indiana Jones Epic Stunt Spectacular features some of Indy's most iconic props for purchase, including his fedora!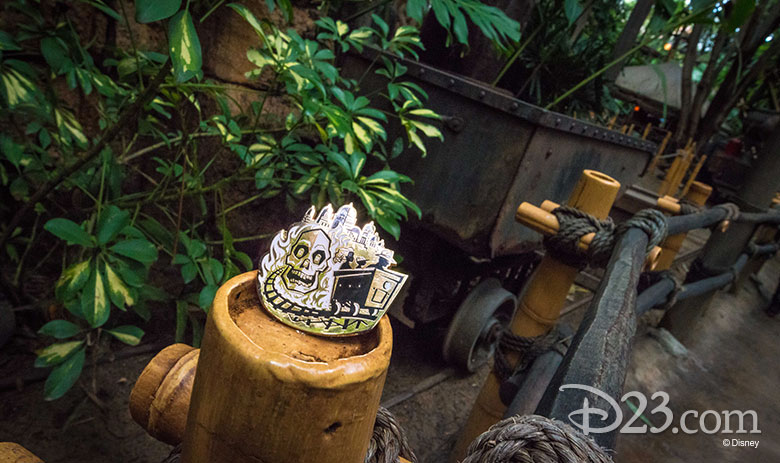 3. Indiana Jones Adventure (Disneyland)
This fan-favorite journey through the Temple of the Forbidden Eye is full of secrets and details (do you have your decoder card handy?), including several real-life props from the Indiana Jones films!
In the outside queue area of Indiana Jones Adventure, you might recognize one of the German Patrol Trucks actually used in Raiders of the Lost Ark. Plus, fans celebrating Temple of Doom's big anniversary will want to take note of the mine car seen just outside the attraction's exit, which was used during the mine sequences of the film. Those are just two of many hidden refences to this beloved series—can you find the rest?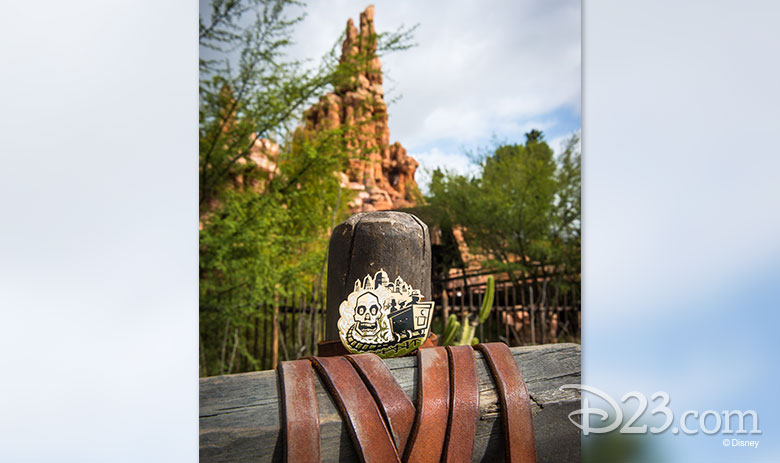 4. Big Thunder Mountain Railroad (Disneyland)
Jonesing for Indy's return to the wild west after his childhood exploits in The Last Crusade? Well, here's an idea! There's an unlikely connection between our favorite explorer and Big Thunder Mountain Railroad. The classic Disney parks coaster was actually one of the inspirations for the runaway mine car sequence in Indiana Jones and the Temple of Doom! Do the mine car sound effects from the film sound familiar? Some of the sound effects heard in the film were actually recorded at Big Thunder Mountain Railroad at Disneyland!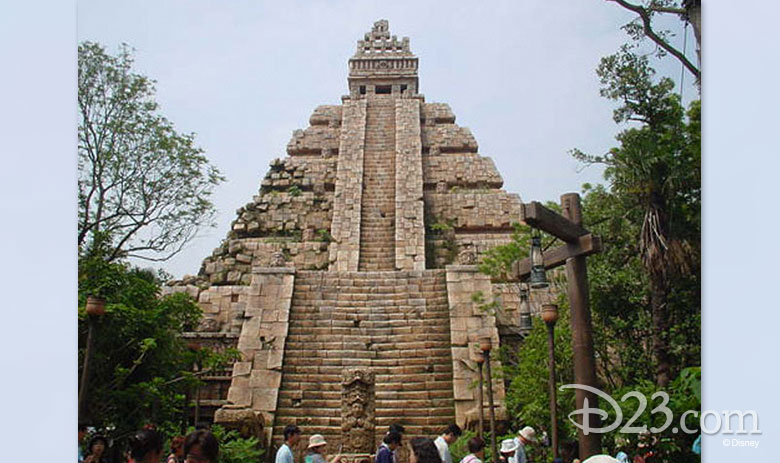 5. Indiana Jones Adventure: Temple of the Crystal Skull (Tokyo DisneySea)
Debuting in 2001 (predating Indy's other adventure involving crystal skulls!), this all-new Indiana Jones Adventure took us into a different temple, this time inspired by an entirely different part of the world—Central America. Guarded by the supernatural and (of course) vengeful Crystal Skull, we join Indy in a quest for the Fountain of Youth. The attractions features familiar thrills (Mummies! Snakes! Bugs!) and new challenges (did we mention the Crystal Skull can shoot fire out of its mouth?). While there are no original movie props hidden in this queue, there are still lots of details to keep a sharp eye out for—including eerie eyes peeking out of a darkened queue, and a room where different illustrations are illuminated by the sun and moon, depending on the time of day!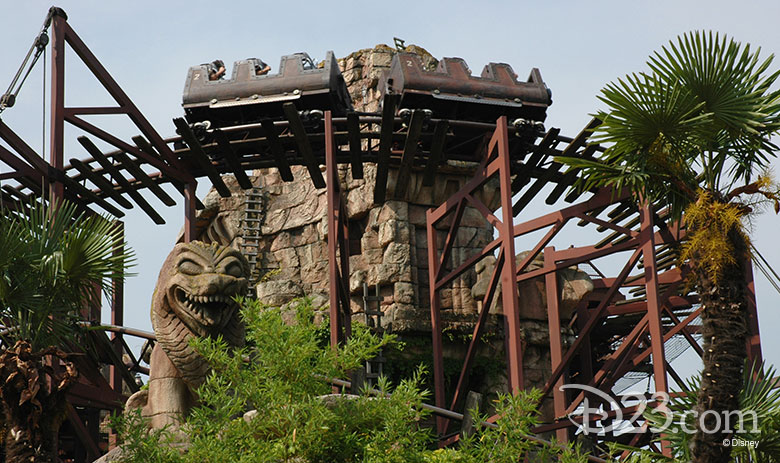 6. Indiana Jones and the Temple of Peril (Disneyland Paris)
At this point, we're starting to think Dr. Jones might want to take a break from exploring temples! This thrilling roller coaster located at Disneyland Paris' Adventureland sends you on your own Temple of Doom-inspired mine cart chase adventure with Indiana Jones himself. When you're not plummeting down drops or making 360-loops, enjoy the attraction's deep attention to detail, featuring stunning lion statues, a base camp—including Indiana's own tent—and more.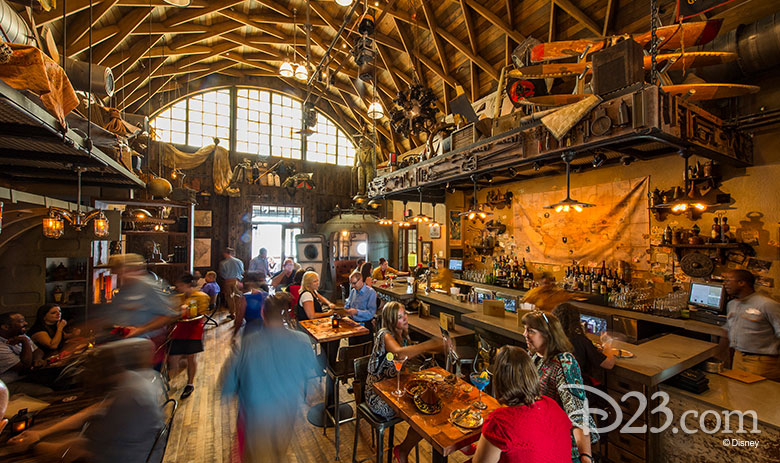 7. Jock Lindsey's Hangar Bar (Disney Springs)
Named after Indiana Jones' trusty pilot from Raiders of the Lost Ark, Jock Lindsey's Hangar Bar is the place to go for any adventurer looking to try a "jocktail" and just kick back after a day of exploration. Naturally, the bar is full of Lindsey's misadventure mementos, including coasters from bars he'd visited during particularly daring flights (Oh hey, Club Obi Wan!). Keep an eye out for other shout-outs and details, like the Staff of Ra's headpiece (now safely stashed in a jewelry box) or a picture of Lindsey and Indy together in front of "The Fountain of Youth." We'd list all the shout-outs to the Indiana Jones films, but we'd be here a while—so hop in your plane and go see the bar for yourself!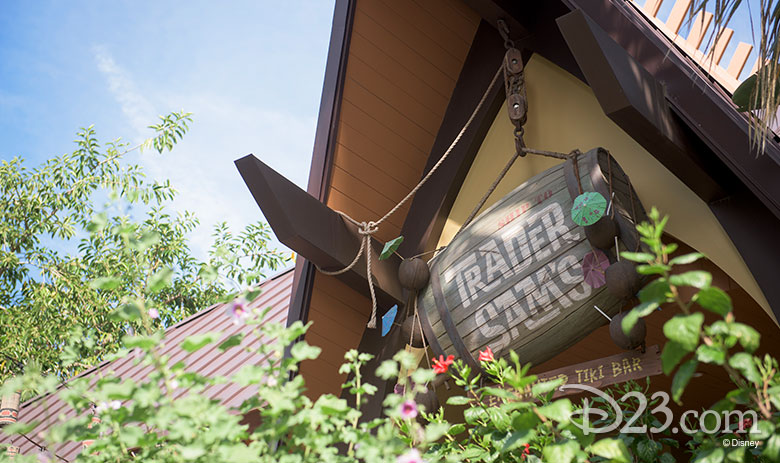 8. Trader Sam's Enchanted Tiki Bar (Disneyland Hotel)
This fan-favorite bar at the Disneyland Hotel is known for more than its delicious drinks—the bar is full of memorabilia and shout-outs to Disneyland classics like Walt Disney's Enchanted Tiki Room, the Jungle Cruise, and—you guessed it—Indiana Jones Adventure. Keep an eye out for Indiana Jones' iconic bullwhip on display, plus an ancient scroll or two depicting the Temple of the Forbidden Eye. There are so many secrets to uncover at this magical bar—so grab a seat, order some long beans, and start your own adventure!