By Savannah Salazar
It was once a world full of magic, but now, the world of Onward—a town called New Mushroomton—is just a quaint suburban area. There are still elves, sprites, satyrs, cyclops, centaurs, gnomes, and more roaming around, but that's absolutely normal. They're just like us. So, to get you acquainted to the residents of New Mushroomton before Onward arrives in theaters March 6, we've rounded up all the new characters you may see on your grand and glorious quest.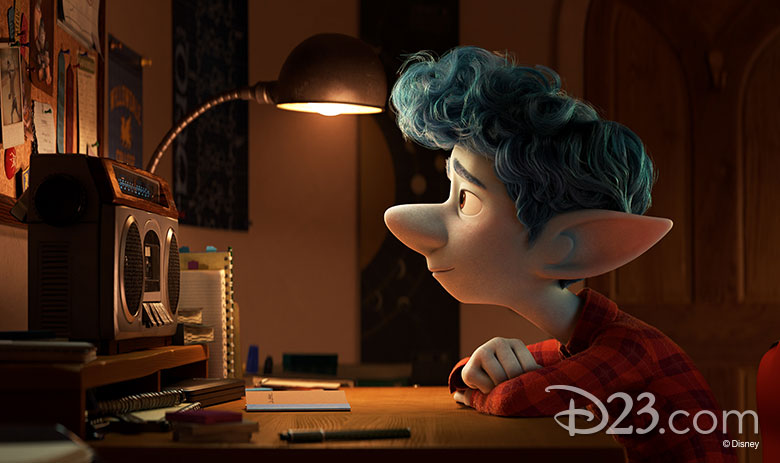 Ian Lightfoot (Voiced by Tom Holland)
This teenage elf is tall, a little awkward and can't quite fit into the world he lives in. He misses his father who, unlike his older brother Barley, he's never met. So, on his 16th birthday, Ian is given a gift from his father that sends the two brothers on the quest of a lifetime.
When it came to animating Ian, the filmmakers had a hard time creating his look. That is, until art director Matt Nolte ran into a coworker at Pixar who serendipitously inspired Ian's look and spirit. "I'd never met him, but he had the charm and appeal that our Ian thus far lacked. His mannerisms were perfect. He was kind and would hide behind a laugh before he spoke, and I thought that was so cool," Nolte details.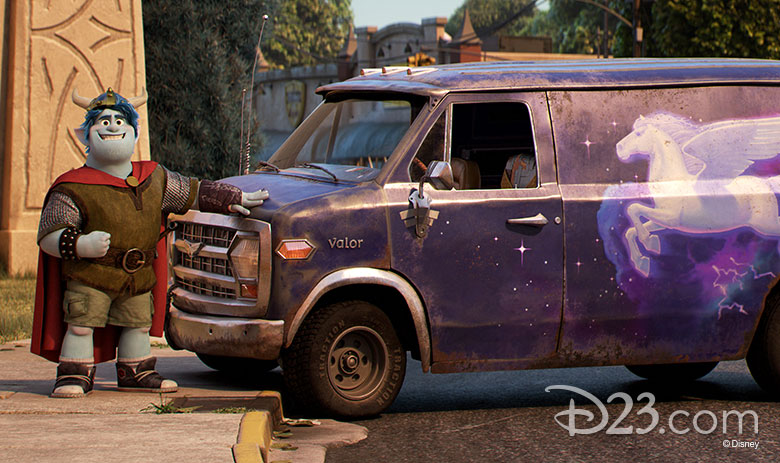 Barley Lightfoot (Voiced by Chris Pratt)
Ian's older brother Barley is larger than life. A self-proclaimed magic aficionado, Barley immerses himself in role-playing fantasy games, spending more time with his head in the clouds than in the present world.
To quickly show audiences that Barley was older, character designers gave Barley some stubble. Animators also showcased Barley's wild personality through his exaggerated movements.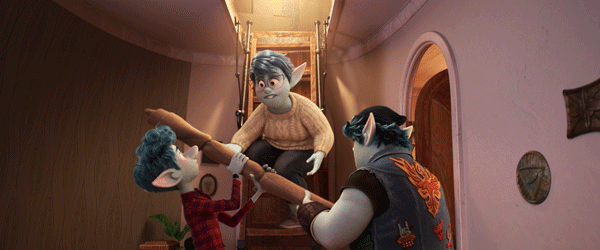 Laurel Lightfoot (Voiced by Julia Louis Dreyfus)
Laurel is a headstrong single mom devoted to her kids, Ian and Barley, and is prone to throw herself wholeheartedly into everything she does. So, when her sons embark on an epic yet dangerous quest, she sets off to find them.
Character supervisor Jeremie Talbot made sure Laurel's connection to her kids was reflected in her appearance. "She is built a bit like Barley and has his straight hair, but she has pink freckles like Ian's," Talbot says.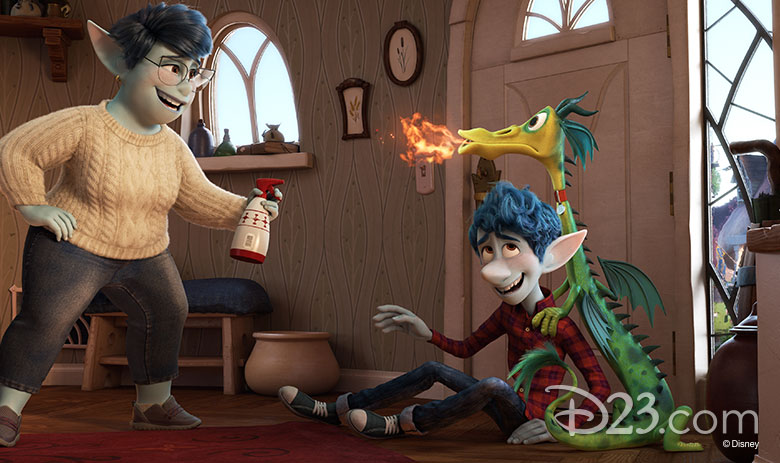 Blazey
When it comes to Blazey, think of your pet dog but instead of slobber, it's sparks of fire. The Lightfoots' pet dragon is wacky and a tad hyperactive, but she's an elf's best friend.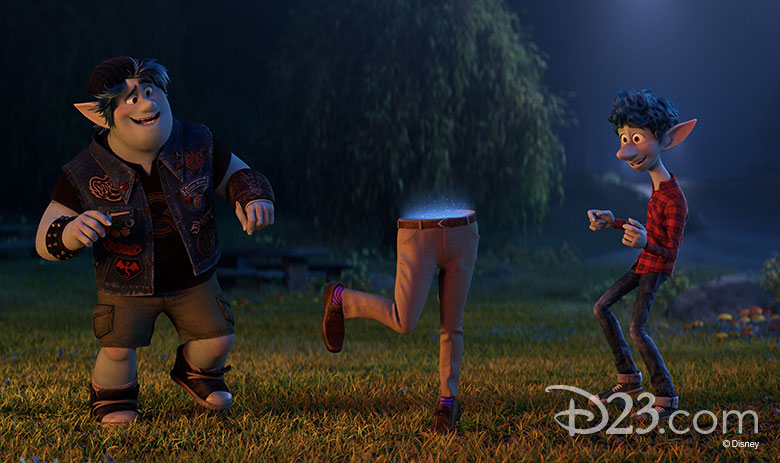 Wilden Lightfoot (voiced by Kyle Bornheimer)
Magic may be scarce in the world of Onward but before his passing, Wilden figured out a clever way to reach out to his sons long after he was gone. But, of course, not everything goes according to plan. Only the bottom half of Wilden's body is conjured up by Ian and Barley, leaving Lightfoot to tap, walk, and saunter around, setting the action of Onward in motion as the brothers find a way to get their dad back for one more day.
The Manticore (voiced by Octavia Spencer)
Part lion, part bat, and part scorpion, the Manticore—or "Corey"—was once a fearless warrior when magic was still around. But since modern conveniences replaced the use for magic, Corey has exchanged quests for fried food as she turned her tavern into a family-friendly restaurant. It's not until the Lightfoot brothers come knocking that she realizes her warrior spirit is still within.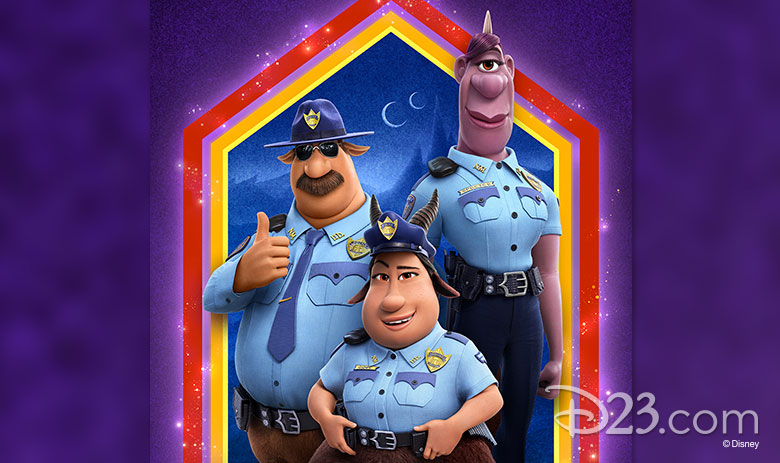 Officer Colt Bronco (voiced by Mel Rodriguez)
Colt is Laurel's devoted new beau, but as much as he loves her, he's had trouble connecting with her sons, Ian and Barley. When he's not with Laurel, he's working as a cop in New Mushroomton.
Officer Specter and Officer Gore (voiced by Lena Waithe and Ali Wong, respectively)
Colt's co-workers Specter and Gore are basically opposites. Specter is a stern, no-nonsense officer while Gore is more sloppy and opinionated, but together they complement each other very well.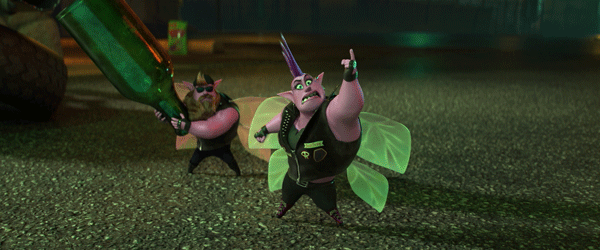 Dewdrop (voiced by Grey Griffin)
She may be small, but this sprite is as tough as nails. As the leader of the motorcycle gang, the Pixie Dusters, she's not afraid of a little confrontation when the time calls for it and loves the open road. She is definitely not to be underestimated.
Initially, the filmmakers wanted to make the Pixie Duster sprites smaller, but according to art director Matt Nolte, director Dan Scanlon wanted something a little different. So, for Onward, the artists created their own version of sprites, making the little creatures slightly bigger and donning uniquely designed leather jackets.