By Zach Johnson
Who cursed who?
In Disney Channel's fa-boo-lous new animated buddy-comedy series The Ghost and Molly McGee, premiering Friday, October 1, at 9:35 p.m. ET/PT, the enthusiastic Molly McGee (voiced by Ashly Burch) and her family relocate to the town of Brighton and settle into a home occupied by Scratch (voiced by Dana Snyder), a grumpy ghost whose job is to spread misery. Scratch's instinct is to scare the McGees away—but Molly sees right through him.
Emmy Award® winners and long-time collaborators Bill Motz and Bob Roth are the series' creators and executive producers, and their personalities inspired the two main characters. "A number of years ago, Bob was away on a trip, and he came back with this idea that Scratch didn't curse her; he's cursed with her," says Motz. "That made us laugh. The more we began diving into that premise, the more we realized, 'Wait a second: This is us.' I'm Molly. He's Scratch. I'm an extrovert. He's an introvert. I tend to be a wide-eyed, magical-thinking optimist, and he tends to be a grump and a pessimist. We've been friends for over 30 years. Bob has tempered some of my extrovert excesses, and I've helped Bob open up from his introverted disposition. We are better people because of our friendship with each other." The inherent humor in that contrast will be "reflected in Molly and Scratch," says Roth. "They will become better people—each of them—for the time they spend together."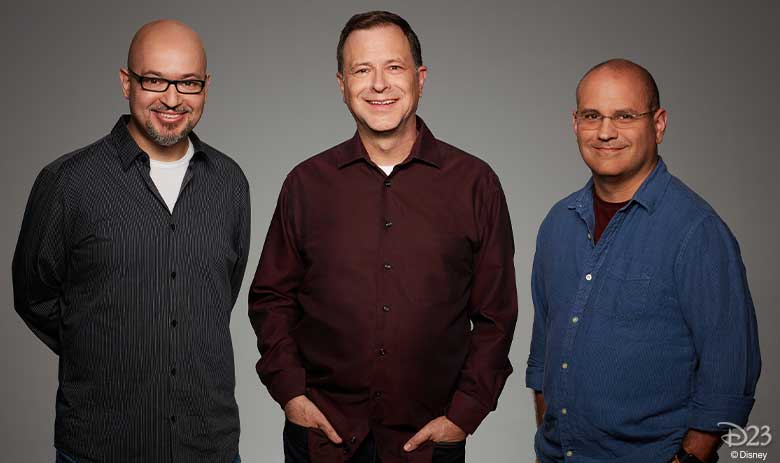 Scratch's initial attempts to scare off Molly have the opposite effect; his "rude, crude, and disgusting" behavior only makes her love him more. Trying to scare off the rest of the McGees (voiced by Jordan Klepper, Michaela Dietz, and Sumalee Montano) doesn't work, either, as Molly has made Scratch her instant best friend. "Initially, you see this opposites dynamic," says Motz. "It's the odd couple idea: She's positive, he's negative. She's yes, he's no. But very quickly, they really come to care for each other. How they approach things is wildly different, but there's real love and care between them—and with the whole family."
Unfortunately, this puts Scratch at odds with the Ghost Council, as he is supposed to be "generating misery," Motz says, "and here's Molly bringing joy and positivity to Brighton."
Molly has struggled to sustain friendships while moving around the country, and now she wants to "embrace everybody"—Scratch included—"because she doesn't know when they're going to be ripped away," explains Roth. "We're not going to share Scratch's backstory just yet, but there are similarities there with people being ripped away."
Music plays an important role in The Ghost and Molly McGee, with each episode featuring at least one original song. According to Emmy Award winner and executive producer Steve Loter, "The songs came about in an interesting way. As we were making the pilot, which was done with a really small crew, we were finding ways to entertain each other and to make each other laugh. And we got to a point in the pilot when we said, 'It'd be great to put a song here." They added more and more songs, he says, until the team realized they were "tapping into something that has always been a strong part of the Disney legacy: music."
The "super talented, super funny" songwriter Rob Cantor was brought in, according to Loter. "Rob can basically do any genre at the drop of a hat. Anything you throw his way—whether it's inspired by Queen or John Williams—he can do it. Every episode has a song burst, which is basically echoing the theme of the episode. It's a really fun way to add a lot of humor, and it continues the legacy of how important the music is in Disney productions."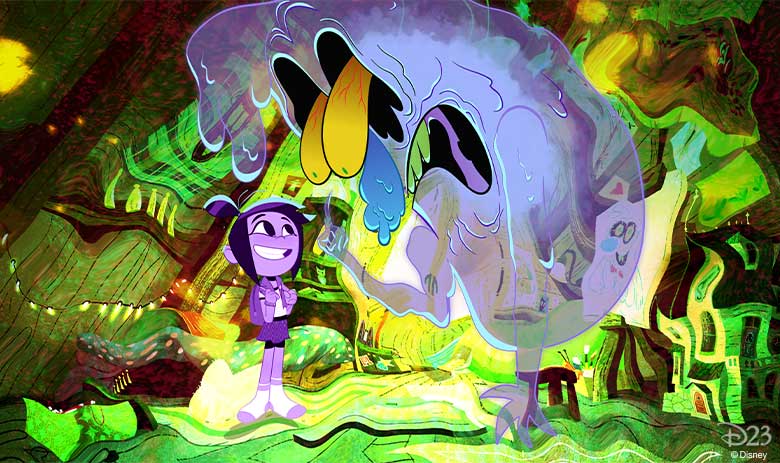 In the pilot, however, neither Molly nor Scratch sings. "For whatever reason, we said, 'This show is going to have music, but it's not a musical. Molly and Scratch aren't going to break into song,'" Roth recalls. "Cut to the very second episode. We were like, 'Yeah… Molly's got to sing this song. Then we had to go through, 'Oh, no… can they sing?' But we dodged a bullet; Ashly sings beautiful, and Dana has a degree in musical theater. It all worked out."
The Ghost and Molly McGee premieres Friday, October 1, at 9:35 p.m. ET/PT on Disney Channel; the second episode airs in its regular timeslot on Saturday, October 2, at 9 a.m. ET/PT. The first five episodes will be available Wednesday, October 6, on Disney+.