By Jocelyn Buhlman
The dazzling 100th anniversary celebration of The Walt Disney Company kicked off at the Disneyland Resort this past Friday, January 27. A host of new experiences and entertainment debuted at The Happiest Place on Earth in honor of the milestone anniversary, letting guests take part in the celebration of Disney storytellers, creators, and fans around the world who, together, spark the magic and wonder of Disney.
"We are excited to bring this milestone celebration to life right here at The Happiest Place on Earth," said Disneyland Resort President Ken Potrock. "For generations of families and fans around the world who have made Disney a part of their lives, this will be a once-in-a-lifetime opportunity to enjoy all-new experiences with beloved Disney characters, our caring cast, and our amazing storytelling throughout the year."
While other Disney Parks around the world will be joining in the celebration later this year, the party is starting at Walt Disney's very first park—Disneyland! If you can't wait to join the jamboree yourself, start planning your next trip down to Anaheim, because we've rounded up everything to eat, see, and do to celebrate 100 years of Disney!
Attractions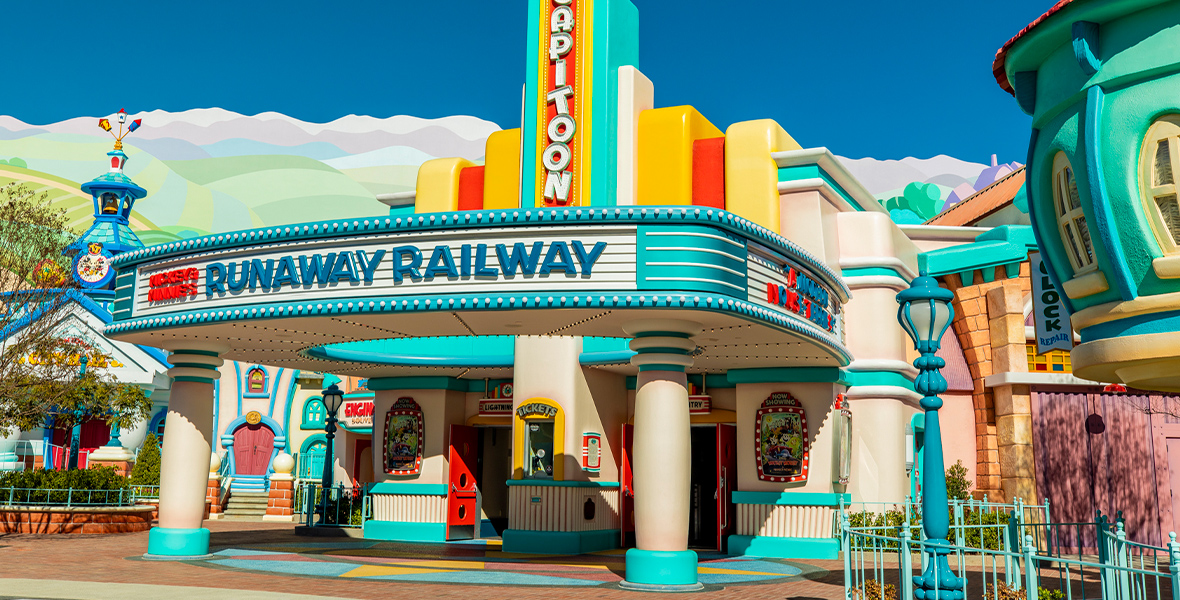 Mickey & Minnie's Runaway Railway
The first-ever attraction exclusively dedicated to Mickey and Minnie Mouse made its east coast debut in 2019 at Disney's Hollywood Studios—but now for Mickey's Toontown at Disneyland Resort welcomes the wacky and wonderful attraction just in time for the 100th anniversary of The Walt Disney Company. Potrock told D23, "The Disneyland Resort is 68 years young, and yet, in all that time Mickey and Minnie have not had their own attraction. It sure seems like it's about time, don't you think?"
The attraction, which is now open for guests to enjoy, is a family friendly romp through a cartoon world featuring your favorite characters. Inside the El CapiTOON Theater in Mickey's Toontown, guests board a train engineered by Goofy and embark on a zany, out-of-control adventure with surprising twists and turns. Besides cartoon goofs and gags, there's details aplenty for fans to look for—both in the queue and the attraction itself! "Runaway Railway in Florida had the most 'hidden Mickeys' of any attraction, ever," explains Jeff Shaver-Moscowitz, executive producer at Walt Disney Imagineering, "We may have topped that a little bit here."
Disneyland's version of Mickey & Minnie's Runaway Railway boasts an incredible new queue celebrating decades of Mickey magic. Inside, you'll be able to explore the Toontown Hysterical Society's Mickey Through the Ears exhibit, featuring costumes, props, and hidden details from Mickey history. Some of our favorite pieces include the gigantic vine from Mickey and the Beanstalk (currently still growing through the roof of the El CapiTOON), Scrooge McDuck's record keeping book from Mickey's Christmas Carol (featuring the names of many cast and crew members from the film), and a collection of Disney Afternoon-inspired candies in the concession stand. Read more on the countless details and hidden gems in the queue and attraction itself here.
To experience Mickey & Minnie's Runaway Railway, guests will be required to join the complimentary virtual queue, which is accessible only via the Disneyland app. Upon its grand opening, there will not be a standby line for this attraction. The virtual queue enrollment times will be twice daily, at 7 a.m. and 1 p.m. PT. More information on the virtual queue system is available at Disneyland.com. Guests may also get quicker entry to this attraction with the purchase of an individual Lightning Lane arrival window, subject to availability.
World of Color – ONE
Disney California Adventure lights up after dark with this beloved spectacular, which has showcased half a dozen different versions of the show since its debut. This year, guests will enjoy a new show celebrating the storytelling legacy started by Walt Disney a century ago. World of Color – ONE features an original song, "Start a Wave," and features characters and moments from Walt Disney Animation Studios, Pixar Animation Studios, the Avengers and Star Wars. This is the first time that characters from across these worlds of Disney are all in the same production!
Wendy Ruth, show director at Disney Live Entertainment is wowed by the chance to bring so many different characters into one production, saying, "It is a beautiful show with an inspiring message that every single one of us can make a difference. We see it in characters like Remy, Moana, Mirabel, and Luke Skywalker, and in the end, we leave our guests with a call to action: You can be the one."
Guests will be able to access viewing areas for World of Color – ONE through the virtual queue system available only via the Disneyland app. Distribution for the complimentary virtual queue will begin at noon, daily, subject to availability. More information is available at Disneyland.com. If the virtual queue reaches capacity, guests can check in with a cast member at the Paradise Bay viewing area shortly before World of Color – ONE begins for walk-up viewing options. Joining the virtual queue is not required, but it is highly recommended as walk-up viewing options for each performance are available on a first-come, first-served basis.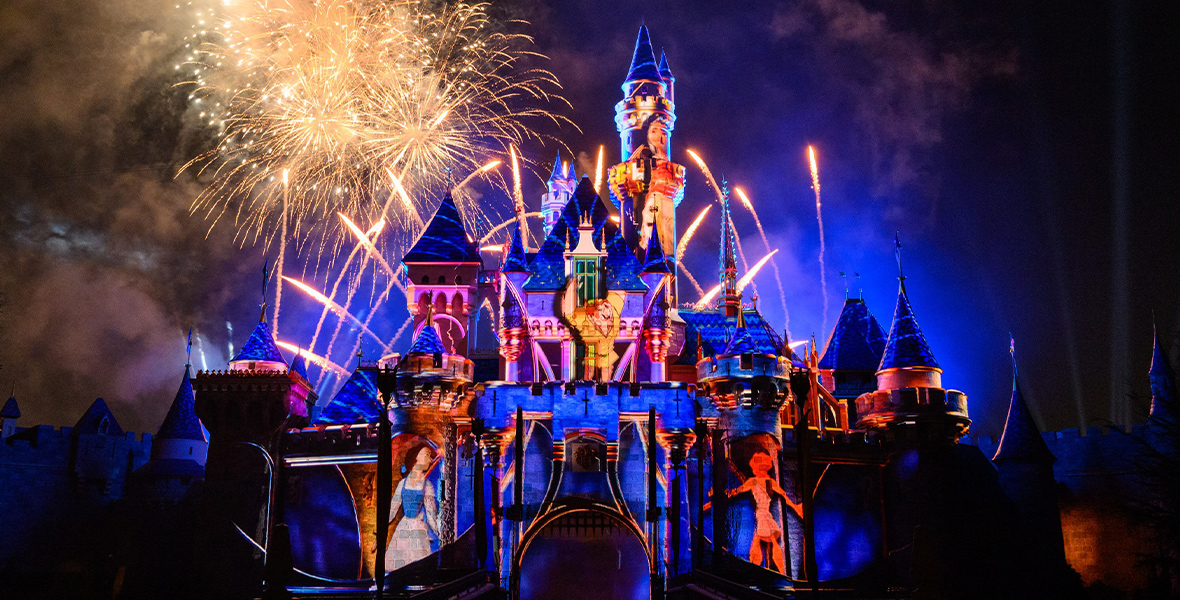 Wondrous Journeys at Disneyland Park
Lighting up the night doesn't stop at Disney California Adventure! Over at Disneyland Park, an all-new spectacular, Wondrous Journey, features nods to every Walt Disney Animation Studios film over the last century, including the upcoming animated feature, Wish. Creative director for Walt Disney Animation Studios Roger Gould explains, "To curate the moments brought to life in Wondrous Journeys, we gathered a trust of Disney Animation artists and directors to discuss their favorite memories and which stories made them fall in love with animation." Keep an eye out for your favorites as you watch the show!
The dazzling display is set to an all-new song, "It's Wondrous," along with 18 Disney songs. Each primary viewing area in the park is customized for a unique experience, using the park's state-of-the-art projection effects to turn Main Street, U.S.A., Sleeping Beauty Castle, the façade of "it's a small world" and the Rivers of America into an artist's canvas. On select nights, Wondrous Journeys goes even bigger with the addition of sparkling fireworks.
Keep your eyes to the skies—not just for fireworks. For the first time ever, the lovable Baymax from Big Hero 6 soars across the skies of Disneyland Park during the spectacular.
The Disney Gallery Presents: Disney 100 Years of Wonder
This all-new exhibit inside the Main Street Opera House is inspired by Walt's dream for Disneyland to be a place where his films come to life! The gallery pays tribute to Disney films that became Disneyland Resort attractions and park experiences that later inspired Disney films. Guests can check out art by original Disney animators alongside the concept art of the attractions that bring those stories to life in the parks. Displays include an original animator's desk (courtesy of the Walt Disney Archives), a model of a multi-plane camera, and maquettes from classic Disneyland attractions like The Jungle Cruise, Haunted Mansion, and Pirates of the Caribbean.
Part of the Disney 100 Years of Wonder Gallery features Sleeping Beauty Castle's transformation through the years, including its latest Disney100 decor which was partially inspired by Disney Legend John Hench. Hench first joined The Walt Disney Company as an animator in 1939 and later moved to Walt Disney Imagineering to design the original Tomorrowland attractions at Disneyland. Hench continued to develop and design Disney Parks all the way up to his death in 2004, contributing to the creation of EPCOT Center, Disney California Adventure, and, as Imagineer Kim Irvine explained, Sleeping Beauty Castle!
"He [Hench] would always talk about fountains. "Wouldn't it be cool to have fountains in there?" So, for the anniversary, I sneakily said, "What if we put fountains in that moat?" So, we did. And they're really, really fun! I hope you get a chance to see them at night because they go from pink to blue, back and forth every now and then, as though the fairies are changing them."
Irvine counts Sleeping Beauty Castle's Disney100 look as her 6th(!) castle repaint, each one stunning and uniquely tailored to Disneyland and The Walt Disney Company's magical milestones. Be sure to stop by the Main Street Opera House to enjoy all the beautiful historical items on display.
Even More to Explore!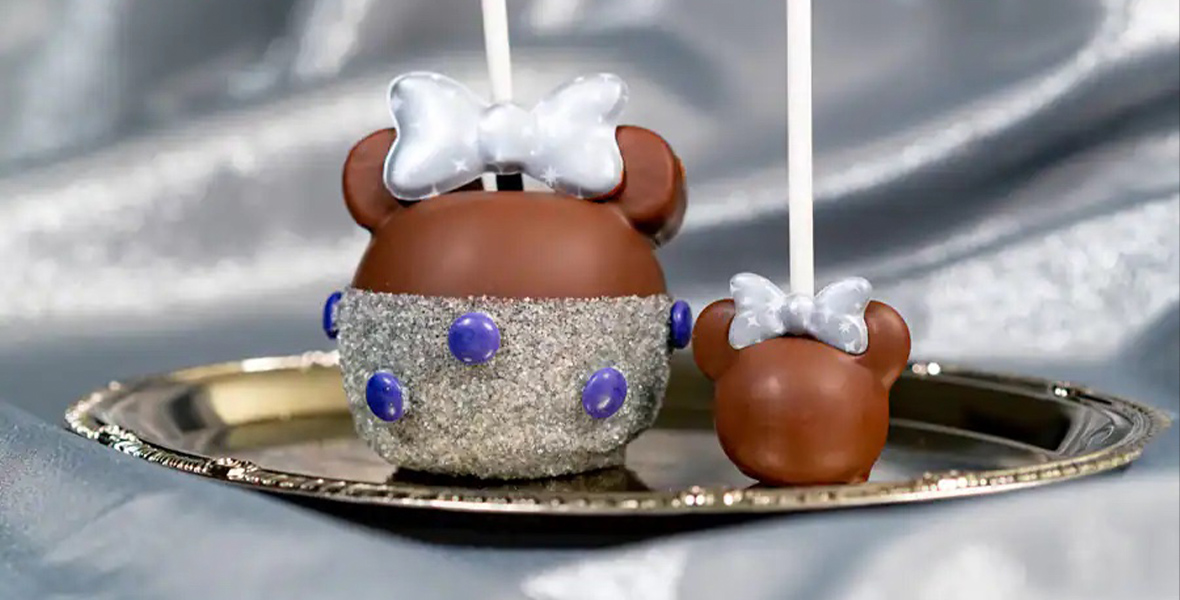 As you enjoy your day at Disneyland, keep an eye out for other ways to celebrate Disney's milestone anniversary, such as:
Dazzling Decor: You can't have a party without decorations! From the Downtown Disney District to the hotels of Disneyland Resort to the parks themselves, everywhere you look you'll see platinum-infused décor sparkling in celebration. Sleeping Beauty Castle gets an elegant celebratory overlay—and Mickey and his friends are dressed to match!
Food and Beverage: Get a taste of the celebration through more than a dozen new food and beverage offerings, such as the platinum trifle and old-fashioned cream soda, and novelties like the Disney100 Mickey Mouse sipper and platinum Mickey Mouse balloon bucket.
Magical Merch: From a special MagicBand+ to commemorative collectibles, there's something for everyone who wants to bring the magic home with them.
What's Next?
The party has only just started, so keep an eye out for future exciting announcements about the Disney100 celebration at Disneyland Resort! We can already tell you to start marking your calendar—February 24 will be the highly anticipated return of the Magic Happens parade to Disneyland Park! Then, March 8 ushers in the reopening of the newly reimagined Mickey's Toontown, featuring more play activities and attractions than ever before, in addition to grassy play spaces for guests of all ages to unwind.
Stay tuned (and "tooned") to D23.com for more news about Disney100 and the celebration at Disneyland Resort as it breaks!