By Jim Frye
Just like other Disney fans from the '90s, every time we hear the name DuckTales, a certain "Woo-oo" goes off in our heads. It's inescapable, part of the legacy of the show that was a staple of Disney Afternoon, along with Rescue Rangers, TaleSpin, and the "terror that flaps in the night," Darkwing Duck! Well, buckle up, adventure lovers, and get ready for a ride on the Ratcatcher as everyone's favorite feathered super hero is back in a super-sized DuckTales episode called "Let's Get Dangerous." Woo-oo indeed!
For the very special two-part episode, Drake Mallard, aka Darkwing Duck, and Gosalyn, become part of the DuckTales storyline, complete with a secret lair, Ratcatcher motorcycle, and masks and capes aplenty. Fans have been eager to see the return of Darkwing for some time, and the McDuck family's trip to St. Canard, Darkwing's home turf, provided the perfect opportunity for that to happen.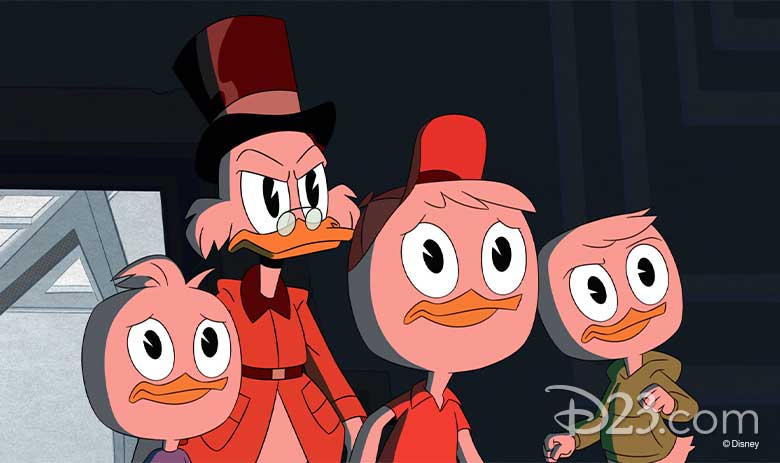 Executive Producer Matt Youngberg and Co-Executive Producer/Story Editor Francisco Angones are excited to bring Darkwing into the third season of DuckTales series, especially considering the overall theme of the season. "Season 3 of DuckTales is all about legacy," says Angones. "And part of the legacy of the original DuckTales are those Disney Afternoon shows—Rescue Rangers and TaleSpin and Darkwing Duck. It's not an accident that in Season 3 we're seeing all these Disney Afternoon characters showing up. It's part of a larger meta-story of something we wanted to say about the original DuckTales and the legacy of the Disney Afternoon."
Back in the '90s, the original DuckTales and Darkwing Duck series shared separate "universes," with the only real connection being the character of Launchpad, who appeared in both. The challenge for Youngberg and Angones was to figure out how to merge the two universes into a cohesive storyline for the current series. To do that, they figured out an ingenious plan that payed homage to the "meta" roots of Darkwing himself. "We've been seeding a lot of things with Darkwing for a while," says Youngberg. "There was a lot of stuff early on where the fans of Darkwing were very curious what we were going to do because we were making it a show-within-a-show, which makes it a lot different from the original Darkwing Duck mythos."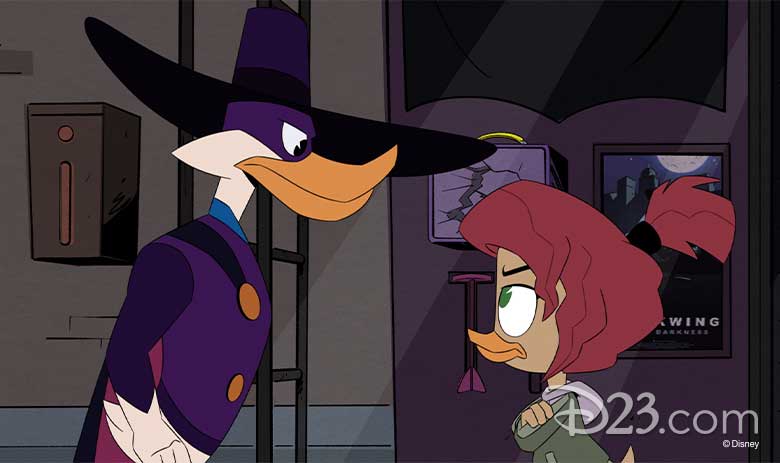 In the current world of DuckTales, Drake Mallard appeared in Season 2 as a fan of the actor playing the character of Darkwing Duck, Jim Starling, on an old TV show that both he and Launchpad watched. "It was just a cheap, old super hero show, kind of in the vein of the Adam West Batman series," says Youngberg. "So that's the connection into our universe. In Season 2 we had an episode where they tried to do a reboot of Darkwing Duck and they hired Drake." Eventually, with encouragement from Launchpad, Drake takes on the persona of his on-screen character, becoming Darkwing Duck for real.
"The original Darkwing Duck was a very meta show," says Angones. "There was a lot of fourth-wall breaking and looking at the camera and playing with the tropes. There's something about the character of Darkwing that really brings out the meta in us."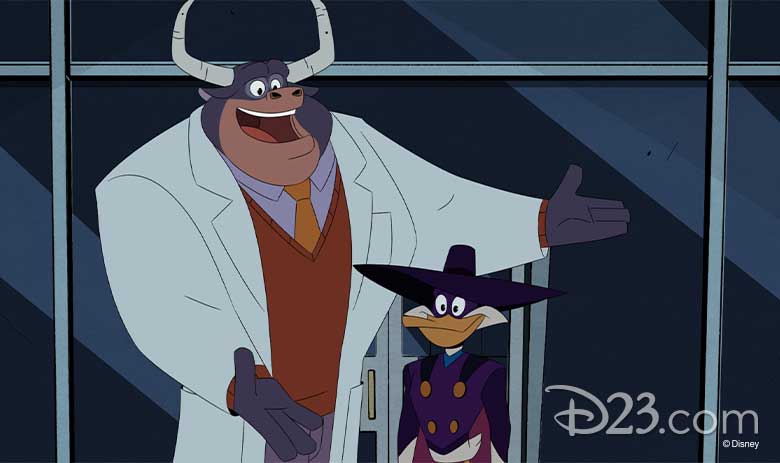 When you break it down, DuckTales and Darkwing Duck are both about family. DuckTales has the uncle and his nephews, and Darkwing Duck concerns a father and his adopted daughter. But also, both shows are built around the idea of "found family," especially as it relates to the character of Launchpad. "Launchpad is a part of the DuckTales family, and as he's growing as a character, he's embraced this idea of Adventure family," says Youngberg. "So as he's getting to know this new part of his world [Darkwing Duck]; it's not two separate families, he's just expanding his family."
"He's starting his own family, of a sort," adds Angones, "and that speaks to the nature of the found-family nature of our show, particularly the found-family nature of the original Darkwing. But also, Gosalyn was a character that was really important to fans growing up, and it's a character that's hopefully going to be important to our viewers and fans now. To have a father figure out there who's just trying his best, it feels like that's relatable. It's about a family coming together and fighting against the world. Hopefully that's what people will respond to. I think you could boil it down to adventure, comedy and heart—and family is the greatest adventure of all."
See the epic and heartwarming return of Darkwing Duck October 19 on DuckTales on Disney XD. Things are looking a bit dangerous!