By Courtney Potter
"The air is humming, and something great is coming." 20th Century Studios' West Side Story opens in just about 10 days' time—and that lyric, by the late, great Stephen Sondheim, couldn't be more apropos; directed by Oscar® winner Steven Spielberg, with a screenplay by Pulitzer Prize and Tony® Award winner Tony Kushner, this reimagining of the beloved musical tells the classic tale of electric rivalries and young love in 1957 New York City.
Recreating the look and feel of the Upper West Side in 1950s America—and within a musical, to boot—brings with it a host of uniquely memorable challenges… ones that Tony and Emmy® Award-winning costume designer Paul Tazewell (Hamilton, The Wiz Live!) was more than willing to take on. D23 recently sat down for a chat with the busy designer, who unfurled a bit of the proverbial fabric of his unforgettable experience on the project.
D23: The Official Disney Fan Club: Were you nervous when you first got hired onto West Side Story—considering its source material is so revered?
Paul Tazewell (PT): I was so excited, but there was also a feeling of—now I have to stand up against this iconic [1961] film that has been beloved by so many different people… When I was working in Los Angeles, pulling some of the clothing together and doing a lot of the prep, I had the opportunity when I was at Western Costume [the well-known costume facility] to actually see the color palette that had been put together by Irene Sharaff, who was the original costume designer—both for the original [1957] Broadway production and then also the ['61] film. So to see what she had set up as her color palette, on the chart, and to actually be able to touch that—it felt like the holy grail! I just realized that this was somewhat of a daunting task to fill that spot for as many people as possible, in a similar fashion—[but] to have my looks, my design, hopefully carry some of that same energy. I was honored to have the challenge.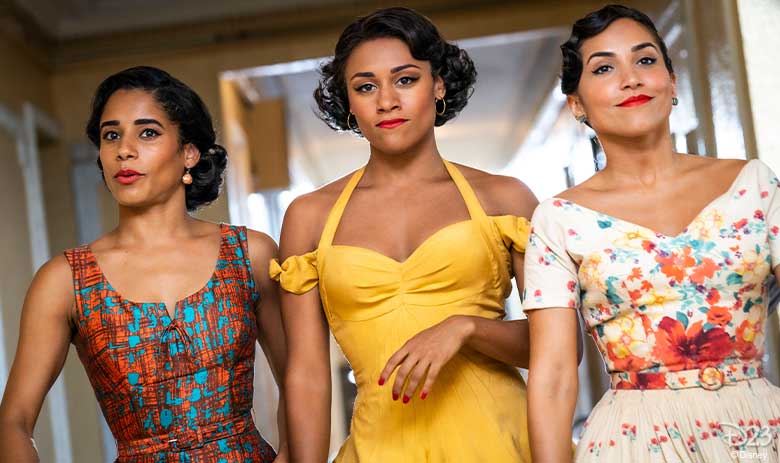 D23: What was your research for this project like?
PT: It was very important for Steven to reflect a somewhat naturalistic take on the city at that time, in 1957… [that Upper West Side] neighborhood was shifting and changing and actually ended up becoming the Lincoln Center area… After I collected as many [photographic] images as I could, I shared them with Steven, and we had long conversations about what he liked, what he didn't like, what he thought was true to the way he wanted to tell the story, [and] how he imagined the specific characters being represented. So I continued to refine specific images, looking for actual dress designs from that period of the mid-1950s—whether it's in a catalog or actual photographs of dresses. Choosing some styles that seem to be appropriate and then modifying those, because I was always approaching the silhouette and the look of the clothes knowing that they were gonna be danced in. So I was wanting to make choices that would look great moving as well as when they were just standing still—[as well as] appropriate for the character and the community that I was representing.
D23: Do you have a favorite moment from designing for this film? Something that you recall fondly, or something that really sets it apart from other projects you've worked on?
PT: I couldn't have asked for a better collaborative team to work with, from the top down. Steven's level of respect and engagement, I experienced very early [on]; I really appreciate that, because that's the kind of environment that I work best in. I think you need to surround yourself with other creative people that come from that same mindset—and I try to maintain all of that as well, in the team that I put together. So that was definitely the case [here]. And working with the cast that they had put together—beautiful, very lovely people that are hugely talented—made the process that much more exciting. I was very excited to go to work every day.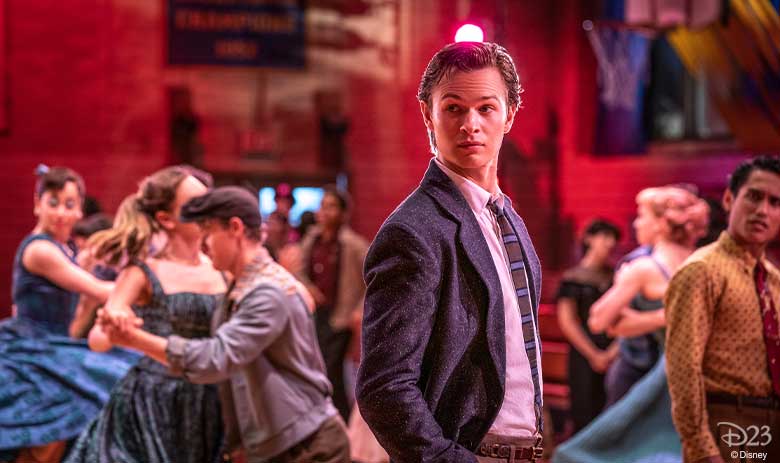 There was a moment where we were just getting ready to film; it was the first day of filming for the "Dance at the Gym" [sequence]… and we were dressing everyone in their "Dance at the Gym" looks. As it's written, it's all of the teenage kids looking their coolest or their favorite way to represent themselves; their nicest dress or their nicest suit. Everyone got dressed and then they were all in a group, kind of waiting around for someone to announce something—and they all started to applaud, and they were directing it towards me. To get praise in that way, to get that affirmation about the work that I do with clothing—it was wonderful. It moved me greatly, to receive that from the cast and from the crew that was helping them all.
D23: What's it like to know that this iteration of West Side Story is now part of the worlds of Disney? Were you a Disney fan growing up?
PT: I was a huge fan! My love of Mary Poppins and Cinderella defined how I see the world of [costuming]… There's something about when Cinderella transforms into [her] ballgown—I always hold that with me. And if I think about, well, what is that magical feeling? How do I recreate that in another garment? Whether it's gonna be a [1970s] suit for Donna Summer [in Broadway's Summer: A Donna Summer Musical, which Tazewell designed], or for some kind of turn-of-the-century entrance—how can I orchestrate that same visceral feeling in what I'm designing? And it's reflective of the feeling that I got when I was watching the animated Cinderella. The same goes for Mary Poppins, and how I was swept away—that was my favorite movie growing up. How does one capture the playfulness of that story, the way that it was represented on film, and transform that? What other moments is that applicable to? It was very formative. I've carried it and applied it to other things as well.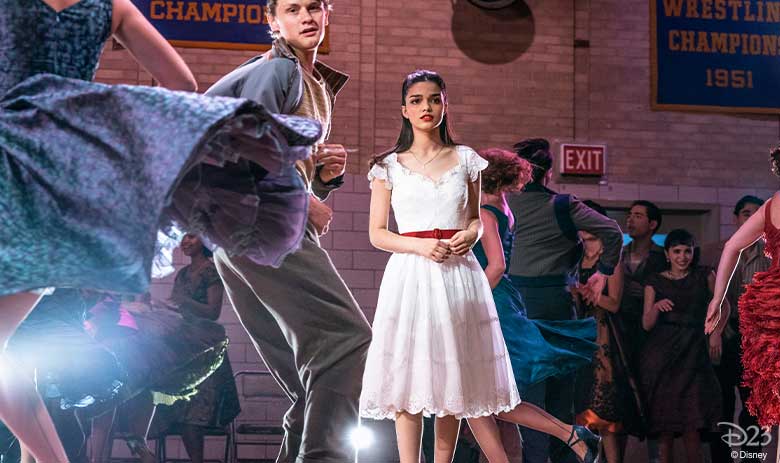 D23: What do you hope audiences take away from the film?
PT: So much life has happened [since we filmed West Side Story]—for all of us, collectively, as Americans. I'm hopeful that the story will resonate in a stronger way, and in a deeper way, for a Disney audience. I hope it fosters a better understanding and sensitivity to what life must've been like for all of these characters [living in that time period, in New York City]… I think that there's a lot there that will resonate for an audience.
See 20th Century Studios' West Side Story when it premieres in U.S. theaters on Friday, December 10!