Debut
The Health Nut, Italian Topolino 453 (1964; U.S. reprint in Walt Disney's Comics and Stories 638, 2003).
"It's called do-it-yourself… and that's what I'm going to do for you!" —Fethry Duck
The Lowdown
Donald's stocking-capped New Age cousin has a new fad—and often a new job—every week. Fethry's got unstoppable creativity, selfless generosity, a wily grip of logic… and a total inability to see what's going on around him! He only wants to share his uplifting experiences with others… but will they survive the chaos Fethry causes?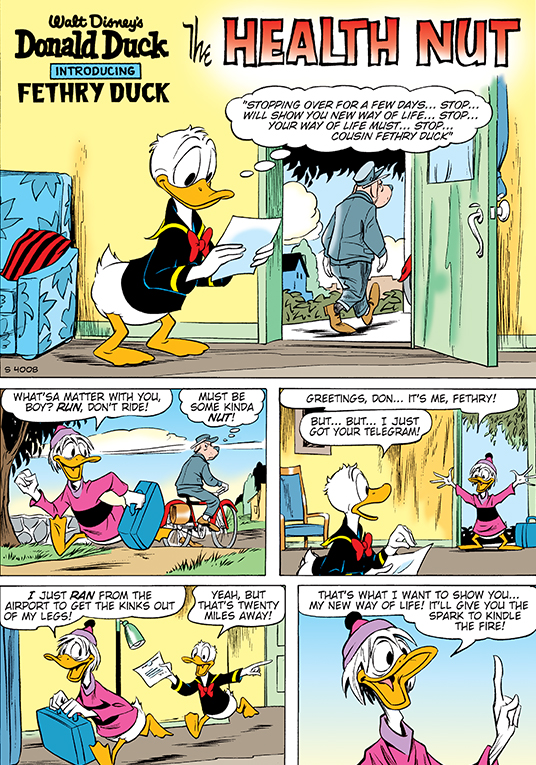 The Gimmicks
All it takes is an inspirational new book, TV show, or video to launch an eager Fethry into this week's hobby… which might be anything from feng shui to marriage counseling!
When a hobby doesn't motivate Fethry, an impassioned protest might. Fethry's a born environmentalist and animal rightist—which is bad news if you oppose those causes. Or support them!
In his downtime between fads, Fethry works with Donald at two of Uncle Scrooge's businesses, the Duckburg Chronicle newspaper and the McDuck Intelligence Agency. Secretly, Fethry and Donald also work for the Tamers of Nonhuman Threats paranormalist squad. Fethry loves studying the paranormal… perhaps because he's not quite normal himself!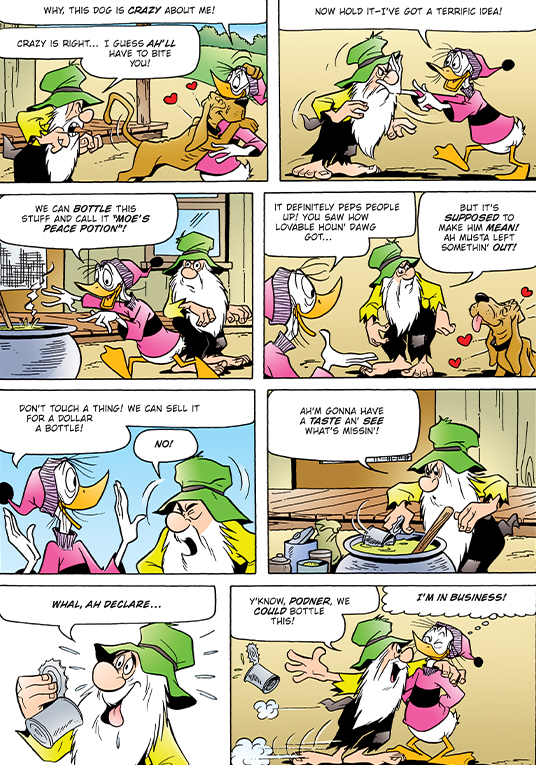 The Creators
Fethry was created by Dick Kinney (writer) and Al Hubbard (artist), whose 1960s Disney comics were mostly published outside the USA. As a result, for decades Fethry was only a big star abroad! Only in the 2000s did our übergeek come home.
The Family
Apart from lavishing his attention on "favorite cousin" Donald, animal-lover Fethry dotes on Donald's hapless tomcat Tabby, who only wants to escape! Fethry also considers mountain man Hard Haid Moe a close chum—though the feeling is never mutual.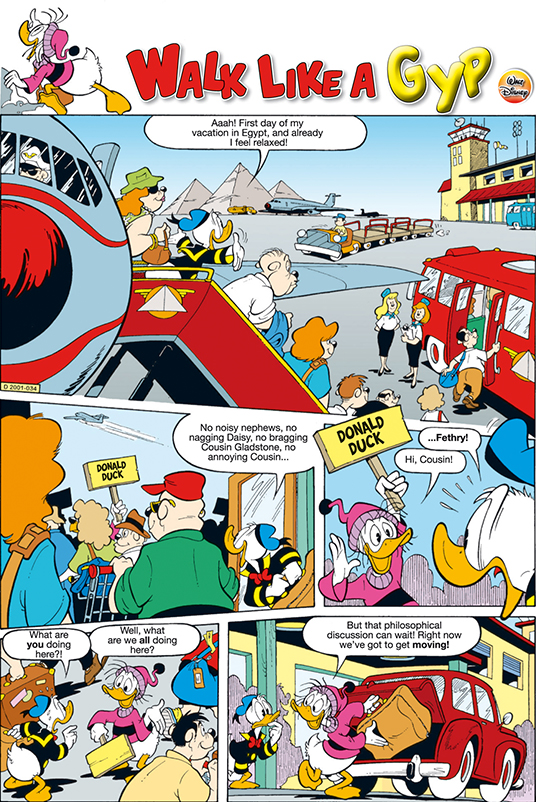 The Bloopers
A famous 1970s children's book series, Disney's Wonderful World of Knowledge featured illustrations of "Donald" looking shockingly like Fethry. That's because in the original Italian editions of the books, he was Fethry—but American translators didn't recognize him!