By Courtney Potter and the D23 Team
Few people have made as indelible a mark on American life as Walt Disney. From creating the first full-length animated feature, to the state-of-the-art Audio-Animatronics® figures we continue enjoy at Disney theme parks, and the astonishing innovation that flows from all parts of the Company to this very day… Walt truly had an impact on this country's history. So it should come as no surprise that Walt enjoyed professional relationships with many U.S. Presidents—men whose lives are equally as woven into the nation's landscape.
With help from our good pals at the Walt Disney Archives, D23 celebrates President's Day with a look back at the storied relationship between Walt, the company he created, and commanders-in-chief over the last eight decades. It's more than just a visit to a theme park or a letter of congratulations; as you'll see, the Disney association for some presidents goes much deeper—and is much more fascinating…
Franklin Delano Roosevelt
According to the Archives, one of Walt's earliest presidential associations was with FDR. In a January 1934 letter addressed to Walt, first lady Eleanor Roosevelt admits that the entire first family enjoys the antics of Mickey Mouse—and she calls the president one of Mickey's "devotees." Walt would later appear on a May 1939 radio broadcast with FDR to celebrate the opening of the Metropolitan Museum of Art in New York City, and the first lady herself would visit the Walt Disney Studios in April 1941.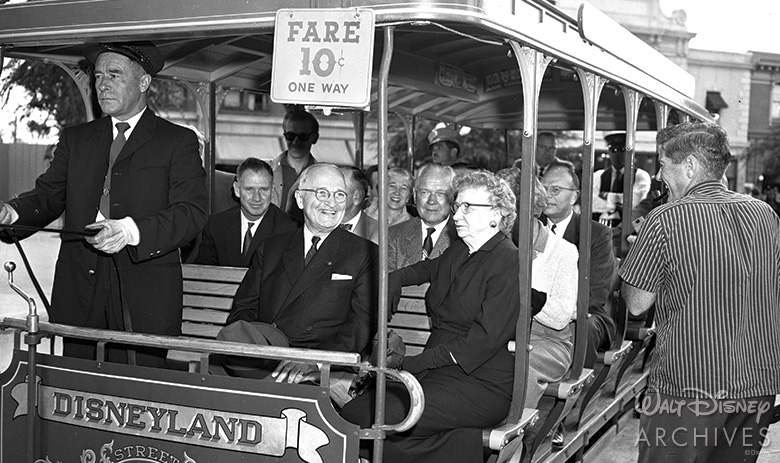 Harry Truman
Once Disneyland Park was open, then former President Harry Truman paid a visit in 1957, with his wife, Bess at his side.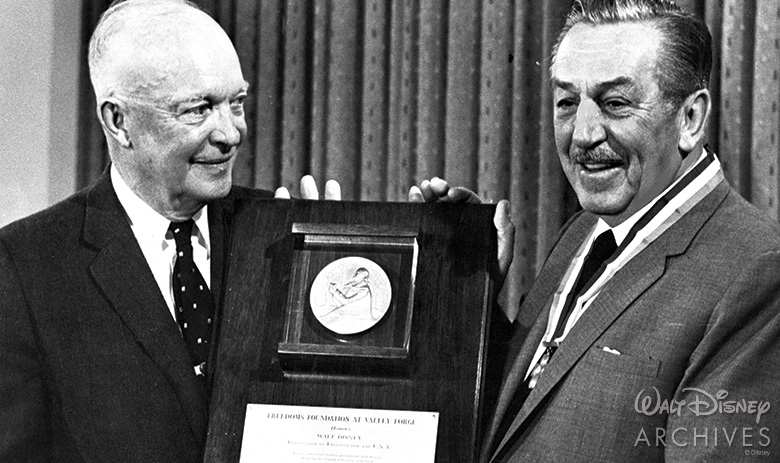 Dwight D. Eisenhower
Disney's relationship to Eisenhower runs deeper than most… Asked by Eisenhower supporter (and renowned female aviator) Jacqueline Cochran to help with the 1952 campaign, the Disneys authorized studio volunteers to make an animated short in support of Ike. Created on donated time by several famed Disney animators (including Disney Legends Eric Larson and John Lounsbery), the We'll Take Ike political cartoon premiered in the fall of '52 and would be lauded for its effect on the outcome of the election. Take a look at a couple of story sketches from the project's development …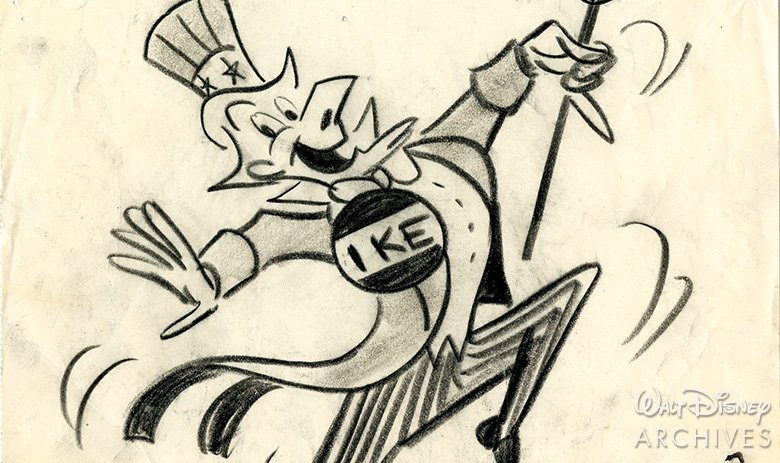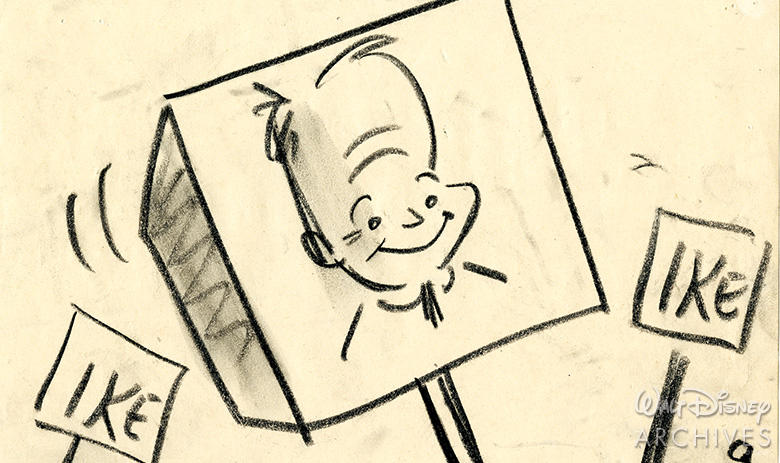 After leaving the White House, Eisenhower and family visited Disneyland in 1961—and in 1963, he presented Walt with the George Washington Honor Medal of the Freedoms Foundation at Valley Forge, honoring patriotism and good citizenship, pictured above.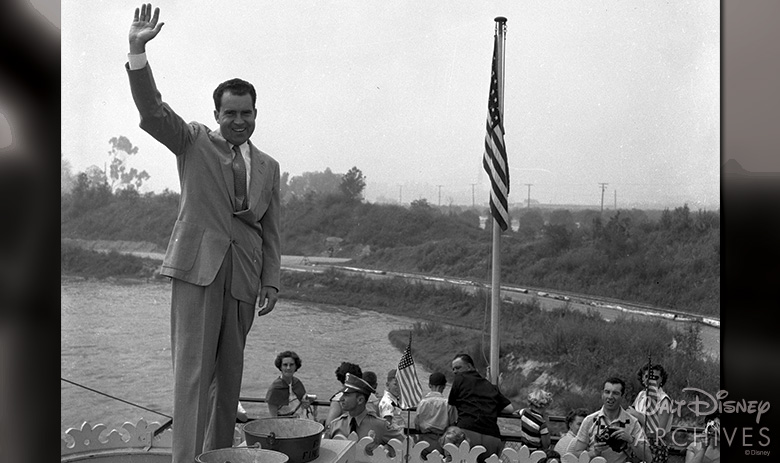 Richard Nixon
Then-Vice President Richard Nixon visited Disneyland for the first time in 1955; in the above photograph, Nixon is seen waving to the camera from atop the Mark Twain Riverboat. Once Nixon was himself president, in 1969, he presented the Walt Disney Commemorative Medal to Walt's widow, Lillian, at a special White House ceremony—saying at the time, "[Walt] was a great artist. He was a perfectionist. He was a great human being."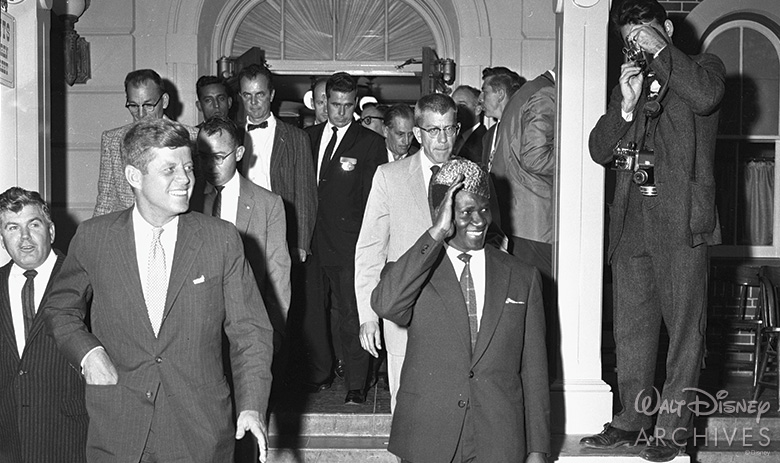 John F. Kennedy
Kennedy first visited Disneyland as a U.S. Senator in November 1959, after attending a meeting at the Disneyland Hotel. After his untimely assassination, he was honored with a moment of silence during the December 1963 Candlelight Processional at Disneyland, and would be featured many years later in the "Golden Dream" film montage near the finale of The American Adventure at Epcot.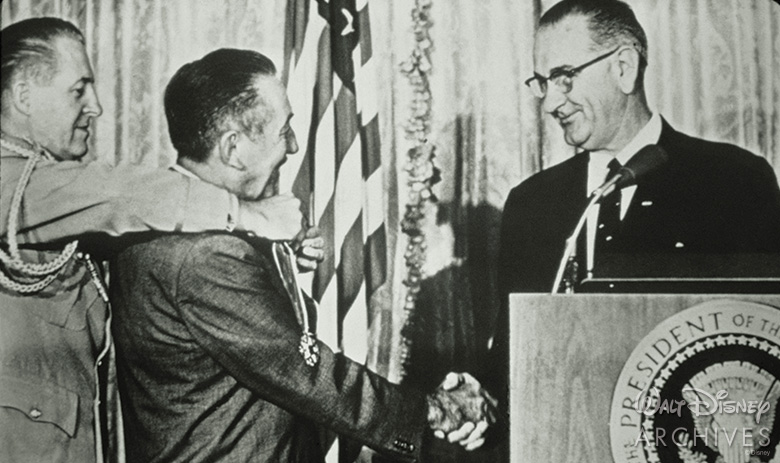 Lyndon B. Johnson
The 36th President presented Walt Disney with his Presidential Medal of Freedom in 1964. The award program said of Walt, "Artist and impresario, in the course of entertaining an age, he has created an American folklore."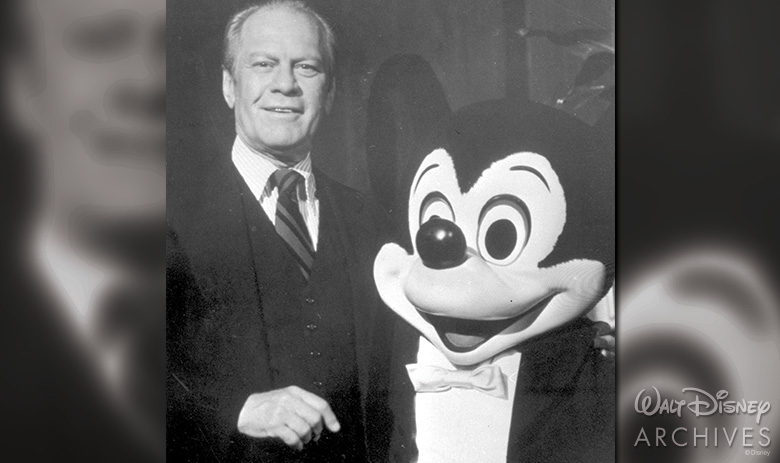 Gerald Ford
On September 22, 1978, Ford—who had just vacated the Oval Office—visited the Walt Disney Studios in Burbank, where he participated in the filming of the Mickey's 50 TV special celebrating Mickey Mouse's golden birthday. And if you'd like a great piece of trivia for the next time you visit the Disney Studios in Burbank, his filming took place at around 10 a.m. inside the studio's Stage 3.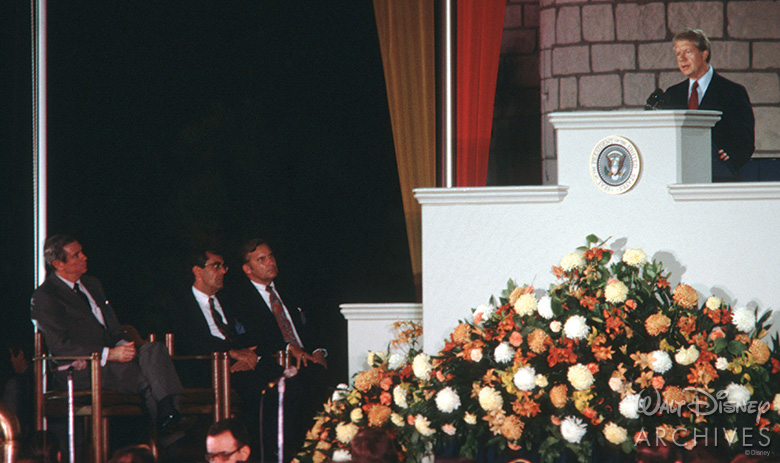 Jimmy Carter
While Carter was in the White House, he spoke at the 26th World Congress of the International Chamber of Commerce, held at Walt Disney World's Magic Kingdom in 1978; in the picture above, Carter speaks from a flower-bedecked stage in front of Cinderella Castle. On February 19, 1980, Carter issued a presidential proclamation—requested by a joint resolution of the House of Representatives—honoring the memory of Walt Disney, and his creations that brought "laughter and love, joy and gladness" to the world.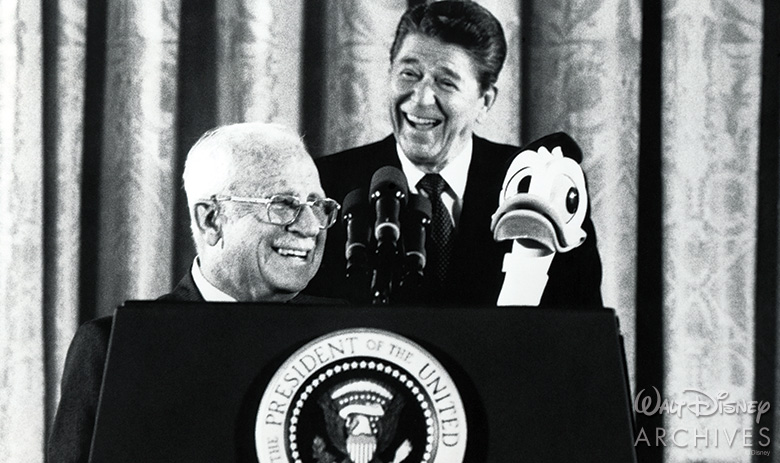 Ronald Reagan
There's much history between Reagan and Disney… so much so, a tribute was created for D23 Presents Treasures of the Walt Disney Archives at the Ronald Reagan Presidential Library & Museum in 2012. In 1955, the then-actor was a co-host of ABC's live coverage of the opening day festivities at Disneyland; starting a lifelong association between the future president and Disney parks. After Reagan was voted into the White House for a second term, Washington, D.C. was deemed too cold for traditional outdoor inaugural festivities—so in May 1985, the President's Inaugural Bands Parade came to Epcot! It was a first for the Walt Disney World Resort, and one of the very few times an inaugural celebration was held outside of the nation's capital. In the picture above, President Reagan presents Donald Duck voice actor Clarence Nash with an award for his years of volunteer service entertaining hospital patients. After leaving the Oval Office, one of Reagan's first public events was a return to Disneyland—where he officiated its 35th anniversary celebration, proclaiming the park "one of America's national treasures."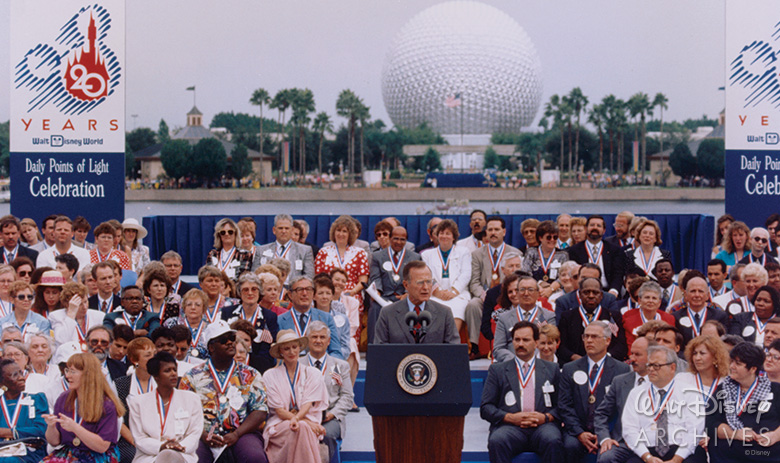 George H.W. Bush
President George H.W. Bush celebrated the first gathering of his Daily Points of Light award recipients—outstanding community volunteers from across the nation—at the America Gardens Theatre at Epcot on September 30, 1991 (pictured above). The event was part of the huge 20th-anniversary celebration of Walt Disney World Resort. (Later, Bush's son, President George W. Bush, would honor The Walt Disney Company itself as a Daily Point of Light in 2004.)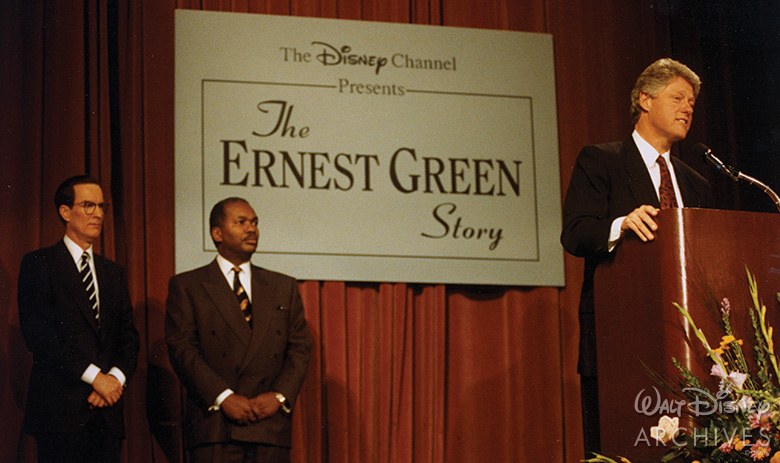 Bill Clinton
A few weeks before taking the oath of office, the 42nd president spoke (pictured above) at Central High School in Little Rock, Arkansas, at the premiere of Disney Channel's The Ernest Green Story, a TV movie chronicling the "Little Rock Nine" and their quest to integrate American schools, starring Morris Chestnut, Ossie Davis, Ruby Dee, and Brian Stokes Mitchell.
George W. Bush
The pardoning of the Thanksgiving turkey is a time-honored tradition in the White House. Once the second President Bush pardoned "Flyer" (pictured above) and his cohort "Fryer" on November 22, 2006, they were then flown to Disneyland park to serve as honorary grand marshals for that year's Thanksgiving Day Parade!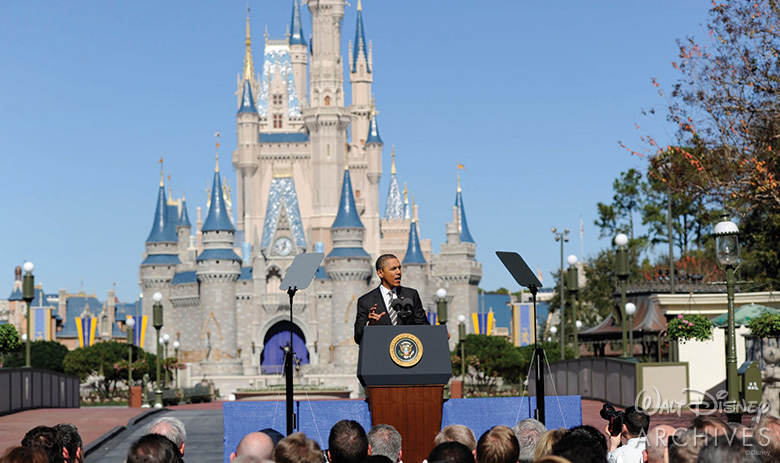 Barack Obama
In January 2012, during a notable speech held right in the middle of the Magic Kingdom's Main Street, U.S.A, President Obama noted that Disney theme parks "represent that quintessentially American spirit." Later that same year, Obama visited Walt Disney World once again for the annual conference of the National Association of Latino Elected and Appointed Officials.
Donald Trump
As for the newest Oval Office occupant, he once appeared on Disney Channel's all-new Mickey Mouse Club in a "Guest Day" segment during the show's first season in 1989. The segment was called "A Day with Donald Trump."