By Courtney Potter
By the end of 2007's Enchanted, kindhearted Giselle (Amy Adams)—despite all manner of obstacles, animated and otherwise—had truly found her "happily ever after." She'd vanquished the evil queen and started a new life in the big (live-action) city with a smart, handsome "prince" of a New Yorker, Robert (Disney Legend Patrick Dempsey), and his adorable daughter Morgan.
But what exactly happens after "happily ever after"? Disenchanted, the brand-new follow-up to the fan-favorite film, aims to answer just that—and it's now streaming exclusively on Disney+! Giselle, Robert, their baby Sophia, and the now-teenage Morgan (Gabriella Baldacchino) have left New York City for a new life in sleepy, suburban Monroeville. But it's not exactly the quick, fairy-tale fix Giselle had initially dreamed of; for one thing, there's the town's "queen bee," Malvina (Maya Rudolph), who's set out to make Giselle feel more out of place than ever. Turning to the magic of Andalasia for help, Giselle accidentally transforms the entire hamlet into a real-life fairy tale—and puts her whole family at risk in the process! Can she save them all before it's too late?
D23 was lucky enough to hear exclusively from several members of the film's cast—as well as director, choreographer, and executive producer Adam Shankman—about the making of Disenchanted, and what viewers can expect from this tune-filled adventure: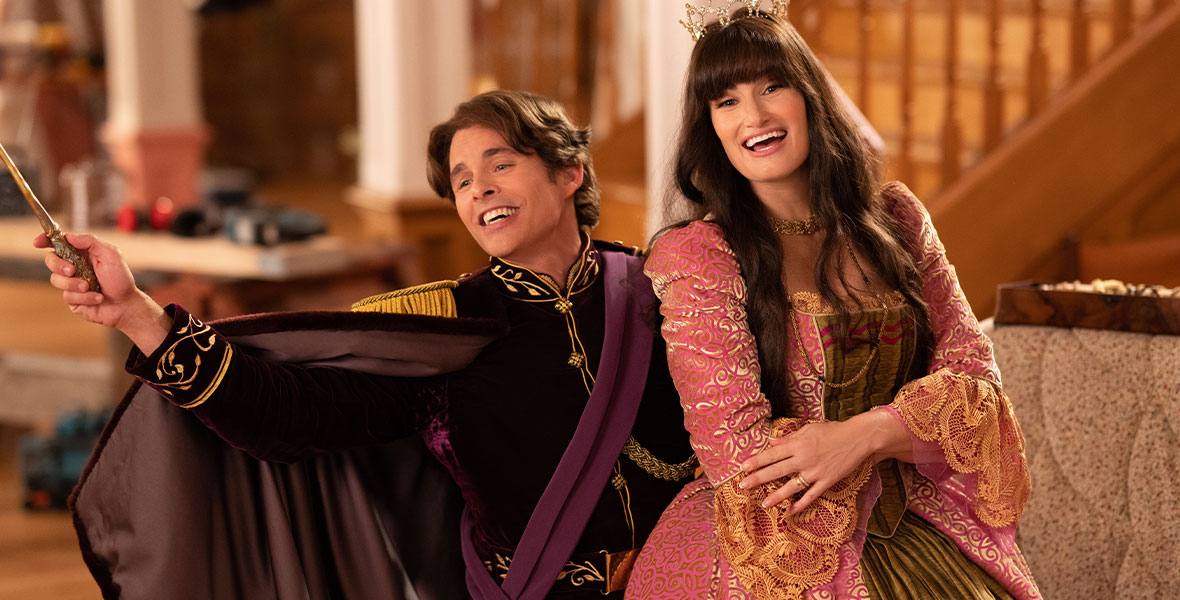 James Marsden, who returns as Prince Edward—Giselle's original intended who winds up marrying Robert's former fiancé, Nancy (Disney Legend Idina Menzel)—was particularly excited to revisit the character. "Edward is the same guy [in this film]," he explains. "It's everything I loved about that character and about playing that character: this unabashed, hopeless romantic. The only thing he loves more than Giselle in the first movie—which ended up being Nancy—was the sound of his own voice, right? He's the guy in love with being in love. So he's there with that same sort of cheerful optimism. It's a great character to play... so I was excited to jump back into that suit, and was chomping at the bit to sing at the top of my lungs again!"
Speaking of singing, Menzel—also returning from the 2007 film—is especially thrilled to get to sing in Disenchanted... something that, unfortunately, hadn't materialize last time round. But the filming of it was decidedly memorable. "My first night [on set] was performing the new song that I have, with Gabby [Baldacchino as Morgan]. And it was a beautiful night, and the set was sparkling... When you film these kinds of movies, you always feel like you're in a real fairy tale. And when you film movie musicals, it's so much fun because it seems like the crew is so starved for the music. They're not used to being able to shoot these as often as they'd like. So when they have beautiful music playing over and over and over again, there's just this wonderful energy that you can feel on set. I remember finishing a few takes, and they were all crying and clapping!"
She continues, "I remember looking at everyone and saying, 'Y'know, I didn't just sing that—I sang it in my closet [during the COVID-19 lockdown], and recorded it, and now I'm lip-syncing it for a movie,'" she adds, chuckling. "But it was just like I was doing live theater or something! I guess having come out of the isolation and everything we'd all been living in, from a performer standpoint, it was so good to connect with an audience—even if it was a film crew."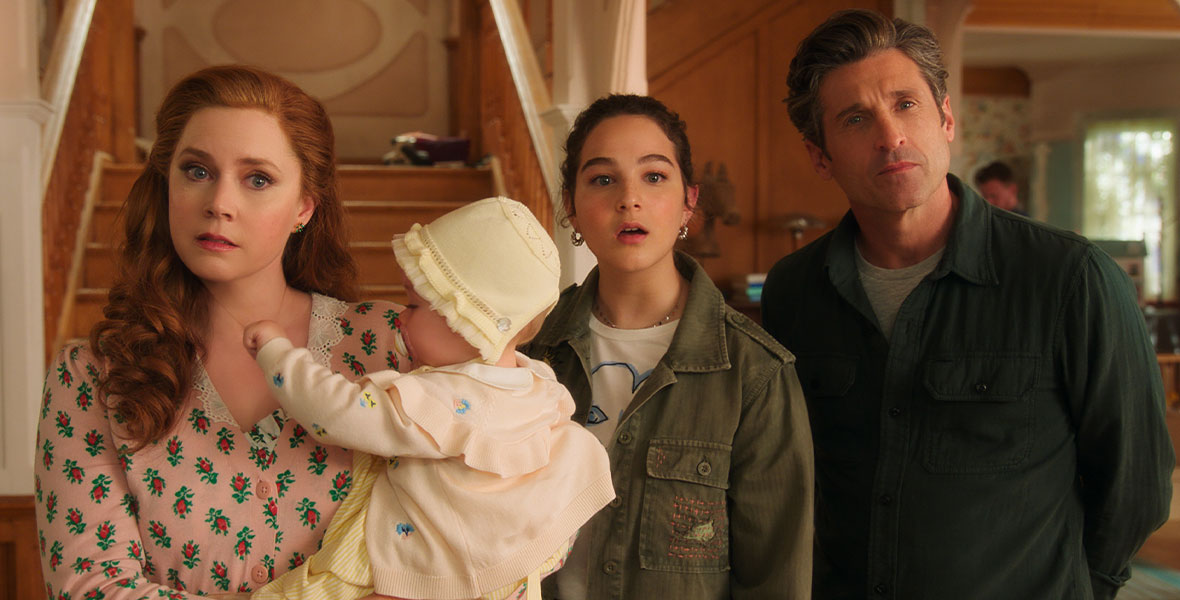 Menzel's co-star in that scene, Baldacchino, still can't believe her incredible luck—Disenchanted is her first role in a studio film, and it's alongside people she's admired for years. "Watching Enchanted was a core memory for me, if you will," she admits. "And I think a lot of people in my generation can relate, in that it came out during a really special time in our childhood... So when I found out I had an audition for the sequel, I did not think I was going to be in it. I mean, what are the chances? But I was so excited. I remember thinking, 'Okay, I cannot wait to see this!' So it's all pretty surreal."
She adds, "I actually met Amy on Zoom for the first time, when we did a 'chemistry read' during one of my final auditions. And then she was there to break the news to me when I found out I was cast as Morgan. Plus, she and I were two of the first cast members to arrive in Ireland, where we filmed the movie. So we had some time together before everything started, to connect and to form that 'mother-daughter' relationship that's at the core of this movie and the heart of the story—which was such a special thing to be able to do, especially because I had always admired her as an actress and had looked up to her as a kid. I mean, she was Giselle! To get to act alongside her was an honor, but it was also so much fun."
For Rudolph, Adams really is the not-so-secret ingredient to making this film magical. "She is the closest thing I've ever witnessed to a true princess," she explains. "Enchanted is so perfect because of Amy—and how she made Giselle feel unbelievable, like a true fairy tale princess, not to mention when she sang. The first day when I came to set and saw Amy in her beautiful blue housecoat I realized I was talking to Giselle. I felt entranced, like a little kid talking to a princess! She is absolutely perfect.
"And I think audiences will be amazed by all of the beauty that went into creating this film," Rudolph continues. "From the costumes, makeup, and hair to the set design and the songs. I got to step into a real-life fairy tale every single day—even thinking about it now gives me goosebumps!"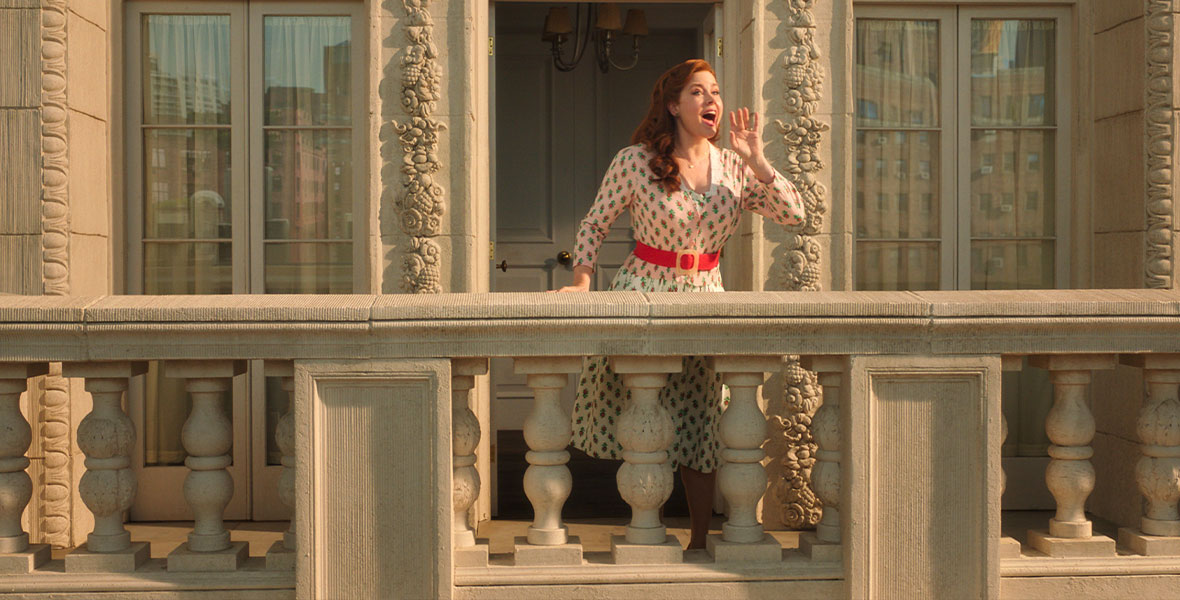 All told, Shankman can't wait for audiences to finally see the finished product. "I think that people will really love Amy and Maya's duet; it's pretty special. And Idina's big power ballad is surreal. Her vocal is almost all her original demo that she did over Zoom in her closet—that was nuts. She and Amy did their demos at the beginning of the lockdown. Actually, Amy recorded the song 'Fairy Tale Life' in hercoat closet." The songs, once again by Stephen Schwartz and Disney Legend Alan Menken, are truly an integral part of the film's construction. "There is no way to describe the experience of getting to work so intimately and for so long, creating an original musical with your idols," he continues. "We have been crafting all of this for years and I still can't process how surreal it's all been. It's beautiful and magical and humbling."
"Discovering a new engine for Giselle's growth while making the movie feel funny, emotional, and connected to the first movie was the big challenge," Shankman adds. "I love where we landed; it all feels very relatable... and having a new group of incredibly funny people for the 'OGs' to play in the sandbox with was nothing but pure joy."