In Disney's Descendants, the live-action musical adventure, the worlds of heroes and villains collide like never before! Throughout the course of the Disney Channel film, Evie (Sofia Carson, Austin & Ally)—the daughter of Snow White and Seven Dwarf's Evil Queen (Kathy Najimy, Hocus Pocus)—finds her own path, outside the footsteps of her wicked mother.
We wondered what Evie's family Christmas tree might look like… Magical? Check. Something fruit-related? Naturally. Lots of sparkle? Of course! The resulting "poison" apple ornament is sure to bring life to this year's holiday.
Supplies:
Fake red apple (easily found at your local craft store)
Light green fabric paint
Light green glitter
Dark green glitter
Twine, string, or ribbon
Permanent marker (i.e., a Sharpie)
Paintbrush
Scissors
Butcher paper or plastic tablecloth
OPTIONAL:
Mod Podge clear acrylic spray sealer (or similar)
Decorative D23 gift tags can be downloaded here.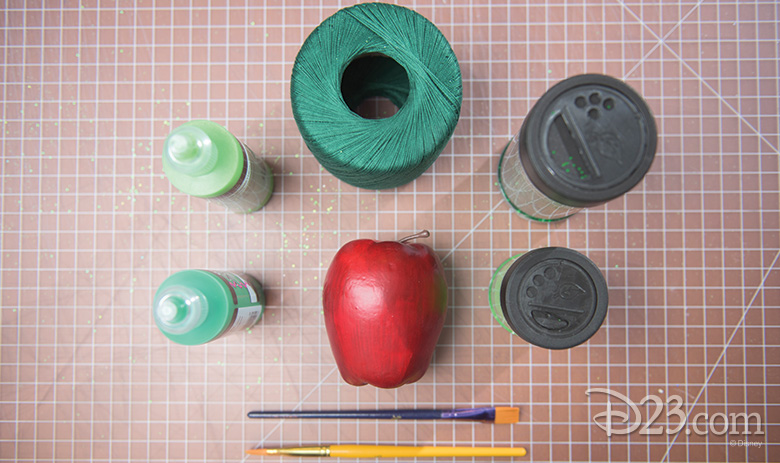 Lay butcher paper or plastic tablecloth across your work surface.
With your permanent marker, draw an outline of the eyes and nose (see photos for example). The spookier, the better…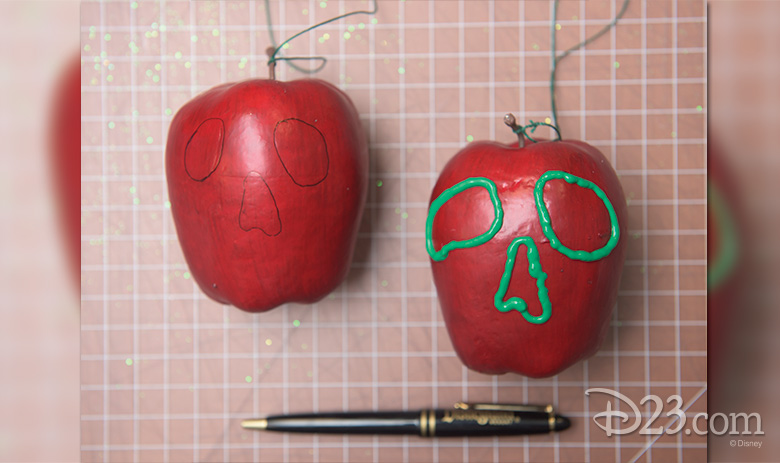 Trace the outline of the eyes and nose with the green fabric paint; make it a relatively thick line, if possible. Allow to dry for five to 10 minutes.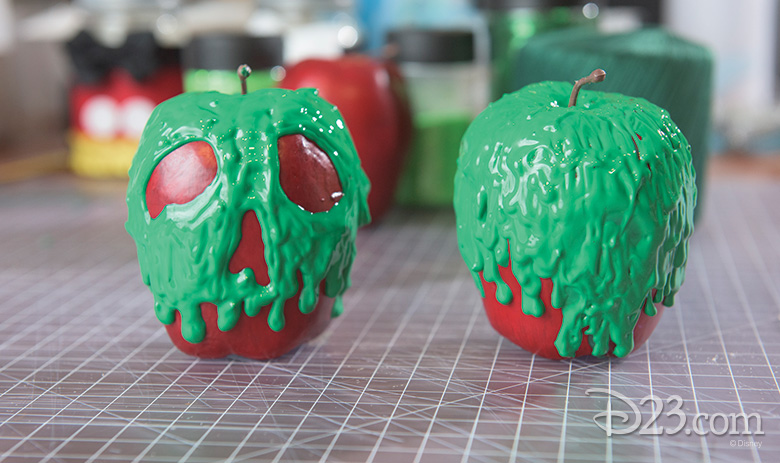 Next, apply a generous amount of the fabric paint to the top of the apple, letting it drip down and around the dried eyes and nose holes. (The thick lines created in Step 3 should prevent the mixture from dripping inside those areas.) Use the paintbrush to move some of the paint around, if need be.
Every so often, turn the apple upside down (using its stem) to keep the paint from covering up the entire apple.
Let the paint dry for a few minutes.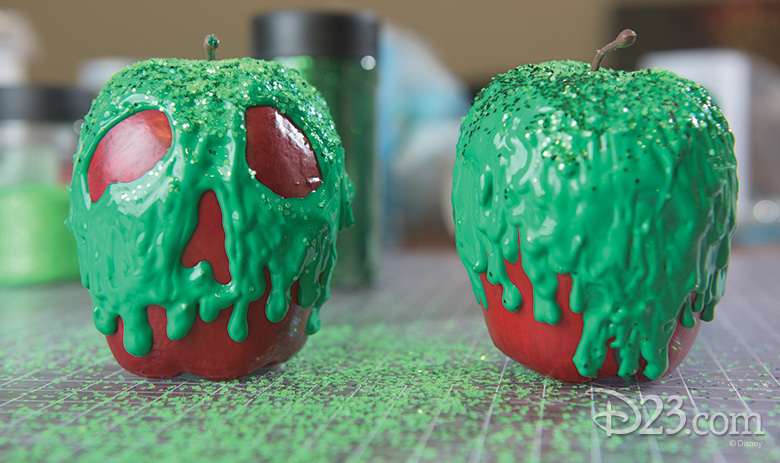 Apply a generous amount of both the light green and dark green glitter around the top of the apple; then, holding its stem, shake the apple a bit so some of the glitter creeps down onto the rest of the paint.
Dry overnight.
OPTIONAL:
The next day, spray entire apple with Mod Podge clear acrylic spray sealer, to better secure the glitter and paint. Allow to dry.
Tie a piece of twine, string, or ribbon to the stem and hang on your Christmas tree! It'll be positively spooktacular…
NOTE: Cutting should be done by an adult.