When Disney fans think of famous Disney trees, chances are what comes to mind are thoughts of Grandmother Willow, from Pocahontas, or the love-struck trees from the 1932 Silly Symphony cartoon Flowers and Trees. But you might be surprised to learn that Disney parks are home to more than a few noteworthy trees of the non-animated variety. In honor of Arbor Day, which is this Friday, April 24, we present these fun facts about Disney trees. Take some time this Arbor Day to visit them at a Disney park—
or truly get into the spirit of the holiday by planting one of your own closer to home.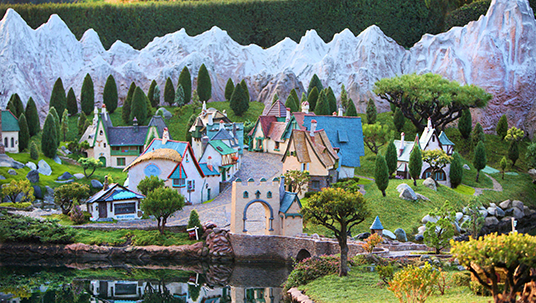 The oldest living tree at the Disneyland Resort is believed to be more than 150 years old.
This two-foot-tall Mugo Pine can be seen by guests cruising on the Storybook Land Canal Boats.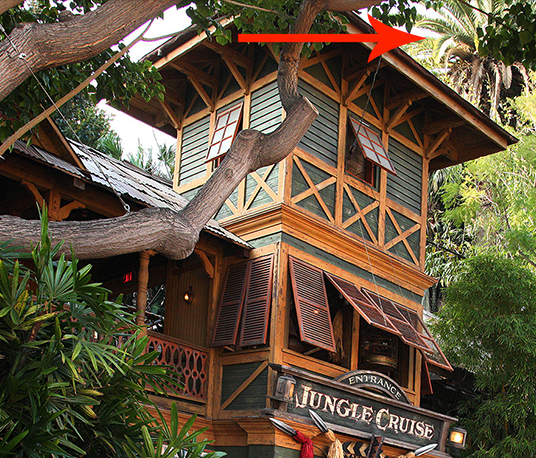 Almost as old as the Mugo Pine is a Canary Island date palm that stands near the Jungle Cruise in Disneyland's Adventureland. The tree was originally planted elsewhere in 1896 but was moved at the decree of Walt Disney himself, fulfilling a request made by the family that owned the land where the tree originally stood—land that is now part of the Disneyland Resort.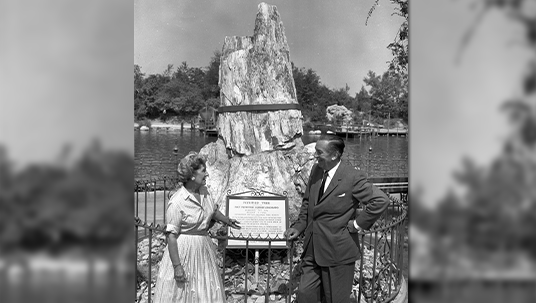 Speaking of old… The Petrified Tree in Frontierland is even older than the Mugo Pine—a lot older, given that it's believed to be somewhere between 55 and 70 million years old. According to the plaque that accompanies the tree, the Petrified Tree was once part of a sub-tropical forest in what is now Colorado's Pike Petrified Forest. The section on display at Disneyland weighs five tons and measures 7 ½ feet in diameter; the original tree is estimated to have been 200 feet tall. The tree—thought to be of the redwood of sequoia species—was presented to Disneyland in 1957 by Lillian Disney.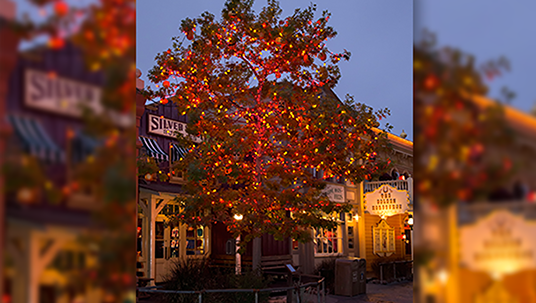 During Halloween Time at Disneyland Park, guests can admire a beautifully decorated oak tree near the Golden Horseshoe Saloon. The tree is inspired by Ray Bradbury's 1972 fantasy novel, The Halloween Tree, and was dedicated to the author on October 31, 2007. "I belong here in Disneyland, ever since I came here 50 years ago. I'm glad I'm going to be a permanent part of the spirit of Halloween at Disneyland," Bradbury said at the dedication.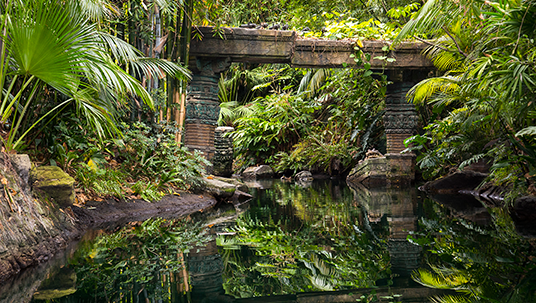 When you and your skipper set sail on Jungle Cruise, you feel like you've left Disneyland for thrilling adventures in Asia, Africa, and South America. One of the transporting features is the attraction's forest canopy; its trees stretch more than 80 feet tall.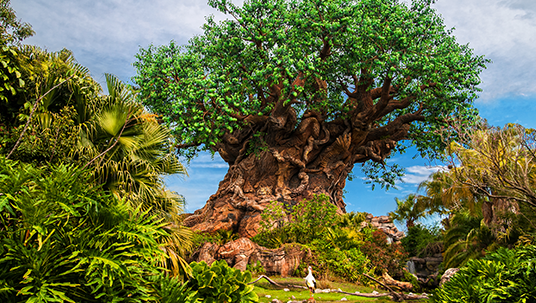 And to be sure, the Walt Disney World Resort has its own V.I.T.'s (Very Important Trees, of course), including the Liberty Tree at Magic Kingdom Park. But the most famous of all—because it's the most magical—is the Tree of Life, at Disney's Animal Kingdom. This structure stands 145-feet-tall, is covered in more than 103,000 leaves, and originally featured more than 325 animal carvings. New roots were "grown" earlier in 2015, revealing carvings of new animals, from tiny bugs to large crocodiles, and more. The 14-story structure is 50 feet wide at its base, and has more than 8,000 branches that allow its foliage to spread 160 feet over the park.