The Walt Disney Company recently launched its annual Disney Ultimate Toy Drive supporting the Marine Toys for Tots Program to help deliver toys to children in need this holiday season.
Are you a D23 Member and attending the fan-favorite Light Up the Season event this Sunday, December 10? You're invited to participate in the Disney Ultimate Toy Drive by donating new, unwrapped toys at Legends Plaza during the event!
This year's campaign kicked off in November on ABC News' Good Morning America, where special guest Taylor Price-a 29-year-old mother and foster parent-shared her remarkable story of becoming a coordinator for Toys for Tots in Texas after experiencing homelessness as a child and receiving toys from Toys for Tots, showing first-hand the impact of this remarkable organization. Now with children of her own, Price is looking forward to making a difference in the lives of children suffering from difficult circumstances who would never experience the magic of Christmas without the work of Toys for Tots and Disney. To thank Price for her dedication and hard work, Disney Ultimate Toy Drive helped Price kick off her local campaign with a donation of shopDisney toys and surprised her on-air with tickets to see Aladdin on Broadway with her family.
Disney's relationship with Toys for Tots dates back to 1947, when Walt Disney and his team of animators designed the Toys for Tots logo that is still used today. Since then, The Walt Disney Company has continued to strengthen this relationship, engaging volunteers and providing charitable support to help Toys for Tots deliver toys to children in need nationwide. Since its founding, Toys for Tots Marines and volunteers have distributed 652 million toys to over 291 million children. Last year the organization set a record of distributing more than 24 million toys to nearly 10 million children, thanks in part to the collaboration with the Disney Ultimate Toy Drive.
"For over 75 years, Disney has been proud to work with Toys for Tots to help deliver joy to children in need," said Lisa Haines, senior vice president, Corporate Social Responsibility, The Walt Disney Company. "From VoluntEARS opportunities to integrations into shows across our networks, our employees and cast members in every part of the company love supporting Toys for Tots and giving back at this special time of year in ways that only Disney can."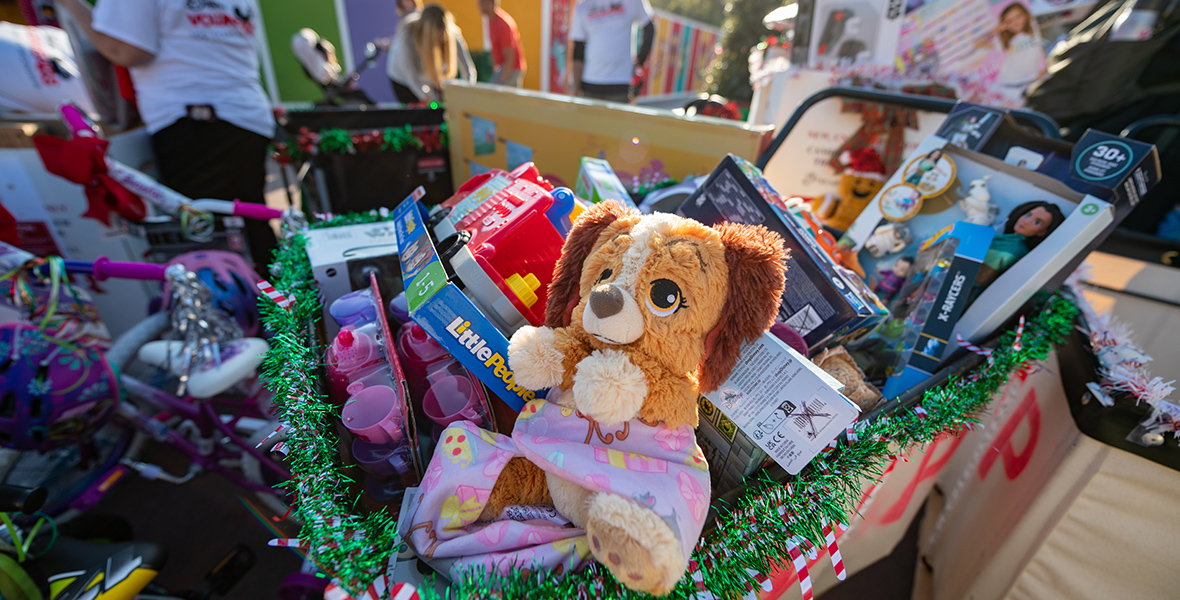 Said Lieutenant General Laster, President & CEO of the Marine Toys for Tots Foundation, "It's amazing how this relationship started with a logo and has now transformed into an annual nationwide campaign supporting children in need. Toys for Tots is grateful to have the continued support of Disney to help bring their stories to children for the holidays and deliver joy during this season of giving."
Fans and families can participate in the Disney Ultimate Toy Drive by donating a toy online at shopDisney.com now through December 24, 2023, or by donating a new, unwrapped toy in person at a U.S. Disney store location, Downtown Disney District at Disneyland Resort, or in select locations at Disney Springs at Walt Disney World Resort*, now through December 15, 2023.
Throughout the holiday season, Disney will air a Public Service Announcement on its television networks and streaming platforms-such as ABC, ABC Owned Stations, Disney+, Freeform, FX, Hulu, and National Geographic-in support of Toys for Tots.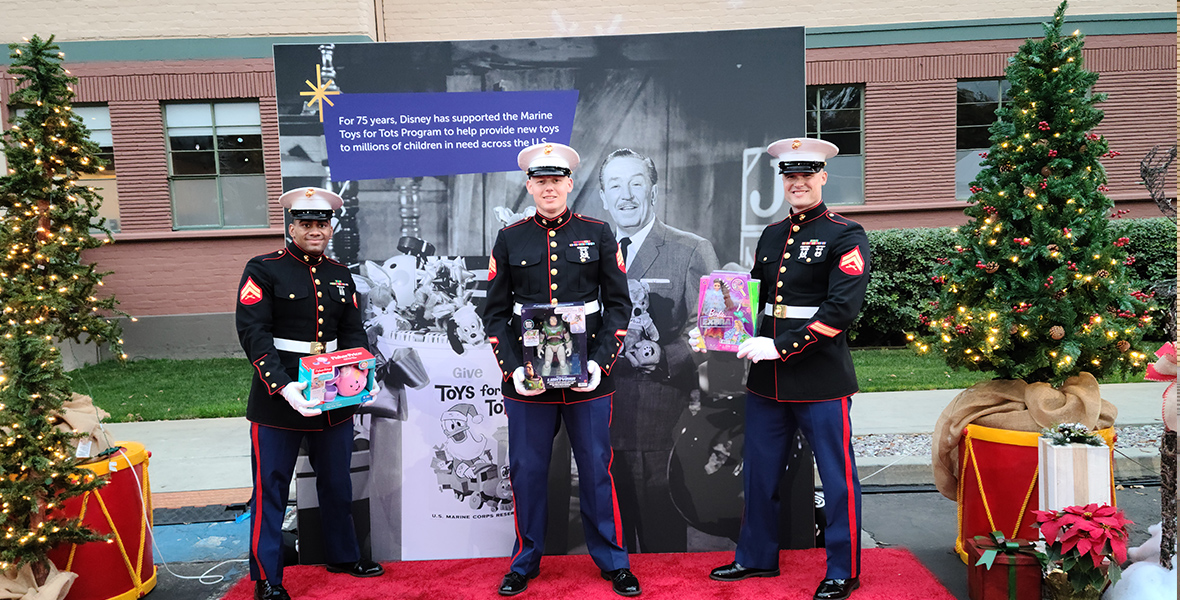 Toy collections will also take place at in-person film screenings and activations, including events surrounding Season 2 of Marvel Studios' What If…? (premiering this month on Disney+). Shows across the Disney networks-including ESPN's GetUp!, as well as ABC and ABC News' Good Morning America, Tamron Hall, The View, and Wheel of Fortune-are featuring Disney Ultimate Toy Drive and Toys for Tots stories to highlight the season of giving and the importance of supporting communities in need. Additionally, toy collections are being hosted by the ABC Owned Television Stations in New York, Los Angeles, Chicago, Philadelphia, Houston, San Francisco, Raleigh-Durham, and Fresno.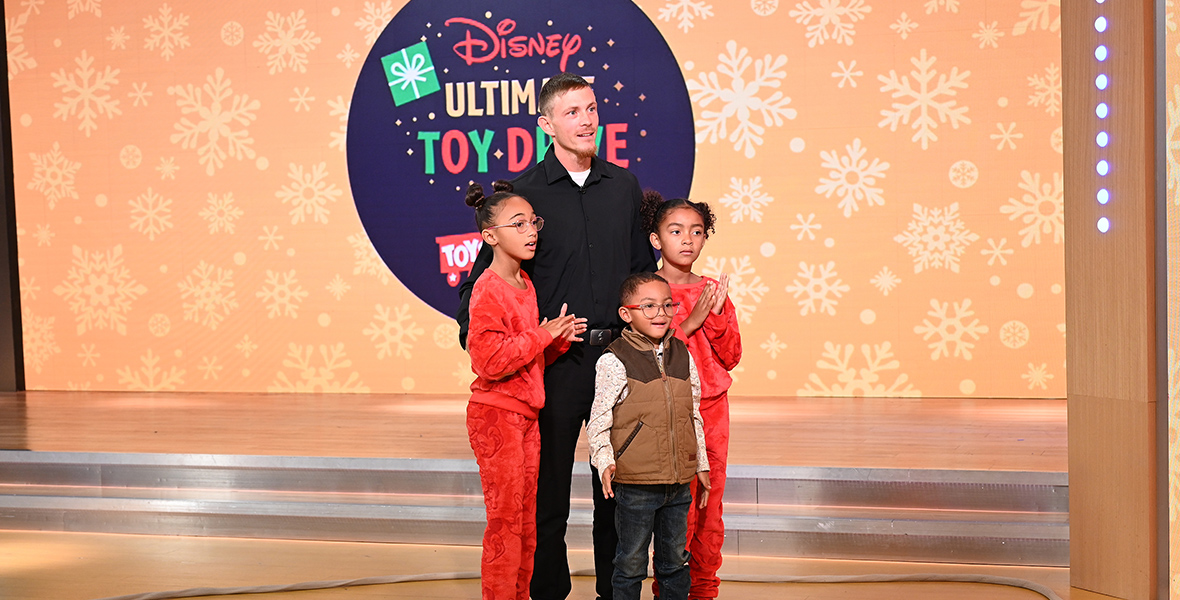 Disney Theatrical Group is encouraging audience members to support the initiative at select shows by featuring the Disney Ultimate Toy Drive in Playbills. Plus, Disney Junior will host a special event for local Military families in Los Angeles featuring screenings of new Disney Junior holiday episodes, including the SuperKitties: Merry Mousemas 22-minute special and the Mickey's Christmas Tales stop-motion shorts, alongside holiday-themed crafts, activities, and a special Disney Junior toy donation from Just Play to Toys for Tots.
*At Downtown Disney District at Disneyland Resort, collection bins are located at the World of Disney store, Star Wars Trading Post, and retail shops inside Hotels of the Disneyland Resort. At Disney Springs at Walt Disney World Resort, collection bins are located at the World of Disney store, Marketplace Co-Op, Star Wars Galactic Outpost, and the Disney Springs Welcome Center.