By Alison Stateman
San Diego Comic-Con is almost here, and Disney is in the house! The Walt Disney Company has a large footprint at the annual pop-culture and entertainment extravaganza taking place at the San Diego Convention Center from Thursday, July 21, through Sunday, July 24.
With a host of panels, appearances, photo-ops, screenings, and special announcements from Disney Branded Television, Disney Television Studios, Marvel, and Hulu, we've got a roundup of some of the can't-be-missed offerings. D23 will be on-site as well, to chronicle the epic gathering and host an epic dance party for the Disney fan in all of us.
Read on for a preview of convention highlights.
Thursday, July 21
Abbott Elementary Immersive Fan Experience
Abbott Elementary makes its San Diego Comic-Con debut with an immersive fan experience, "New Teacher Dis-Orientation," in partnership with Hulu + Live TV.
Kicking off on Thursday, July 21, in front of the Hilton San Diego Bayfront, fans will have the chance to walk the halls of Abbott Elementary, earning their very own staff credentials via experiential set recreations. Fans can channel their inner Principal Ava by striking a pose behind her official desk or pay a visit to Janine's classroom for the opportunity to contribute to real teachers in need through curated Scholastic ClassroomsCount™ wish lists. The "New Teacher Dis-Orientation" activation will also feature original art submitted by fans via the official Abbott Elementary Fan Art Contest, in addition to screenings of fan-favorite episodes, live performances, and more. San Diego Comic-Con passholders are also invited to join the cast and executive producers for a live screening and virtual panel discussion in the Indigo Ballroom later that afternoon.
Bringing Back Marvel Classics for Today's Readers for All Ages
10–11 a.m., Room 28DE
Sven Larsen (vice president, licensed publishing, Marvel Entertainment), Charles Kochman (editorial director, Abrams ComicArts), Andrew Smith (senior vice president, publisher, Abrams Children's Books and ComicArts), and Matthew Reinhart (New York Times bestselling paper engineer) discuss the legacy of classic Marvel Comics and how books for readers of all ages are bringing classic characters and storylines to a new generation. The panel will provide a sneak preview of new releases such as Alex Ross's Fantastic Four: Full Circle; Marvel Classic Black Light Collectible Poster Portfolio; and The Uncanny X-Men Trading Cards, as well as other recent Marvel releases published by Abrams. Reinhart will share pages from his upcoming book Marvel Super Heroes: The Ultimate Pop-Up Book.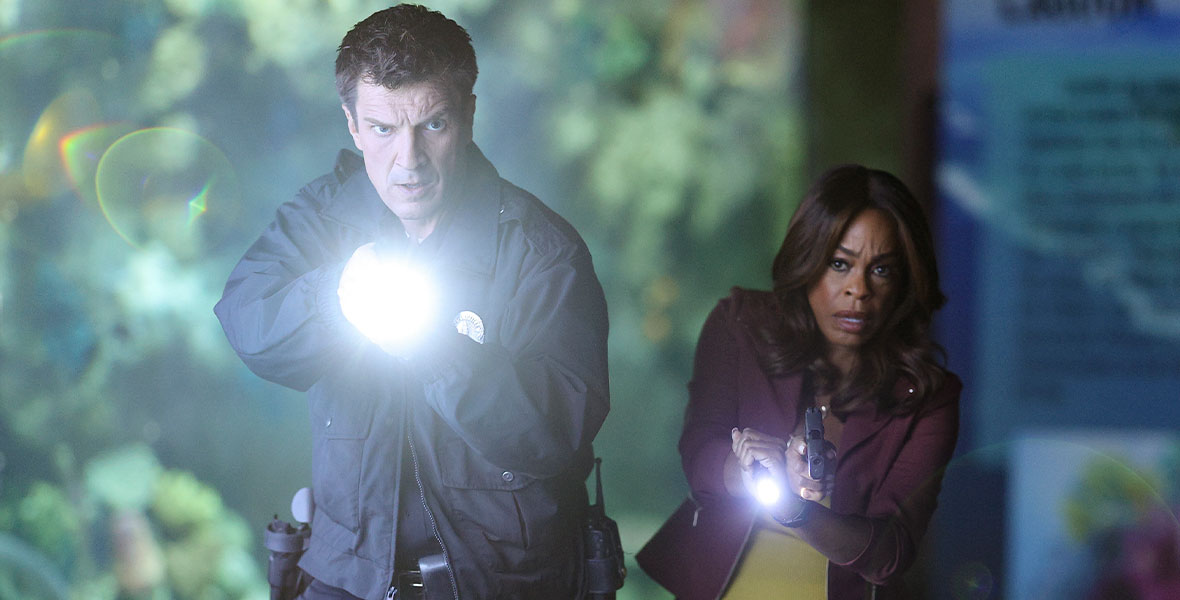 Nathan Fillion and Niecy Nash-Betts: ABC's The Rookie and The Rookie: Feds
10:45–11:45 a.m., Ballroom 20
Nathan Fillion (Castle, Firefly) and Niecy Nash-Betts (Claws, Reno 911) join executive producers Alexi Hawley and Terence Paul Winter to discuss how worlds will collide when The Rookie franchise expands with The Rookie: Feds, coming to ABC this fall. Moderated by Damian Holbrook (senior writer, TV Guide magazine).
Abbott Elementary Class in Session
1:30–2:30 p.m., Indigo Ballroom, Hilton San Diego Bayfront
Star and executive producer Quinta Brunson and stars Tyler James Williams, Janelle James, Chris Perfetti, Lisa Ann Walter, William Stanford Davis, and Sheryl Lee Ralph join executive producers Justin Halpern and Patrick Schumacker for a live virtual panel to discuss the breakout hit series ahead of its season two return on ABC this fall. Moderated by Marcus Jones (awards editor, TV & Film at IndieWire).
Marvel's Moon Girl and Devil Dinosaur
2:15–3:15 p.m., Room 6BCF
The cast and creative team of Disney Branded Television's highly anticipated animated series Marvel's Moon Girl and Devil Dinosaur, based on Marvel's hit comic books, hold a conversation about this innovative action-comedy series centered on African American teen girl Super Hero Lunella Lafayette. Panelists include actors voicing series characters including Diamond White (Lunella/Moon Girl) Sasheer Zamata (Adria), Libe Barer (Casey), and Fred Tatasciore (Devil Dinosaur), executive producer Steve Loter (Kim Possible), supervising producer Rodney Clouden (Futurama), and producer Pilar Flynn (Elena of Avalor). Premiering in 2023 on Disney Channel and Disney+, the panel is moderated by Janine Rubenstein (editor-at-large, PEOPLE magazine and host of the podcast PEOPLE Every Day).
National Treasure: Edge of History
2:15–3:15 p.m., Ballroom 20
The cast and executive producers share an exclusive behind-the-scenes look at the upcoming Disney+ Original series National Treasure: Edge of History, an expansion of the hit film franchise. Series regulars Lisette Olivera, Jake Austin Walker, Antonio Cipriano, Jordan Rodrigues, Zuri Reed, and Lyndon Smith and executive producers Cormac Wibberley and Marianne Wibberley gather to discuss this upcoming action-adventure series.
Koala Man
6–7 p.m, Room 6BCF
From the creators of Rick and Morty and Pokémon Detective Pikachu, Koala Man makes its debut at Comic-Con with creator, executive producer, and the Koala himself, Michael Cusack, and executive producers Justin Roiland, Dan Hernandez, Benji Samit, and Michael Cowap. Learn what the suburban Aussie superhero is all about as the team discusses the Hulu series' premiere, breaking news, and more.
A Decade of Disneybounding
6–7 p.m., Room 25ABC
It's been a decade since Leslie Kay (author of Disney Publishing's DisneyBound: Dress Disney and Make It Fashion) launched her viral blog The Disneybound, which has since evolved into an internationally recognized fashion trend and community, re-creating and celebrating their favorite Disney characters through everyday fashion. Disneybound pros Kelsey Walmer, Erika Kurzawa, Tiffany Sutton, Logan Allison, Dolly Genovese, Tiffie Starchild, Michael Louie, and Dominique Brown share tips and tricks for diving into Disneybounding.
The Her Universe Fashion Show
6–8 p.m. Harbor Ballroom, Manchester Grand Hyatt
The 8th Annual Her Universe Fashion Show returns to the Manchester Grand Hyatt. This fashion competition features 25 competing designers who are vying for the winning opportunity to design a fashion collection with Her Universe for Hot Topic. Two winners—an audience favorite and a judges' winner—will be chosen by the end of the night. The show is presented by Her Universe and Hot Topic and will be hosted by Her Universe founder, actress, and entrepreneur Ashley Eckstein, who originated the role of Ahsoka and has costarred in shows including Star Wars: The Clone Wars.
Solar Opposites
7:15–8:15 p.m., Room 6BCF
Solar Opposites co-creators and executive producers Justin Roiland and Mike McMahan, with executive producers Josh Bycel and Danielle Uhlarik, will discuss the newly released season three on Hulu and what the aliens are up to later this year. Accompanied by cast members Thomas Middleditch, Sean Giambrone, and Mary Mack, this discussion is sure to be otherworldly.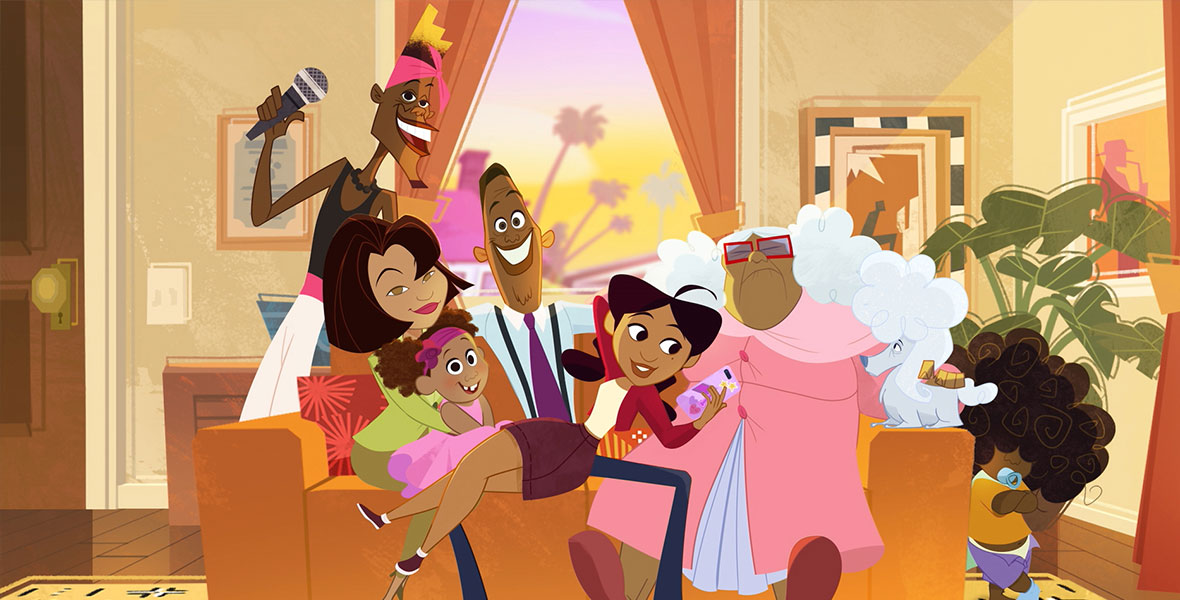 Friday, July 22
The Proud Family: Louder and Prouder
1–2 p.m., Room 6A
The Proud Family: Louder and Prouder creator and executive producer Bruce W. Smith and executive producer Ralph Farquhar, both of whom led the original series The Proud Family, and series stars Kyla Pratt (Penny) ), JoMarie Payton (Suga Mama), Paula Jai Parker (Trudy), Soleil Moon Fry (Zoey), and Alisa Reyes (LaCienega) discuss the revival of the groundbreaking animated series The Proud Family and share a behind-the-scenes look at the first season, moderated by Janine Rubenstein (editor-at-large, PEOPLE magazine and host of the podcast PEOPLE Every Day).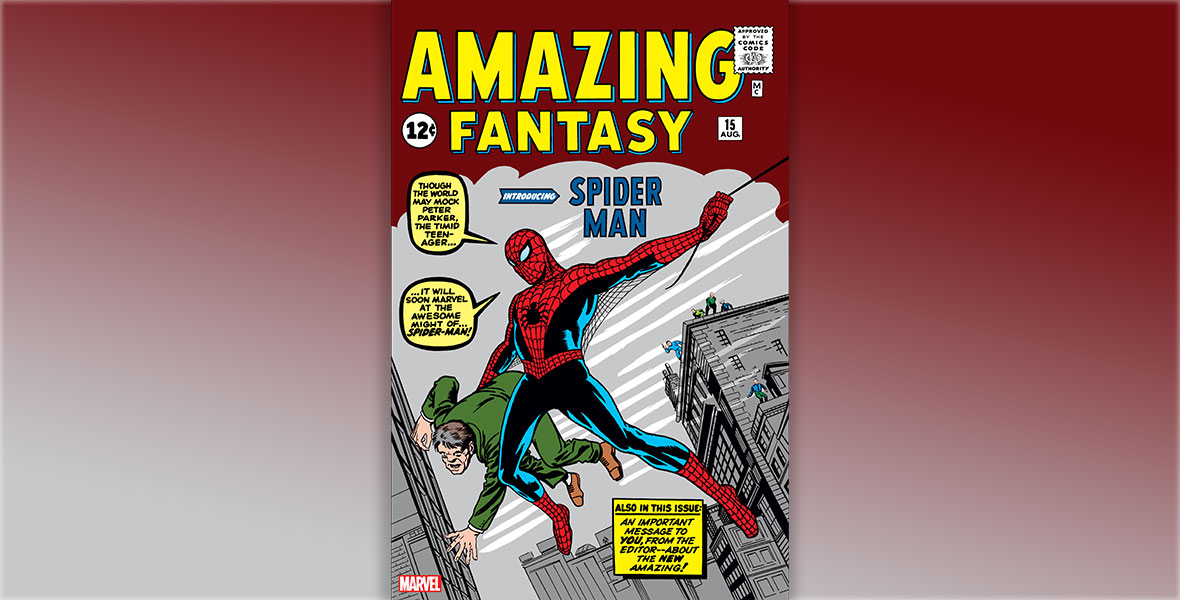 60 Years of Spider-Man: A This Week in Marvel Special Event
3–4 p.m., Room 25ABC
Ryan Penagos (aka Agent M, vice president and creative executive) and Nick Lowe (vice president and executive editor) are joined by the one-and-only Dan Slott (Amazing Spider-Man, Fantastic Four) and other surprise guests for a very special live episode of the This Week in Marvel podcast! Ring in the 60th year of Spider-Man with Amazing Fantasy No. 15, and see what dangers lurk at the Edge of Spider-Verse!
Marvel Comics: Marvel Fanfare
4–5 p.m. Room 25ABC
C.B. Cebulski, editor-in-chief of Marvel Comics, answers fans burning questions! Come to inquire about everything and anything you ever wanted to know about the Marvel Universe. What is the wackiest version of Spider-Man from across the multiverse? Does the Illuminati have a poker night? Which Marvel editors would survive Judgment Day? You'll never know for sure unless you attend this panel! Featuring special guest TBA—and an exciting giveaway!
The Great North
7–8 p.m., Room 6BCF
The Tobin family hosts a hilarious conversation about their outrageous Alaskan adventures on FOX's hit animated series The Great North. Creators and executive producers Wendy Molyneux and Lizzie Molyneux-Logelin, executive producer Loren Bouchard, and stars Nick Offerman, Dulcé Sloan, Paul Rust, Aparna Nancherla, and Ron Funches discuss what's to come and preview the upcoming third season with exclusive clips, breaking news, and special appearances from star Jenny Slate and more.
D23 Derezzed— A TRON 40th Dance Party
7:30–11 p.m. (Doors open at 7 p.m.) House of Blues – Music Hall, San Diego
D23 Gold Members and General Members are invited to celebrate 40 years of TRON at an epic dance party with D23: The Official Disney Fan Club. Tickets include admission, one beer or wine drink voucher, light snacks and sweets, a lightband to help set The Grid aglow, and a commemorative keepsake upon departure.
Saturday, July 23
Disney's The Ghost and Molly McGee Fan Enhappification Panel
10–11 a.m.,  Room 6A
Creators/executive producers Bill Motz and Bob Roth and executive producer Steve Loter hold a joyful celebration of this Disney Channel original series. Cast and crew will talk about their favorite moments, songs, and behind-the-scenes stories from season one, along with some fan surprises and hints at what's to come in season two!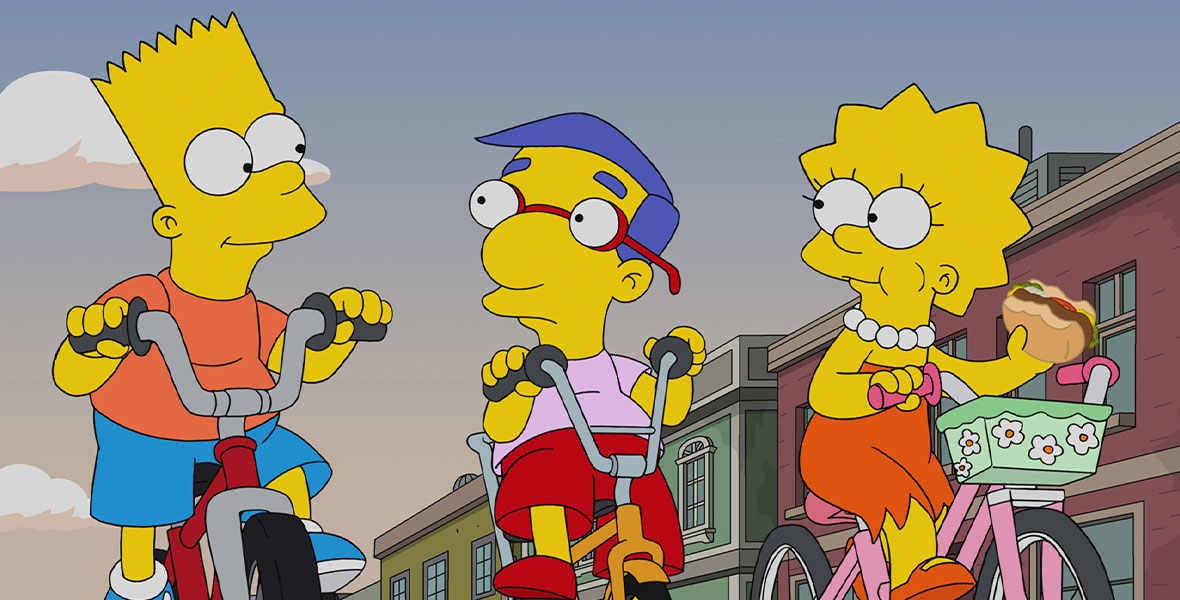 The Simpsons
11:30 a.m.–12:15 p.m., Ballroom 20
Simpsons writers, animators, and special guest moderator, Gravity Falls creator and Simpsons superfan Alex Hirsch, reveal the adventures planned for The Simpsons in Season 34 and beyond! Take a sneak peek at "Treehouse of Horror XXXIII"—and the never-before-attempted bonus Halloween episode! That's right—twoHalloweens in 2022! Secrets will be revealed! Games will be played! And freebies—including original artwork—will be given away! Live in person for the first time since 2019. Come and be astounded at how we let ourselves go!
American Dad!
12:30–1:15 p.m.,  Ballroom 20
It's a Smith Family Funday with Steve (Scott Grimes), Klaus (Dee Bradley Baker), and Jeff Fisher (Jeff Fischer) plus executive producer and co-creator Matt Weitzman, executive producer Joe Chandler, and co-executive producer Nicole Shabtai. Moderated by American Dad alum Jordan Blum, who will treat American Dad fans to a first look at scenes from all-new episodes coming soon to TBS.
The Mandalorian: Under the Helmet
1–2 p.m., Grand 10 & 11, Marriott Marquis San Diego Marina
The Mandalorian is a complicated character—a loner who becomes a loving caretaker, a bounty hunter who learns compassion. Host Melissa Miller (Nerdist, Star Warsologies) talks with experts about the man behind the mask, including actor Chris Bartlett (The Mandalorian, The Book of Boba Fett) who ties it all together with his experience playing mercenaries, teachers, and bartenders in Star Wars.
Family Guy
1:15–1:45 p.m., Ballroom 20
Get an exclusive first look at the Family Guy season 21 premiere episode and watch the full episode months before the rest of the world. Afterward, you will get a special sneak peek at all of the hilarity and high jinks that will be coming next fall!
Marvel Comics: Judgment Day
1:45–2:45 p.m., Room 6A
Nick Lowe (executive editor) and C.B. Cebulski (editor-in-chief) prepare to pass judgment on their fellow panelists, including Adam Kubert (Wolverine), David Pepose (Fantastic Four), and other Mighty Marvel guests! With the Eve of Judgment already behind us, join this can't-miss discussion about what trials and tribulations are just around the corner for the Avengers, X-Men, Eternals, and the rest of the Marvel Universe.
Marvel Comics: Next Big Thing
3–4 p.m.,  Room 6A
Marvel's most famous panel returns! C.B. Cebulski (editor-in-chief), Nick Lowe (vice president and executive editor), and editors Darren Shan and Lauren Bisom lead a line-up of luminaries including Christopher Cantwell (Iron Man), Ram V (Venom, Carnage), and Collin Kelly and Jackson Lanzing (Captain America: Sentinel of Liberty). What lies ahead for Shang-Chi, Ms. Marvel, Ant-Man, Ghost Rider, and the rest of the Marvel Universe? And what is the mysterious looming danger of the Dark Web that threatens the future of Spider-Man and the X-Men? This is the only place you can find out. Come for the incredible reveals and stay for a unique giveaway!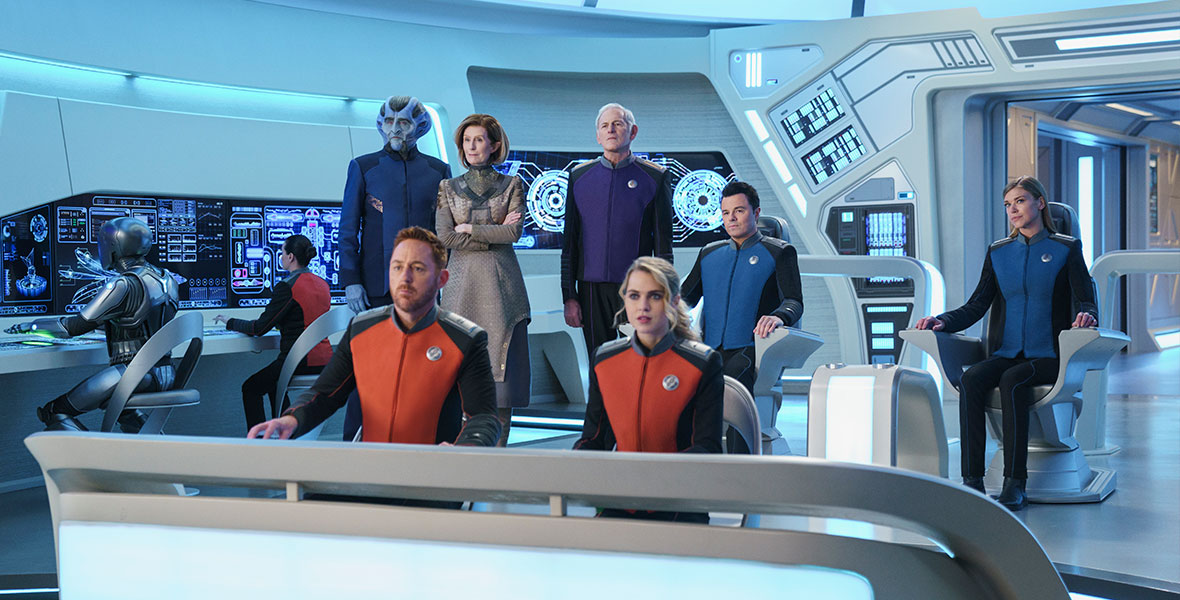 The Orville: New Horizons
3–3:45 p.m., Ballroom 20
From Emmy Award–winning executive producer and creator Seth MacFarlane, The Orville is finally back for season three and on Hulu. The full crew of the U.S.S. Orville—Penny Johnson Jerald, Scott Grimes, Peter Macon, Jessica Szohr, J Lee, Anne Winters, Mark Jackson, and Chad L. Coleman—plus executive producers David A. Goodman and Brannon Braga and co-producer Tom Constantino—talk on all things Orville and offer an exclusive first look at an upcoming episode from season three.
Costumes of Obi-Wan Kenobi
4:30–5:30 p.m. Room 10
Costume designer Suttirat Larlarb will discuss what went into reimagining the legendary Obi-Wan Kenobi and the Star Wars universe. She will be joined by her team: Stacia Lang (assistant costume designer), Elise Drozdowski (fabric buyer), and Jennifer Connell (costumer). Moderated by Amy Ratcliffe (author, The Jedi Mind, Star Wars: Women of the Galaxy).
Marvel Studios
5–6 p.m., Hall H
Marvel Studios president and producer Kevin Feige and special guests provide an inside look at the ever-expanding Marvel Cinematic Universe.
Hamster & Gretel
6:45–7:45 p.m. Room 6A
The cast and creative team behind Disney Channel's Hamster & Gretel present a first look at the hilarious new Super Hero series before it premieres. Renowned animation veteran and creator Dan Povenmire, co-creator of the hit series Phineas and Ferb, will be joined by co-producer and story editor Joanna Hausmann and select cast members for a discussion about the world and the characters of this new music-filled animated series, moderated by actress and comedian Liza Koshy.
Sunday, July 24
Women of Marvel
10:30–11:30 a.m.,  Room 6A
The Women of Marvel are here! Writer and podcast host Angélique Roché will lead a lively discussion with Marvel stars including senior editor Lauren Bisom, author Nic Stone (Shuri: A Black Panther Novel), and other Mighty Marvel Guests! What is it like for women working in the industry today, and what is next for Marvel's woman-led titles? And don't miss a special giveaway at the end of the panel!
Mayans M.C. Screening and Q&A
12–1 p.m., Hall H
Described by The Playlist as "one of the best series on TV," FX's fuel-injected drama series Mayans M.C. returns to Comic-Con for a special screening and a live conversation with Elgin James (co-creator/executive producer/director/writer) and series stars JD Pardo (EZ Reyes), Clayton Cardenas (Angel Reyes), Danny Pino (Miguel Galindo), Sarah Bolger (Emily Thomas), Emilio Rivera (Marcus Alvarez), Michael Irby (Obispo "Bishop" Losa), Raoul Max Trujillo (Che "Taza" Romero), Frankie Loyal (Hank "Tranq" Loza), Joseph Lucero (Neron "Creeper" Vargas), Vincent Vargas (Gilberto "Gilly" Lopez), Gino Vento (Nestor Oceteva), and JR Bourne (Isaac Packer). Mayans M.C. follows the life of Ezekiel "EZ" Reyes, a member of the Mayans M.C. charter on the Cali/Mexi border. Moderated by IndieWire's Jim Hemphill.
What We Do in the Shadows (FX) Exclusive Screening and Q&A
1:15-2:15 p.m. Hall H
FX's What We Do in the Shadows brings the World's Greatest Vampire Nightclub to San Diego! Mix it up with the hottest vampires (and their familiar) to come out of Staten Island in hundreds and hundreds of years! Appearing (subject to change): Kayvan Novak (Nandor), Matt Berry (Laszlo), Natasia Demetriou (Nadja), Harvey Guillén (Guillermo), Mark Proksch (Colin Robinson), and Kristen Schaal (The Guide), as well as Paul Simms (executive producer/writer), Stefani Robinson (executive producer/writer), Yana Gorskaya (co-EP/director/editor), and Kyle Newacheck (co-EP/director). Be among the first humans to set eyes on a brand new episode.