By Courtney Potter
Picture it: You're a filmmaker, and you're given six months to pull together a team and create an animated short. No real "rules" apply—all you need is the passion to tell a story and a clever, resourceful approach.
That's the premise behind Pixar Animation Studios' SparkShorts program, where Pixar's up-and-coming animators are paired with a producer and given the chance to make something totally personal and unique, exploring fresh new storytelling techniques along the way. SparkShorts is responsible for several beloved Pixar shorts, including Oscar® nominees Kitbull and Burrow. And this month, Pixar is releasing two brand-new SparkShorts, beginning with Twenty Something—which premieres on Disney+ this Friday, September 10.
Directed by Aphton Corbin, Twenty Something demonstrates that adulting can be hard; some days you're nailing it, while other days, you're just a stack of kids hiding in a trench coat hoping no one notices. Gia, our Twenty Something protagonist, finds herself in this exact scenario the night of her 21st birthday. All told, sometimes—as the short hilariously, vividly confirms—you've gotta "fake it 'til you make it."
D23 recently attended a special virtual look at the short, presented by Corbin herself; here are a few memorable highlights: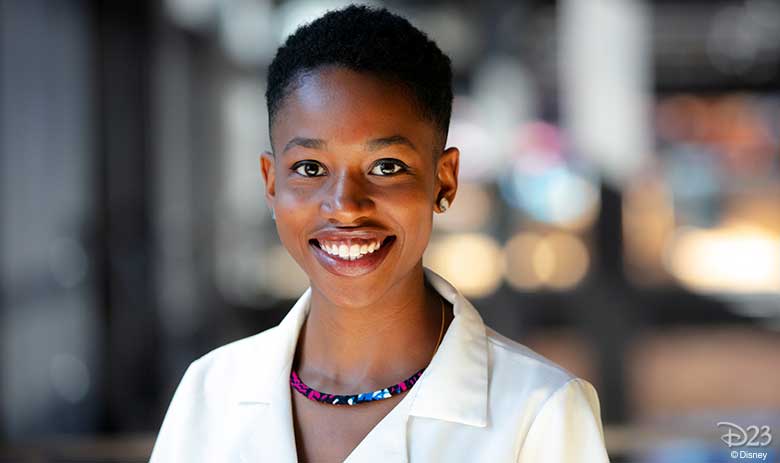 On when she was asked to participate in the SparkShorts program:
"I've been at Pixar since 2016," Corbin explains, "and I worked on Toy Story 4 and Soul… While I was working on Soul, I was asked if I wanted to direct my very own SparkShort. I did what many of you might've done: I panicked. 'What were they thinking?' I felt like I had been at the studio for such a short time; were they asking the right person? After hyperventilating for what felt like months, I decided to dig deeper into my imposter syndrome. I like to draw comics, especially when I'm feeling insecure, and this comic I drew back in 2018 [dealt with those feelings]… After I was given this opportunity to direct a SparkShort, that [insecure] feeling crept back up again—feeling like an adult one minute [and] feeling like kids stacked in a trench coat the next. Something about this idea clicked… So, the first part of my journey was taking that [comic] idea and turning it into a fleshed-out story."
On the process of brainstorming the story, and starting work with the short's producer:
"After I finished my time on Soul, I went on vacation and tried to [storyboard] the whole idea from beginning to end," she says. "I placed my main character, Gia, in an office setting, and came up with how an entertaining story would unfold. After time at the office, she and her friends would go to a club and continue shenanigans there. But something about this story didn't feel right,,, it felt like the story didn't really take off until Gia entered the club with said friends. Given my more introverted personality, the awkwardness of going out to the club felt so relatable and a better location to tell the story. So, I scrapped my boards, which was a hard thing to do—but I realized it was necessary.""To make the film run smoothly, I had Erik Langley, my fearless producer extraordinaire," Corbin continues. "We didn't know each other before this experience, and we both were new to our respective leadership positions. Erik immediately got to work, scheduling out a 'game plan' for how this film would be made."
On why she decided to make the short in 2D:
"In order to pull off this crazy idea, I knew I was going to need to make this a 2D film," she explains. "Since we're a SparkShort, our budget is a little smaller. And if I was going to pull off a movie with dialogue and all of these extra characters—in the club setting, too—it was the route to go. It's honestly my first love; I got into animation because I loved drawings, and seeing those drawings come to life [is a] super special moment. And I was encouraged by seeing amazing 2D SparkShorts that had come out before, like Burrow and Kitbull, and I knew it was a path for me."
On some of the short's visual inspirations:
"I was really inspired by older, 'vintage' cartoons—specifically in the '60s and '70s; trying to get some of that charm and that appeal into the design. But it didn't just stop there. Yingzong [the short's character design artist] had design a whole slew of background characters, with both adult and baby forms, [which are] important in Act 3 of the short. So, it really put her to the test—and she delivered in an amazing way."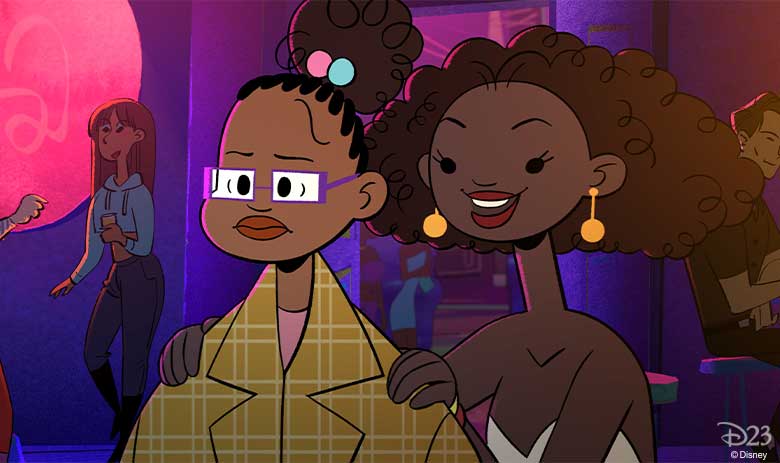 On the challenges that came with, well, everything about 2020:
"We were feeling really confident and ready to get started with animation," admits Corbin, "and then COVID-19 global pandemic [hit] and we thought, 'What are we going to do?!' We weren't sure it was going to happen, as the [Pixar] campus completely shut down and we all had to go home. We scrambled onto Zoom and brainstormed a 'work from home' plan. Led by [SparkShorts production supervisor] Mike O'Brien and [producer] Erik, our 'offline' work flow started to gain traction, and we were determined to make our film happen. Adjustments were made, [our] haircuts were postponed," she says, laughing, "but we kept motivation up and moved forward into animation."
"I knew I was going to need a very skilled animation supervisor," she adds. "I picked Lucas Pacheco, who is a friend from school and a very skilled animator; I knew he'd be perfect for the job. Lucas assembled an awesome team of equally amazing animators to work from home and rally together to create this short. Lucas was instrumental in creating model sheets for all of the characters, complete with expression sheets and style guides,,, Lucas did an amazing amount of work, and earned himself the title of 'fluid animator,' as he volunteered to take on most of the liquids [seen in] the short—including projectile baby [spit-up] and a huge amount of tears," Corbin explains, chuckling.
On seeing the finished product:
"Ultimately, we had to get to sound editing and 'last looks,'" the director says. "And we were able to head into [Pixar Animation Studios] for a socially distanced sound check… it was our first time meeting [in person] in several months—and like a magical, perfect scenario, somehow all the colors worked and it sounded great. And like that, the production was finished. I'm extremely thankful to have the chance to work on this film. As you can see, it was a huge amount of work and it speaks to my amazing team. It was such an exciting [project], and I can't wait for everyone to finally see it!"
The Pixar SparkShort Twenty Something debuts this Friday, September 10—only on Disney+!