By Jim Fanning
Told through the golden glow of nostalgia, Walt Disney's So Dear to My Heart celebrates 70 years of humor, music, and animation. Released on January 19, 1949, this heartfelt film is set in 1903, in Fulton Corners, Indiana, where young Jeremiah "Jerry" Kincaid (Disney star Bobby Driscoll) adopts a mischievous black lamb he names Danny after famed champion race horse Dan Patch. With the encouragement of kindly blacksmith Uncle Hiram (Burl Ives, in one of his first film roles), Jerry dreams of Danny winning a blue ribbon at the County Fair. On its 70th anniversary, this charming film remains a little-known Disney gem, so let's show some "Stick-to-it-ivity" with 12 fun facts about one of Walt's favorite films.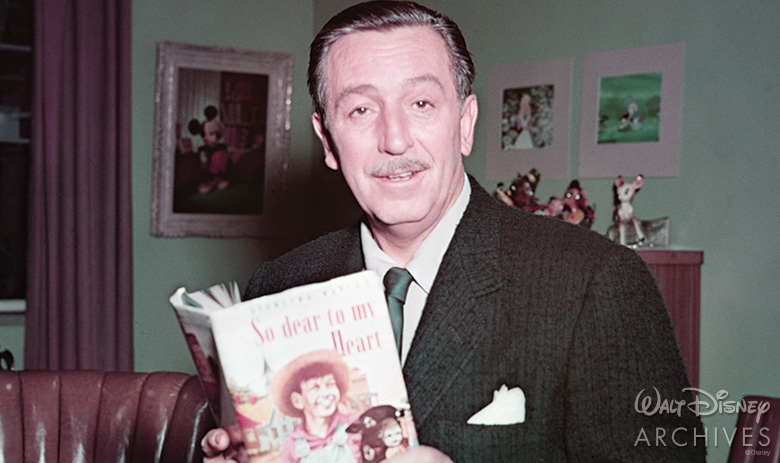 1. Pet Lamb, Pet Project
Originally entitled How Dear to My Heart during production, this heartwarming story is based on the bestselling 1943 book by Sterling North, Midnight and Jeremiah. "In this novel," Walt said, "I found the perfect story for a new kind of motion picture," referring to his plans to use both animation and live action. He lavished attention on this film that reflected his own childhood in Marceline, Missouri, providing period details including authentic handmade quilts as set dressing.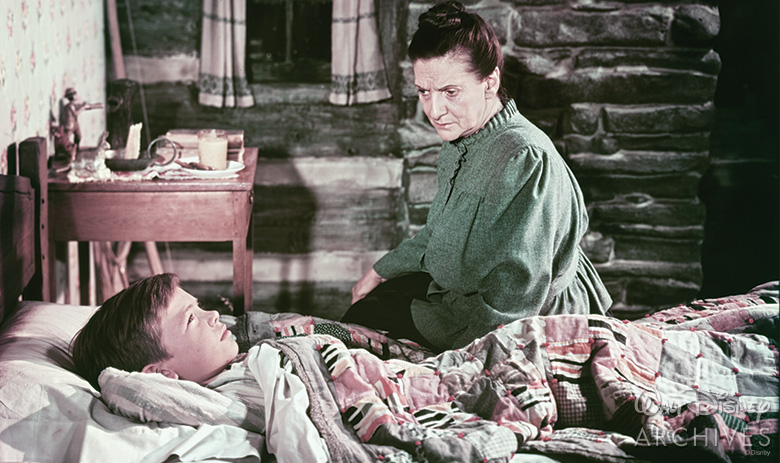 2. Sassy Talk for a Granny Woman: Beulah Bondi
Director Harold Schuster suggested acclaimed character actress Beulah Bondi for the role of strict-but-loving Granny Kincaid. This Academy Award®-nominated performer, perhaps best known as James Stewart's mother in It's a Wonderful Life (1946), learned to plow a field, spin wool, and work a loom to portray the hardworking pioneer woman. In 1952, Walt asked Bondi to reprise her role as Granny Kincaid in recorded narration for the public exhibition of a miniature diorama of Granny's cabin he had handcrafted, one of the precursors to Disneyland® Park.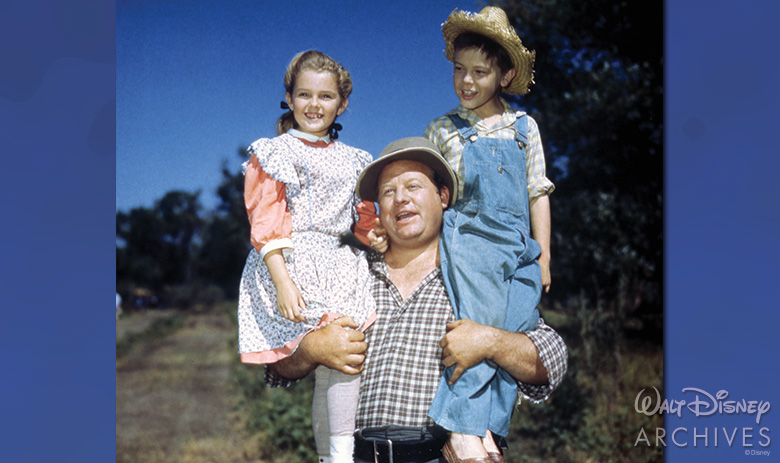 3. Folk Songs and Mighty Fine Stomping: Burl Ives
Burl Ives —"America's Favorite Balladeer"—was best known as a radio and concert performer when Walt cast him as the neighborly blacksmith. A collector and performer of genuine American folk songs, Ives' distinctive voice lent authenticity to such folk favorites as "Billy Boy." "You should hear him stomp!" enthused co-star Bobby Driscoll. "The whole floor jiggles when he square dances." After many more films, including The Big Country (1958) for which he won a Best Supporting Actor Oscar®, Ives returned to Disney for another nostalgic period piece, Summer Magic (1963).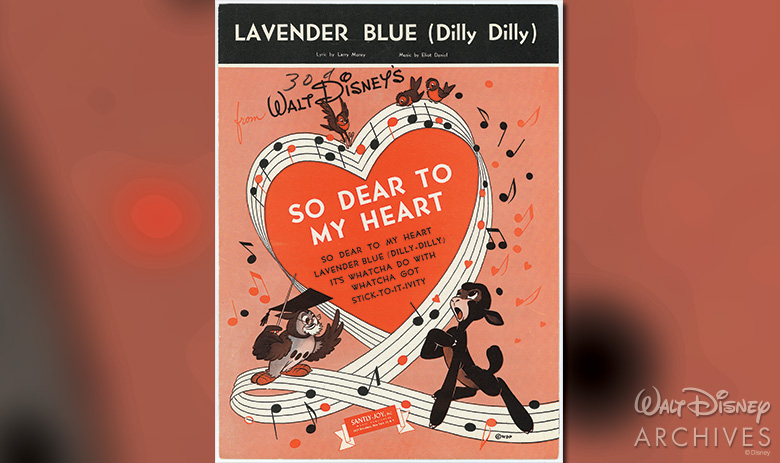 4. Those "Dilly-Dilly" Songs
Aside from actual folk songs, some Disney originals are also showcased in So Dear. In addition to "Ol' Dan Patch" and "Stick-to-it-ivity," Disney songwriters Eliot Daniel (later to compose the I Love Lucy theme song) and Larry Morey adapted an English folk song and nursery rhyme that dated from the 17th century to compose "Lavender Blue (Dilly Dilly)." A hit song in late 1948, months before the film was in theaters, this Disney-created folk tune was Burl Ives's first hit single. Often celebrated as a Disney standard, "Lavender Blue (Dilly Dilly)" was nominated for a Best Song Academy Award®.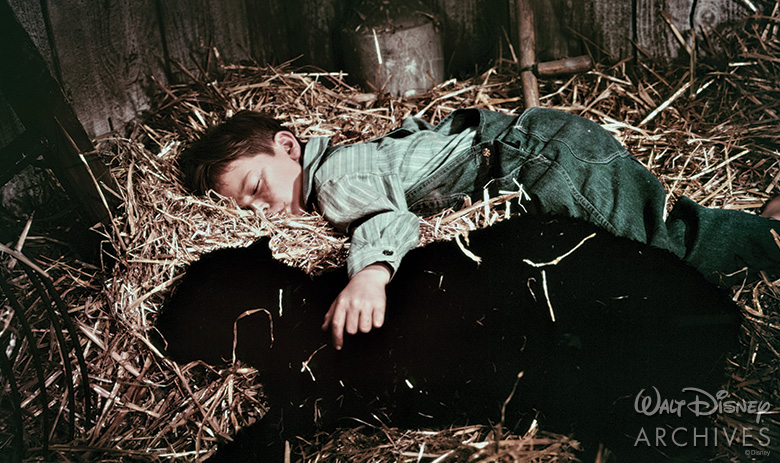 5. Walt's First Live-Action Leading Man: Bobby Driscoll
So Dear was designed as a vehicle for Disney's contract child star, Bobby Driscoll, who would later voice the titular hero of Peter Pan (1953). The boy's impish sense of humor kept cast and crew laughing, as when, after one take of the county fair sheep-judging scene, he quipped, "Sheep and actors back to their pens!" In 1950, Bobby was presented with an honorary Oscar as "the outstanding juvenile actor of 1949" for both the non-Disney thriller The Window and his winning performance in So Dear to My Heart. When asked what the secret to his acting when So Dear was in theaters, Driscoll replied simply, "I just try to live the part."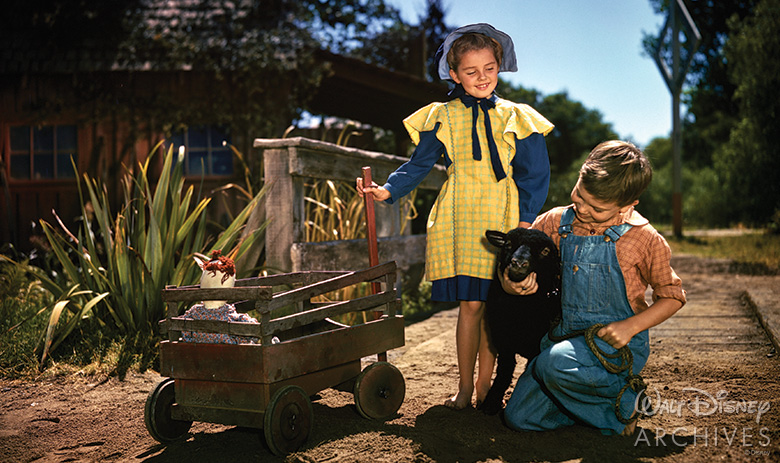 6. Walt's Little Leading Lady: Luana Patton
Having co-starred with Bobby Driscoll in Song of the South, (1946), Luana Patten was again cast as his leading lady in this new film. Patten later recalled that she often played with Driscoll and Walt's daughter Sharon on the Disney lot. Even the So Dear to My Heart location became their playground. "Sharon and I used to hide from the film crew, just for fun," Patten once remembered. "Once, Sharon, Bobby, and I played by a huge dam, catching pollywogs. We had a lot of fun—but when we got back, everybody was so cross with us that we never did it again!" After high school, Patten returned to Disney to play the female lead in Johnny Tremain (1957)—featuring her one-time playmate Sharon Disney in a bit part.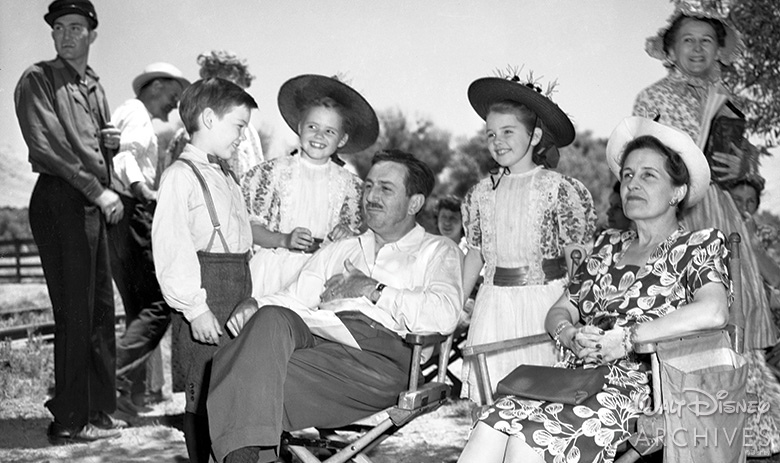 7. Standing in for Indiana: The Location
Though Disney producer Perce Pearce traveled to Indiana in the summer of 1945 to scope out the atmosphere, the movie was filmed in Sequoia National Park and the San Joaquin Valley of California. According to Disney publicity, "The [actual] location was carefully selected to resemble the Indiana landscape of Brown County, where the story is placed. Tulare County, California, some 250 miles from Hollywood, has many families which originated in Indiana." Nearly 500 local residents appeared in crowd scenes "dressed in the period clothes of their forebears." Filming began on April 30, 1946, and extended into late summer, so 27 greens men watered the landscape every night. Most of the sets were built on location, including Kincaid's red barn, modeled after the structure on the Disney farm in Missouri. Later, Walt replicated the barn as his backyard workshop. The current location of Walt's So Dear barn is Griffith Park in Los Angeles, where it's preserved as a museum of Disney railroad memorabilia.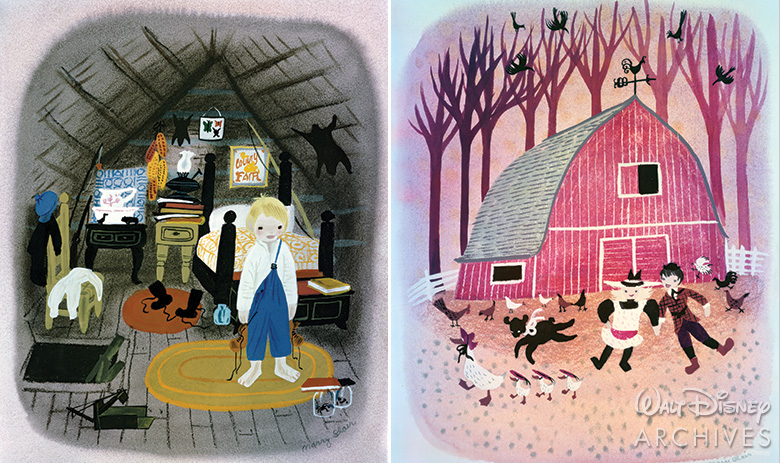 8. Quaint Patterns, Good People: Mary Blair's Art
In spring 1945, Disney artist (and later, Disney Legend) Mary Blair took an artistic field trip to Indiana researching farm life for So Dear to My Heart. Her extraordinary pre-production art conceptualized settings, characters, costumes, and designs, integrating her signature vibrant colors and stylized shapes with quilt-inspired patterns. "It seems that quilt making is a revived art in this country now," Blair wrote Walt at the time, "which fact adds more value to its use as a medium of expression in our picture."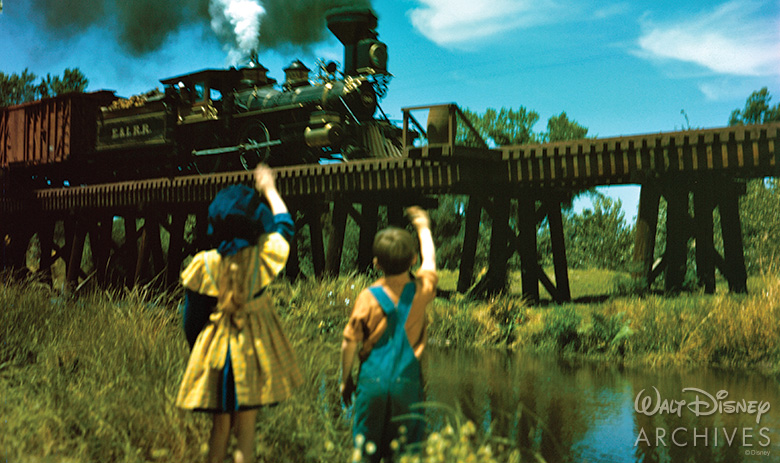 9. Here Comes Old 99: The Train
One of many elements that attracted railroad enthusiast Walt to So Dear is the train seen throughout the film. According to Disney publicity, the Evansville and Indianapolis Railroad of 1903-05 was portrayed by "a still older historic train of the bonanza era, the Virginia and Truckee…which once served the splendiferous mining camp of Virginia City, Nevada." Director Hal Schuster later recalled, "We rented the old engine and cars from Paramount, which had used them for Union Pacific [1939]." Reported Disney publicity, "Old No. 99 of the Evansville and Indianapolis Railroad as it is labeled for the film was actually one of the Virginia and Truckee Railroad's venerable engines, long since retired." According to Schuster, "The railroad station was already there [at the film location] as were the railroad tracks." The film's Victorian-style wooden depot served as the model for the original Frontierland station in Disneyland Park, now known as the New Orleans Square/Frontierland station.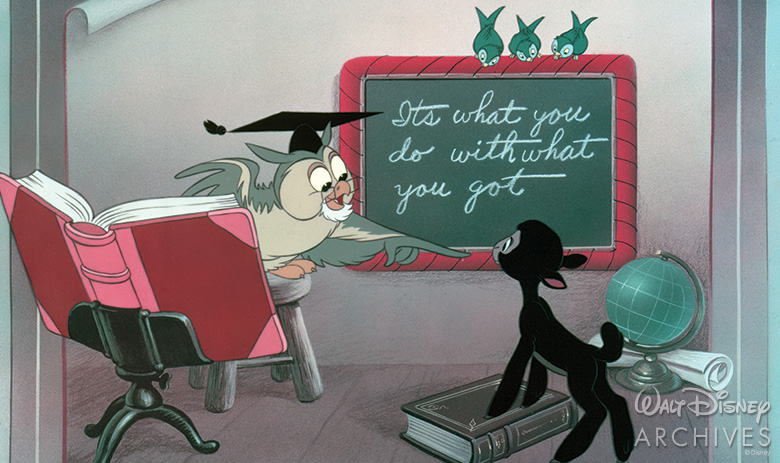 10. It's What You Do with What You Got: Animation
When the live-action filming was completed, Disney executive Card Walker recalled, "Boy, [Walt] spent a lot of time… that's when he went back and started building those little vignettes in there in animation. He was working to improve it, to make it better." The animation was not completed until August 1948, more than a year after the live-action filming was completed. The film's animated segments feature a cartoon version of Danny being advised by the Wise Old Owl seen in the giveaway cards collected by Jerry. "I saw the cartoon characters as figments of a small boy's imagination," said Walt, "and I think they were justified."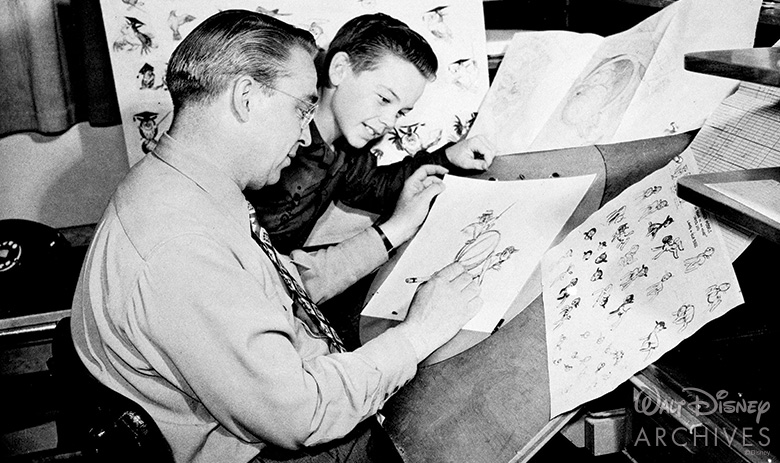 11. Lots of Work And Lots of Hustle: Animators
In addition to Mary Blair, the beguiling animation art treatment was provided by celebrated Disney stylist Dick Kelsey and Disney Legend John Hench. Three powerhouses of animation talent—Marc Davis, Ken Anderson, and Bill Peet, each a Disney Legend in his own right, provided the story treatment. Peet, in particular, brought a So Dear-simpatico sensibility, having been born and raised in rural Indiana. In total, five of Walt's Nine Old Men are credited, including Eric Larson (pictured, with Bobby Driscoll), who brought his expertise in animals to the animation of Danny.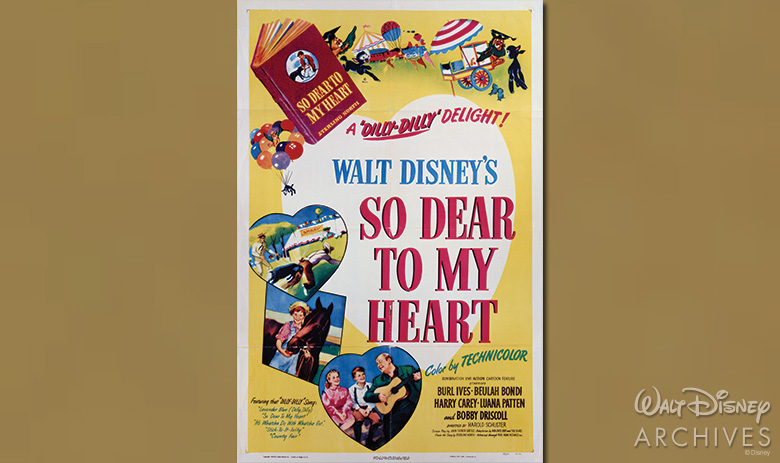 12. So Dear to Our Hearts: Release
"So Dear To My Heart, which fascinated me because of its human qualities when I first read Sterling North's novel, has come up to my every expectation now that it is completed and ready for release," said Walt in late 1948. The film was previewed at the 27th National 4-H Congress in Chicago on November 29, 1948, attended by Bobby Driscoll and more than 1,200 young 4-H Club members. After Walt, Bondi, Driscoll, and Patten embarked on a railway promotional tour that included Nashville and Chicago, they were joined at the official premiere in West Lafayette, Indiana, on January 19, 1949, by author North. "So Dear was especially close to me," stated Walt. "Why, that's the life my brother and I grew up with as kids out in Missouri. The great racehorse, Dan Patch, was a hero to us. We had Dan Patch's grandson on my father's farm." With so many components he loved—kids, country life, animals, animation, music, and trains— it's no wonder that this lovely film was so dear to Walt's heart and to the hearts of many a Disney fan.