By the D23 Team
It's time to say "Bonjour!" to your favorite attractions at Disneyland Park and Walt Disney Studios Park, because Disneyland Paris is reopening on June 17, along with Disney's Newport Bay Club Hotel and Disney Village. Return to your favorite attractions, beloved Disney characters, tasty treats, and more—including new Selfie Spots and surprise appearances, a new Cars ROAD TRIP attraction, and the highly anticipated opening of Disney's Hotel New York – The Art of Marvel.
"We have all been dreaming of this moment," said Natacha Rafalski, President of Disneyland Paris. "The moment we can reunite and enjoy unforgettable moments with our family and friends. When Disneyland Paris reopens, our Guests will be able to enjoy the outstanding experiences we are known for, from iconic attractions and new heart-warming Character moments to unique interactions with our Cast Members and even a few surprises along the way."
New Experiences for Magical Memories
On your next visit to Disneyland Paris, look out for surprise appearances from Disney, Pixar, Marvel, and Star Wars characters. These characters will appear in new and unexpected ways, so keep your eyes and ears open for one magical surprise after another.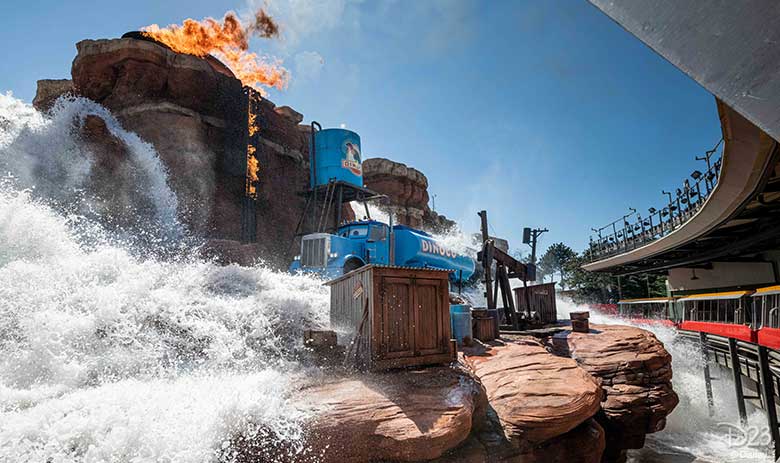 Plus, as part of the ongoing Walt Disney Studios Park transformation, the new Cars ROAD TRIP attraction will welcome guests for the very first time at reopening. Experience a road trip on Route 66 in a uniquely Cars way, discovering local natural wonders like The World's Largest Lugnut and the Cars-tastrophe Canyon, while encountering your favorite friends such as Lightning McQueen and Mater.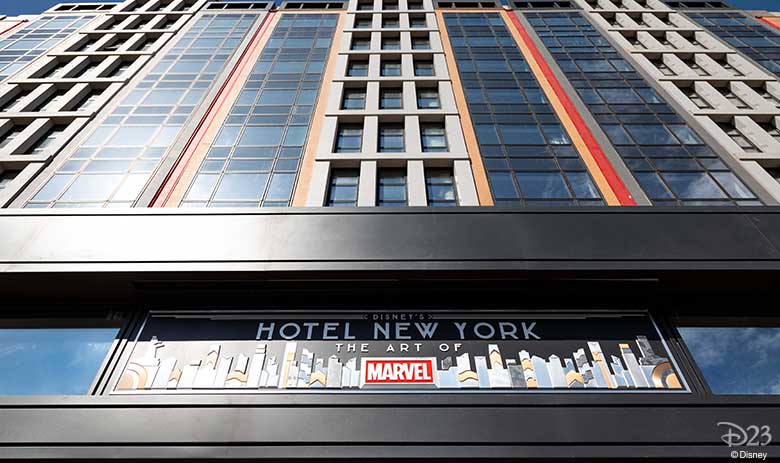 Welcome to Disney's Hotel New York—The Art of Marvel
Something super is just a short walk—or free shuttle—away from the Parks. Disney's Hotel New York – The Art of Marvel pays tribute to the home of so many Marvel Super Heroes and the talented artists who created them.
"Our Guests will discover and be amazed by our brand-new Disney's Hotel New York – The Art of Marvel, the only hotel in the world dedicated to Marvel art, offering a premium, incredibly immersive and one-of-a-kind experience. We are looking forward to celebrating these milestones together with our Cast and Guests in a few weeks," said Rafalski.
With more than 350 pieces of artwork on display spanning both comics and movies created by more than 110 artists from Europe and beyond—including about 50 exclusive pieces—the hotel will be one of the largest publicly viewable collections of Marvel artwork in the world. Artists from Marvel Comics, Marvel Studios, and more have brought together an incredible collection of contemporary art showcasing the vast scope of the Marvel Universe including comic book covers, posters, illustrations from films, storyboards, original sketches, and more. From France, Italy, Spain, and the United Kingdom to Argentina, Japan, Canada, and the United States, an unparalleled diversity of artistic styles will be featured such as classic back-and-white comics, street art, pop art, hyperrealism, and technics, including engraved metal and collage art.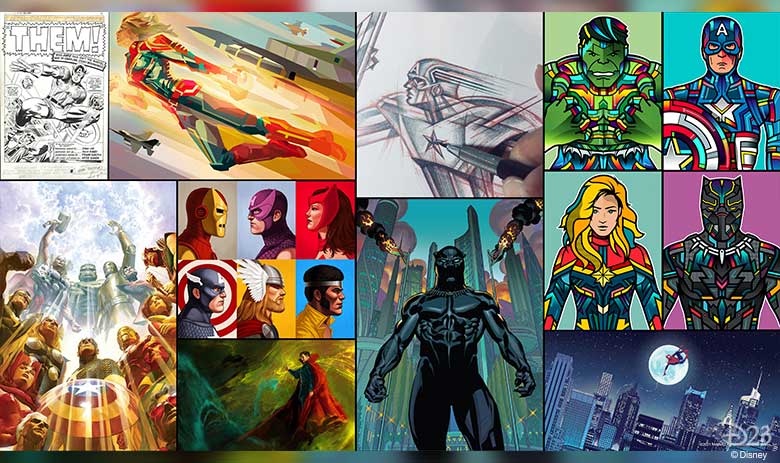 The talented European artists responsible for some of the exclusive artwork include:
French Marvel artist Olivier Coipel, famous for his work on The Avengers, Thor and Spider-Man, created a powerful representation of Thor: God of Thunder in a comic-book style, using an overlap of vibrant red and blue colors highlighting the duality between the Super Hero's mythological and human sides and using forced perspective to bring out the action.
French Marvel artist Stéphanie Hans, featured in Marvel Comics including Asgardians of the Galaxy, Black Bolt, and many more, created an impressive realistic portrait of a determined and strong Captain Marvel, depicted in full flight and surrounded by her photonic power.
UK comic book artist Tula Lotay, whose work on Marvel Comics include stories of powerful characters like Black Widow, Gamora, and Scarlet Witch, created a vibrant and strong comic-book-style portrait of Black Widow whose black costume contrasts with the almost expressionistic brightly colored background.
Italian designers and twin brothers Van Orton have created incredible pop art and almost neon-like portraits of Hulk, Captain America, Black Panther, and Captain Marvel using bright and vibrant colors.
UK artist Liam Brazier, known for his geometric reinterpretations of iconic characters, created several pieces for the hotel including heroic contemporary portraits of Captain America, Thor, and Hulk using saturated and bright colors as well as lines highlighting the dynamism of the Super Heroes' poses.
Spanish artist Carlos Gomez created huge backlit black and white comic panels that will greet Guests as they enter the lobby, depicting the exciting and dynamic story of the Avengers uniting in New York City in an inclusive way, to be understandable by everyone even with no dialogue.
Your art adventure doesn't stop there! Disney Hotel New York – The Art of Marvel will also include The Jack Kirby Legacy Gallery, a space dedicated to temporary art exhibitions that will showcase artworks for limited periods. This area will also offer a permanent exhibition dedicated to Disney Legend Jack Kirby himself—"The King of Comics"—with 21 comic book covers drawn by this legend. The Disney Legend brought many of the most iconic heroes to life, including the X-Men, the Fantastic Four, the Incredible Hulk, and the adventures of Thor and the Avengers. Guests eager to learn more about the stories behind the artwork displayed in the hotel lobby and The Jack Kirby Legacy Gallery will be invited to call upon Art Guardians, a selection of specially trained Cast Members with additional art knowledge.
The hotel boutique has been thought of as a museum shop where guests can purchase beautiful reproductions of some of the Marvel artwork displayed in the hotel. This boutique, directly inspired by Tony Stark's iconic Wall of Armor, will display collector figurines, art books, exclusive editions of Marvel Comic Books, and many items directly related to the architecture and design of the hotel, including statuette reproductions of Iron Man armors on display in the lobby.
As soon as Guests enter the hotel lobby, they'll step into the Marvel Universe, greeted by huge backlit comic panels, three life-size Iron Man suits, and even the famous Captain America shields. Make Marvel Memories last forever at the Selfie Spot with Spider-Man at the Super Hero Station, where Guests will also find exclusive Marvel Photo Stations showcasing décor from favorite Marvel movies for taking action-packed photos. Little ones can learn how to be a Marvel comic book artist in a creative space called Marvel Design Studio, while sports enthusiasts can enjoy the fitness center, indoor and outdoor Metro Pool, and Hero Training Zone, a 420-square-meter outdoor field with dedicated areas for a variety of sports activities to be enjoyed by guests of all ages. Unique restaurant and bar concepts will celebrate Marvel art with menu offerings inspired by many New York specialties and a full range of Marvel-themed meals and drinks. Packages will be on sale as of May 18, with an exclusive launch offer on www.disneylandparis.com, through the Disneyland Paris call center, and official travel agent channels. Disneyland Paris continues to invest in the Guest experience and infuse Disney stories into its hotels for even more immersive storytelling and unforgettable resort stays.
Know Before You Go
Guests will be able to extend the magic with a stay at other Disney Hotels, which will open their doors progressively: Disney's Newport Bay Club on June 17, Disney's Hotel Cheyenne on July 1, and Disney's Davy Crockett Ranch on July 15, subject to the continued evolution of the situation. The reopening dates of Disney's Sequoia Lodge Hotel and Disney's Hotel Santa Fe will be announced at a later time. Disneyland Hotel remains closed for refurbishment until further notice.
Disneyland Paris will welcome guests back to the magic with a limited number of tickets available each day using an online reservation system. To ensure admission, Guests—including Annual Pass holders—must register on the system and obtain a reservation for park entry prior to their arrival. Guests who already have a dated ticket do not need to register and reserve a date. Likewise, Guests with packages that include park admittance will receive admission for the duration of their stay and do not need to use the system. Dated tickets also offer flexibility as they can be cancelled up to three days prior to visit date.
The most current information about ticket sales can be found here. To provide Guests with peace of mind, current booking conditions allow flexibility on packages and include cancellations and modifications without fees for stays in Disney Hotels anytime up until seven days before the arrival date (excluding insurance and/or travel fees) as well as the possibility to pay in several installments without fee. Specific details are available here.
Current booking conditions allow flexibility on packages and dated tickets. Some experiences, shows, or events will not be available or may be modified depending on the evolution of the safety and sanitary measures and recommendations from public authorities. Guests can visit disneylandparis.com for the most recent updates. All the events, shows, attractions, and animations mentioned might also be modified, delayed, cancelled, or closed without advance notice and they are subject of climatic conditions.
As the health and well-being of Guests and Cast Members remains a top priority, Disneyland Paris' reopening will take a deliberate approach with enhanced health and safety measures that were successfully implemented last year. The measures continue to reflect current government guidelines, demonstrating the ability to improve the guest experience while providing a safe environment for all. As authorities recommend the wearing of an appropriate face covering in public spaces, Disneyland Paris asks all guests ages 6 and older to do so. This reopening will also implement limited attendance, required advanced ticketing and reservations to support physical distancing, per government guidance.