Since 1995, the twinkling, sparkling, glittering Osborne Family Spectacle of Dancing Lights has been gloriously lighting up the night at Disney's Hollywood Studios Park at Walt Disney World Resort. Vibrant wreaths, spinning carousels, soaring angels, and Santa Claus and his radiant reindeer immerse guests into an enchanting world of millions of Christmas lights, all synced up to a set of jolly tunes. This holiday season—after 20 years with only a one-year hiatus in 2003—the beloved lightshow that immerses guests into a world of millions of lights set to lively seasonal songs is being retired. We bid the Osborne Family Spectacle of Dancing Lights a fond farewell in its final season, with an enlightening glimpse at this holiday extravaganza's history.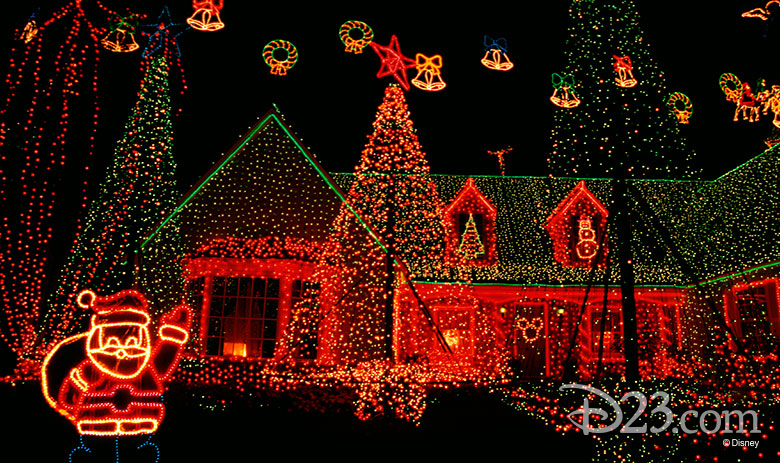 The idea for this has-to-be-seen-to-be-believed spectacle first sparked when Walt Disney World Executive Vice President Bruce Laval saw a remarkable Christmas light display in a cable news report. The stunning spectacle had started modestly in 1986 as a single home's annual display, created by Little Rock, Arkansas, businessman Jennings Osborne as a holiday treat for his daughter. The ever-growing—and glowing—phenomenon became so enormous that a larger "home" had to be found. Laval asked Joe Phelan, show director for Disney Creative Entertainment, to contact Jennings, who was overjoyed his merry but massive show would "glow on" at a Disney theme park.
Four 18-wheeler moving trucks were required to ship the elaborate display to Disney-MGM Studios (now Disney's Hollywood Studios). Eyes & Ears, the Walt Disney World Resort in-house newsletter, reported in November 1995: "The full complement of more than two million lights—including Osborne's breathtaking 70-foot-high tree of lights and 'wall of angels'—will be moved from the family's west Little Rock home to the Residential Street in the backlot area." That first year, the Osborne light display stretched 760 feet on each side of Residential Street, delightfully decking eight houses, including facades for the homes of the Golden Girls and Empty Nest television shows. "A crew of 40 is spending about three weeks to complete the decorating, which will include erecting a globe of lights 30 feet in diameter, a 'snow' wall of lights 200 feet long and 60 feet high and two 30-foot-tall carousels, each bearing 12 angels," reported Eyes & Ears.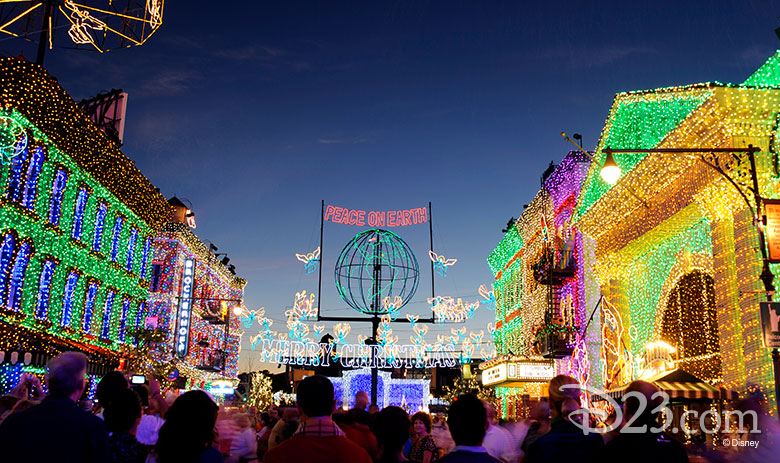 And 1995 was only the sparkly start. By the time the Spectacle moved to the Streets of America in 2006, the holiday extravaganza glowed and flashed with more than five million lights. That same year, approximately 400 dimmer relay and control switches were added, allowing the lights to be choreographed to a musical score, including songs by the Trans-Siberian Orchestra, as well as lively Yuletide tunes as "Feliz Navidad" by Jose Feliciano and "Jingle Bells" by Barbra Streisand, as well as songs from Tim Burton's The Nightmare Before Christmas and Phineas and Ferb, and, in 2012, a special arrangement of the classic "Winter Wonderland" by Creative Entertainment Music Director Dan Stamper. In 2011, new RGB (red, blue, green) LEDs meant that the famous canopy of lights on Brownstone Street added to the spectacle, allowing a Christmas cavalcade of colors that can flash in 16 million different combinations and patterns.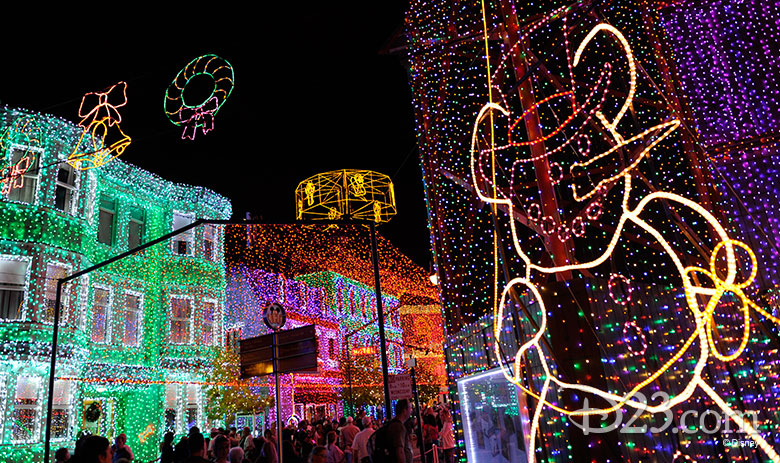 Each holiday season saw a multitude of Santa-worthy surprises, such as Roger Rabbit, Baby Sinclair from the Dinosaurs TV series, and Pongo, Perdita, and an assortment of spotted puppies popping up here and there. Naturally, there have been dozens of Hidden Mickeys. As of 2014, the count was up to more than 80 with Mickeys spotted among the sparkles within a teddy bear's face, the smoke coming from a locomotives stack, and in the flames leaping inside a fireplace.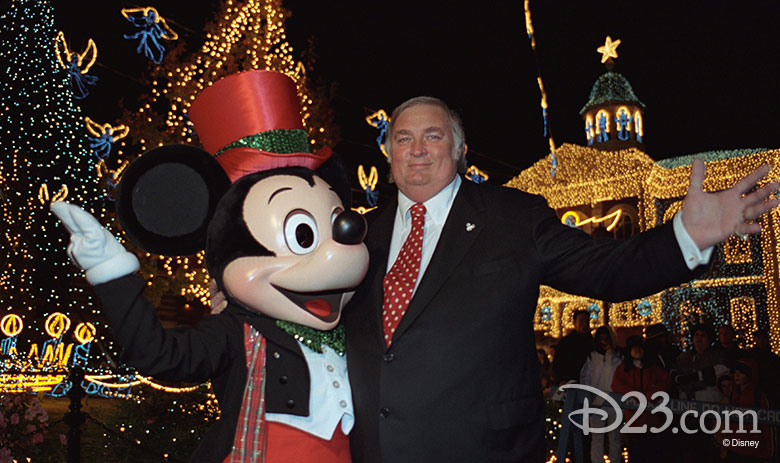 When Jennings Osborne passed away in 2011, a lone white angel was added to join the traditional blue angels already in the show to honor the show's original creator. This final year, a special "Osborne Electric" window in New York Street covers the history of this holiday favorite with newspaper stories, photos, and TV clips, while a twinkling Tinker Bell lights up a sparkling "20" logo. Even though this mesmerizing mix of music and brilliant lights is "glowing away" after this 20th anniversary run, the unforgettable Osborne Family Spectacle of Dancing Lights will continue to flash through our memories like illuminated sugar plums dancing though our heads.