Peyton Liebler
>◎//: COMMENCE RECAP(s)
The Grid. The Digital Frontier. Ever since the groundbreaking film TRON debuted over 40 years ago, it has been a domain of exhilarating opportunities, inviting both programs and users to cross over and enter a world with no horizons—or limits. D23 Gold Members got a chance to enter the Grid and preview the exciting new attraction presented by Enterprise, TRON Lightcycle / Run at the Walt Disney World Resort.
D23: The Official Disney Fan Club was thrilled to present cyber-inspired celebrations for our D23 Users, as we hosted two elecTRONic events on March 18, 2023. We know how much our members had been anticipating their 8-bit adventures, and we made sure to program a unique day, coded for a "computerized commemoration" of the attraction making its stateside debut at the Walt Disney World Resort.
event-[1]// RETURN TO THE GRID - TRON: LEGACY SCREENING_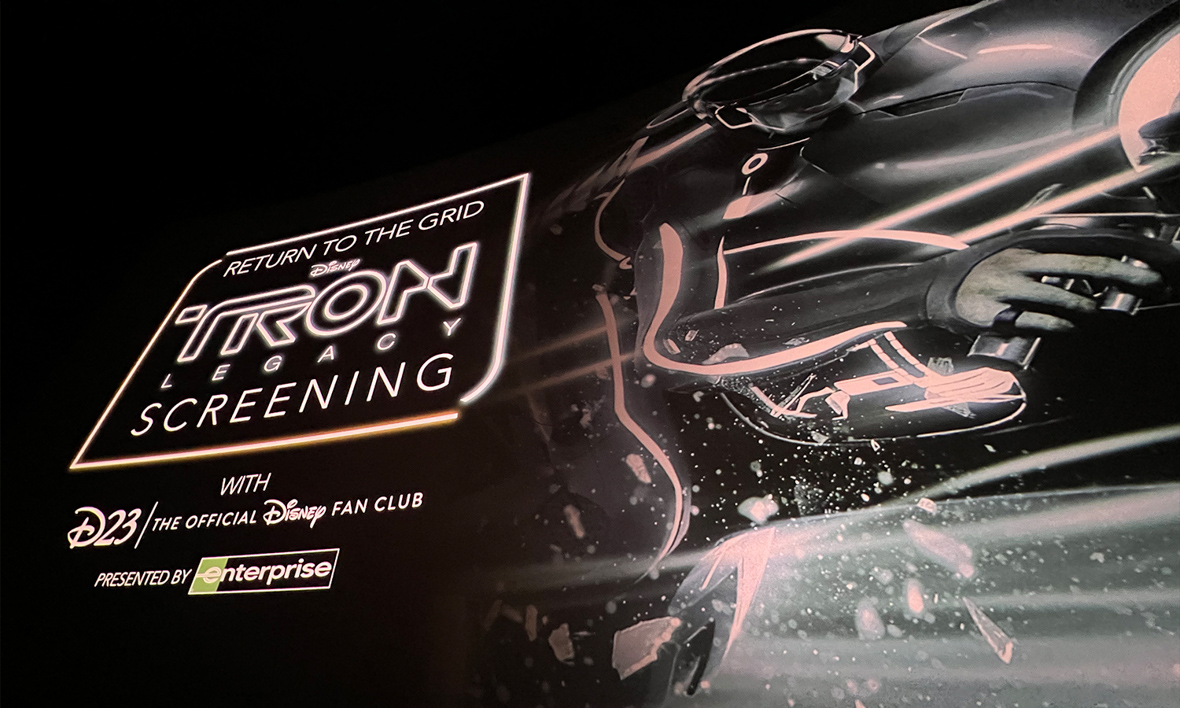 The day in the digital world began with a very special screening of TRON: Legacy(2010) in Disney Springs. This richly toned film brought the world of TRON back for a new century and has since inspired a new generation of fans. TRON: Legacy also served as a reference point for the creation of TRON Lightcycle / Run at both Shanghai Disneyland and Walt Disney World.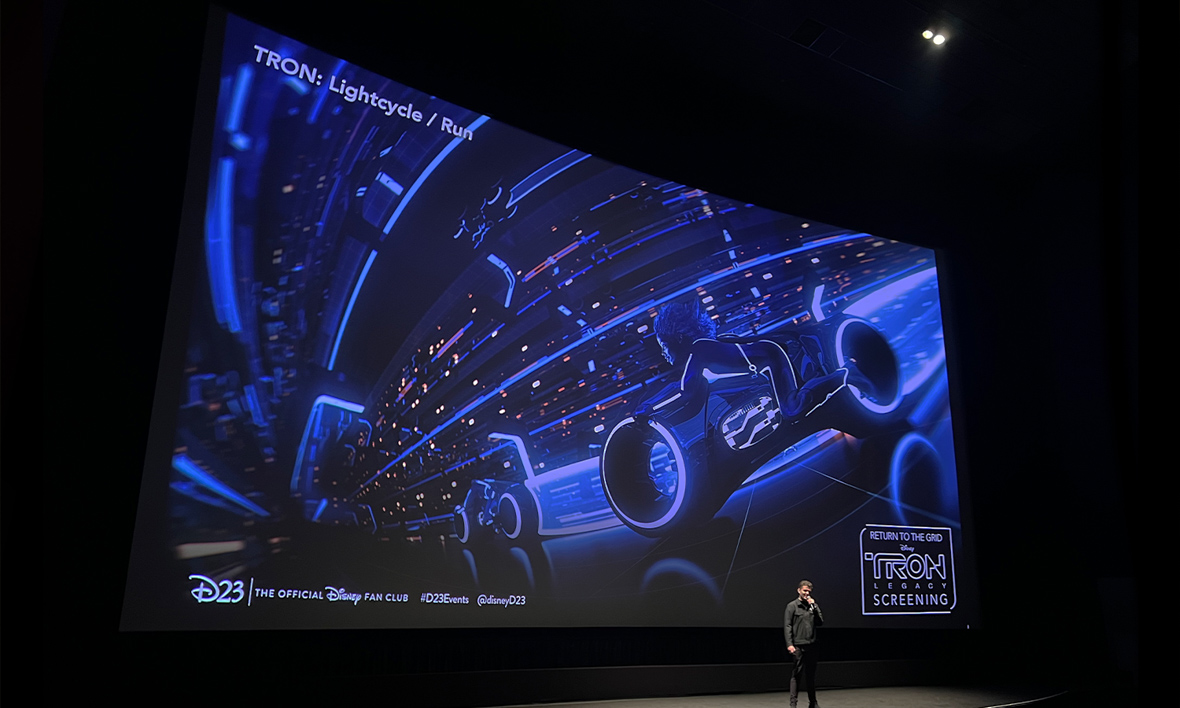 D23 Gold and General Members had the chance to see the film in 2D or 3D and were treated to popcorn and a drink to enjoy with the showing on the big screen. Additionally, everyone in the audience received a special postcard featuring nighttime concept art of TRON Lightcycle / Run.
But a full terabyte of treats kept coming, as D23 Users were surprised by a special guest pre-screening—Steven Lisberger, writer and director of TRON (1982) and producer of TRON: Legacy. Lisberger regaled audiences with reflections and anecdotes from his experiences with TRON, including the incredible new attraction at Walt Disney World. It was an amazing and unique moment for D23 Members, and an experience that D23 was thrilled to deliver to the "ultimate Disney fans."
event-[2]// D23 GOLD MEMBER PREVIEW: TRON LIGHTCYCLE / RUN_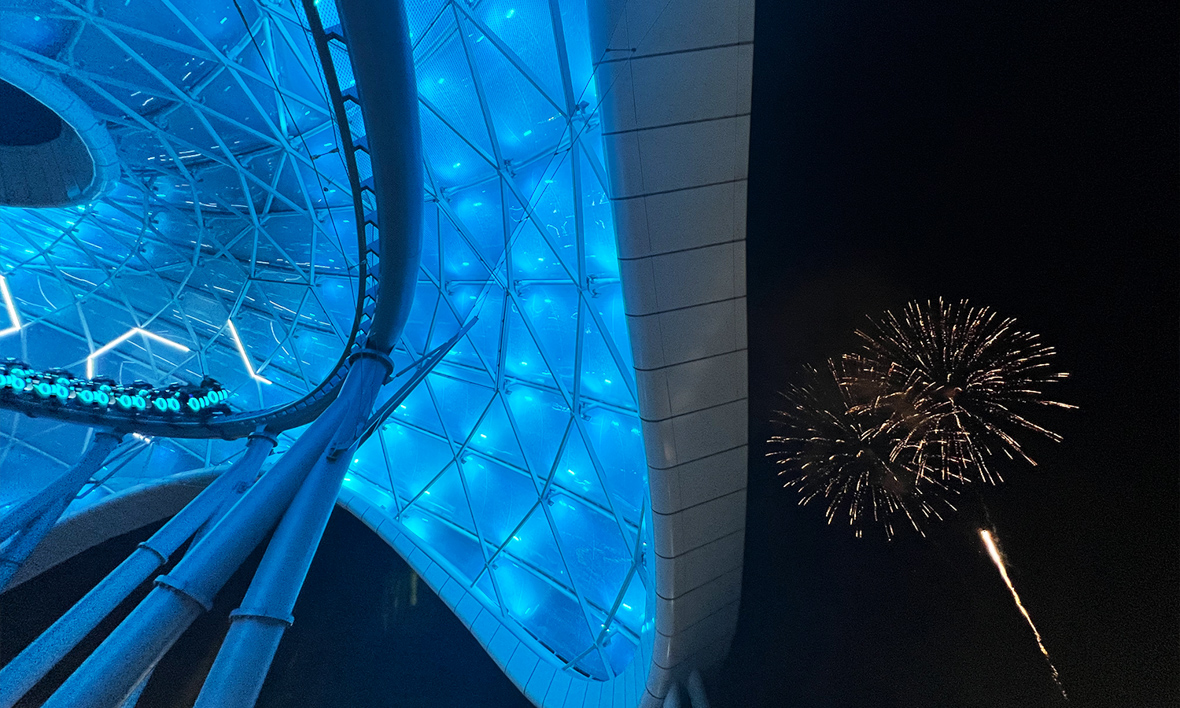 Once the film ended, D23 uploaded the fun to the next special event of the day—the D23 Gold Member Preview of TRON Lightcycle / Run! After D23 Gold Members and their guests checked in at the Transportation Ticket Center, each user was given a special light-up D23 wristband to provide program identification. Upon making their way to Magic Kingdom, they transmitted themselves to Tomorrowland, where the majestic upload conduit canopy of TRON Lightcycle / Run beckoned.
D23 Gold Members were able to experience the attraction as many times as they wished, and that many uploads can certainly overheat their processing units. So, to make sure they were properly cooled, D23 Gold Members and their guests were treated to complimentary ice cream. It was a great (and tasty) way to stay cool for the evening.
As the sun began to set, the Grid began to glow. Many D23 Users took this opportunity to capture hi-res image files for their personal databases, as they explored and enjoyed the breathtaking scene in all its illuminated glory. Others just enjoyed the space and watched as others experienced the thrills again and again. (You don't know bliss until you've enjoyed a Mickey Premium Bar while array after array of Lightcycles speed past you!)
And, as if the night couldn't get more pixel-perfect, the event concluded with D23 Users experiencing Disney Enchantment, with gorgeous views of projections on Cinderella Castle and fireworks, framed by the gleaming lights of the Grid. It was a sight to behold, and the perfect way to close out our day in the digital world.
As they exited the event, D23 Users each received exclusive gifts from D23 including a special foil-printed TRON Lightcycle / Run magnet, a reflective belt bag bearing both the symbols of D23 and Lightcycles, and another postcard featuring daytime concept artwork of the attraction!
It was a day full of experiences that we will cherish forever. It's events like these that showcase what D23 is all about—celebrating the fan in all of us.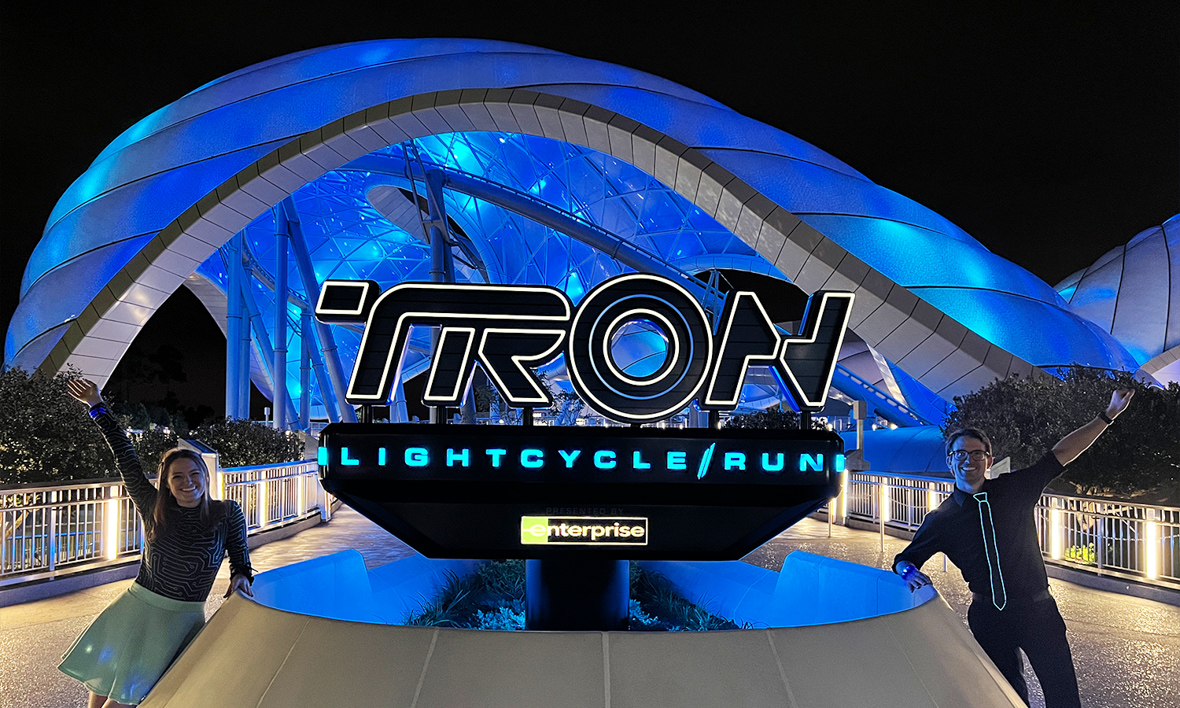 For those of you who didn't upload with us this week, don't fret! TRON Lightcycle / Run officially opens on April 4 at Magic Kingdom, and more D23 events are coming soon for Disney fans across the country!
END OF LINE_