By Reena Bassil
The time is nearly here! Step into the Grid and embark on a mysterious journey with TRON: Identity, the latest visual novel puzzle adventure game from Disney Games and Bithell Games. Disney Games Producer Heidy Vargas has defragged many Identity Discs in her day, but her true passion is creating immersive game worlds for players to get lost in. We sat down with Vargas to discuss her work on TRON: Identity, as well as her impressive career journey at The Walt Disney Company. Check out what she had to say below!
D23: The Official Disney Fan Club: We understand you've played a key role in the development of TRON: Identity. What can you tell us about that game?
Heidy Vargas (HV): TRON: Identity is an exciting visual novel puzzle adventure set within a mysterious new Grid. Fans can expect an immersive visual novel with branching storylines and action-based decisions that can impact your path and the world around you. You will defrag Identity Discs by solving entertaining puzzles, and each puzzle will help recover memories that get you closer and closer to solving the mystery.
D23: What made your work on TRON: Identity special to you?
HV: I've always found diversity and inclusion to be an important part of my everyday life. When working on TRON: Identity, it was key for the Disney Games team and Bithell Games to present this new Grid as a reflection of the real world that also represents our players with diverse and unique characters. My hope is that players will see a Program character that resembles themselves.
D23: TRON: Identity follows a different storyline than the franchise it is based on. Can you touch on the decision to create something new?
HV: Our team is always looking for new and exciting ways to extend the iconic storylines that our fans know and love. TRON: Identity allows fans to immerse themselves even deeper within the world of TRON and interact with original characters and stories – stories that they themselves shape through their own decisions.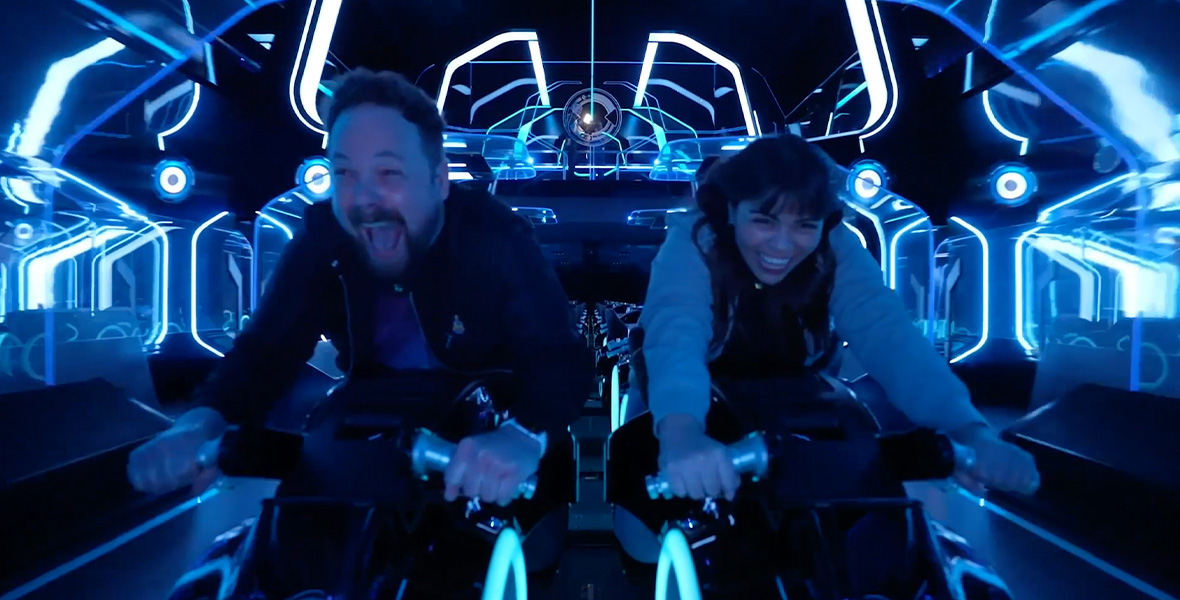 D23: What similarities and differences will fans see in comparing the game to the TRON: Legacy-inspired TRON: Lightcycle / Run presented by Enterprise at Magic Kingdom Park at Walt Disney World Resort?
HV: TRON: Identity builds on the established visual cues and iconography from the TRON: Legacy film. A few things will feel familiar, but you'll also find something that isn't found in the existing films or the attraction… our new Grid features trees.
D23: Disney and Bithell Games worked together to create TRON: Identity and clearly focused on unique and great storytelling. What was it like working with Bithell Games?
HV: Working with Bithell Games has been an extremely collaborative process. They are experts in all things TRON and they weren't afraid to take this well-established franchise and create an entirely new world. The team was extremely confident in their ability to create a new gaming genre unique for this Disney franchise.
D23: How did you start working with Disney?
HV: I began my career with Disney a few weeks after graduating from UCLA. Through the Disney Professional Internship program, I was able to learn very quickly on the job and gain exposure to other divisions within Disney. I was able to transition to a full-time role, but I quickly found myself volunteering for playtest sessions with the Games Team. I really didn't expect I would be here now!
D23: What example do you want to set for future generations of game developers?
HV: I hope to be a positive and encouraging presence for newcomers in the industry. Having worked with interns in the past, I always aim to share information and knowledge and create space for everyone. It's important for those of us in the business to encourage unique voices and foster an environment that encourages diversity.
D23: There has been much more emphasis on inclusion in the workplace – tell us what inclusion means to you and what advice you have for allies to keep the conversation going.
HV: Inclusion helps cultivate a culture that welcomes people to be themselves, acknowledging our differences and how these differences can contribute and improve our work and organization. I joined our DE&I teams very early on, and it's been amazing to see how many of our peers have prioritized and dedicated their time to continuing the conversation. There is so much room for improvement in terms of inclusion in the workplace because it is an ever-evolving conversation. My advice, think of yourself as a leader no matter what level you're at, it's important to lead by example. Practice inclusivity with confidence and others will feel inclined to do so too.
D23: Tell us about the importance of seeing diverse representation in games.
HV: As a Latina it was always a challenge to find characters that looked like me, and I was given little opportunity to customize my player avatar to look like anyone that resembled me. I grew up with such a love of games like the Sims because of the ability to customize my world and create my own stories. Because of this I knew I wanted to be a voice for more representation in the projects I contribute to.
D23: What other projects do you have in the works?
HV: I'm the lead Producer on Disney Emoji Blitz, which is celebrating its 7th birthday this year and is constantly adding new Disney and Pixar emojis and features. There are a few other projects in the works that I can't mention yet, but of course, TRON: Identity is the start of Bithell Games' collaboration with Disney on TRON-dedicated games. Players can expect more TRON titles to come in the future, but for now we are excited to bring you TRON: Identity on April 11!