By Nicole Nalty
As we prepare to welcome nine new honorees into the Disney Legend family at D23 Expo, D23 Gold Members spent some time with a man who has been a part of this legendary group for nearly 10 years! D23 continued its Lunch with a Disney Legend event series with story artist, animator, producer, and director Burny Mattinson on Friday, April 7, 2017, on the iconic Walt Disney Studios lot.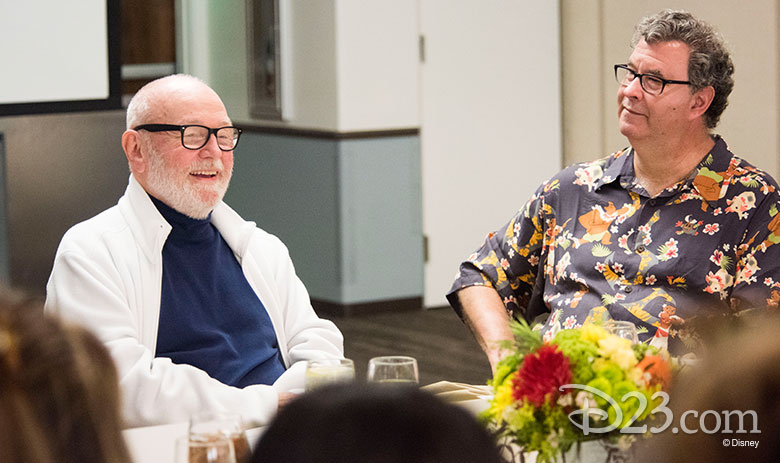 Guests were invited to join D23 for a luncheon in a private room at Buena Vista Café, where they dined with the Disney Legend. Howard Green (pictured above right), vice president, Communications, at Walt Disney Animation Studios, gave Burny a special introduction and joined the group for lunch. Guests enjoyed a three-course meal, concluding with a sweet "Hunny Pot Pie" to celebrate Burny's work on the Winnie the Pooh films.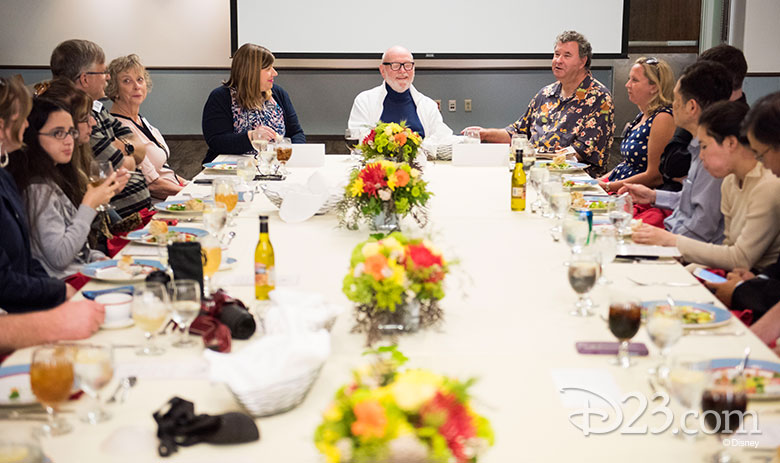 Burny's Disney animation career has spanned more than six decades––so as you can imagine, he had many stories to tell! Burny shared memories from the making of films like The Many Adventures of Winnie the Pooh, The Rescuers, Mickey's Christmas Carol (the first film he directed and produced), and The Great Mouse Detective. Burny began his Disney career as an in-betweener on Lady and the Tramp, after his mother dropped him off at the Studio gate with his portfolio, which impressed the guard so much that he landed Burny a meeting with the head of Personnel. The Disney Legend shared tales of what it was like to work with Walt and even treated guests to a viewing of one of his original Winnie the Pooh (2011) storyboard pitches, which followed Eeyore as he finds his new tail. Burny is an incredible story artist, animator, producer, and director, but he added crooner to his list of talents when he sang an unused Sherman brothers song written for The Many Adventures of Winnie the Pooh.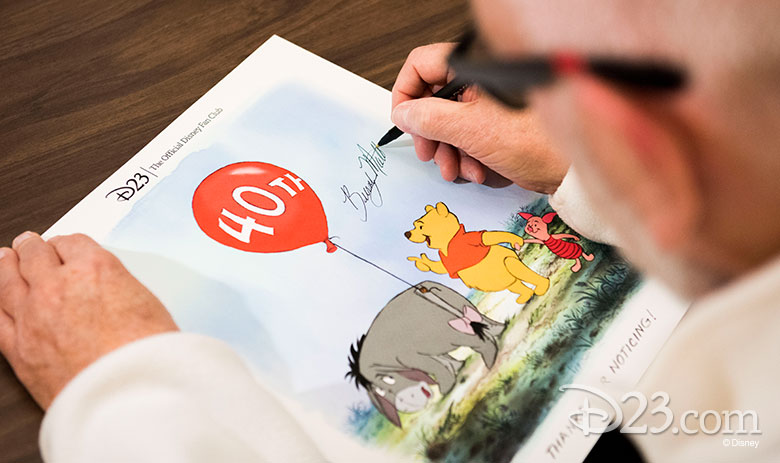 As a special gift, Burny created an original illustration just for attendees—a colorful depiction of Pooh and Eeyore to commemorate the 40th anniversary of The Many Adventures of Winnie the Pooh. The film holds a special place in Burny's heart, as the Winnie the Pooh and Tigger Too segment marked one of the artist's first roles as a key animator.
After lunch, guests took photos with Burny in Disney Legends Plaza and enjoyed shopping time in the Disney Studio Store.