When asked to reflect on a Disney career more than half a century long, Burny Mattinson seemed a bit surprised. "I mean, 50 years is a long time," the artist once admitted, "but I still feel like that 18-year-old kid that came here back in '53, you know? I never feel like I've gotten old."
Burnett Mattinson was born San Francisco on May 13, 1935—the first of two children. Before he was six years old, his mother took him to the San Francisco Orpheum, where he saw Pinocchio. "Ever since I saw that film, this was my dream," Burny recalled, "To work in this business. So I worked every day, drawing."
His father, a drummer with Horace Heidt's Big Band, moved the family to Los Angeles after the band's demise in 1945, and Burny continued drawing through his school years. By the time he was twelve, he was skillfully drawing Disney-style cartoons, and kept dreaming of being a Disney artist.
After graduation, his mother drove him to Burbank and dropped him off at the Studio gate. A kindly guard took a look at the teenager's portfolio and called the head of Personnel. Burny got an interview and a job, beginning in the mailroom. Six months later, and with no formal art training, he started work as an in-betweener on Lady and the Tramp.
Disney has always been a family place. I think that's what's so rich about it. It's family. And, you know, that was the big thing Walt felt, way back. He was family.
He was promoted to assistant animator under Marc Davis on Sleeping Beauty and continued in that capacity on One Hundred and One Dalmatians. When that film ended, he began a twelve-year stint with Eric Larson, working on a variety of projects including The Wonderful World of Color television series, The Sword in the Stone, Mary Poppins, The Jungle Book, and The Aristocats.
After completing an eight-week internal training program, Burny became a key animator on Winnie the Pooh and Tigger, Too, working with Disney Legend Ollie Johnston. Disney Legend Frank Thomas saw Burny's thumbnail sketches and asked him to help on storyboards for The Rescuers. "Storyboards are as close to direction as you can get," Burny later said. "You're telling cameras where to go, what's happening on screen, where to cut, and really making a blueprint for the film."
While briefly assigned to The Black Cauldron, Burny was inspired by a Disneyland Records Christmas album and brazenly sent it, along with a note containing an idea for a film, to Ron Miller, then head of the Studio. The next day, Burny was summoned by Miller. Burny feared that his boldness had been a gaffe, but was pleasantly surprised when the studio chief agreed with Burny's idea, assigning the startled animator to direct Mickey's Christmas Carol, which he also produced. This success led to his contribution as producer and director on The Great Mouse Detective.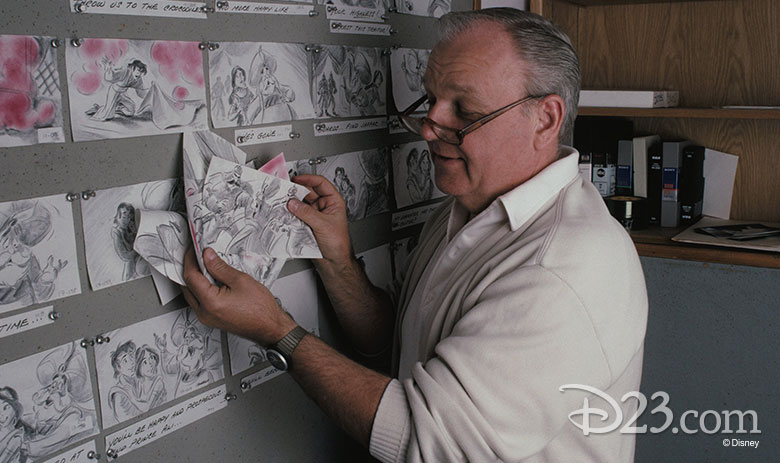 Burny continued to work in animation, contributing to development and story on such new classics as Beauty and the Beast, Aladdin, The Lion King, Pocahontas, The Hunchback of Notre Dame, and Mulan. Burny also provided additional story for a new Goofy short How to Hook Up Your Home Theater. He served as story supervisor on the animated feature Winnie the Pooh. In 2013, he celebrated his 60th anniversary with Disney.
Burny and his wife Sylvia have three children and four grandchildren, but he always feels that his extended family is on Buena Vista Street and Riverside Drive. "Disney has always been a family place. I think that's what's so rich about it. It's family. And, you know, that was the big thing Walt felt, way back. He was family."