By Nicole Carroll, Walt Disney Archives
The spooky and lighthearted Disney classic Blackbeard's Ghost (1968) is perfect for a ghastly October viewing. The film focuses on the dead, yet still mischievous pirate Captain Blackbeard, played by legendary actor Peter Ustinov, who is trapped in limbo until he performs a good deed. Accidentally conjured by unsuspecting Godolphin track coach Steve Walker, played by Disney Legend Dean Jones, the two set off on a comical adventure to save the Daughters of the Buccaneers and their home, Blackbeard's Inn.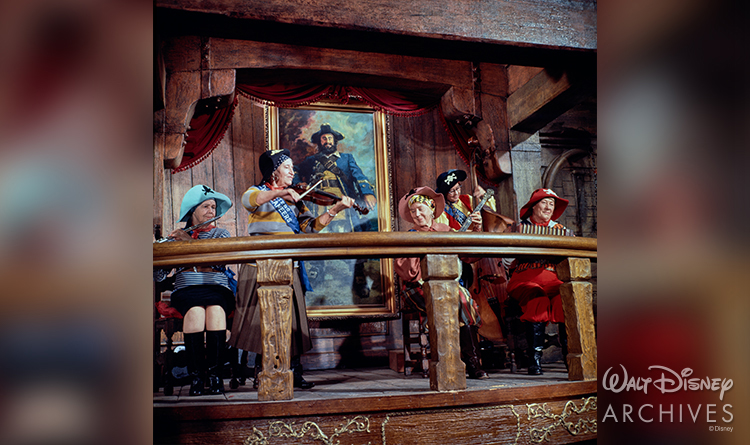 One of the many memorable props from the film was Captain Blackbeard's iconic life-size portrait, prominently displayed in the Inn. The artwork's creator and illustrator, David Jonas, was a Disney Studio artist from the late 1960s to early 1970s and contributed to such films as Lt. Robin Crusoe, USN (1966), Bedknobs and Broomsticks (1971), and The Black Cauldron (1985). In press materials from the film, Jonas noted that it was difficult to create a likeness of someone without a recent photograph. "I did a lot of research on what the actual Blackbeard looked like and portraits of that period so that I could give the figure an authentic pose and background," Jonas recalled.
Even before filming began he worked with wardrobe designer Bill Thomas to determine what costume Blackbeard would be wearing. "By the time Peter arrived at the studio for production, the painting for all but subtle modeling and little details was finished." Using old photographs of Ustinov, Jonas sketched in his face, creating a perfect blend of the historic Captain Blackbeard and the film's lead. "Extraordinary," remarked Ustinov upon coming face to face with the portrait for the first time. "It's a very good likeness. But I believe I would be afraid to hang it in my house. My dogs would never stop whining at it, wanting it to pat them or feed them."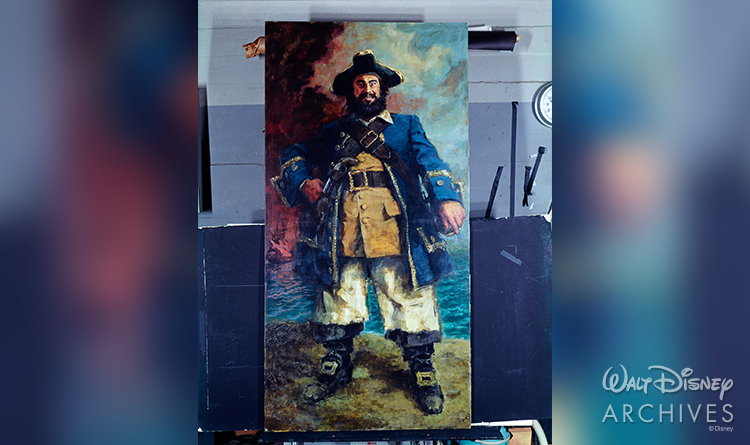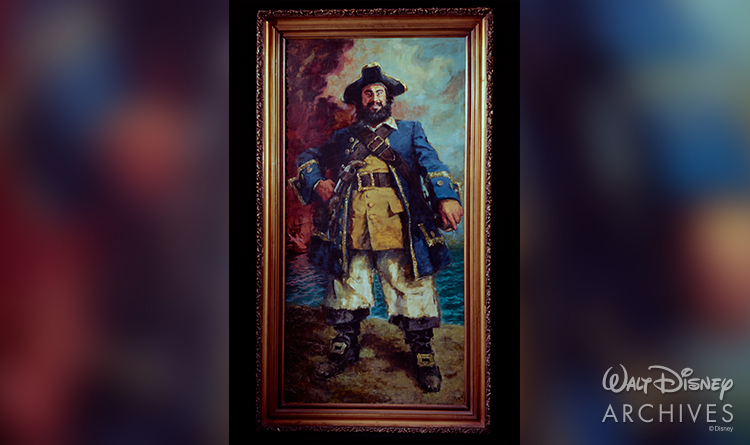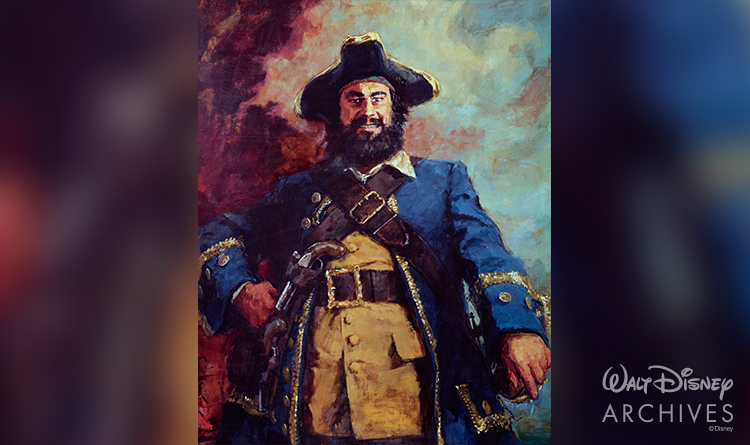 Blackbeard fans have had a couple of opportunities to see later versions of this iconic set decoration, too. First, in 1997, a smaller replica of the portrait was added to Pirates of the Caribbean at Disneyland Park in honor of the film's then-upcoming 30th anniversary. The portrait could be seen towards the end of the attraction, sticking out of an overflowing bag of plunder two pirates attempt escape with just as the attraction vehicle begins to ascend the final hill. This scene was reimagined in 2006 when the attraction was updated to incorporate elements from the hit Pirates of the Caribbean film franchise, including appearances by another popular pirate captain—Jack Sparrow.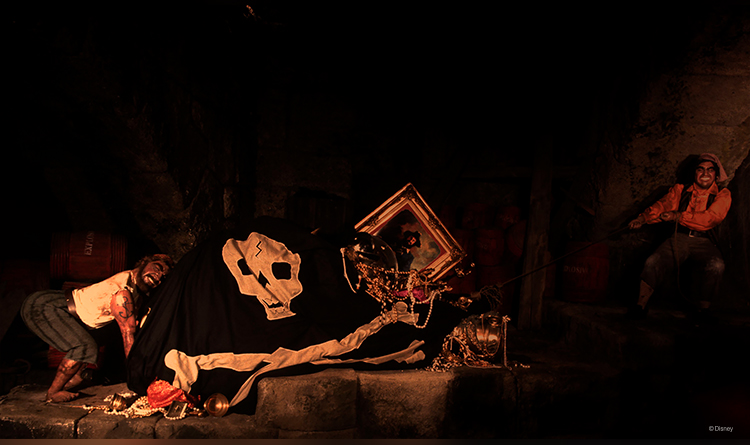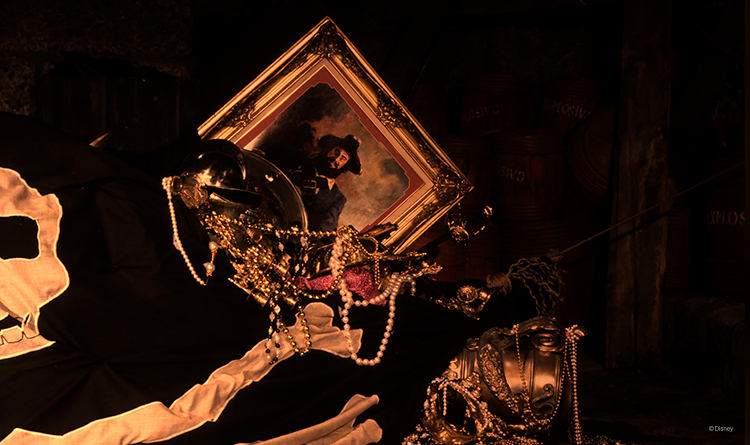 Then in 2017, with planning underway for the Archives' exhibit at the D23 Expo, Rebecca Cline, Director of the Walt Disney Archives, knew that no Disney pirate-themed display would be complete without the portrait. She recalled:
"I love pirate movies—especially Disney ones—and Blackbeard's Ghost has always been one of my favorites! Peter Ustinov was an incredible actor, and his performance in that film is genius— especially opposite another of my favorite Disney stars, Dean Jones. Pirate magic! The portrait of Peter as Blackbeard was a must-have for our D23 Expo pirate exhibit in 2017. I wanted it to have pride-of-place and full size, as Blackbeard was the biggest, baddest buccaneer of them all!"
The portrait was then meticulously recreated by the Walt Disney Archives using a photo transparency of the original and specs from the film's publicity material. This true-to-size reproduction of the portrait was on display in the Archives' exhibit, Walt Disney Archives Presents – A Pirate's Life for Me: Disney's Rascals, Scoundrels, and Really Bad Eggs. The portrait was aptly presented alongside a plethora of historical riches from the film, including a screen-worn tri-corn hat, storyteller record album, preview screening invitation from The Walt Disney Studios, as well as tickets, a program, and police pass from the film's premiere at the Hollywood Pantages Theatre held on February 8, 1968.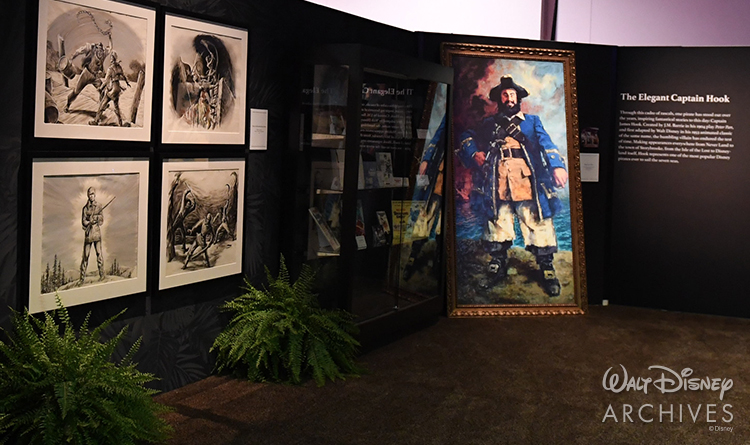 Be sure to see David Jonas' masterpiece for yourself in Blackbeard's Ghost, now streaming on Disney+!