By Courtney Potter
The Mighty Ducks: Game Changers Premiering March 26 on Disney+
Here's some news to cheer about: The good folks at Disney+ just announced that their new series, The Mighty Ducks: Game Changers, will premiere on the streaming service this March!
The Mighty Ducks hockey team returns in an all-new chapter starring Lauren Graham (Gilmore Girls) and Emilio Estevez in the iconic role he originated as legendary Coach Gordon Bombay. The 10-episode season, set in present-day Minnesota, finds the Ducks having evolved from scrappy underdogs to an ultra-competitive, powerhouse youth hockey team. After 12-year-old Evan Morrow (Brady Noon) is unceremoniously cut from the Ducks, he and his mom, Alex (Graham), set out to build their own team of misfits to challenge the cutthroat, win-at-all-costs culture of youth sports today. With the help of Gordon Bombay, they rediscover the joys of playing just for love of the game.
The Mighty Ducks: Game Changers features a talented new team of up-and-coming young actors including Noon, Maxwell Simkins, Swayam Bhatia, Luke Islam, Kiefer O'Reilly, Taegen Burns, Bella Higginbotham, and DJ Watts. Steve Brill—the original creator, writer, and executive producer of all three films, which spawned a real-life NHL franchise—is back as co-creator and executive producer of the new series. Look for it on Disney+ beginning Friday, March 26.
5 Fantastic Things to Watch This Weekend
Is the weather looking not-so-awesome in your neck o' the woods this weekend? Then it might just be the perfect time to settle in for some delightful viewing from around the worlds of Disney. Several movies will debut on Disney+ for the first time (including Sleeping Beauty, celebrating its 62nd anniversary this year); FX offers up the network premiere of Bohemian Rhapsody, starring Rami Malek as legendary Queen frontman Freddie Mercury; and so much more. Have your fave snacks at the ready, y'all…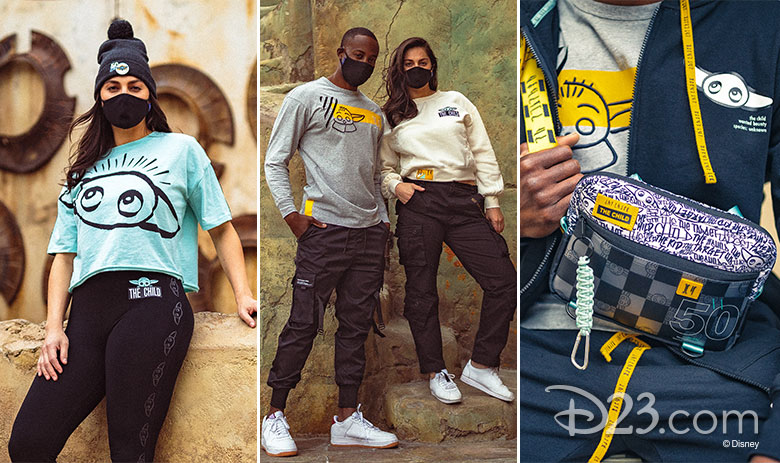 Check Out This All-New Streetwear Collection Inspired by The Child
Have you been itching to wear your love for The Mandalorian's the Child right on your sleeve? Look no further than this brand-new streetwear collection, inspired by that galactically delightful moppet, coming in just a few days' time to your favorite Disney-related shopping destination.
Items include T-shirts, hoodies, leggings, hats and beanies, a belt bag, and more. The collection honors the iconography established in The Mandalorian—all of the script featured on the apparel is in Mando'a—and highlights how the Child is a valuable (and adorable!) asset to so many throughout the galaxy.
You'll find the new items beginning February 1 on shopDisney.com; at Disney stores in North America, and at Walt Disney World Resort—followed by the Downtown Disney District later in the month! This is the way… to looking super sharp and comfy to boot.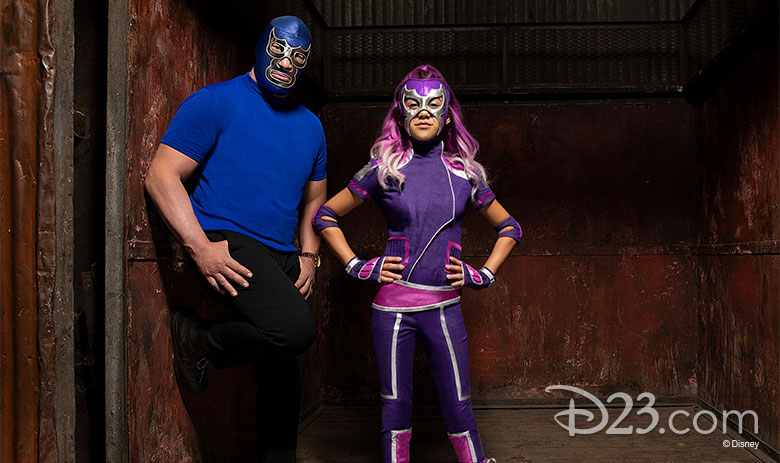 Disney Channel Announces New Series Ultra Violet & Blue Demon
Alright, friends—get ready to jump into the ring! (Proverbially speaking, of course.) Our pals at Disney Channel have just ordered a brand-new, live-action superhero comedy series called Ultra Violet & Blue Demon, starring legendary luchador and professional wrestler Blue Demon Jr. playing a version of himself and popular Disney Channel star Scarlett Estevez (BUNK'D) as Ultra Violet. The series—which introduces viewers to a Mexican American family with a very special legacy—will showcase a predominately Latinx main cast and producing team.
The series unfolds as a magical luchador mask selects 13-year-old Violet to become Ultra, the superhero successor to her uncle, who is the famous Mexican wrestler Blue Demon Jr. and a superhero-in-disguise. Ultra begins her own secret superhero training with her uncle, all while having to navigate the ups and downs of middle school. As they start to work together, Uncle Blue realizes he can learn a few things from Ultra's modern, "Gen-Z" take on crime-fighting.
The series will also star Marianna Burelli as Violet's mother, Nina; Juan Alfonso as Violet's father, Sebastian; Brandon Rossel as Violet's brother, Miguelito; Zelia Ankrum as Violet's best friend, Trudy; and Bryan Blanco as Violet's goody-two-shoes classmate Enrique Diaz-Diaz. Keep your eyes peeled for more info, including the show's premiere date, soon!
Adventure Awaits in Raya and the Last Dragon—Coming Soon!
The good folks at Walt Disney Animation Studios are in the final stretch of readying their latest film, Raya and the Last Dragon, for audiences… and to that end, they just released a colorfully exciting new trailer!
Embark on an epic journey to the fantasy world of Kumandra—where long ago, humans and dragons lived together in harmony. But when an evil force threatened the land, the dragons sacrificed themselves to save humanity. Now, 500 years later, that same evil has returned and it's up to a lone warrior, Raya, to track down the legendary last dragon to restore the fractured land and its divided people. However, along her journey, she'll learn it'll take more than a dragon to save the world; it's going to take trust and teamwork, too.
Raya and the Last Dragon features an incredible voice cast, including Kelly Marie Tran as the voice of the intrepid warrior Raya; Awkwafina as the legendary dragon, Sisu; Gemma Chan as Raya's nemesis, Namaari; Daniel Dae Kim as Raya's visionary father, Benja; Sandra Oh as Namaari's powerful mother, Virana; Benedict Wong as Tong, a formidable giant; Izaac Wang as Boun, a 10-year-old entrepreneur; Thalia Tran as the mischievous toddler Little Noi; Alan Tudyk as Tuk Tuk, Raya's best friend and trusty steed; Lucille Soong as Dang Hu, the leader of the land of Talon; Patti Harrison as the chief of the Tail land; and Ross Butler as chief of the Spine land. The film is directed by Don Hall and Carlos López Estrada; co-directed by Paul Briggs and John Ripa; produced by Osnat Shurer and Peter Del Vecho; and written by Qui Nguyen and Adele Lim. The film will be available on Disney+ with Premier Access (in most Disney+ markets; priced at $29.99) at the same time as it is released in theaters on Friday, March 5.
Big Hero 6 The Series Concluding After Three Seasons
They say all good things must come to an end—and an end is now in sight for Disney's Emmy Award®-nominated Big Hero 6 The Series. Find out what you can expect from the series finale (airing February 15 on Disney XD and in DisneyNOW), and hear from the voice cast in a fun new video, right here at D23.com.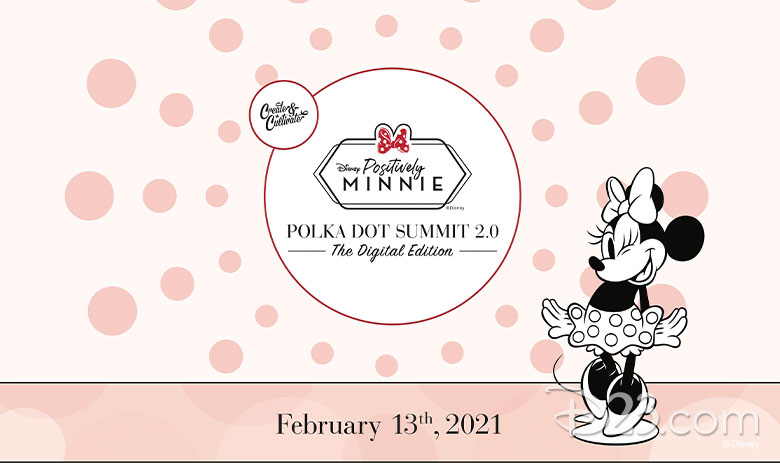 Digital Summit Celebrates National Polka Dot Day with Minnie Mouse
Minnie Mouse and polka dots… is there a more delightful combination? We think not! So we're tickled pink at the prospect of next month's Positively Minnie: The Polka Dot Summit 2.0 – The Digital Edition—a virtual summit slated to take place on Saturday, February 13, at 9 a.m. PT to celebrate all things Minnie!
In celebration of National Polka Dot Day—the annual fan holiday honoring Minnie Mouse—Disney and Create & Cultivate (the modern media company for working womxn, by working womxn) have teamed up to announce this digital summit, featuring talent who encompass Minnie's bold, fashionable, fun, and classic attitude and style. Audiences around the globe will see once again what it means to be "Positively Minnie"! Free to the public, fans will be able to partake in Minnie-inspired workshops and styling sessions; listen to a keynote conversation with participating talent; shop the latest Minnie merch; and so much more. (Participating talent will be announced at a later date, so stay tuned.)
In order to attend The Polka Dot Summit 2.0, registration is required via the Create & Cultivate website, now through February 12. Registrations are non-transferable and limited to one per attendee, and the event is for Minnie fans age 18 and older. For more info, visit CreateCultivate.com/Disney-Polka-Dot-Summit.
ICYMI: Disney+ Cooking Up New Series Foodtastic with Keke Palmer
This week we learned that Keke Palmer—soon to be lending her voice to the animated series The Proud Family: Louder and Prouder—will be hosting and executive producing a new series for Disney+ called Foodtastic, an unscripted build competition where contestants are challenged to create Disney-inspired works of art made out of food! Be sure to check out all the delicious dish about the show.