By Jocelyn Buhlman
It's time to return to the Hundred Acre Woods, but before we grab our hunny pots and head to theaters on August 3, we found out more about Disney's Christopher Robin at a press conference in Los Angeles, California. Ewan McGregor (Christopher Robin), Hayley Atwell (Evelyn Robin), Jim Cummings (voice of Winnie the Pooh and Tigger), and Marc Forster (director) joined us to share more about this charming, nostalgia-inducing film that follows the adventures of an adult Christopher Robin after he is reunited with his favorite silly old bear…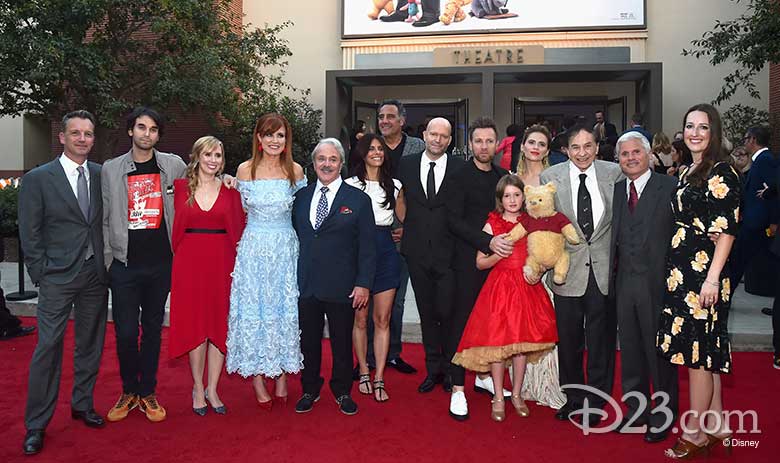 The cast and crew explain how Pooh and friends "acted" on set…
The ever-so-huggable designs of Pooh and friends may look just look like the plushes of your childhood days, but they were created after filming through movie magic that brings them to life on screen. So how were Ewan McGregor and Hayley Atwell supposed to act without the characters physically on set?
Director Marc Forster had a plan: "I brought these kids from drama school and cast them according to character," he explains. The students acted in place of the plushes for certain takes, so McGregor and Atwell could act out their scenes with more than their imaginations.
Of course, you can't film a movie about someone as adorable as Winnie the Pooh without having the real bear there—so, sometimes, the cast would act with the actual plushes!
"There'd be a complete Pooh—just like you see him in the movie," McGregor explains, "and then David, who was the actor, would just move him a little bit and I would play the scene."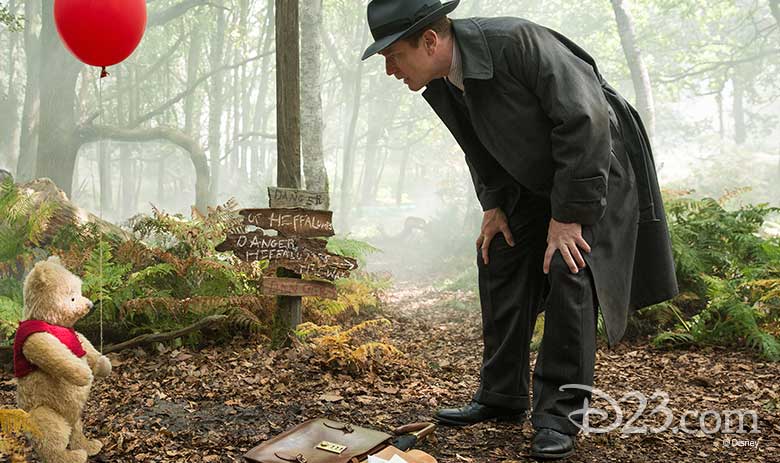 Ewan McGregor has a Winnie the Pooh of his own…
If you act with irresistible plushies all day, one or two might end up coming home with you. McGregor explains, "The teddy bears [used on set] were so beautifully made. I've got my Winnie the Pooh at home because I spent four months looking into his little eyes. I really liked having him around."
Hayley Atwell got the role on the back of a jet ski!
Atwell had been eager to take her role from the beginning, as a lifelong Winnie the Pooh fan. However, her first meeting about the film happened at a very unusual locale. She explains, "My first meeting with Marc was on the back of a jet ski. I was on holiday, and I got a call from my agent going, 'Marc Forster would like to call you and discuss this film.'
Of course, she wanted to call him up right away, but she ran into a bit of a problem. She told her agent, "I'm in a bit of a dead spot in terms of Wi-Fi on this Greek island."
But she found a solution—and it involved her strapping on a life vest and heading out to sea: "The captain of the boat said, 'You see that rock? Go 10 minutes past that rock and, basically, when you've lost all visuals of civilization, you might get enough of a signal to speak to him.'"
Luckily for Atwell, the trick worked, and, thanks to her jet ski, she became part of the legacy she adored as a little girl.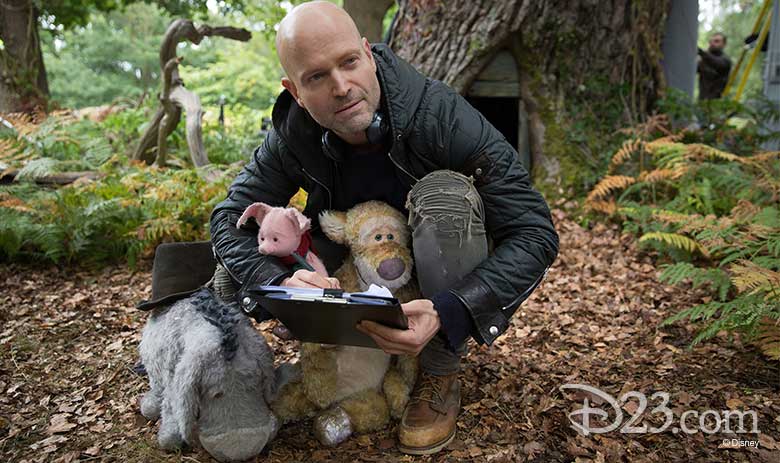 Director Marc Forster only asked Richard Sherman to write one song…
For more than 50 years, Disney Legends Richard M. and Robert B. Sherman wrote music for Disney movies, penning many of the classics you know and love—including the songs from the original Many Adventures of Winnie the Pooh. While Robert Sherman passed in 2012, his brother Richard Sherman carries on their musical legacy with The Walt Disney Company and represented the songwriting duo at a special soundstage dedication ceremony in the brothers' honor. Forster hoped he could convince Richard Sherman to return to the world of Winnie the Pooh to lend his talents to the new film. "I only wanted one song," Forster explains, "because I didn't know if he still wanted to write songs for movies." To Forster's delight, Sherman agreed to write something—or maybe a couple of somethings: "Suddenly, there were three songs!"
There was more magic to come for Forster. What would you do if a Disney Legend called your phone? Forster recalls, "My phone rang and Richard said, 'Marc, I wrote these songs for you.'"
And then, to the director's surprise, Sherman started performing the songs on speaker phone. "On his piano at home, he started playing them live for me!" Forster recalls with delight.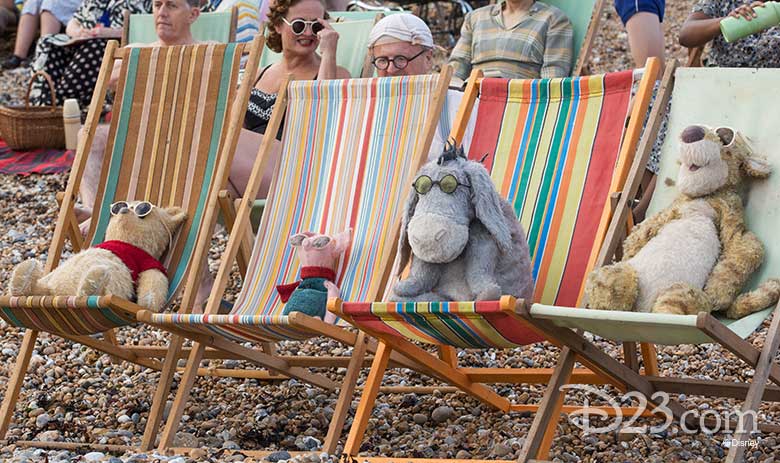 Jim Cummings knows why Pooh and friends are irresistible…
Cummings, the prolific voice actor behind a menagerie of animated Disney characters, has been voicing Pooh and Tigger since the 1980s. He's had plenty of time to think, think, think about these classic characters, and he knows just why we keep wanting to return to the enchanted neighborhood of Christopher Robin's childhood days.
"These guys," Cummings explained, referring to Pooh and friends, "I think that they're evergreen. They're not tied to a fad, they're not tied to a skateboard, or posters, or baseball cards, or pogs—or whatever. They come from literature—they're literally bedtime stories, and those will always be around."
It's true—what could be more timeless than sharing classic stories with your children? The stories of Christopher Robin and his friends have brightened children's imaginations for decades, and with the debut of Christopher Robin, the stories will continue to put smiles on the faces of the young and young-at-heart for years to come.