Courtesy of Carla Hall of ABC's The Chew
You know how I feel about biscuits. If there is a biscuit in the room, I will find it and devour it. I just can't get enough of them. That's why I came up with this awesome chicken potpie that is really all about the biscuit. This cheddar and chive combo is just so tangy and delicious, and when you drop them on top of that potpie and bake them, the bottom turns into a pillowy dumpling while the top gets golden and crunchy. One bite, and it's all about the happy dance.
Serves: 8
Prep Time: 25 minutes
Cook Time: 30 minutes
For the Chicken Filling:
3 tablespoons extra-virgin olive oil
2 medium yellow onions, ½-inch dice
2 carrots, cut in half lengthwise, and then into ½-inch-thick half-moons
3 celery ribs, cut in half lengthwise, and then into ½-inch-thick slices on a bias
2 sprigs fresh thyme
2 sprigs fresh rosemary
2 fresh sage leaves
⅓ cup all-purpose flour
1 fresh or dried bay leaf
6 cups chicken stock
¾ cup heavy cream
1 store-bought rotisserie chicken, shredded
1 cup frozen baby peas
Salt and freshly-ground pepper, to taste
For the Cheddar-Chive Drop Biscuits:
2 cups all-purpose flour, plus more for dredging
2 teaspoons baking powder
2 teaspoons salt
6 tablespoons butter, cut into pats
1¼ cup cheddar cheese
⅓ cup chives, chopped
½ cup yogurt
1⅓ cups milk
½ cup flour, for dredging
2 tablespoons of butter for finishing, optional
Directions:
Preheat oven to 400 degrees F.
For the Chicken Filling:
In a deep cast-iron skillet, heat 3 tablespoons oil over medium-high heat. Sauté the onions, carrots, and celery with the thyme, rosemary, and sage for 15 minutes. Season with salt and pepper.
When the vegetables are fork-tender, remove herb stems and discard.
Whisk in the flour. Gradually pour in chicken stock while whisking. Add bay leaves and heavy cream. Bring the mixture to a boil and reduce to a simmer. Stir in peas and chicken. Simmer for 10 more minutes, or until thick and creamy. Adjust seasoning if necessary.
For the Cheddar-Chive Drop Biscuits:
Combine flour, baking powder, and salt in a large bowl.
Cut pats of butter into dry ingredients with fingertips until they resemble the sea. Add the cheese and chives to the flour mixture and stir to combine.
In a medium bowl, whisk together the yogurt and milk. Make a well in the dry ingredients, and pour in the wet mixture. Using your hands or wooden spoon, mix until just combined, adding more flour if necessary.
Drop large, heaping spoonfuls of dough, about a ¼ cup each, onto a floured surface. Shake off the excess flour and then arrange the biscuits on top of the chicken potpie base. Bake for 30–35 minutes.
Once the biscuits are golden brown, remove the skillet from the oven. Place a pat of butter over each biscuit and allow to melt before serving.
The five hosts of ABC's hit show The Chew invite you to enjoy the fun and flavor of cooking without the hassle and expense. Just as they do everyday on the hit ABC daytime show, Mario Batali, Carla Hall, Clinton Kelly, Daphne Oz, and Michael Symon are here to provide you with mouthwatering recipes and useful entertaining tips to make cooking for your family and friends unforgettable and manageable.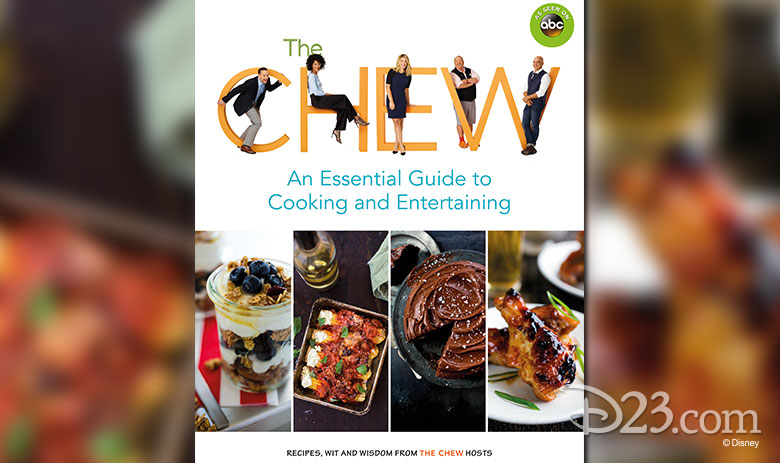 The Chew: An Essential Guide to Cooking and Entertaining will guide you through the planning, cooking, and enjoyment of everyday meals with a twist. Now available!