By Beth Deitchman
Flour and sugar aren't the wisest choices for building a home, but they're the go-to options when it comes to building a gingerbread house. Every holiday season, Walt Disney Parks and Resorts takes those ingredients and adds their pixie dust and Disney magic to create the most spectacular gingerbread houses for their properties around the world. You can take a closer look at the houses in person during your holiday visit to the resorts, but in the meantime, D23 is happy to give you a closer look.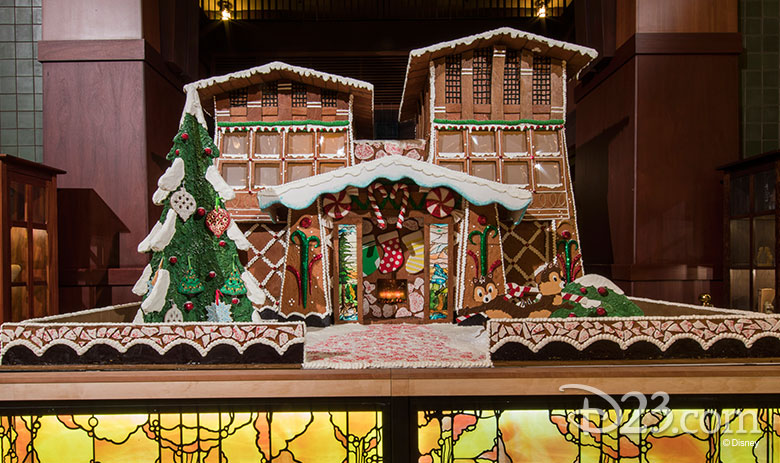 Disney's Grand Californian Hotel & Spa
'Twas a grand production, completing the gingerbread replica of the Grand Californian Hotel & Spa. The seven-foot-tall and 12-foot-wide house was created by 16 bakers and pastry chefs, two electricians, six craftsmen, and one dreamer, "to describe their dream," as the house's accompanying sign notes. If you're up for a challenge of your own, the gingerbread house features a number of Hidden Mickeys—how many can you find?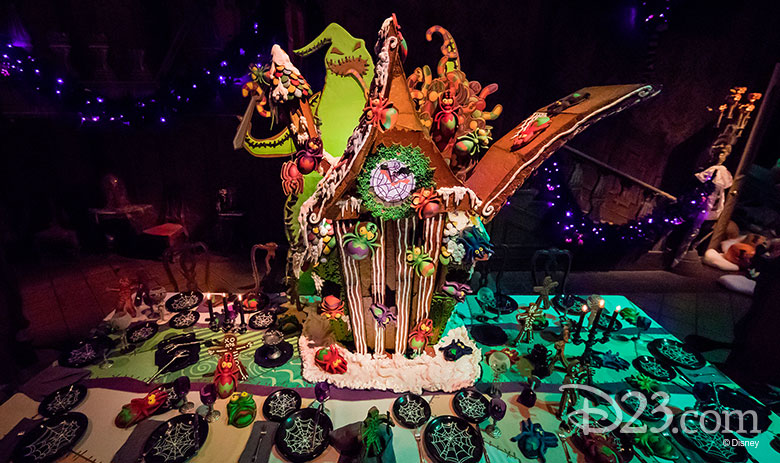 Haunted Mansion Holiday at Disneyland Park
We've enjoyed studying this house since it debuted during Halloween Time back in September. Oogie Boogie, of Tim Burton's The Nightmare Before Christmas, stands seven feet tall in the scrumptious structure. He's pried open the roof and stands, fork at the ready, to take care of a gingerbread bug infestation that's plaguing the house. The team at Disneyland Resort Central Bakery used 200 pounds of gingerbread, 200 pounds of powdered sugar, and 30 pounds of white chocolate to create this frightfully fabulous house.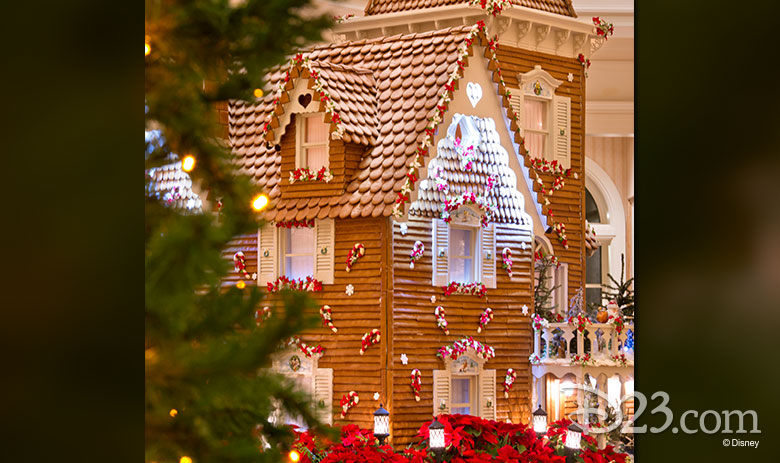 Disney's Grand Floridian Hotel & Spa
The Grand Floridian pastry team spent more than 400 hours baking the gingerbread used to construct this life-size house, as well as more than 160 hours constructing and decorating it. The house also contains The Bake Shop, which features gingerbread ornaments, cookies and gingerbread house kits that have been baked from a classic recipe from Austria. And if you're looking to develop your own décor skills, stop by to attend a decorating demo, conducted daily in front of the display.
Disney's Contemporary Resort
Stop by the Contemporary Resort's fourth floor to see this year's Mary Blair-inspired gingerbread display. Pastry Chef Jeff Barnes and his team re-create the Cinderella Castle in the style of the legendary artist on a backdrop reminiscent of it's a small world. They used thousands of gingerbread blocks to build the 18-foot-tall display that includes Cinderella and Prince Charming, living deliciously ever after in the form of oversized gingerbread cookies, as they greet guests from the castle forecourt.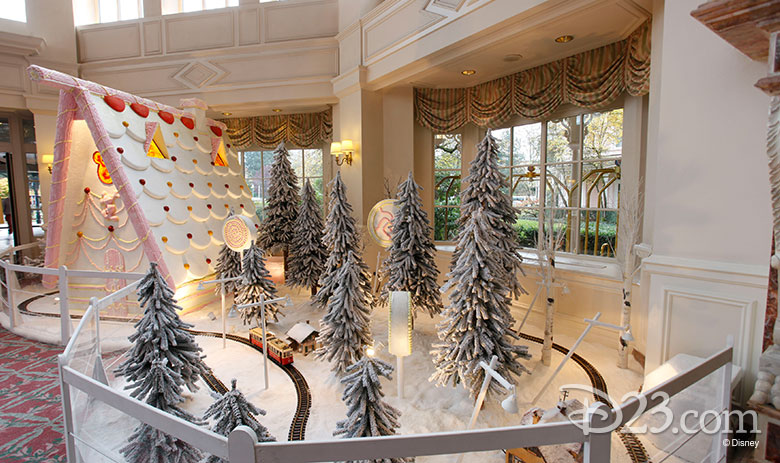 Disneyland Hotel Paris
It's an edible winter wonderland inside the Disneyland Hotel at Disneyland Paris. This year's snowy scene will give you chills—in the best possible way—as you gaze upon the pink and white house, surrounded by a forest of trees that have been dusted with snow.