By Zach Johnson
It's (almost) time to face the music...
Following promotional stops in Seoul and Paris, the Bowie landed in Hollywood Thursday for the world premiere of Marvel Studios' Guardians of the Galaxy Vol. 3. The cast and creative team, along with special guests from across the Marvel Cinematic Universe and beyond, walked the purple carpet to celebrate the action-adventure before it opens in theaters on Friday, May 5. Stars Chris Pratt, Vin Diesel, Bradley Cooper, Karen Gillan, Pom Klementieff, Sean Gunn, Nathan Fillion, Elizabeth Debicki, Daniela Melchior, Michael Rosenbaum, Will Poulter, Chukwudi Iwuji, Maria Bakalova, Miriam Shor, Nico Santos, Judy Greer, Linda Cardellini, Benjamin Byron Davis, Asim Chaudhry, Kai Zen, and others were joined filmmakers James Gunn and Kevin Feige.
As Marvel.com livestreamed the event, cosplayers dressed as Peter Quill/Star-Lord, Gamora, Drax, Rocket, Groot, Nebula, Mantis, Yondu, and others cheered as each star showed up. D23: The Official Disney Fan Club was live on the scene, where cast members including Fillion (Master Karja), Bakalova (Cosmo), and Chaudhry (Teefs) opened up about their roles in the highly anticipated film—some for the very first time!
For Fillion, Guardians of the Galaxy Vol. 3 marks his second official time in the franchise. "I was in the first Guardians as a blue alien. Little known fact: I was actually in the second Guardians and got cut out. In the third Guardians, I'm back again as another character," he said. "I've played a couple characters in the MCU—just don't play close attention! Sometimes I get cut out. I got cut out of Deadpool. Listen, that happens in the movie industry. What's important is that they keep bringing you back."
In Guardians of the Galaxy Vol. 3, Fillion plays Master Orgosentry Karja—a role that required quite an elaborate costume. "It's about 70 lbs., I think, all told; it's pretty heavy," he told D23. "But you can't complain, because you're complaining to Karen Gillan who spent four to seven hours in prosthetic makeup before she started working, and she's going to spend several hours getting it out before she comes back to do it again. You've gotta consider your audience before you complain about these things!"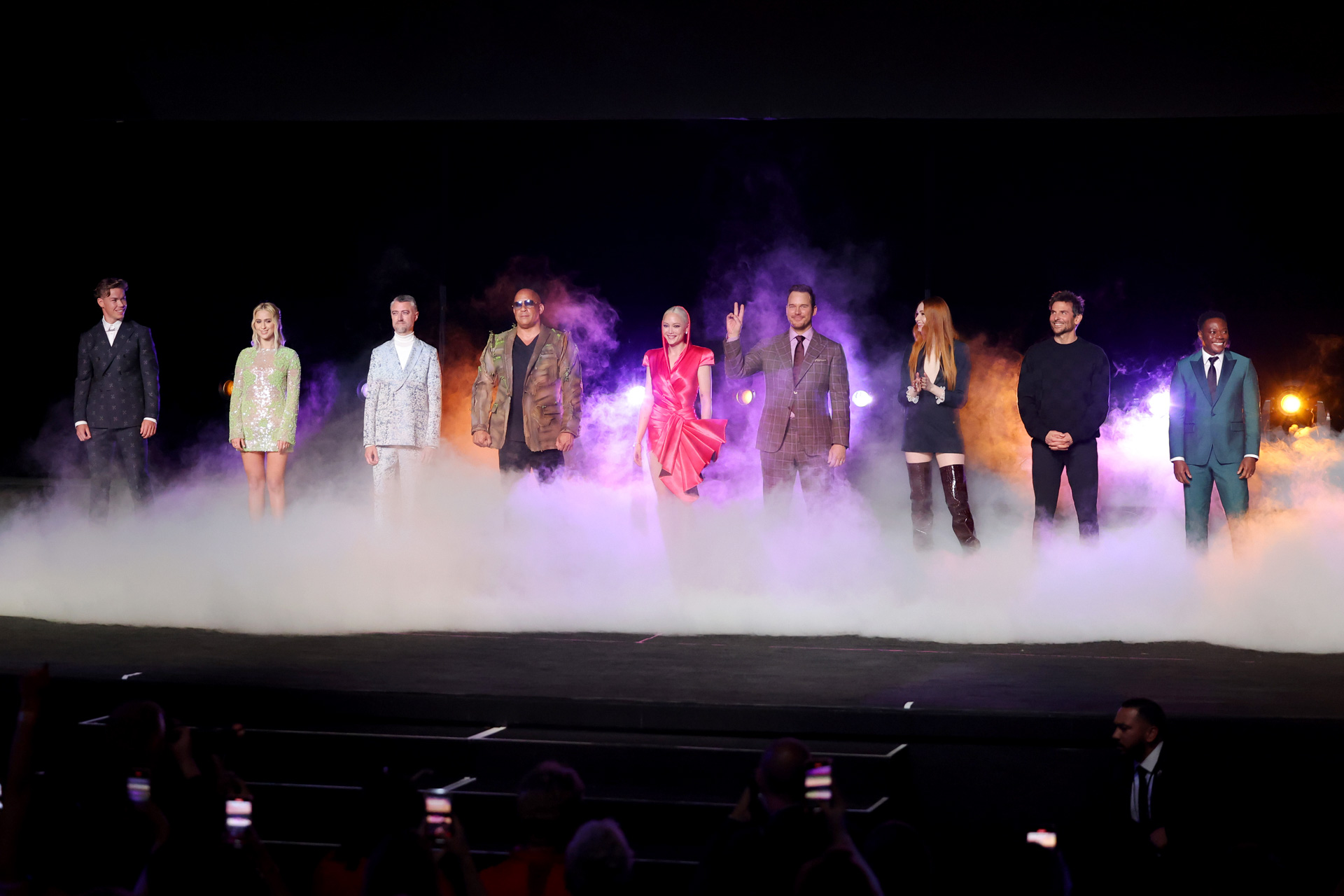 Meanwhile, not only did Bakalova voice Cosmo, but she got to play the space dog. "I got the chance to work with a mo-cap suit, and work with James and be on set, and work with the rest of the cast and all of these talented, exceptional people—good human beings," she said. "Everything, from the first to the last day, has been the best!"
Shor and Santos, who play Recorder Vim and Recorder Theel, respectively, leaned on each other as MCU newcomers. Calling Santos the "Tweedle Dee to my Tweedle Dum," Shor said, "It's overwhelming. [It's nice] to have someone to share all this with." Schor added that while Iwuji's The High Evolutionary "is no small villain," it was fun to also play a pair of baddies: "There's something delicious about that." Santos agreed, saying, "They're really the best characters, because we're obviously not evil in real life."
Among the first MCU stars to see Guardians of the Galaxy Vol. 3 were Michael Rooker, Ariana Greenblatt, Dominque Thorne, Xochitl Gomez, David Dastmalchian, Meng'er Zhang, Emma Caulfield, Ronny Chieng, Saagar Shaikh, Tara Strong, and Seth Green. Praising the director, Rooker said, "My buddy, his movies—I'm here for him. I'm here for all the other actors. We're going to have a fun time. The movie's going to be great."
Before the movie opens nationwide, enjoy more photos from the world premiere: