By Courtney Potter
Mark your calendars for Disney+'s new Coco special, and go behind the scenes of Artemis Fowl… Read more, along with other news from around Disney, in this week's news briefs!
Get Ready to Relive Your Favorite Music from Disney and Pixar's Coco
We can't get enough of the incredible music from Disney and Pixar's Coco 'round these parts, so you can imagine our excitement when Disney+ announced this brand-new special just a few days ago… A Celebration of the Music from Coco is a reimagined live-to-film concert experience recorded at the legendary Hollywood Bowl, and it's coming to Disney+ next month! Bringing to life performances from the spectacular animated film, this magical celebration of the Day of the Dead includes performances and appearances by Benjamin Bratt, Jaime Camil, Felipe Fernández del Paso, Alex Gonzalez, Sarah Hicks, Natalia Jiménez, Eva Longoria, Rudy Mancuso, Mariachi Divas, Luis Gerardo Méndez, Miguel, Carlos Rivera, and Alanna Ubach—along with Lee Unkrich, the film's director.
The special features a full 60-piece orchestra, and will include performances of the Academy Award®-winning original song "Remember Me"… plus other incredible tunes from the film, including "Un Poco Loco," "The World Es Mi Familia," "Proud Corazón," and some fan favorites from the Latin-American soundtrack, to boot—including "La Bikina," "Bésame Mucho," "Recuérdame," and many more.
Directed by Fernandez del Paso and produced by Disney Concerts and Live Nation/Andrew Hewitt & Bill Silva Presents, A Celebration of the Music from Coco premieres on Disney+ on April 10! Mark those calendars!
5 Fantastic Things to Watch This Weekend
There's a ton of new content to watch from all around the worlds of Disney this very weekend—and because we're friends (hi friends!), we've put together a handy-dandy round-up of what you can expect on your favorite streaming apparatus. From a brand-new Descendants special featuring Descendants 3 star Cheyenne Jackson on Disney Channel to the next installment of the ever-surprising Hollywood Week on ABC's American Idol, and everything in between, there's something for every taste. Click here for the full rundown.
Go Behind the Scenes with Artemis Fowl
Wanna see how the incredible story of a 12-year-old genius and his battle against a hidden race of fairies comes to life? Check out this brand-new Artemis Fowl featurette, above.
Disney's Artemis Fowl, based on the beloved book by Eoin Colfer, is a fantastical, spellbinding adventure that follows the journey of Artemis (Ferdia Shaw), a descendant of a long line of criminal masterminds, as he seeks to find his father (Colin Farrell) who has mysteriously disappeared. With the help of his loyal protector Butler (Nonso Anozie), Artemis sets out to find him, and in doing so uncovers an ancient, underground civilization—the amazingly advanced world of fairies. Deducing that his father's disappearance is somehow connected to the secretive, reclusive fairy world, cunning Artemis concocts a dangerous plan—so dangerous that he ultimately finds himself in a perilous war of wits with the all-powerful fairies.
Artemis Fowl is directed by Kenneth Branagh and also stars Lara McDonnell, Josh Gad, Tamara Smart, Josh McGuire, Nikesh Patel, Adrian Scarborough, Miranda Raison, and Judi Dench.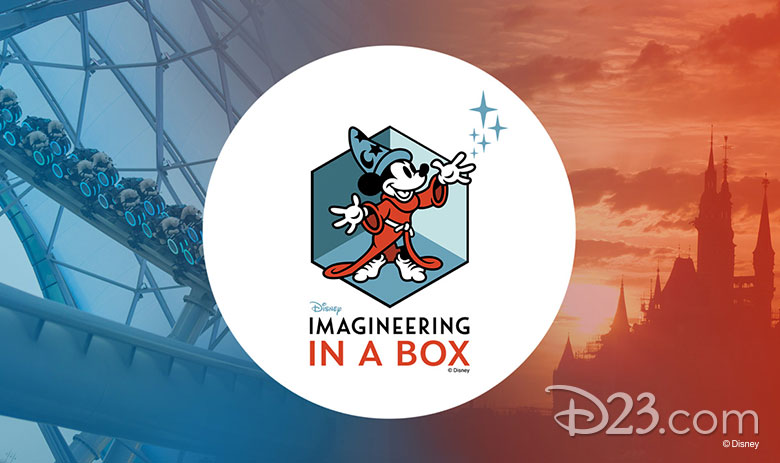 You've Just Gotta Check Out the Brand-New Imagineering in a Box!
Who amongst us has never thought about designing their very own theme park? (If you haven't, your imagination is seriously missing out.) Well, thanks to a partnership between Khan Academy and Pixar, now you can!
Imagineering in a Box is a brand-new, free online program designed to "pull back the curtain" and show people how artists, designers, and engineers work together to create theme parks. Users will go behind the scenes with Disney Imagineers and complete project-based exercises to design a theme park of their very own. The series of interactive lessons includes 32 videos of Imagineers; actual case studies (neat!); and a ton of fun activities.
People of all ages can experience firsthand how science, technology, engineering, and math can be combined with creativity and design to create larger-than-life entertainment for millions all around the world. The lesson plans will guide the building of worlds, attractions, and characters; modules range from a tutorial on engineering software to an interactive exercise where users are encouraged to gather items around them and create something new. And the best part? Each activity is designed to be scalable, meaning it'll allow people to learn on their own or in a classroom-style setting.
Click here for more information, and to get started!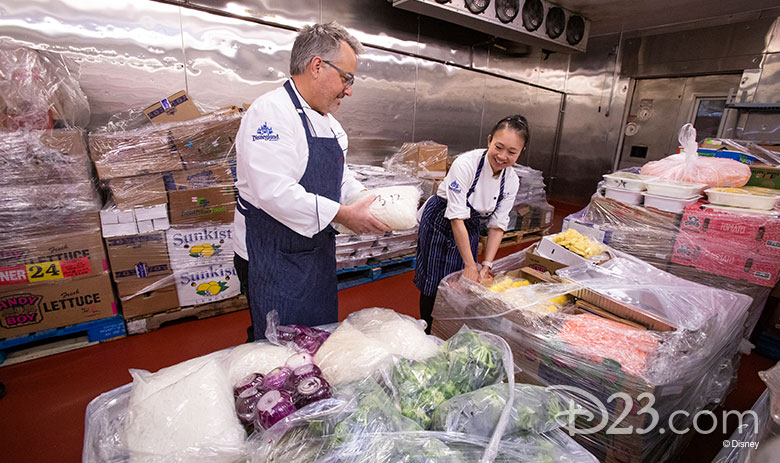 Disneyland, Walt Disney World, and Disneyland Paris Resorts Give Back
During their temporary closure, the good folks at Disneyland Resort, Walt Disney World Resort, and Disneyland Paris Resort are continuing their commitment of reducing food waste by donating surplus food to help their local communities.
Earlier this week, Walt Disney World Resort cast members joined the Distribution Services team that oversees collection and delivery of donations to help the community and share surplus food inventory like fresh salads, greens, and expertly cooked hot items with the Second Harvest Food Bank of Central Florida. Meanwhile, at Disneyland Resort, food donations actually started over the weekend; while closely following safety guidelines, excess inventory of dairy, fruit, vegetables, packaged goods, and banquet meals were shared with Second Harvest Food Bank to be quickly moved out to pantries and food distribution sites throughout Orange County.
And "across the pond," Disneyland Paris recently donated 15 tons of surplus food inventory to local and national associations in France, including Secours Populaire Français and Restaurants du Cœur. The large-scale donation operation was accomplished thanks to resort cast members who were mobilized to identify, collect, and redistribute fresh products—including salads, fruit, dairy, and more—as quickly as possible.
ICYMI: Frozen 2 is Now Available on Disney+!
Looking for a very special treat to watch on Disney+? Look no further than this week's amazing streaming surprise: Walt Disney Animation Studios' hit film Frozen 2! Streaming a whopping three months early! Read all about it right here at D23.com.