By the D23 Team
Bright suns, friends! And May the 4th be with you! There's no better time to honor all things Star Wars than on this special first Wednesday in May—and throughout the rest of the month, leading up to the sure-to-be-stellar Star Wars Celebration at the Anaheim Convention Center from May 26-29.
Our pals at Downtown Disney District, as well Disney's Grand Californian Hotel and Spa, are lightspeeding into the spirit with a Star Wars-related LEGO® build, merchandise offerings, artist signings, and even some deliciously memorable, galactically themed eats and treats…
Read on for what you can expect—both on May the 4th and throughout the rest of the month. You're in for a truly out-of-this-world time! And see more of what you can expect throughout the Disneyland Resort by visiting our pals at the Disney Parks Blog.
Limitless LEGO® Building at The LEGO Store
Got a LEGO fan in your life? Help the good folks at The LEGO Store at Downtown Disney build an 8-foot-tall Yoda model on the following dates! (Once it's done, the build will be available to view until May 8.)
Tuesday, May 3, from 12-7 p.m.
Wednesday, May 4, from 12-7 p.m.
Cosmic Merchandise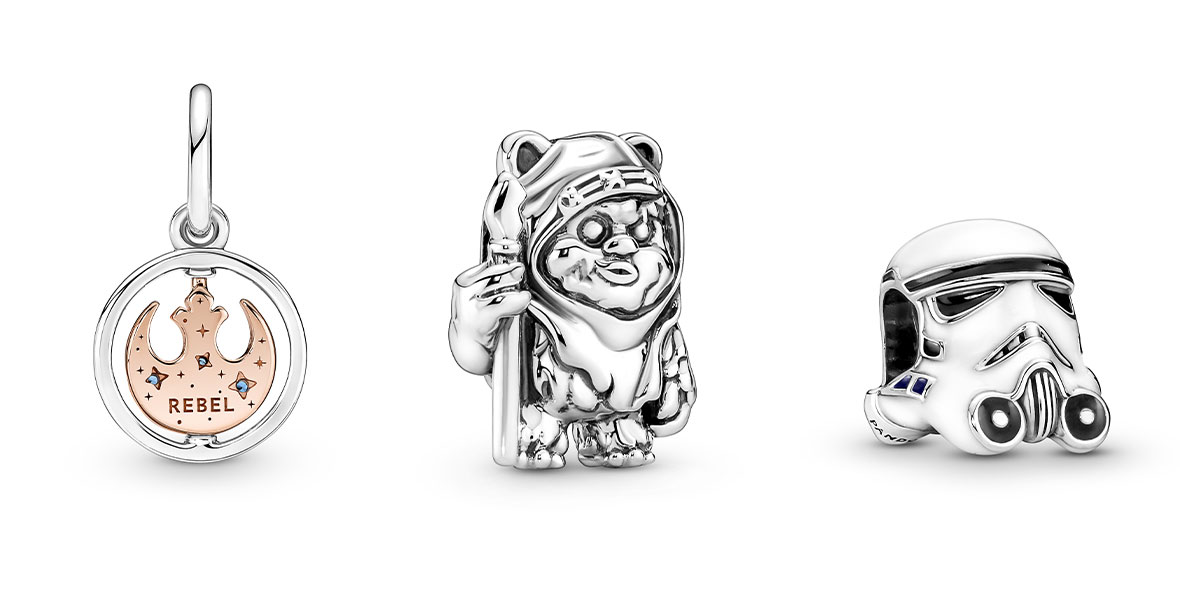 Pandora® Jewelry
Style your galactic adventure with Pandora's recently arrived Star Wars x Pandora jewelry collection! For May the 4th and beyond, mix and match new Pandora styles with iconic characters and symbols from all corners of the Star Wars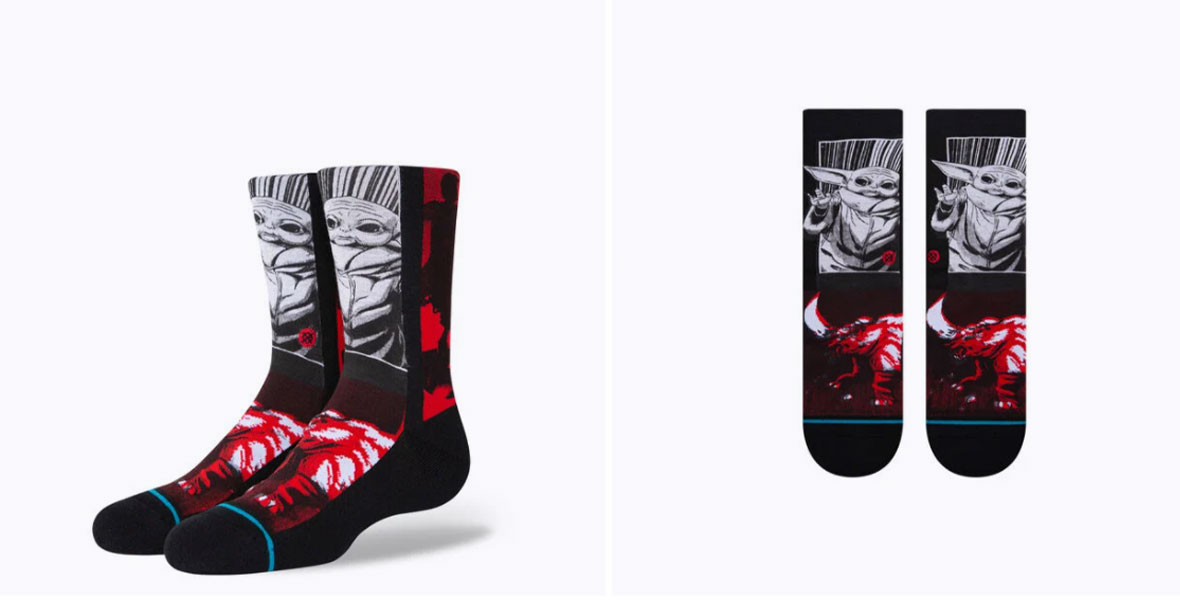 California Sole
Even your feet deserve some Star Wars fun! Visit California Sole for these Yoda-themed socks, available for both adults and kids.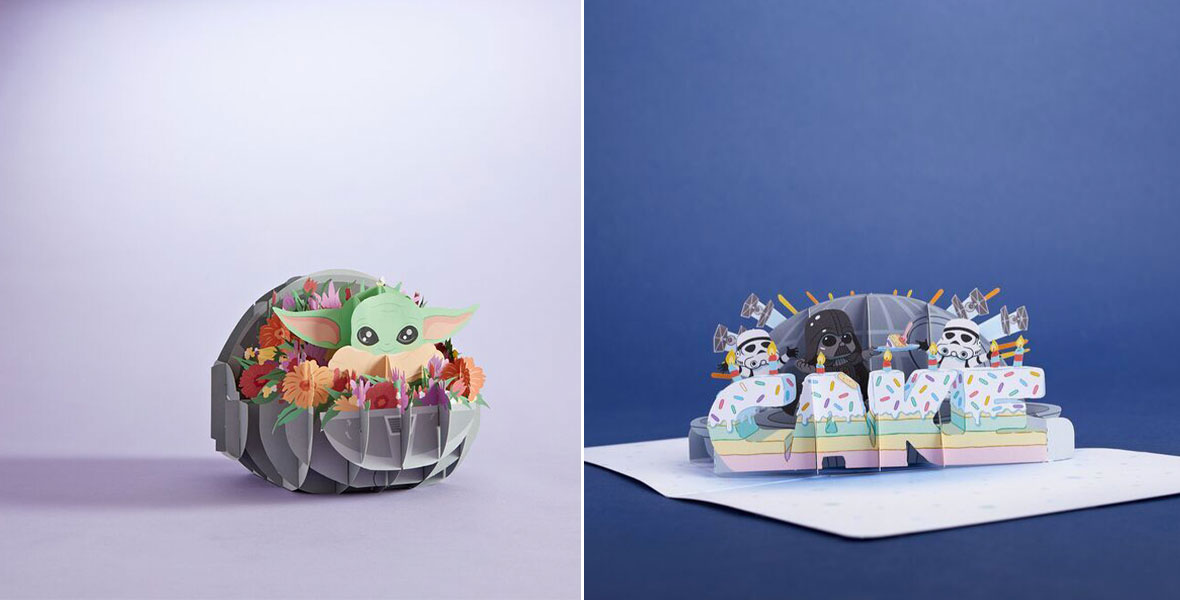 Lovepop®
Surprise someone special with the most precious cargo in the galaxy—a Floral Grogu Giant Pop-Up Gift is sure to melt even the coldest bounty hunter's heart. And wish someone "'Til the spire!" with one of Lovepop's amazing Star Wars-themed 3D greeting cards.
…Plus: don't forget to check out Star Wars Trading Post this month to see their expanded Star Wars merchandise collections!
Astronomical Artist Signings
Also at Star Wars Trading Post, later in the month, look for an amazing Artist Showcase featuring Thomas Kinkade Studios. Stop by May 26-29 to purchase your very own pieces from the Star Wars™ Collection and The Mandalorian™ Collection by Thomas Kinkade Studios; guests who purchase from the collections on the event day, at the event location, may enjoy the opportunity to have select merchandise signed! Here's the current lineup:
Thursday, May 26, and Friday, May 27:
Jenna McMullins (11 a.m.-3 p.m.)
Samantha Garvin (3-5 p.m.)
Dirk Wunderlich (5-9 p.m.)
Saturday, May 28
Monte Moore (11 a.m.-2 p.m.)
Samantha Garvin (2-5 p.m.)
Dirk Wunderlich (5-9 p.m.)
Sunday, May 29
Monte Moore (11 a.m. -1 p.m.)
Samantha Garvin (1-3 p.m.)
Jenna McMullins (3-5 p.m.)
Dirk Wunderlich (5-9 p.m.)
Gastronomical Wonders
Enjoy the following delectable delights at various locations around Downtown Disney: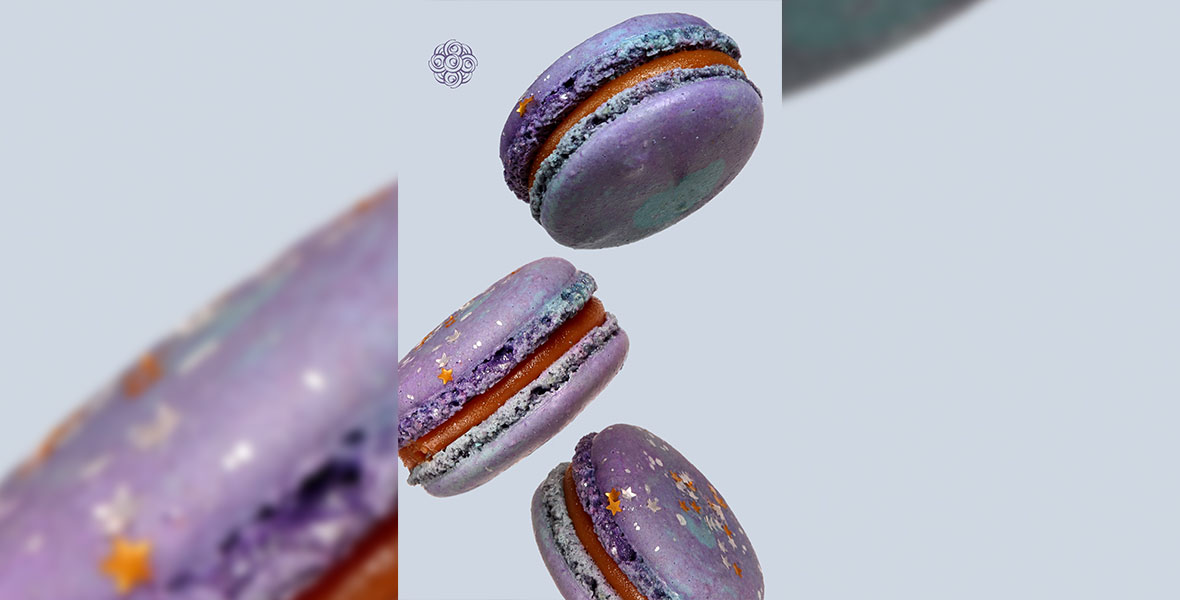 Kayla's Cake 
Galaxy Caramel Macaron—This sea salt caramel macaron satisfies two cravings at once, as it features sea salt caramel with white chocolate ganache.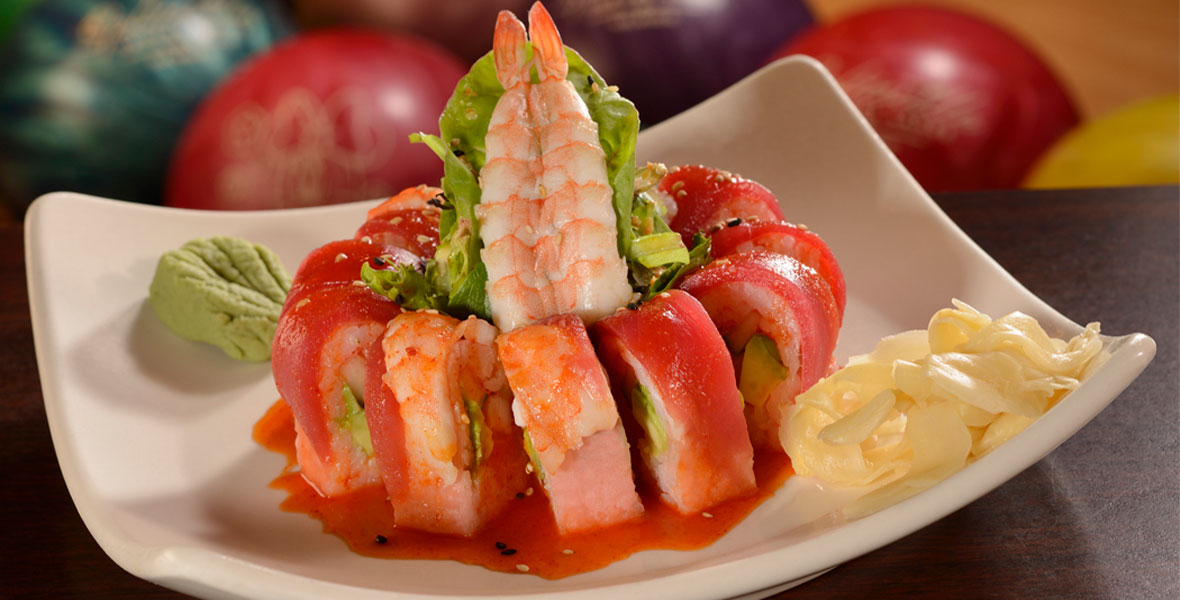 Splitsville Luxury Lanes™
Galaxy Roll—A sushi dream come true! Fresh salmon, cucumber, and avocado are rolled in soy paper, topped with steamed shrimp and ahi tuna, and drizzled with spicy kimchee ponzu sauce.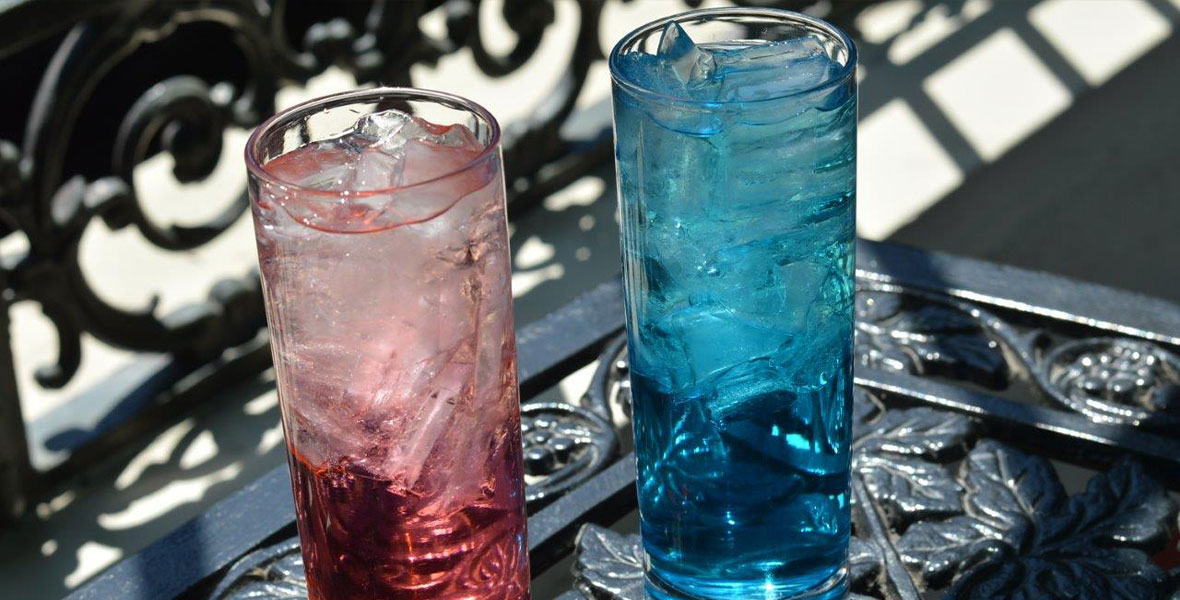 Ralph Brennan's Jazz Kitchen®
"Empire" cocktail—Cruzan citrus rum, blue Curacao, lime juice, and Sprite.
"Rebel" cocktail—Effen cucumber Vodka, watermelon Torani and Sprite.
Dueling fates… Light vs. Dark… why not battle it out at your table with a friend or a foe by ordering both drinks at the same time? (Available through May 31)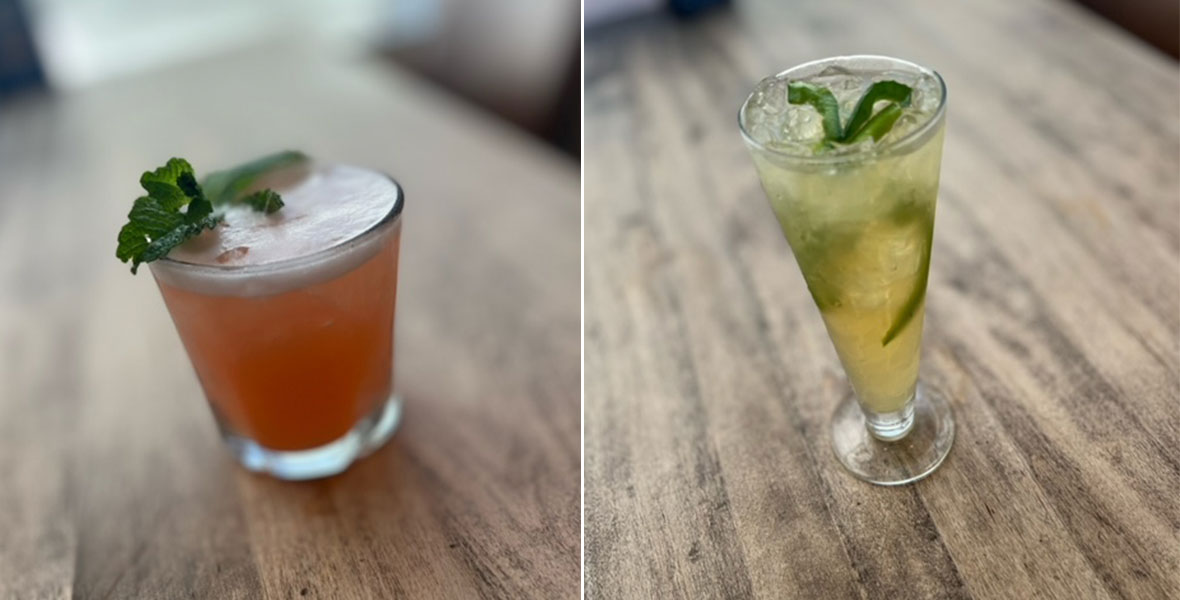 Naples Ristorante e Bar
Red Galaxy Cocktail—light rum, peach schnapps, pineapple juice, squeezed lime, squeezed honey, and splash of Grenadine served on the rocks, topped with mint
Green Moon Cocktail—served with either of tequila or mezcal, Anchor Reyes, Canton ginger, lemon juice, and a squeeze of honey syrup… topped with soda water and served in a hurricane glass garnished with green pepper and lime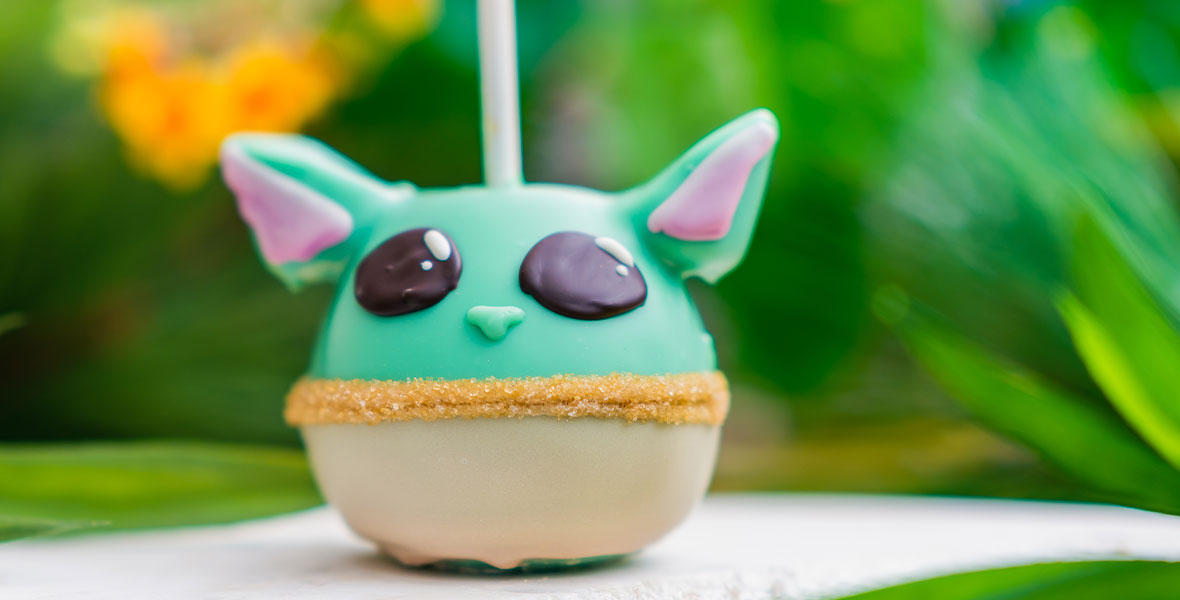 Marceline's Confectionary
Grogu Apple—Granny Smith apple dipped in caramel with marshmallow ears, enrobed in colored white chocolate, with gold sanding sugar for the belt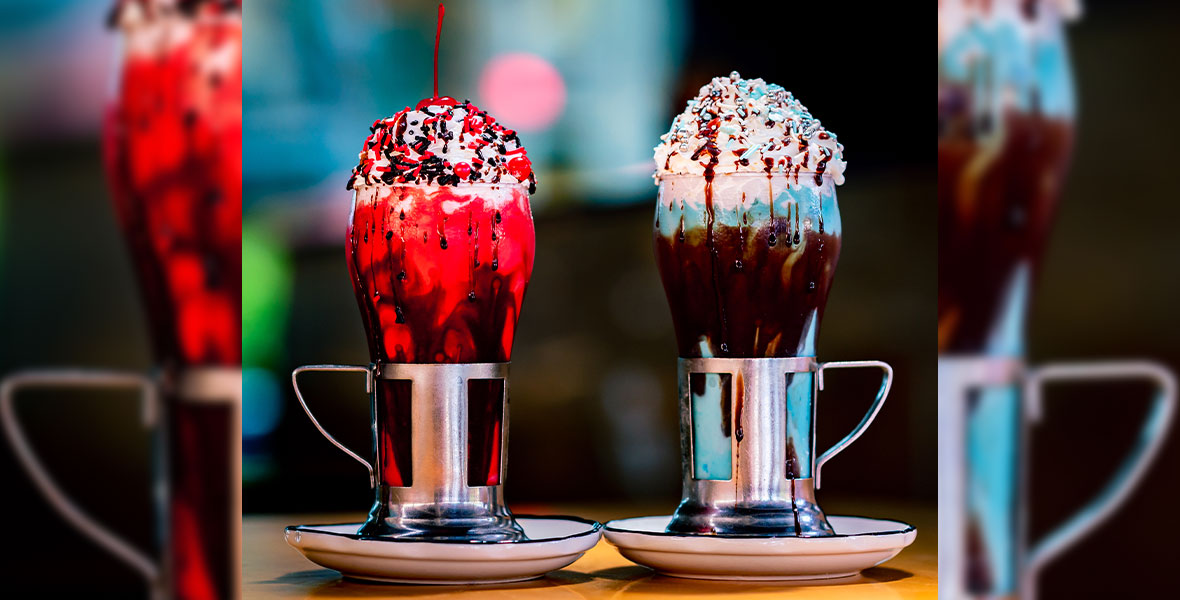 Black Tap Craft Burgers & Shakes
Light Classic Shake—electric blue vanilla shake with silver and blue galaxy sprinkles, whipped cream, and chocolate drizzle (Available through May 31)
Dark Classic Shake—wild cherry shake with red and black sprinkles, whipped cream, chocolate drizzle, and a cherry (Available through May 31)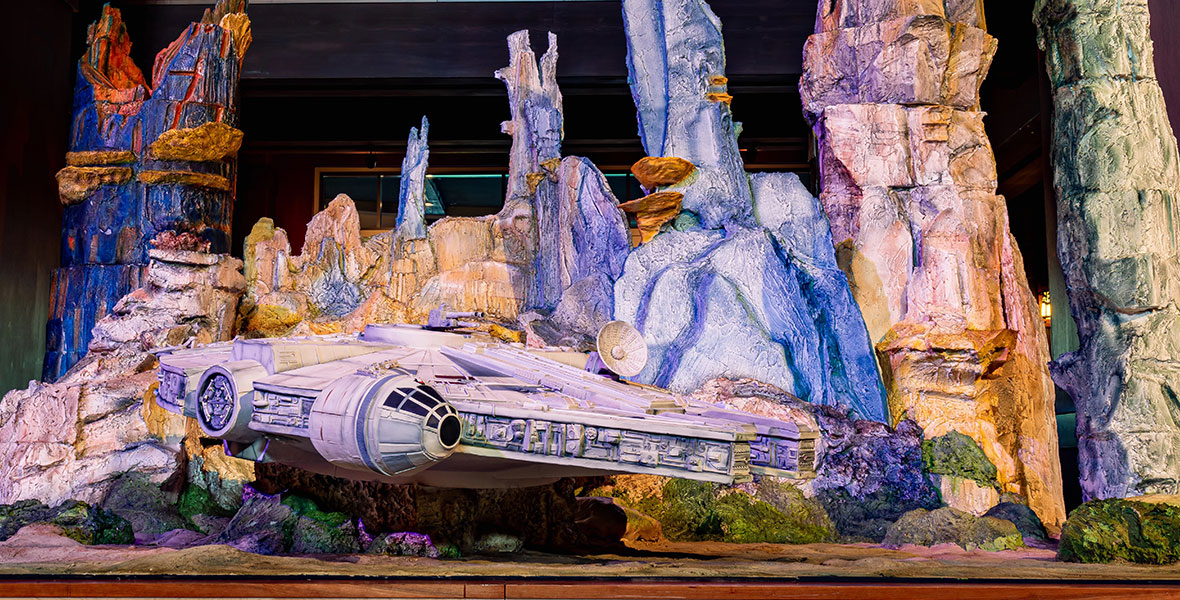 A Grand Starship in the Grand Californian
Even the hotels of the Disneyland Resort are getting into the spirit… Be sure to check out this display in the lobby of Disney's Grand Californian Hotel and Spa—it's truly out of this galaxy! This showpiece depicts the Millennium Falcon arriving in Black Spire Outpost and was created by the Disney culinary team, using edible ingredients like crisped rice and fondant.