By William Keck
In real life, sidekicks (usually our little brothers and sisters) can be, well, let's face it—super annoying. But in Disney animated films, they are the characters who provide the biggest laughs and one-liners. There's Ariel's calypso-singing crab. Anna's buck-toothed snowman. Peter's jealous pixie. But it's Beauty and the Beast's Belle who really hit the sidekick jackpot with an entire castle filled with charming enchanted objects at her service!
Let us take roll-call, shall we? Besides the primary trio of matchmakers—a refined English teapot, a romantic candelabra, and a pompous, worrisome timekeeper, there's a raucous wardrobe, sexy feather duster, a dustpan with brooms galore, a feisty ottoman, feline pillow, a hot-headed stove, and enough show tune-savvy flatware to fill every kitchen drawer in Belle's quiet village.
Unlike many components in the film, the enchanted objects (members of the Beast's household staff who were transformed into objects as part of the Enchantress' curse) cannot be traced back to the age-old fairy tale from which the film was based. They are original creations of screenwriter Linda Woolverton, who recalls, "making a list of objects in a castle and (placing) them next to their related person on the castle staff."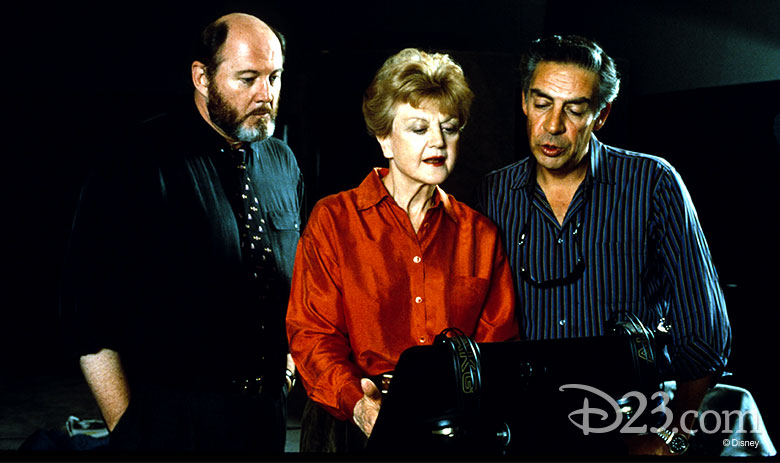 When it came time to choose voices for the objects, the directive, remembers the film's producer, Don Hahn, was to seek actors with a background in musical theater. "That's where Angela Lansbury (above middle) (Mrs. Potts) came from, and Jerry Orbach (above right) (Lumiere), who we all knew from Law & Order but had this big Broadway career before that," Hahn says. "And David Ogden Stiers (above left) (Cogsworth), the same."
Having previously collaborated with Disney on the partially animated 1971 fantasy classic Bedknobs and Broomsticks, Lansbury didn't hesitate when approached to play a Cockney teapot, whom she based on her childhood cook—a "wonderful woman" named Beatie. It is rare nowadays, says Lansbury, when a child does not recognize her voice. "I can be at a supermarket, buying an apple, and a child will suddenly turn to his mother and say, 'It's Mrs. Potts!'," says Lansbury, now 91 (as of 10/16/16). "That's a curious and lovely event when that happens."
Woolverton credits Beauty and the Beast's late lyricist Howard Ashman for helping her create Mrs. Potts' adventure-seeking son, Chip. "That came about as a joke when I was working with Howard on the characters," Woolverton recalls. "We already had Mrs. Potts, and I was just fooling around with the idea of a chipped cup. He liked it, so Chip became Mrs. Potts' son."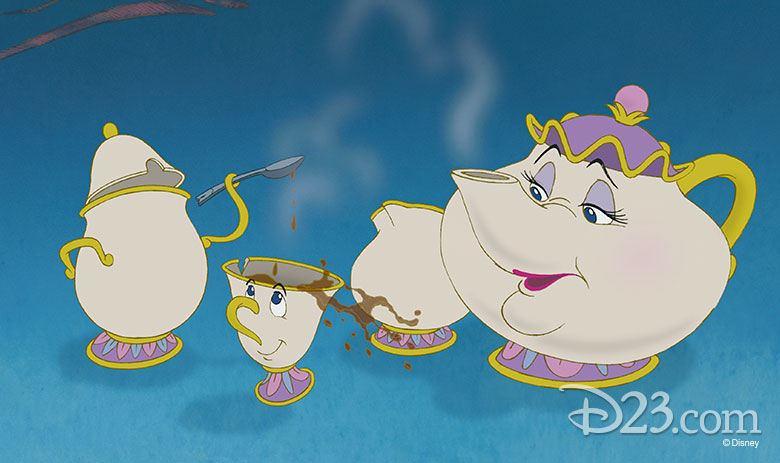 Actor Bradley Michael Pierce was just 7 years old with no animation experience when he was selected to give Chip a voice. He remembers the filmmakers sitting him down to explain how he was to play the character. "They explained it to me very simply," says Pierce. "They said, 'He's just an ordinary boy. There's nothing special about the way he has to act, except that he's come to accept that this is how he is.' We discussed that he might not even remember being a (human) boy; the only version of life Chip had ever known was this tea cup version."
It follows then, Pierce reasons, that Chip would naturally ask his mother, "Do I still have to sleep in the cupboard?" once the curse is broken.
And remember when Chip spits water through his teeth while taking his bath? That was a real-life talent Pierce picked up over the summer in his uncle's hot tub. When Pierce showed off his new trick to his in-studio voice director, he says, "They decided they were going to add that in as a character trait of Chip."
Now the father of three, Pierce confesses his porcelain roots have come with benefits over the years. Not long ago, he was at Disney California Adventure when his son Gavin spilled the beans about dad to a park cast member guarding an audience barricade. "She kind of geeked out a little bit," says Pierce, 33. "And as a result we ended up sitting front and center for World of Color."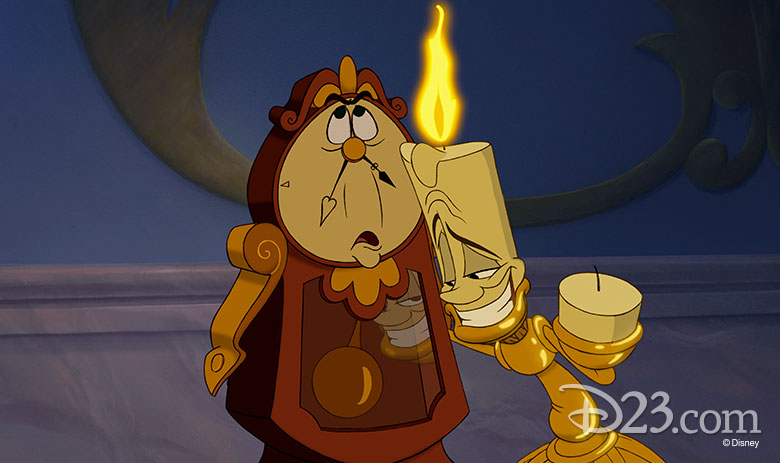 Right up there with Laurel & Hardy and Abbott & Costello, Lumiere and Cogsworth rank high among filmdom's all-time great comedic duos. But despite the characters' witty repartee, Orbach (Lumiere)—who passed away in 2004 at age 69—and Stiers (Cogsworth) recorded all their dialogue separately, leaving it up to the animators and editors to create their banter. But a year after Beauty and the Beast's release, the actors co-starred again in the TV movie Mastergate. It was during that production that Stiers took Orbach aside to confess a long-held secret: that he'd had "the effrontery" to audition for Lumiere prior to Orbach landing the role. Stiers recalls telling Orbach, "Lumiere was so patently your role that I feel this apology is not only long overdue, but has become more heartfelt as time passed." Stiers remembers Orbach just laughing and giving him a playful punch on the shoulder.
Now 73, Stiers says he is most proud that one of Cogsworth's signature lines was his own creation. Remember when the Beast asks Cogsworth what he might do to convince Belle of his sincerity? Stiers himself thought up the clever quip: "Oh, flowers… chocolates… promises you don't intend to keep." Stiers remembers feeling "almost knighted" when he learned from producers that the line had made it into the film's final cut. "It was a swell moment."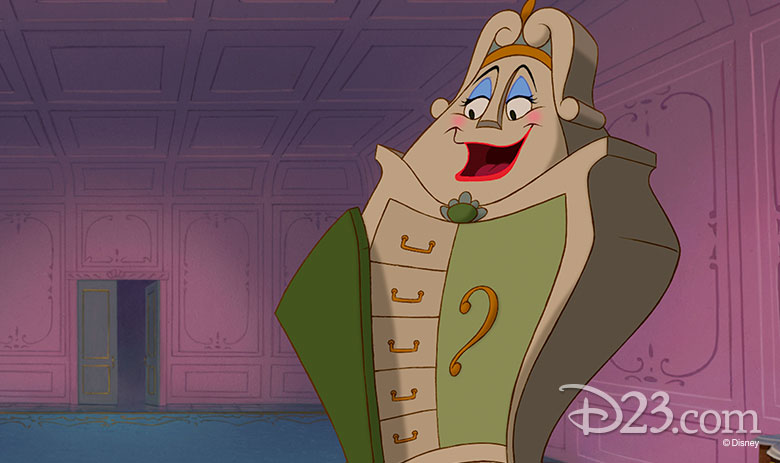 For Laugh-In funny lady Jo Anne Worley, the character of the Wardrobe was a perfect fit for her larger-than-life, fully-inflated persona. Having beat out diminutive Poltergeist actress Zelda Rubinstein, Worley believes she was destined to play the role. "In my backyard, I actually have a wardrobe," shares the actress, now 79. "It's a little building where I have all my costumes from Mame, Gypsy, Hello Dolly, Anything Goes—and a lot of funny props, too!"
We can thank Worley for the prominent eyelashes her zany character flashes. "I put them on for the dialogue session," she says, "and those lashes are now on the Wardrobe."
Like Lansbury, Worley's recognizable voice mesmerizes children on a daily basis. And if asked, she'll gamely belt out her favorite Wardobe line, spoken to Belle as she's being helped get dressed for dinner: "Let's see what I got in my drawers!!"