By Justin Arthur
Just in time for the Disney Channel debut of Mickey Mouse Funhouse, D23 catches up with Bret Iwan, the voice of Mickey Mouse, and Kaitlyn Robrock, the new voice of Minnie Mouse, to learn about this dynamic Disney duo; some Disney Parks memories; and an exciting new show!
D23: Were you a Disney Fan growing up?
Bret Iwan (BI): Yeah, I was that kid who listened to all the Disney soundtracks and set up Disneyland attractions in my bedroom. I've been a Disney fan as long as I can remember.
Growing up in Southern California, Disneyland was practically in my backyard, and I had the chance to go just about once every year. It was always a really special day. My dad would wake us up on a Saturday morning and say, "Guys, you wanna go to Disneyland?"
I grew up being immersed in that Disney world, as it were, and I associated Disney with the art and animation magic, and the quality and artistic integrity was always really appealing to me. I learned to draw by sketching Mickey. We would watch classic shorts and pause the videos, sitting on the couch learning to draw the characters, and I was hooked. My desire to be an artist, which was my first career path, began and has continued thanks to Disney.
Kaitlyn Robrock (KR): Yes! The very first movie that I remember seeing in theaters was The Rescuers Down Under, and it was in tandem with The Prince and the Pauper! Those were my first introductions to Disney, and I remember religiously watching every movie each year.
I knew I wanted to do voiceover when I saw Aladdin and [heard] Robin Williams doing his thing, because that's the most free expression you could possibly have in voiceover up that time, so I wanted to do that too.
We grew up going to Disneyland a couple times a year. And whenever I was in college, I decided to go audition to work at Disneyland, and I thought, "Hey, I'll go, why not?"
D23: Kaitlyn, can you tell us how that time working at Disneyland help set you up for your eventual Minnie gig?
KR: I started at Disneyland on November 15, 2003, three days before Mickey's 75th birthday celebrations. I would often work in Town Square with our character friends, and as the parades would come in, I began to memorize the spoken track of each float as it came in the gate.
I had come out for lunch one day and the ice-skating Mickey and Minnie float came in for the holiday parade, and I just kind of mimicked what Minnie said. My co-worker responded, "You sound just like her!"
About 10 years later, I met the voiceover director who works on theme park audio, and got to work with him on some background work in the parks. You might hear me in the talking windows on Buena Vista Street at Disney California Adventure; the female Na'vi at Pandora – The World of Avatar at Disney's Animal Kingdom; safety spiels for Tokyo Disneyland and Tokyo DisneySea; and even the little Swiss yodeling doll at Disneyland Paris' it's a small world!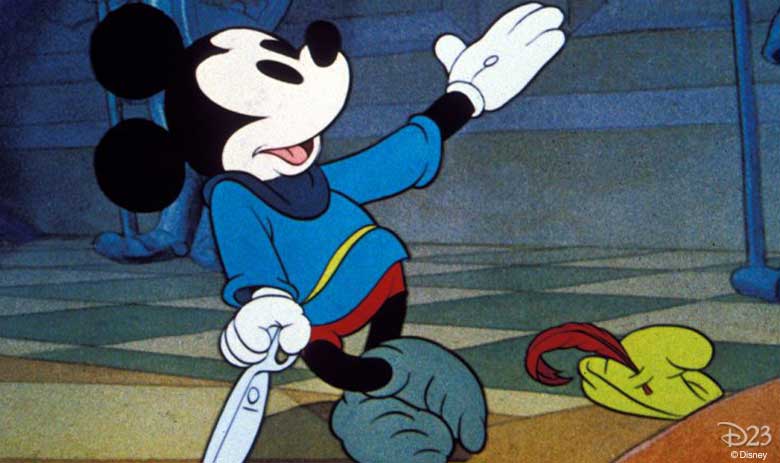 D23: What is your favorite classic Mickey or Minnie cartoon?
BI: Mine have been—for the longest time—a tough tie between The Brave Little Tailor and The Pointer. For me, The Brave Little Tailor is a perfect example of Mickey's character, playing a role so fitting for his persona. He starts out as a humble little common guy (or mouse), who is mistakenly labeled a giant slayer. Over the course of the short, he has to rise to the occasion and defy the expectations of the townspeople. It's great fun, and excellent acting on Mickey's part.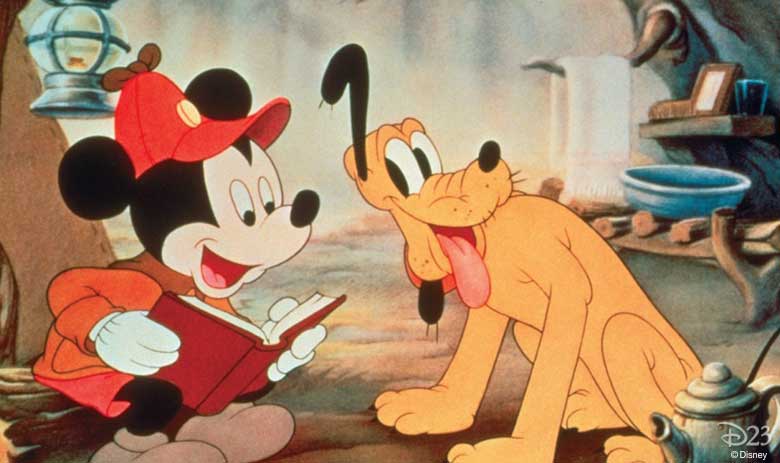 I love The Pointer so much because it is the first short where we see Mickey with pupils. I remember at a very young age recognizing that he looked much different. The power of a character starts with eyes, just like we as people connect with our eyes, and that left a lasting impression with me. That Freddy Moore redesign is the most successful character design of Mickey to date—loveable, appealing, and connected. When we were on a D23 panel at San Diego Comic-Con celebrating Mickey's 90th a few years ago, I learned from Mark Henn that Walt acting this short out was a direct source for the animation, and I think that's where those great self-aware moments came from. I love the character presence in it, but the Walt connection most of all.
KR: The first one I remember, which was so influential for me, was Totally Minnie back in the '80s. I would re-create the duet Minnie would sing with Elton John. For a classic short, it's a tie between Mickey's Trailer and Lonesome Ghosts. Lonesome Ghosts—it's got so many good slapstick moments, and the characters' reactions to the ghosts always made me laugh. Mickey's Trailer is so unique because the tiny trailer magically unfolds these compartments and extended ways of living. I want my own trailer to do that, with a tub that pops out of the floor!
D23: What's your favorite Disneyland Attraction?
BI: Haunted Mansion
KR: Big Thunder Mountain Railroad
D23: You both have followed in the footsteps of literal legends, like Walt Disney, and more recently, Russi Taylor and Wayne Allwine. What have you learned from their historic careers?
BI: I've been thinking a lot lately about how these characters (Mickey Mouse and Minnie Mouse) are praised for being so loveable, humble, and having so many amazing qualities. Wayne and Russi truly did embody those character traits. Despite the fact that they voiced these characters during a time when so much content was created, they really established who those characters are maybe in some ways more than ever before.
Getting to know Russi, and getting to know Wayne through her, was learning how to respect the role appropriately, and how to make it always about protecting the character and continuing the legacy above all else. Because they truly had a passion for that.
KR: It was definitely a point of reference for me that when it was time to continue on the role, I wanted to make sure I focused on the little nuances that Russi brought to the role, and I could name dozens of them! Little minute details that really made Minnie pop, and how soft and sweet she was for all ears that were listening. Not just for kids, but for teenagers and adults.
Working at the park was a big influence, because [while] there, I was seeing the manifestation of how people reacted to these characters in our parks—how kids react to them, how adults react, and across the board, it's the pure delight. It allows us to see that these characters truly mean so much to the people who are watching, and we want to maintain that character integrity, that passion for entertainment, and that love of connecting with your audience.
For Minnie, you have to keep her sweet, keep her kind, and keep her a little sassy. She's the eye of the hurricane—whatever is going on around her, you can always count on her to be a solid rock to depend on.
BI: Thankfully, Kaitlyn has done such an amazing job since she stepped into the role, and she's really taken a page from Russi's book in terms of how she approaches the character, so I feel confident knowing how Minnie's going to say a line. She's done such a remarkable job of paying attention to how Russi did it and her techniques.
D23: Kaitlyn, what was the first project you worked on for Minnie Mouse?
KR: My first project was two little stop-motion animated promo shorts for Disney Junior for upcoming holiday season. Not long after, I was able to work on Minnie's Captain Academy for Disney Cruise Line!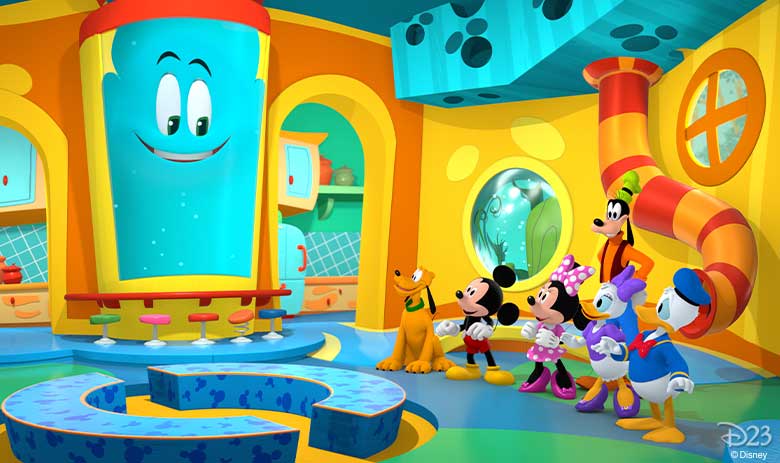 D23: And you've been able to continue on to even more projects! Tell us about Mickey Mouse Funhouse, and how it's different from the previous Disney Channel shows starring Mickey and the gang.
BI: Mickey Mouse Funhouse is great because, as the title implies, it's intended to be a ball of fun. It's a vehicle for these characters to go on adventures of all kinds, and it's classic imaginative storytelling. I love that Mickey's modeled off Freddy Moore's proportions. I'm having a blast with it!
KR: In this animation, they stay true to old adage of no matter how the character turns, their ears are always a circle. I never noticed it before, but not I can't not see it! Each episode features a lesson to learn, or an aspect of growing up, for the audience. It's a perfect mix of Mickey Mouse Mixed-Up Adventures and Mickey Mouse Clubhouse—the best of both worlds.
BI: I love that Mickey is able to stretch his personality a little bit in Mickey Mouse Funhouse. He's not just the leader of the club, but he gets lost in the adventures as well. Mickey gets to go hunt down a dragon, or be scared, or have even more emotions.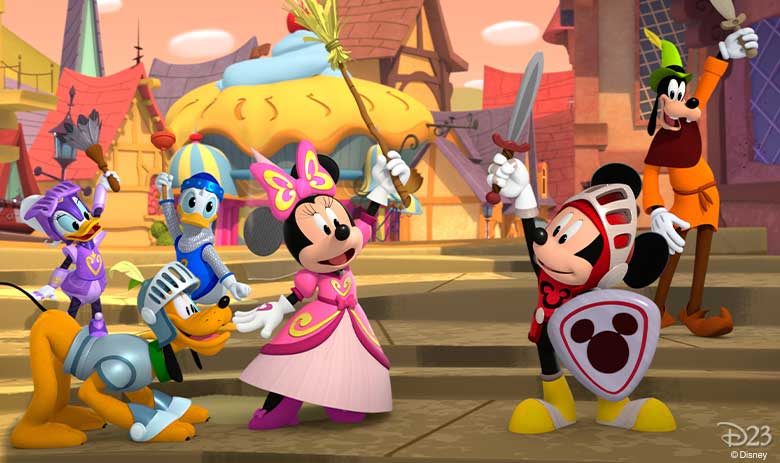 D23: What are you most excited about for Mickey Mouse Funhouse?
BI: I'm most excited for a couple things—different environments for great storytelling, music, and songwriting as well. This show has catchy tunes that I'm still singing, as a nearly 40-year-old adult.
KR: One thing I really love is not just performing for Minnie, but doing voices for other characters that pop in every so often. It's fun to stretch, and I've got a couple of roles coming up that I'm very excited about. We've also got two Disney Junior holiday movies coming up soon, and Minnie has a very special song she sings that's very emotional from our fantastic songwriter Beau Black. I'm such an emotional blanket, and it was tough to record that song without crying in the middle of it.
D23: Bret, tell us about your new designer collection at the Disney Parks!
BI: I'm really excited about the Artist Series Designer Collection being designed for Disney Parks and shopdisney.com. I finally saw the collection for the first time yesterday in-person.
This opportunity was intimidating but super exciting. They were looking for artists to put their own unique spin on Mickey, which is a challenge, because I considered myself a purist on his design. Being asked to stretch and stylize Mickey was a little bit out of my comfort zone, but inspiration struck when I realized that in recording sessions, I doodle, and the pages of my script get covered in Mickey sketches. As I'm recording, I'm drawing Mickey—the expressions that the line calls upon, or just getting lost in the world of Mickey.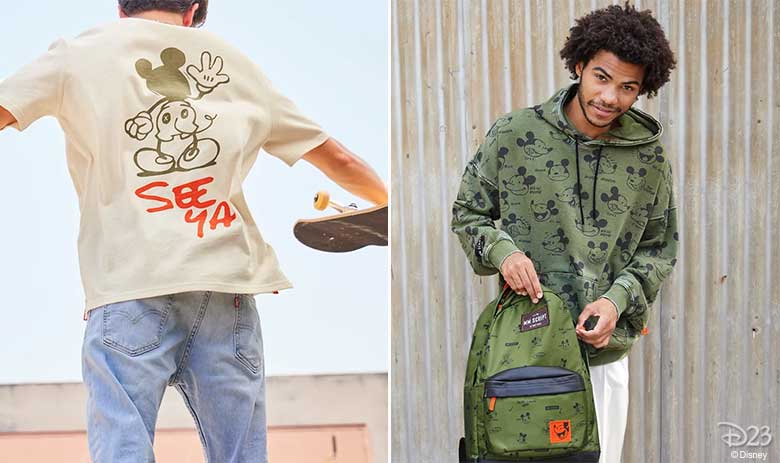 It all came together when I realized that my take on Mickey was doodles on scripts, hence the collection name, MM Script. It's my handwriting with little phrases that Mickey would say, and line gestures that I would make while editing the script. The color palate is a bit more utilitarian than what you might expect for Mickey, and that's because I love outdoors and industrial things, and the really collection reflects that aesthetic as well. I am beyond excited for it.
D23: What other upcoming projects are you most excited about?
KR: So many are under wraps, so I don't want to spoil the surprise! I'd have to say something we've been working on that's exciting and interactive for the parks. It's going to be so much fun.
BI: To Kaitlyn's point, interactive projects deliver on best character experience. Any chance I get to work on projects for the parks, or Disney Cruise Line, or entertainment, I'm always so excited to see how fans receive it!
Be sure to catch all-new adventures with Mickey, Minnie and the whole gang on Mickey Mouse Funhouse, now on Disney Channel and Disney Junior. And don't miss an exclusive Mickey Mouse pennant designed by Bret Iwan himself—exclusively available to D23 Gold Members as part of the 2021 D23 Gold Member Collector Set, celebrating 50 years of Walt Disney World!