By Courtney Potter
West Side Story: Something's Coming This December…
To paraphrase the great Stephen Sondheim, there's a film that's "only just out of reach"—but we now have a fresh trailer to help tide us over…
Earlier this week, The Walt Disney Company released a gorgeous new trailer (as well as a new poster) for Academy Award®-winning director Steven Spielberg's film adaptation of the musical West Side Story, slated to open exclusively in U.S. theaters this December 10. Check it out for the first (or 83rd time, if you're anything like us), above.
Directed by Spielberg, from a screenplay by Pulitzer Prize and Tony Award® winner Tony Kushner, West Side Story tells the classic tale of fierce rivalries and young love in 1957 New York City. This reimagining of the beloved musical stars Ansel Elgort (Tony), Rachel Zegler (María), Ariana DeBose (Anita), David Alvarez (Bernardo), Mike Faist (Riff), Josh Andrés Rivera (Chino), Ana Isabelle (Rosalía), Corey Stoll (Lieutenant Schrank), Brian d'Arcy James (Officer Krupke) and Rita Moreno (Valentina, who owns the corner store in which Tony works). Moreno—one of only three artists to be honored with Academy, Emmy®, Grammy®, Tony and Peabody Awards—also serves as one of the film's executive producers.
West Side Story has been adapted for the screen from the original 1957 Broadway show, with book by Arthur Laurents, music by Leonard Bernstein, lyrics by Sondheim. and concept, direction and choreography by Jerome Robbins. Mark those calendars now, y'all.
5 Fantastic Things to Watch This Weekend
The weekend is just about here (huzzah!), and there's lots of fun stuff to enjoy from around the worlds of Disney. Over on Disney+, Descendants: The Royal Wedding and Disney's Broadway Hits at London's Royal Albert Hall join the streaming service's lineup; and on FXX, get a head start on all things Emmy Awards by tuning into the 2021 Creative Arts Emmys. There's more where that came from, so get your popcorn ready…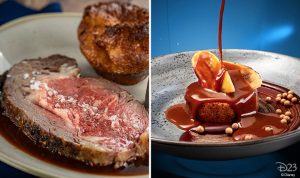 Delectable New Restaurants Opening Soon at Walt Disney World Resort
Foodies of the world, get thee to Walt Disney World Resort! In honor of "The World's Most Magical Celebration," kicking off Walt Disney World's 50th anniversary this October, several new restaurants will be opening their doors to guests and offering all manner of delicious new eats and treats.
Steakhouse 71, located on the first floor of Disney's Contemporary Resort, will open on October 1 for breakfast, lunch, and dinner. The chefs at Steakhouse 71 have created an incredible dinner menu with all the hallmarks of a family-friendly steakhouse (including that tasty-looking prime rib above), and offerings at breakfast and lunch that are as unique as they are delicious—including a nod to Walt Disney himself, with contemporary spins on some of his favorite foods. And kids get to be creative with their meals—choosing from a fun menu that even includes creating their own ice cream sundae! And let's not forget some fabulous libations (both alcoholic and non-) from Steakhouse 71's talented mixologists and sommeliers. Reservations are now available; visit the restaurant's website for more info.
Meanwhile, over at Space 220 at EPCOT, virtual departures for walk-up diners blast off on September 20—the same day you can start making reservations, with September 27 as the first reservable date. Space 220 will offer a two-course prix fixe menu for lunch and a three-course prix fixe menu for dinner. Enjoy a selection of "lift-off" appetizers including Big Bang Burrata and Neptuna Tartare; "star course" main entrées such as Flat Iron Steak and Florida Red Snapper; and a choice of "supernova sweets" for dessert like sticky toffee pudding and chocolate cheesecake. ("Satellite sides" will be available à la carte.) Unique beverages include a colorful lineup of atmospheric spirits, as well as zero-proof (non-alcoholic) cocktails, big dipper brews, and worldly wines.
Stay tuned for more yummy news from our celebratory pals at Walt Disney World in the coming weeks and months…
Among the Stars Set to Blast Off on October 6, Only on Disney+
Up, up, and away! Disney+ just shared a first look at its new original series Among the Stars. All episodes of the six-part series will launch (pun intended) on Monday, October 6.
As seen in the newly released official trailer (above), the docuseries embeds viewers with NASA astronaut Captain Chris Cassidy as he embarks on one last mission. Through intimate footage, personal video diaries, and livestream footage—stationed both on Earth and in space—viewers will a firsthand look at the team of engineers, flight controllers, and specialists who take on these dangerous and awe-inspiring missions for the greater good.
Following the teams' successes and failures over the course of two years, Among the Stars offers up behind-the-scenes access to the critically important NASA mission of repairing a $2 billion science experiment, the Alpha Magnetic Spectrometer (AMS), which aims to reveal the origins of the universe. To repair the AMS, former Navy Seal Captain Cassidy and his team must undertake a series of complex spacewalks—but the story quickly becomes a tale about the larger team at NASA, their roles in this daring mission, and the collective quest to succeed.
As space junkies, we can't wait to check it out!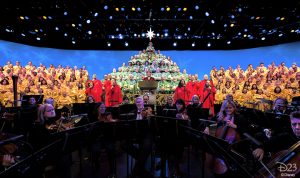 "Candlelight Processional" Returns to EPCOT on November 26
That's right—the beloved holiday tradition is back! "Candlelight Processional," a long-standing annual Disney Parks institution (dating back to 1958 at Disneyland park), has delighted Walt Disney World guests since 1971; initially held at Magic Kingdom park, it moved over to EPCOT in 1994. After being very much missed during last year's holiday season, the production will once again grace the America Gardens Theatre with a live orchestra, cast choir, and celebrity narrator retelling the traditional Christmas story in spectacular and heartwarming fashion. Look for the "Candlelight Processional" as part of the EPCOT International Festival of the Holidays presented by AdventHealth, from November 26 through December 30.
The show will be expanding its cast choir for the occasion (hoping to welcome back community choirs next year), and more details—including the roster of celebrity narrators—will be announced in the coming weeks. So, keep your eyes (and your jingle bells) peeled!
High School Musical: The Musical: The Series Returning for Season Three
If you ever wanted to know what it would be like for a bunch of theater kids to spend the summer at a rustic sleepaway camp… well, wonder no further, thanks to the good folks at Disney+ and creator/executive producer Tim Federle. High School Musical: The Musical: The Series is returning for a third season, which will indeed take place at summer camp! To hear from Federle and read more about what you can expect, click here.
Adorable Baby White Rhino Born at Disney's Animal Kingdom Theme Park
Fun news from over at the always-nifty Disney Parks Blog: This week saw the arrival of a baby white rhino born to first-time mom Jao backstage at Disney's Animal Kingdom Theme Park. "Mom and baby are doing great under the keepers' watchful and joyful eyes," Scott Terrell, DVM, DACVP, Director of Animal & Science Operations, Walt Disney Parks & Resorts, recently told the Parks Blog. "I am happy to report that the beautiful calf snuggled up to mom and began nursing right away."
To ensure Jao and her baby boy have ample time to bond, it'll be a while before the calf is weighed—but typically, Terrell explained, white rhino calves can weigh as much as 140 lbs. at birth. That's a lot of baby!
Rhinoceros also have one of the longest gestation periods of any mammal: approximately 16 to 18 months. The animal care team's veterinarians, scientists, and animal keepers kept a close eye on Jao throughout her pregnancy, conducting regular checkups and ultrasounds to ensure a safe birth. Mama Jao and baby are expected to join the "crash" (a group of rhinos) in their habitat on the Harambe Wildlife Reserve in the coming weeks, where park guests can catch a glimpse of the herd while aboard Kilimanjaro Safaris.
ICYMI: Guest Voices Coming to The Proud Family: Louder and Prouder
There's a truly incredible cavalcade of guest voice actors coming to Disney+'s upcoming animated series The Proud Family: Louder and Prouder… wanna hear from Tiffany Haddish? You got it. What about Al Roker? Sure thing! Brenda Song? Jane Lynch? Olympian Laurie Hernandez? Check, check, and check. To prove we're not throwing the word "cavalcade" around lightly, read our full rundown of what voices to expect when the series debuts in 2022 right here at D23.com.