By Beth Deitchman
When we pick back up with Hiro, Baymax, and the rest of Big Hero 6 in the third season of Big Hero 6 The Series, they're defeating villains virtually within a challenging simulation program, leading teenage tech whiz Hiro to declare the team "ready for anything." But little do they know, an old nemesis is about to embark on a sinister plan, and it will be up to our heroes to save San Fransokyo from Noodle Burger Boy and his team of evil mascot robots. The impastably entertaining season premiere episode airs Monday, September 21 (7:30 p.m. ET/PT), on Disney XD and DisneyNOW.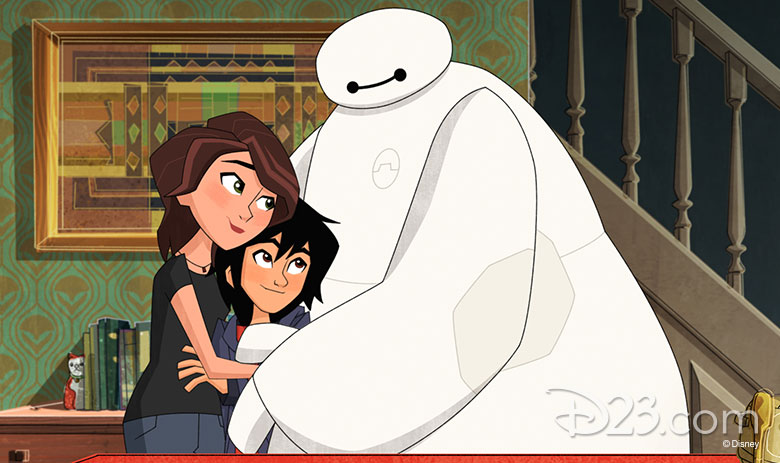 Following in the footsteps of the Oscar®-winning feature film that inspired it, Big Hero 6 The Series has always delivered a powerful combination of action, comedy, and heart, and that continues as our heroes kick off what Fred enthusiastically dubs "Phase Three." The series' sophomore season drew to a heartwarming conclusion with the Big Hero 6 team prevailing over archenemy Trina before they celebrated a major milestone: the graduation of Go Go, Wasabi, and Honey Lemon from the San Fransokyo Institute of Technology, and Hiro's poignant speech on behalf of his late brother, Tadashi, who would have received his diploma alongside his friends. "When we finished that, we were kind of like, wow, this feels like the series is over—but it's not," says Bob Schooley, who executive produces alongside Mark McCorkle and Nick Filippi. The trio—who were behind another fan-favorite animated series for Disney Channel, Kim Possible—realized they had an opportunity to change things up for season three, which Schooley describes as "a lot lighter and more comedy-focused."
A generous helping of laughs comes in the season premiere from the return of Noodle Burger Boy. Once an affable restaurant mascot—albeit one built with military grade materials and designed to be completely indestructible—Noodle Burger Boy fell into the wrong hands and became a hench-robot for mega villain Obake. "The idea of a very cute robot who was deadly just felt like a natural for this world," Schooley shares, crediting the actor who voices Noodle Burger Boy, Lucas Neff, for making him "adorable and creepy at the same time."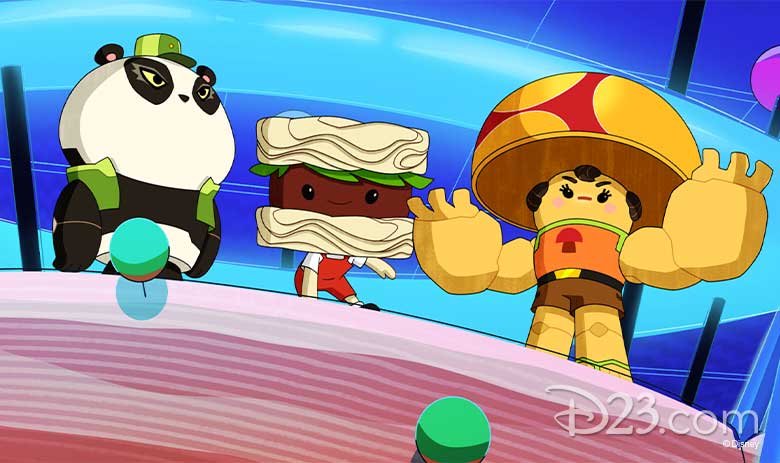 Despite his evil tendencies—or perhaps because of them—Noodle Burger Boy has won the hearts of fans and become a favorite for the creative team, as well. "We love the design and we love the voice," McCorkle says, explaining, "Early on, when we were trying to find that voice, we gave our story editor, Jeff Poliquin, the challenge of this guy, all of his sayings and aphorisms and whatever, need to be fast food lingo. Jeff really came through and set the tone in season one that everyone else could sort of follow. He's a fun character."
In season three, Noodle Burger Boy engages in some truly diabolical doings, but they're motivated by his super-sized desire for a family. Executive producer Filippi notes that the Big Hero 6 will have their work cut out for them, where their noodle nemesis is concerned. "Because it's Noodle Burger Boy, his schemes have the potential to be incredibly destructive and hazardous for citizens in the city, but they're often very random, bizarre plans. He's definitely a force for random chaos and mischief," Filippi says.
The executive producers promise that Noodle Burger Boy won't be the only familiar face cropping up in season three. Hiro may be on summer break from the San Fransokyo Institute of Technology, but Professor Granville will still insinuate herself into his life, which McCorkle says leads to some "great comic fun." He also reveals that fans can look forward to a romance for Fred this season, and hints that we'll get to see Mr. Sparkles in a new light, too.
Our heroes may be seeing each other in a new light, as well, this season, which finds Hiro, Fred, and Baymax coming to grips with the fact that half of their group has entered a different phase of their lives as they search for jobs that enable them to use the tech skills they've honed at SFIT. "I think the idea that some of the group is moving on and this is our last summer together definitely sort of is overarching the season to a degree," Schooley shares. But, McCorkle adds, "Even though there's going to be this shift, it's not like the three of them are abandoning the team by any stretch."
Season three kicks off with a 22-minute episode that includes an epic visit to the Hyper-Potamus Pizza-Party-Torium, a dining and entertainment experience that is truly not to be missed, as you can see in this exclusive clip:
But beginning with the next episode (airing on September 28), fans can look forward to two 11-minute stories each week, a new format that presents the creative team with opportunities to try different things that might not have felt organic as part of a larger story. According to Filippi, "Shortening the episodes gives us a chance to spend more time with individual characters instead of having such a big ensemble; and also, not having to set up so much during an episode allows our directors and writers and story artists the ability to explore and go off in some directions that we wouldn't have been able to in a [22-minute story]." Those directions include a foray into Heathcliff's past and a song-filled story featuring a popular K-pop band in the Big Hero 6 The Series world, 4 2 Sing, a favorite for Wasabi, who appreciates the symmetry that only comes from a quartet comprised of not one, but two sets of singing twins.
The executive producers cast K-pop stars Nichkhun Horvejkul ("2PM") and Jae Park ("DAY6") as the two halves of the four-man boy band. The season three guest cast also includes Kirby Howell-Baptiste (Killing Eve) as Cobra, a charming and crafty villain; and Nichole Bloom (Superstore) as Olivia, a passionate comic book fan. The returning voice cast includes Maya Rudolph as Aunt Cass, Ryan Potter as Hiro, Scott Adsit as Baymax, Jamie Chung as Go Go, Khary Payton as Wasabi, Genesis Rodriguez as Honey Lemon and Brooks Wheelan as Fred; as well as Jenifer Lewis as Professor Granville, Jane Lynch as Supersonic Sue, Horatio Sanz as El Fuego, Andy Richter as Globby, Alan Tudyk as Krei, Haley Tju as Karmi and David Shaughnessy as Heathcliff.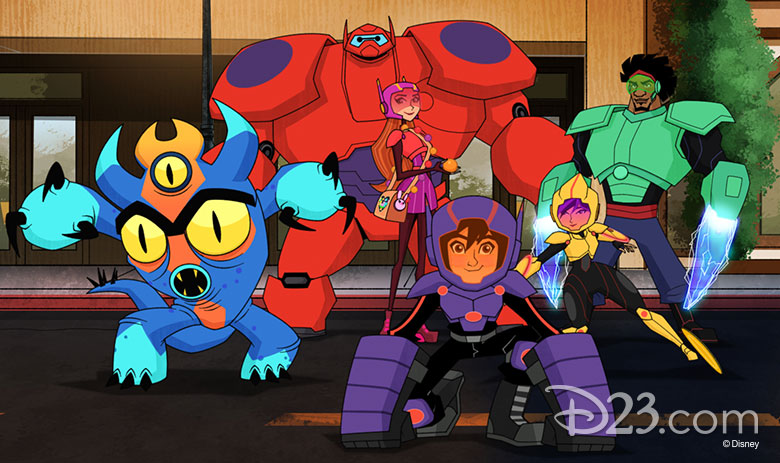 For fans who can't wait until Monday for a return trip to San Fransokyo, the first two seasons of Big Hero 6 The Series are available for streaming now on Disney+. And be sure to tune in for the start of new adventures on September 21 on Disney XD and DisneyNOW. Filippi emphasizes, "There's a lot of crazy stuff this season—it's going to be fun!"