By Courtney Potter
"1, 2, 1-2-3-4!" Yes, in just a few days' time, the Green family is back for Season 4 of Disney Branded Television's hit animated comedy-adventure series Big City Greens! For the uninitiated, the series follows the offbeat adventures of 10-year-old Cricket Green (voiced by co-creator/executive producer Chris Houghton), a mischievous and optimistic country boy who moves to the big city with his wildly (but hilariously!) out-of-place family: older sister Tilly (voiced by Marieve Herington), father Bill (voiced by Bob Joles), and Gramma Alice (voiced by Artemis Pebdani). Cricket's natural curiosity and enthusiasm lead him and his family on totally epic journeys—as well as into the hearts of his new neighbors.
This time 'round, the clan establishes a new normal with Cricket and Tilly's mom Nancy (voiced by Wendi McLendon-Covey) staying on the country farm while the rest of the Greens goes back and forth between Big City and Smalton.
Recently, D23 was lucky enough to chat with Chris Houghton and his brother, and fellow co-creator/executive producer, Shane Houghton, about the making of Season 4… what excites them about the family's latest adventures; cool guest voice stars to expect; and so much more:
The conversation below has been edited and condensed for clarity.
D23: There's a "new normal" now, with Nancy staying on the farm while the rest of the family commutes back and forth—what about that makes for a compelling storyline in Season 4?
Shane Houghton (SH): The world of Big City Greens got a lot bigger in Season 3. Because they're now straddling between these two worlds, the city and the country, it's really opened up the storytelling possibilities for us. We have a whole cast of characters now in the country that we got to meet a little bit in Season 3 but didn't really get any deep dives with because it was so focused on the Greens. So in Season 4, we get to see a lot more of the country neighbors and folks in Smalton. Meanwhile, back in the city, there's plenty of new characters and new locations that the Greens are also going to be exploring—there's a long-lost Green family member who comes back into the fold in Season 4; Gloria [voiced by Anna Akana] hires a new employee at the café, so it's no longer just Cricket and Gramma working there. We're shaking things up while still [sticking] with the Greens. We still have all the same cast of characters we know and love—but we're introducing some newer elements, new locations, new conflicts, and trying to build out the world even larger.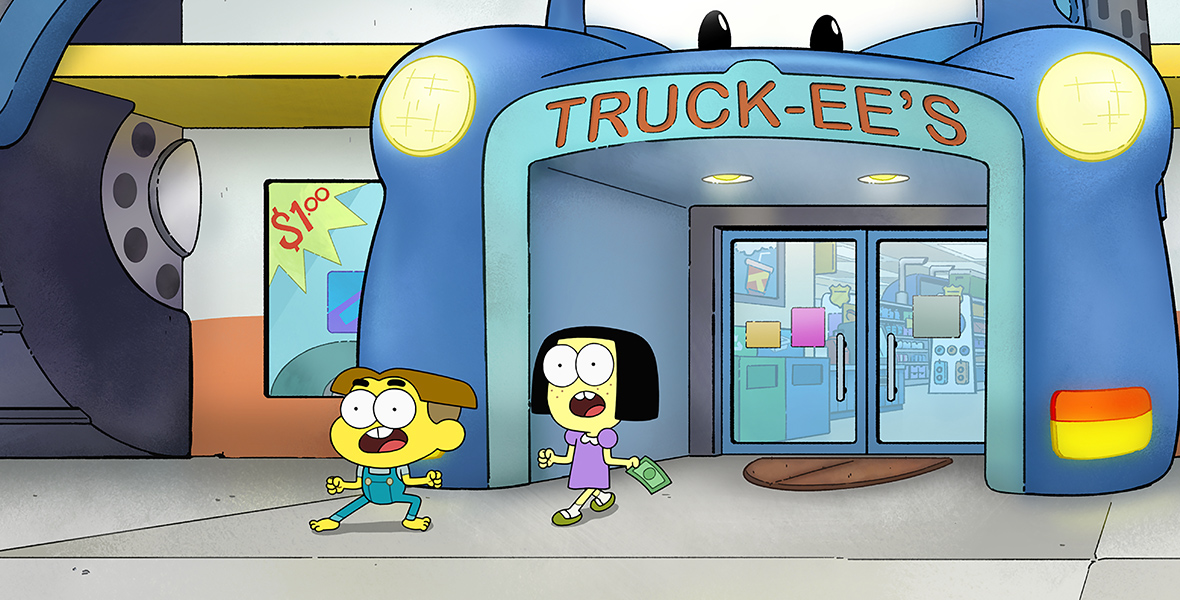 D23: Can you speak a bit about some of the amazing guest voice stars you'll be featuring on the show this season?
Chris Houghton (CH): Well, I had the pleasure of directing Brad Marchand, the Boston Bruins player, who joined for a hockey-related episode. We needed someone who was willing to come in and have some fun—and Brad said yes! Now, I like hockey, but I'm not, like, the hockey expert. So I looked Brad up after the fact—because our producer is a big fan, and he was like, "You want Brad Marchand." I said, "Absolutely!" But when I looked him up, I found out he was known for fighting… he's called "The Rat"! I've never been more thrilled to direct someone over Zoom! All kidding aside, Brad was an absolute delight. He was so down to have fun, and we just had a blast. I think it goes for all of our guest stars; we're just so thrilled when someone understands what we're trying to do on the show, which is just to have fun and make funny stuff. Anyone who wants to come and play in that arena and isn't afraid to make themselves look silly, it just makes for better cartoons.
SH: I can speak to Michael Bolton, who is in the first episode of Season 4. We needed somebody to play a [commercial] jingle writer—and we wanted somebody who could sing, but we needed somebody who was also funny. Michael Bolton stood out to us, because he's done a couple of comedy bits, like on Saturday Night Livewith The Lonely Island guys. So we reached out to him, hoping he would do it—and he was interested! But then he came back to us with some thoughts, and we got really excited; this doesn't usually happen. We thought, wow—what does Michael Bolton think of this? What does he want to do? He had thoughts on the character, design, the story, and specific jokes—and to his credit, all of them were great ideas. We were like, "We love this. This is fantastic!"
And it kind of happened late in the pipeline, but the crew pulled it together. We implemented all the notes, and the episode is funnier and better because of it! And then Michael comes into record, and he is just so funny. And he had a great time. It was one of the best voice-actor interactions I've ever had, directing Michael Bolton.
D23: That's amazing! On a similar token, what's the dynamic now between the "core" family group of voice actors—you, Chris, as well as Marieve, Bob, and Artemis—after all these seasons?
CH: Oh my gosh, it's delightful! Even though the core cast is not always together, whenever we do have the opportunity to get together, it's so much fun. We are all pretty similar to our characters, in a very strange way. I'm a little wily and Cricket-like. Marieve, the voice of Tilly, is just so sweet—she's a delight. Bob Joles really does have this fatherly-like energy to him. And Artemis, Gramma, is a spitfire; she's so fun to be around.
The core cast of the Greens—including Remy, who's played by Zeno Robinson—we all traveled to New York Comic Con together, and it really does kind of feel like a family reunion. We've all been working together for so many years, at this point, that we can lovingly poke and annoy each other like family members and have a grand old time.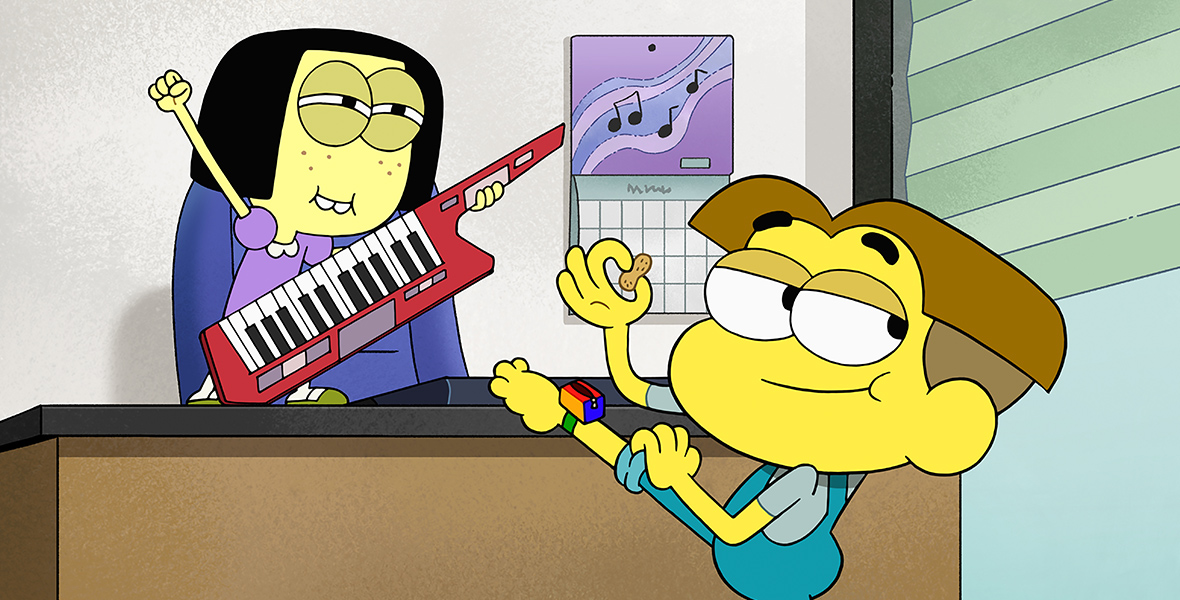 D23: This show started out based on your childhood… does it continue to be a special experience, in that way?
SH: This show is incredibly personal to us, yeah. A lot of the core concepts came from us and our family members and our neighbors and our life experience. That's where it started. And now it's blossomed into this enormous thing that so many hundreds of people have creatively contributed ideas and personal experiences to. While Chris and I are kind of like the "tastemakers"—we get to decide what goes in the show and what doesn't—the personal aspects are no longer just us. It is this entire collective experience that goes into making the show.
D23: All told, what do you hope audiences take away from this season of Big City Greens?
CH: We're always aiming, first and foremost for "Fun, funny, and more fun." Beyond that, we've always said that if there's a recipe for the show, it's two parts comedy, one part heart—and I think the episodes that really resonate with audience members are the episodes that have that heart, or that little nugget of truth to them. However, it needs to be wrapped in a thick layer of comedy and a thick layer of fun. So that's what we're always focusing on.
We always love hearing from audience members. We kind of try our best to predict what will really resonate—but once the show goes out, it has a life of its own, and certain episodes hit people at a certain time in their lives. sometimes those particular episodes have such a profound impact on those people. It's something we could have never predicted, and it's always so cool to hear about. We hope that Season 4 continues to do that, as seasons have in the past—and we can't wait to hear what audiences think of it!