By Nicole Cantore
Attention burger afficionados! National Burger Day is this weekend and Disney Parks and Resorts have some incredible options that are not to be missed. This important foodie day falls on May 28 and we're here to help you have a bun-derful time by telling you where to find some of the best burgers at Disneyland Resort, Walt Disney World Resort, and Disney's Vero Beach Resort.
Are you looking for some entertainment to go along with your snacking on this special day? Lucky for you, "The Bob's Burgers Movie", released today, is an animated, big-screen, musical comedy-mystery-adventure based on the long-running Emmy®-winning series. If you're a fan, you simply must see what happens to your favorite characters after a ruptured water main creates a sinkhole right in front of Bob's Burgers.
We won't keep you and your tastebuds waiting any longer. Get your appetite ready because it's burger time!
If you find yourself at Disneyland Park and feel urge to cheese-the-day, don't worry, because this park has got you covered. Hungry Bear Restaurant has the Chili Mac Cheeseburger. This one doesn't mess around with 1/3 lb angus chuck patty with homestyle chili, mac & cheese bites, American cheese, and fried onions. For a plant-based option inspired by a tale as old as time, Red Rose Taverne has the Beast Breakfast Burger, a 1/3 lb angus patty, bacon-orange marmalade, egg, and arugula on a toasted bun served with potato bites.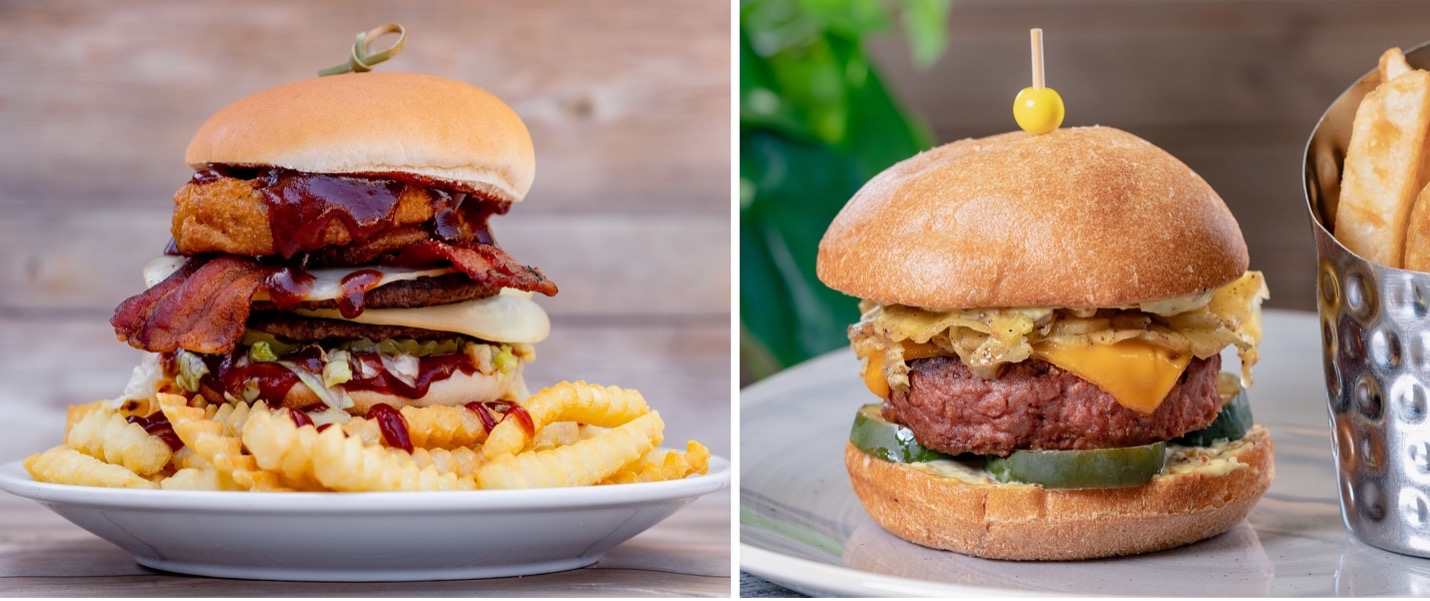 Get ready for a bun-in-a-million experience at Disney California Adventure Park. Drop into Smokejumpers Grill to try the Payload Burger featuring two angus beef patties, smoked provolone, bacon, lettuce, onion rings, and chipotle BBQ sauce served with crinkle-cut fries or onion rings – yum! Over at Lamplight Lounge, the Pastrami-spiced Impossible Burger is a great option with a seasoned patty, dairy-free American cheese, pastrami-spiced pineapple, house-made pickles, and mustard aioli on toasted focaccia.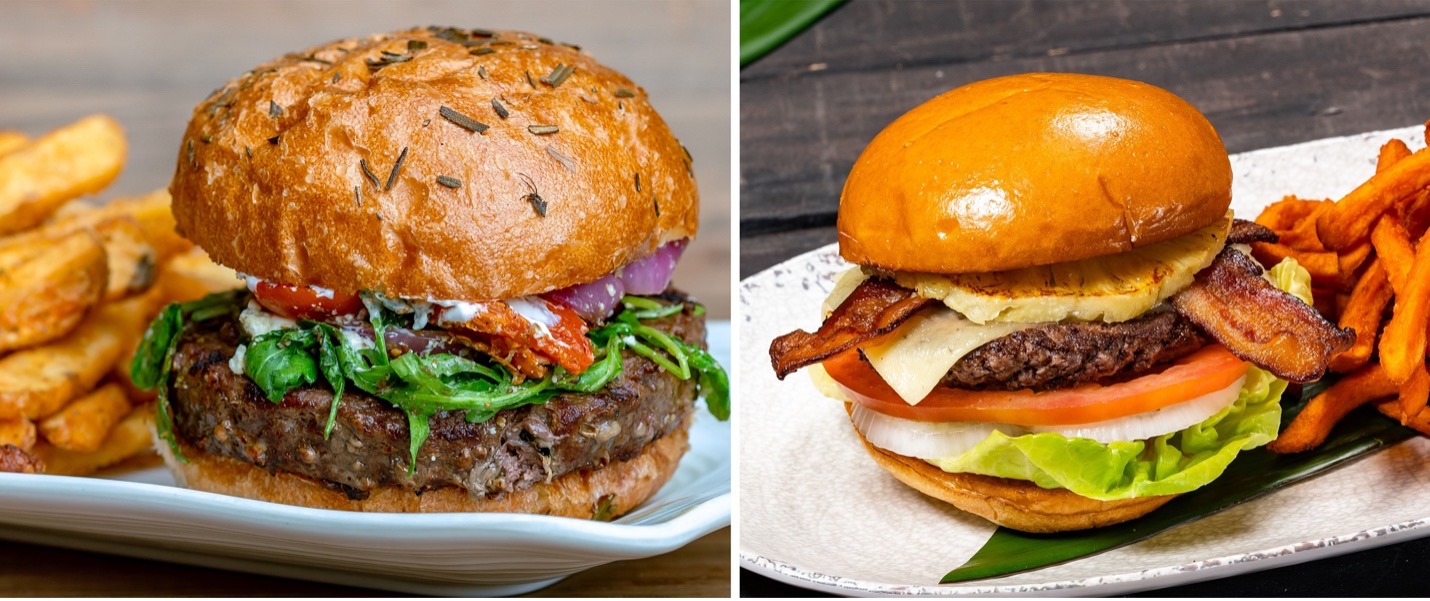 The hotels at Disneyland Resort are also working hard to meat your burger standards. Embrace the beauty of California at Disney's Grand Californian Hotel & Spa, where the Craftsman Grill has the Mediterranean Wagyu Burger. This dish sits an American wagyu patty, tzatziki sauce, and a red onion-feta salad upon an herb bun with your choice of seasonal fruit or za'atar fries. At the Disneyland Hotel, you'll find the yummy Angus 1/2 lb Hawaiian Cheeseburger served with sweet potato fries for a little bit of a tropical flare.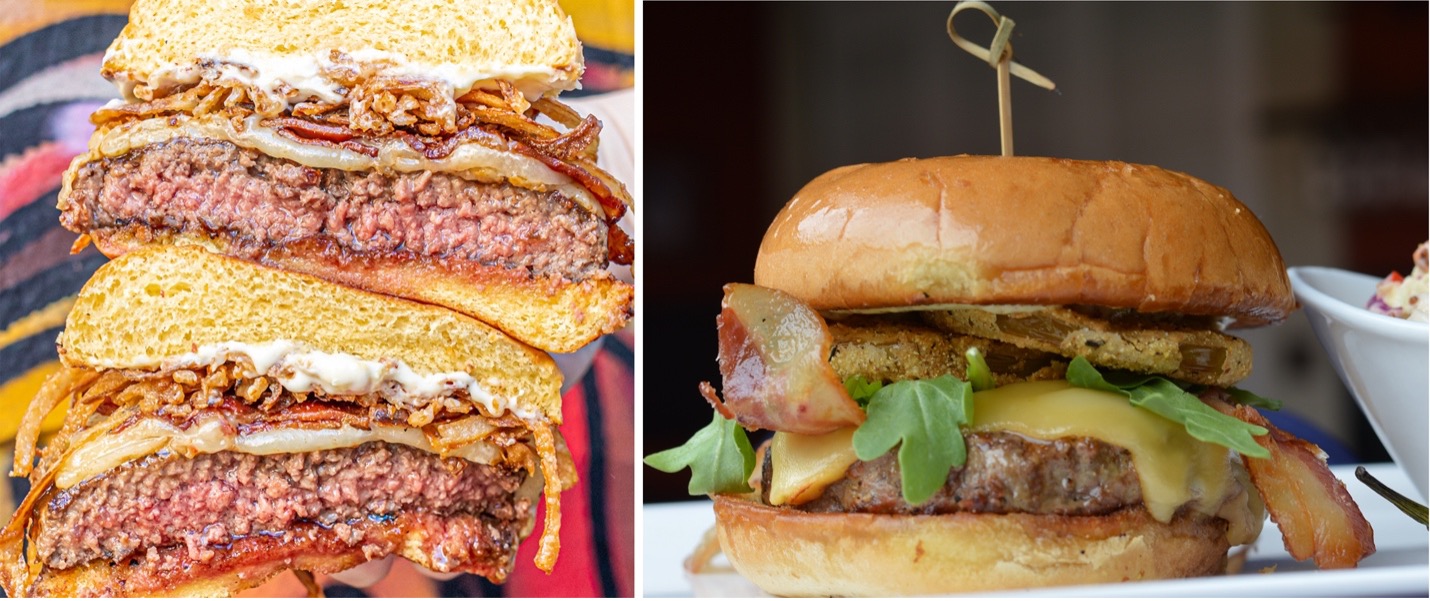 The Downtown Disney District is also a great spot to stop for some foodie fun tomorrow. At Black Tap Burgers & Shakes, the intense Wagyu Steakhouse Burger has wagyu beef, pepper jack cheese, bacon, crispy onions, A1 sauce, and a roasted garlic mayo – perfectly made for burger lovers. Over at Ralph Brennan's Jazz Kitchen, for just May 28, get a little flavor from the South with the Bourbon Street BTLA Burger made up of certified angus beef, applewood smoked bacon, fried green tomatoes, baby arugula, avocado, smoked gouda cheese, and a sweet onion spread served with a spicy remoulade slaw. What a combo!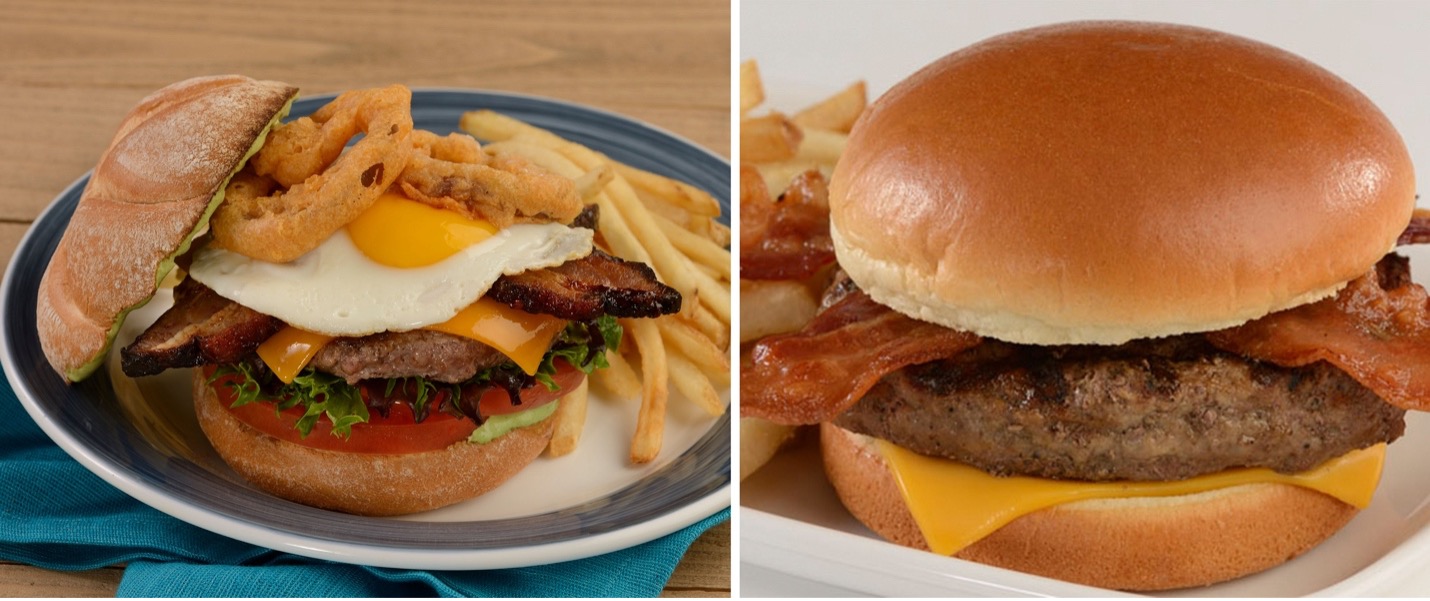 Time for the East Coast! Magic Kingdom Park has more than a few burgers to enjoy, two of which include The Main Street Burger found at The Plaza Restaurant and the 1/3 lb Angus Bacon Cheeseburger from Cosmic Ray's Starlight Café. The Main Street Burger doesn't mess around with a 7-ounce all-beef patty topped with cheddar, house-made bacon, lettuce, tomato, a sunny-side-up egg, beer-battered onion ring, and roasted poblano-mayonnaise served upon a flour-dusted Kaiser bun! The 1/3 lb Angus Bacon Cheeseburger is a classic with a flame-broiled 1/3 lb angus burger with bacon, American cheese, lettuce, and tomato on a brioche bun with a side of your choice. For an added bonus, you can enjoy the lovely tunes of Sonny Eclipse while you eat.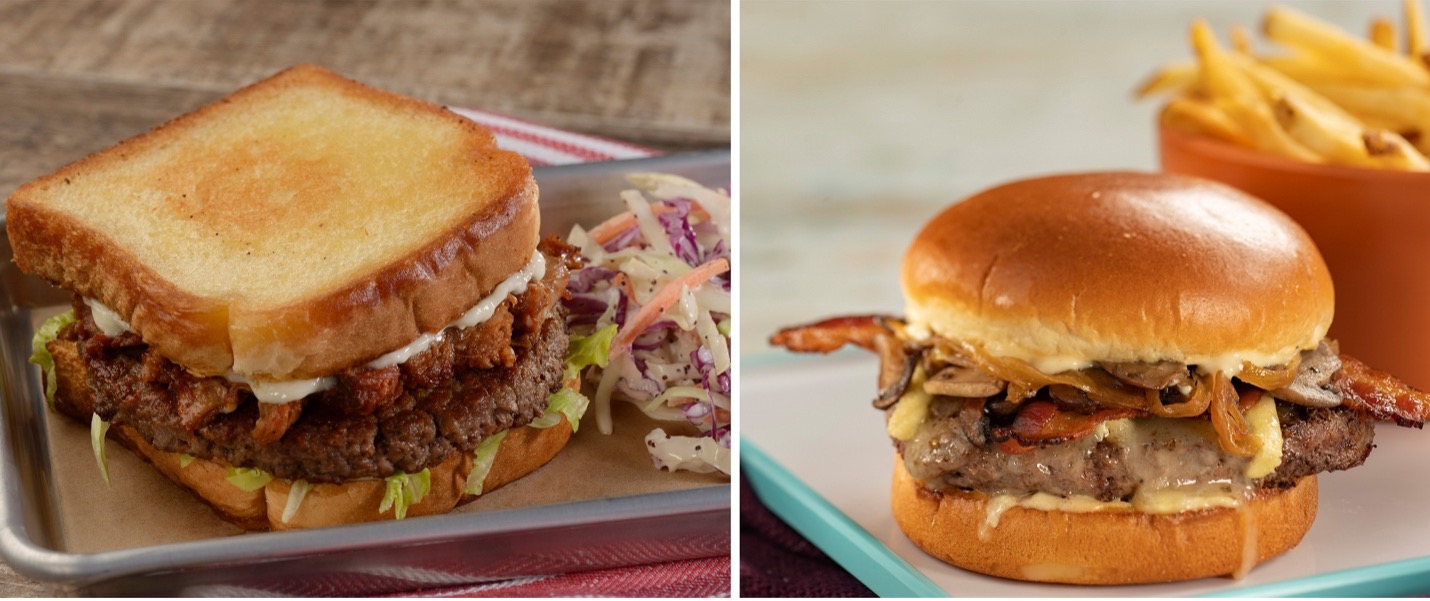 If you find yourself in EPCOT for National Burger Day, check out Regal Eagle and the Barbecue Jackfruit Burger. This delicious plant-based burger is topped off with barbecue jackfruit and lets you pick from a variety of sides like creamy coleslaw, seasoned French fries, and the house-made pickles. If you haven't had a chance to go to the new Connections Eatery, then the French Bistro Burger is for you! This dish features a gourmet burger blend, caramelized onions, bacon, brie, mushroom, and Dijon mayonnaise perfectly combined on a toasted brioche bun. Lettuce at it!
Next up – Disney's Hollywood Studios' ABC Commissary has the California Burger, which is made up of a grilled plant-based burger, grilled portobello mushroom, cashew-mozzarella, garlic-tomato "aioli," nut-free pesto, lettuce, and tomato. Whether you eat plant-based all the time or not, this burger is packed with flavor!
Restaurantosaurus at Disney's Animal Kingdom Theme Park has a couple burgers for you to try. The 1/3 lb Bacon Cheeseburger is your classic cheeseburger topped with lettuce and tomato and served with a true burger staple – french fries. Also at this spot is the Impossible™ Spicy Southwestern Burger. This dish features a plant-based burger patty, "pepper jack," chipotle sauce, lettuce, and tomato. These are some dino-mite options for National Burger Day!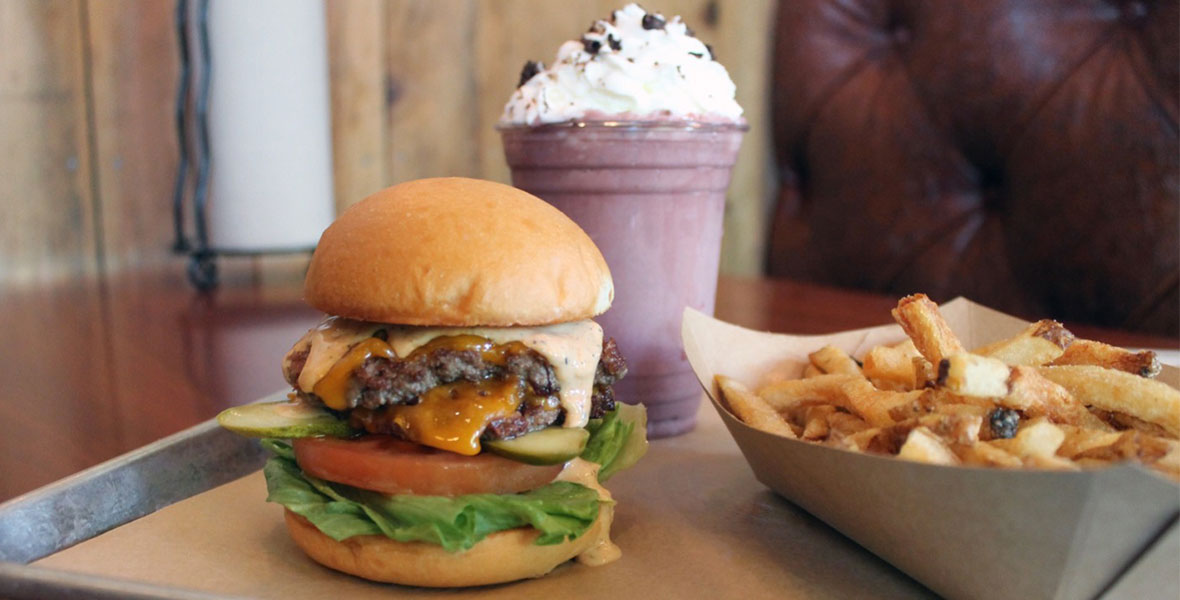 If you've been to D-Luxe Burger at Disney Springs, you may want to take another visit because starting tomorrow, May 28, it will be getting a revamp of flavor. Rediscover the enhanced dishes on the menu, like the Classic Cheeseburger with two pressed signature-blend patties – yes, two patties – with cheddar cheese, lettuce, tomato, and a pickle topped off with the signature 1921 sauce. Or try the Barbecue Burger, also featuring two pressed signature-blend patties, pepperoni, fried mozzarella, tomato sauce, and lettuce situated upon a parmesan tomato herb bun. These new burgers are truly bunderful!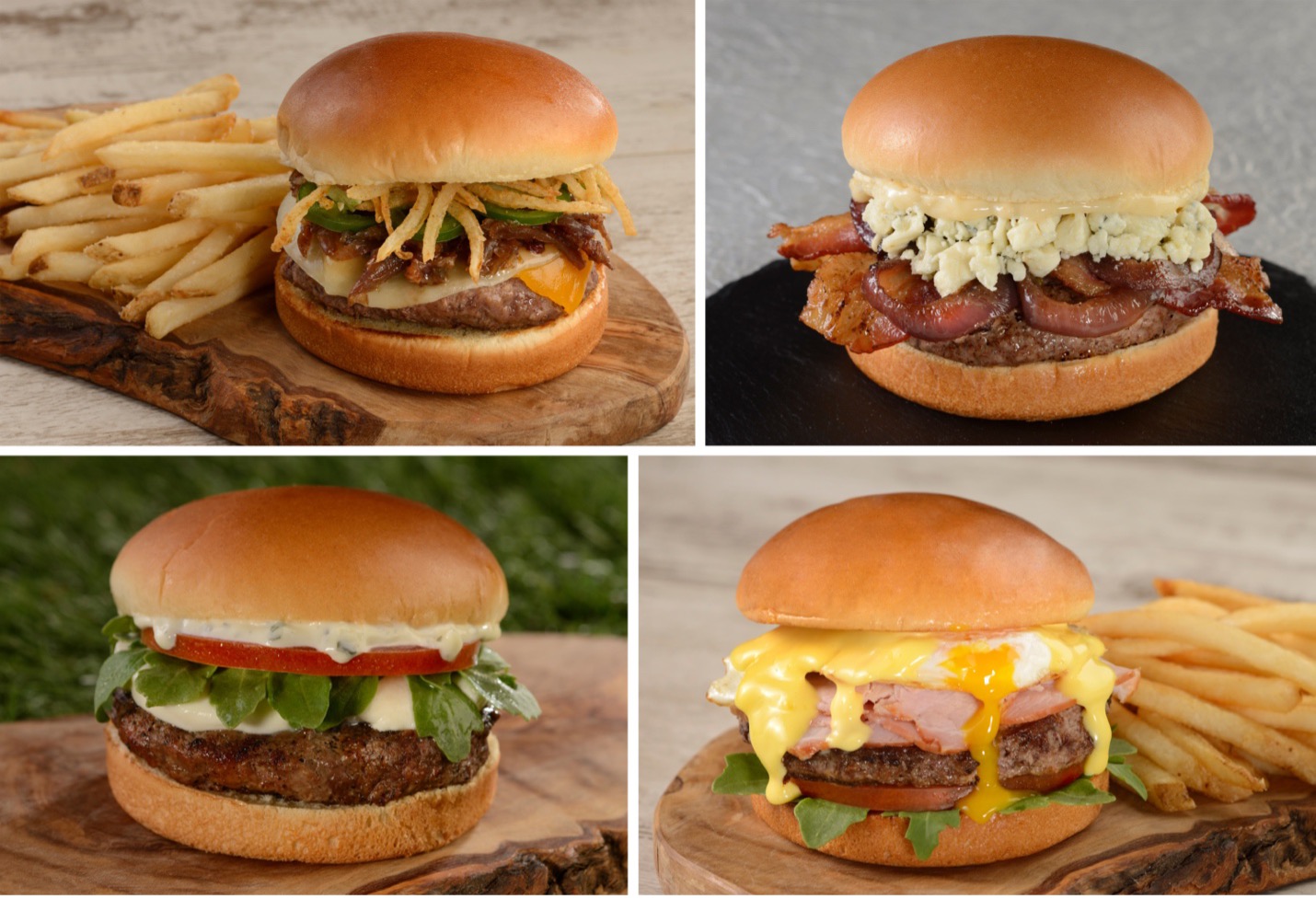 The resorts at Walt Disney World are not messing around with their burger game. These chefs have assembled some truly next-level dishes, all featuring a grilled signature-blend burger and brioche bun that can't be missed.
Disney's All-Star Movies' Intermission Food Court has the Showstopper Burger, and the name is quite fitting. It has a bacon-onion jam, cheddar, provolone, jalapeño, and crispy onions situated on a toasted brioche bun. At the World Premiere Food Court at Disney's All-Star Music Resort, you'll find the Bleus Burger with blue cheese, caramelized onions, bacon, and garlic aïoli atop that toasted brioche bun. Rounding up Disney's All-Star Resorts, is the Bases Loaded Burger from the End Zone Food Court at Disney's All-Star Sports Resort. This dish also features a grilled signature-blend burger with fresh mozzarella, basil aioli, arugula, and tomato – how tasty!
At Disney's Art of Animation Resort, Landscape of Flavors is expanding your palette with the Benedict Burger with bacon, pimento cheese, lettuce, and tomato.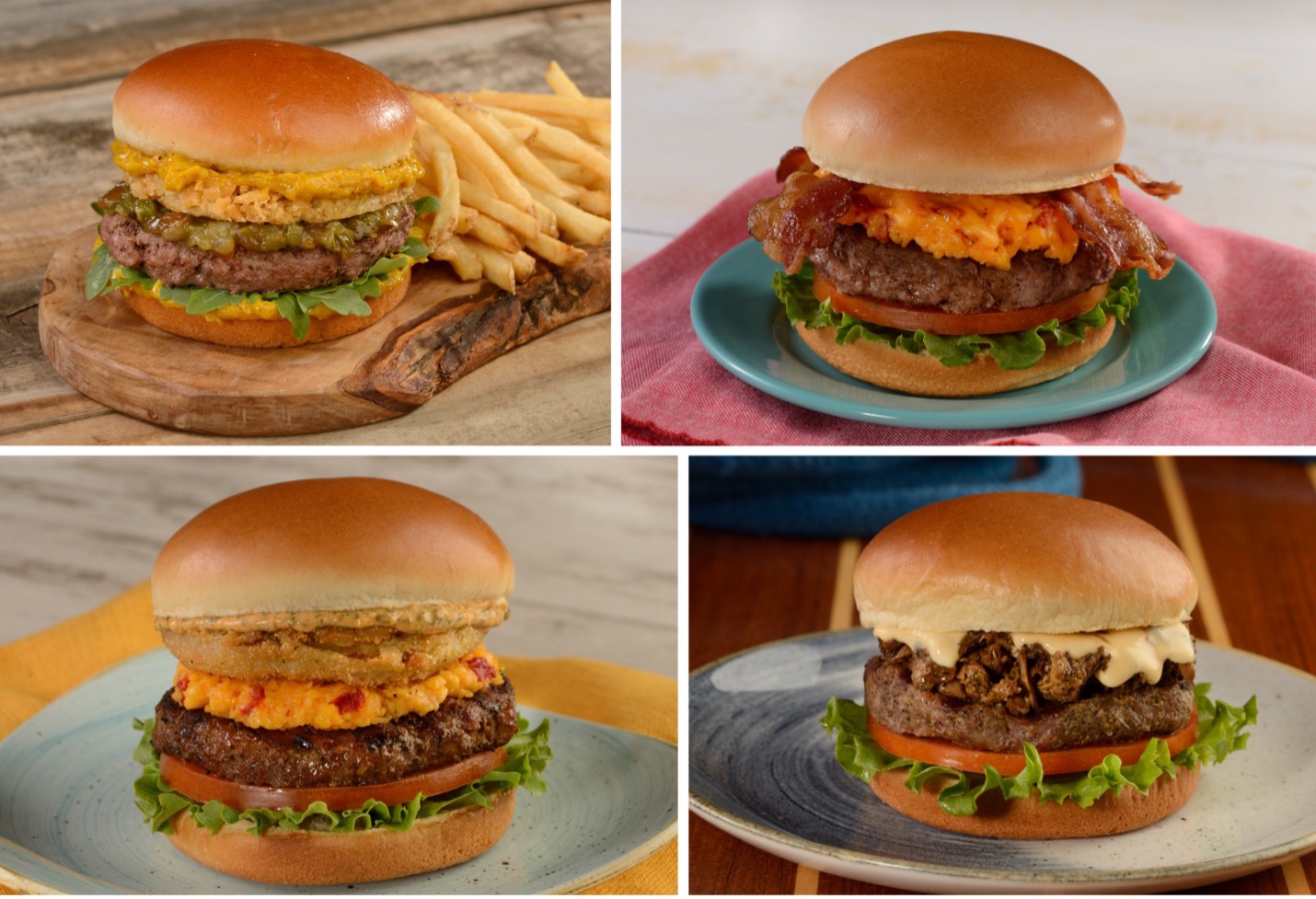 For some island vibes, Centertown Market at Disney's Caribbean Beach Resort perfectly combines a toasted coconut curry aioli, lime jalapeño jam, fried tostones, and arugula into a savory, tropical treat with the Swashbuckler Burger. Classic flavors are here with the Poppin' Pimento Burger at Everything POP Shopping & Dining at Disney's Pop Century Resort. This burger features that grilled signature-blend burger topped with bacon, pimento cheese, lettuce, and tomato for a fad that never goes out of style.
Take a little trip down to Louisiana and see what Disney's Port Orleans Resort – French Quarter has for you. Sassagoula Floatworks and Food Factory has the Baton Rouge Burger topped with fried green tomatoes, pimento cheese, spicy remoulade, and bacon. You and your tastebuds will feel just like you're in New Orleans with this one. You don't have to go all the way down the bayou for some Southern flavors, just over to Disney's Port Orleans Resort – Riverside where the Riverside Mill Food Court is serving up the Bayou Amber Ale Burger. This burger is topped with spicy shredded prime rib and an amber ale cheese sauce sandwiched between a toasted brioche bun.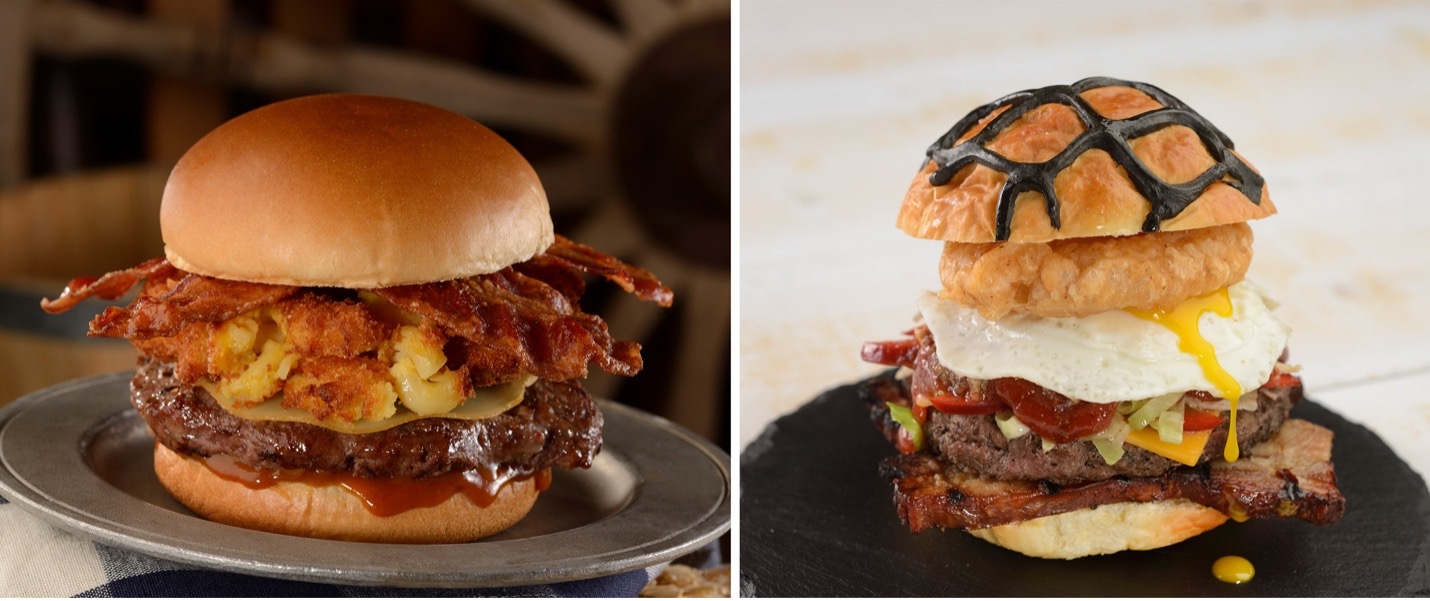 Lasty for Walt Disney World Resort, The Campsites at Disney's Fort Wilderness Resort has quite the item to enjoy for this special day – the Mac & Cheese Burger from The Chuck Wagon. This dish is the best of both worlds with an angus cheeseburger and friend mac & cheese, smoked gouda, and Carolina mustard barbecue sauce. Meat your heart out!
If you're enjoying a beachside getaway at Disney's Vero Beach Resort on National Burger Day, make sure you drop into Wind & Waves Grill for their Vero Beach Signature Burger. This plate is signature for a reason with sweet barbeque pork, bacon jam, sriracha coleslaw, beer-battered onion ring, and a fried egg on unique "turtle" bun. It'll let your tastebuds set sail.
I hope you're as excited for National Burger Day as we are. Happy eating and enjoy all these delicious dishes from coast to coast!
(Note: All offerings are subject to change.)