By Zach Johnson
You might call The Book of Boba Fett a real page turner.
After being teased in The Mandalorian's surprise end-credit sequence in late 2020, the highly anticipated original series debuted on December 29, 2021, at last putting the fan-favorite character Boba Fett (Temuera Morrison) front and center. Ironically, it's a position the bounty hunter isn't totally comfortable with—at least not compared with his former employer, Jabba the Hutt. With the mercenary Fennec Shand (Disney Legend Ming-Na Wen) by his side, Boba Fett returned to the sands of Tatooine to stake his claim on the territory previously ruled by Jabba the Hutt and his crime syndicate.
But as viewers have seen across the first six chapters—the seventh, the season finale, streams Wednesday, February 9—Boba Fett and Fennec have different leadership styles. "Fennec has less patience," explains Wen, whose character debuted in 2019 in The Mandalorian. "Boba Fett has gone through an incredible experience, living with the Tuskens, learning their ways and being part of a real family, and she is someone who is used to being a loner, getting things done and not questioning her choices. There are some stumbling blocks while they're trying to learn diplomacy. Boba and Fennec respect each other very much, so there's a lot of give and take, and he reins her in—sort of like on set in real life!"
Morrison adds, "It's a wonderful relationship. It grows through the series as well." For example, one thing Boba has taught Fennec over time is that "sometimes the gung-ho [approach] is not going to work," he says. "Sometimes it takes a little bit more… finesse."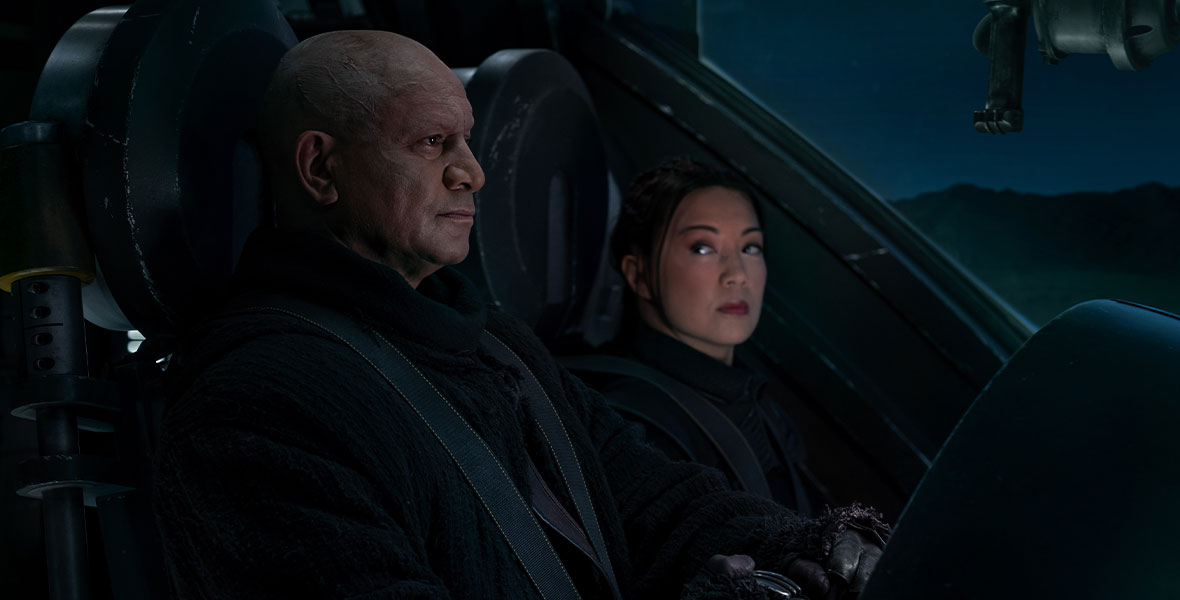 Indeed. But it's difficult to enjoy the trappings of being the Daimyo of Tatooine when you're constantly being undermined. Boba promised to establish order, which riled up everyone from water-monger Lortha Peel (Stephen Root) to Jabba the Hutt's cousins, aka The Twins. But he's also made some allies, including the Wookiee bounty hunter Krrsantan (Carey Jones) and a cyborg street gang led by Drash (Sophie Thatcher).
Speaking of the gang, aka The Mods, Morrison says they add "a lot of color and a lot of youthfulness" to the series. Beyond that, they represent a new order—one in which Boba gives everyone a fair shake. Rather than becoming enemies, he offered the youths a job opportunity. "If you can't beat these people, sometimes it's good to join them—or get them to join you," Morrison says. The Mods aren't the only ones to join their side, of course, as Fennec drafted one of their old friends, The Mandalorian (Pedro Pascal), to help them in an upcoming war.
Tense as things can get onscreen, it's nothing but laughs behind the scenes. "We had some long days on the set sometimes, and I'd be looking at my mate, going, 'Not bad for an old man and an old lady, eh?'" Morrison says with a chuckle. "We'd have a good laugh and pick each other up and say, 'Come on. We gotta represent!'"
Wen, who in 2020 wrapped a seven-season arc as Melinda May on Marvel's Agents of S.H.I.E.L.D., was up for the challenge. "I like representing older, strong females," the actress says. "I do have a certain set of skills, whether it's martial arts or kickboxing or stunt fighting. But it used to be that when a woman reached 40, they'd get put out to pasture. I'm far beyond that now, and it's great that I can still continue to do this. I feel very privileged and honored, and I'm living out my dream of being in a Star Wars project—I'm going to kick butt for as long as I can!"