By Courtney Potter
When last we caught up with that beloved band of misfits known as the Guardians of the Galaxy (thanks to Disney+'s The Guardians of the Galaxy Holiday Special last November), they'd recently acquired Knowhere from the Collector and were hoping to make it a haven both for themselves and for all manner of alien refugees.
But in Guardians of the Galaxy Vol. 3—debuting in theaters today—that return to a semblance of normalcy is totally upended... Still reeling from the loss of Gamora (Zoe Saldaña), Peter Quill a.k.a. Star-Lord (Chris Pratt) must now rally his team around him to defend the universe and protect one of their own—a mission that, if not completed successfully, could potentially lead to the end of the Guardians as we know them.
Once again written and directed by James Gunn, Guardians of the Galaxy Vol. 3 stars Pratt, Saldaña, Dave Bautista as Drax, Karen Gillan as Nebula, and Pom Klementieff as Mantis—and features Vin Diesel as Groot, Bradley Cooper as Rocket, and Sean Gunn as Kraglin, as well as new-to-the-franchise Will Poulter as Adam Warlock, Chukwudi Iwuji as The High Evolutionary, and Maria Bakalova, who voices Cosmo.
D23: The Official Disney Fan Club was lucky enough to hear exclusively from several members of the film's cast—including Klementieff and Gunn, and newcomer Poulter—as well as executive producer Sara Smith about the truly memorable making of the film, and what it was like to "face the music" one final time...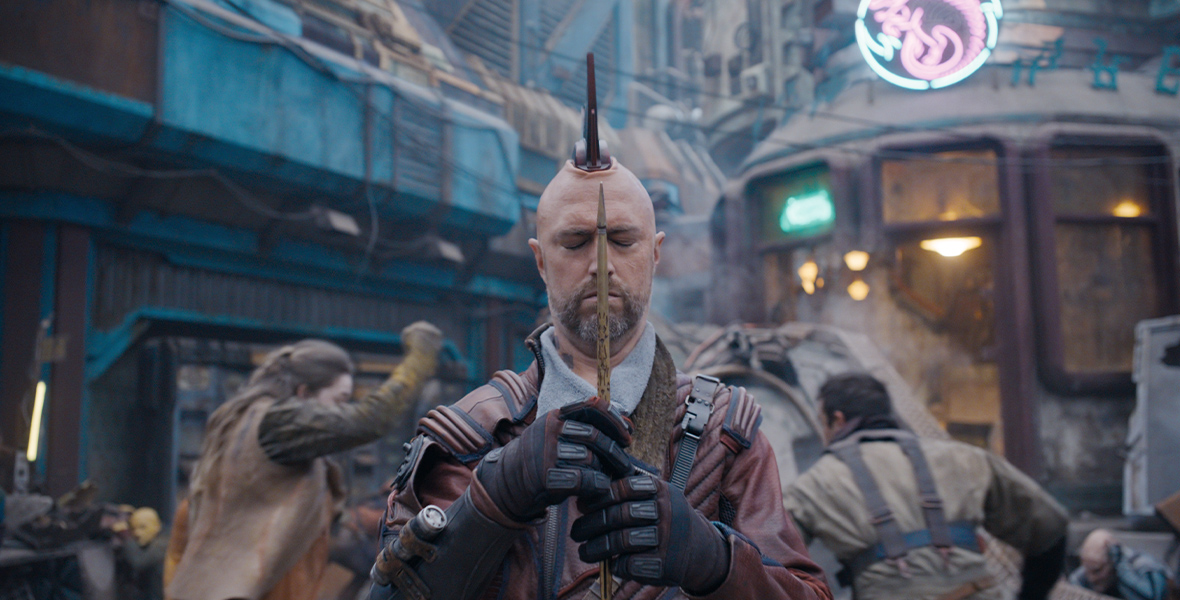 "The movie is a little more emotional, in some ways, than the other Guardians movies," says Sean Gunn, back for his third turn as Kraglin. "I think it's because there's that wealth of emotion amongst the characters; we're building on something that's already there. And I think as a result of that, the film is richer and deeper in a way that was really satisfying to make."
He continues, "From my own personal point of view, my character continues to grow—he's had a pretty wide arc, from the over the span of the first two movies, and that definitely, emphatically, continues in this third movie."
Those first two films are, in fact, some of Will Poulter's absolute favorites from across the Marvel Cinematic Universe—so joining this one as Adam Warlock was especially noteworthy for the actor: "Guardians of the Galaxy was something that I'd admired from afar," he admits. "And I say 'afar' because I never in a million years thought that I would be part of one of the films." At first, he didn't even realize he was auditioning for this specific project. "There's so much secrecy around all things Marvel," Poulter says. "I knew that I was auditioning for something within the Marvel universe; I think it wasn't until my second taping opportunity that I found out it was Guardians of the Galaxy, and that it was for the character of Adam Warlock. So I didn't really know in what context or how big the role was."
He adds, "You don't want to count your chickens [before they hatch] at any point. It was a really pleasant surprise to be given the role—and a huge honor, in the sense that I think James is an incredibly special creative, on top of being a really nice guy. Having his approval meant a lot."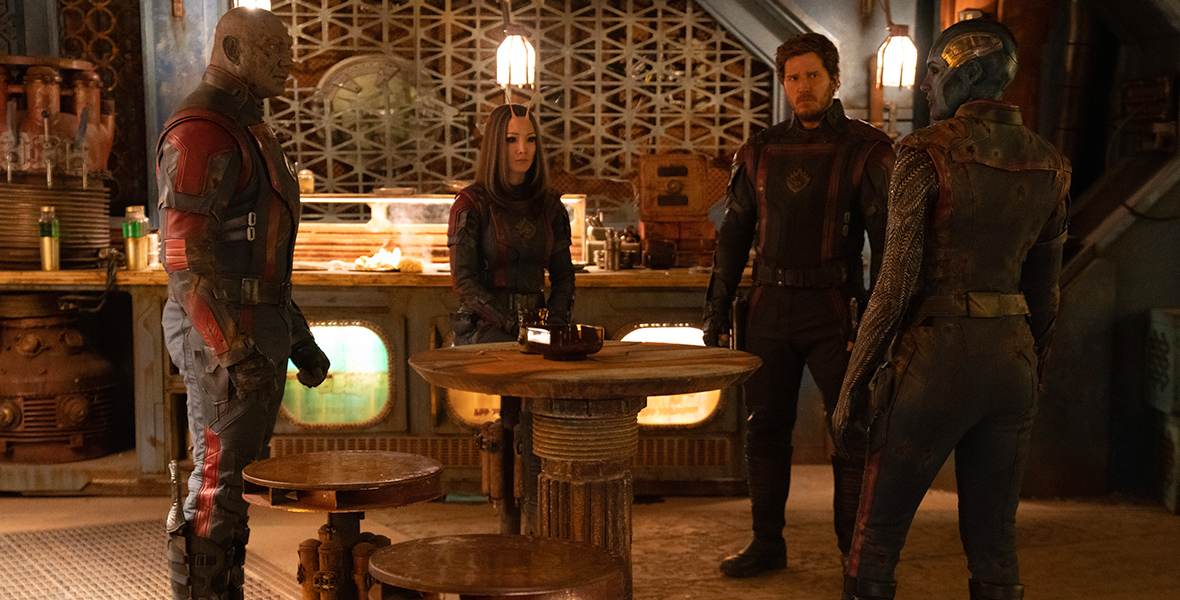 Filming Vol. 3 was, as you might imagine, especially memorable—both for returning cast members and for those who were just joining the festivities. "It was a long shoot, but it was such a beautiful shoot," Klementieff tells D23. "What I remember is, each time we were shooting a scene, we thought, 'Oh, this could be the last time we're shooting this as a group!' So it made every scene very special, and very emotional as well. Even if the scene was funny, it was rooted in that feeling like the end of a chapter. So it really was special."
With Mantis more in the thick of the action than ever before during The Guardians of the Galaxy Holiday Special, the actress says to expect further antics in the new film: "I've been harassing James—and every director from the Marvel universe!—to get to fight, because I've been training for years. So it's finally happening! Once you open the door, you have to continue doing it, you know? You can't go back to notfighting," she adds, laughing. "So yes, in this film, there is more action for sure. It's really fun."
Speaking of fun, that was obviously of substantial importance for executive producer Sara Smith—along with all the memorable exploits we've come to expect from the Guardians crew. "James' ability to makes us laugh and cry in equal measure—while taking us on a cosmic journey of epic proportions—is unrivaled," she explains. "Vol. 3 is the culmination of everything we love about the Guardians: family, adventure, love, loss, and finding one's place in the universe... The heart and humor that James infuses each character with is so compelling. Completing each of the Guardians' emotional journey while creating a sense of closure was a big priority."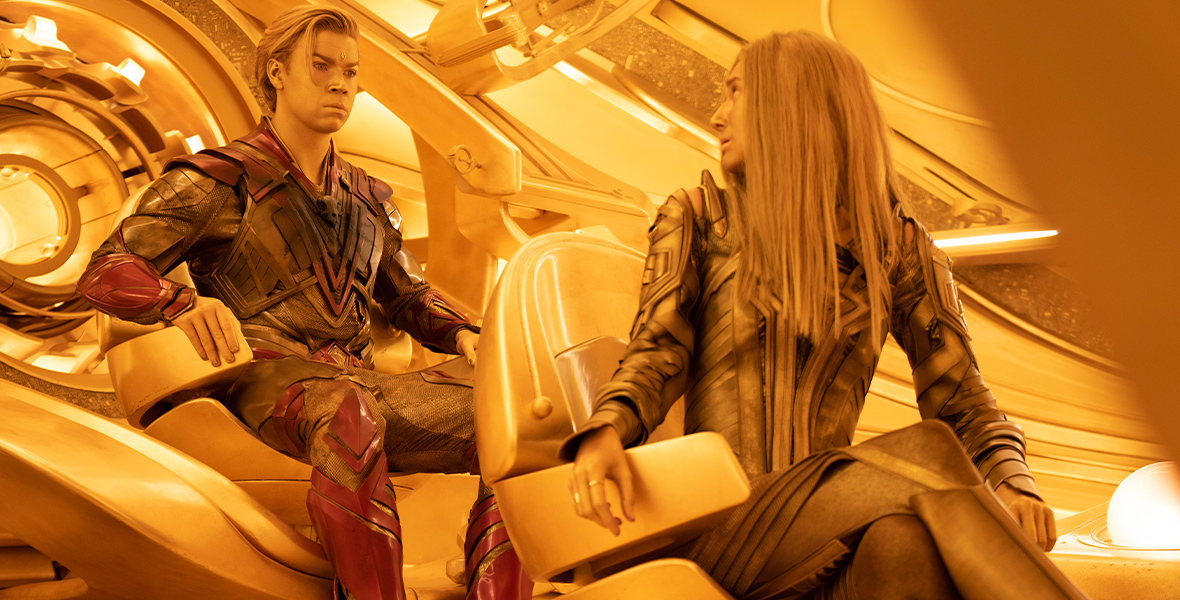 That kind of sincere yet uproarious journey also excites Poulter: "I think this is, hopefully, going to be the funniest and also the most heartfelt Guardians film yet. That's coming from the newbie," he adds, chuckling. "This one seems to be the most emotionally impactful while still being so funny, at least from what I read—and from what I saw on the set floor. I think James really tried, at every moment, to make it as hilarious and as entertaining as possible, but also to have it be this crescendo of sorts."
He continues, "There's also going to be some from surprises in there for people, which I think they're really going to dig. I'm so excited to see the fans' reaction to it. James thinks about everything in such granular detail and—across every department—people put their all in. There are so many phenomenally talented people, at the top of their game, contributing to this thing, knowing how closely fans hold it to their hearts. I think they just want to kind of do the source material justice and deliver—for what is an incredibly unrivaled fan group, as far as passion is concerned."
All told, "The whole idea of the Guardians is that you can find family anywhere," Gunn explains. "It doesn't matter whatever you've been told your family is, or what your family is supposed to be—you don't have to get family there. As long as you find people who love you and care about you and have your back all the time, that's your family. So I really think that fundamental principle of, 'If you feel lost or alone, you're not; there is family out there for you'—that's the main thing that I want people to take away from watching the Guardians movies."