By Jim Frye
Rocket Raccoon rides to the rescue—again!—this time in Guardians of the Galaxy – Mission: BREAKOUT!, the brand-new attraction opening this weekend at Disney California Adventure, kicking off the park's Summer of Heroes celebration. D23 previewed the attraction, and we have to tell you that it's awesome—so awesome that we came off our first ride and went right back on again… and again… and again!
With all the heart-pounding thrills of Disney's most adrenaline-packed attractions, and all the adventure, fun, and laugh-out-loud humor of Marvel Studios' super-popular Guardians of the Galaxy films, Mission: BREAKOUT! is gearing up to be the can't-miss stop on your next visit to Disney California Adventure.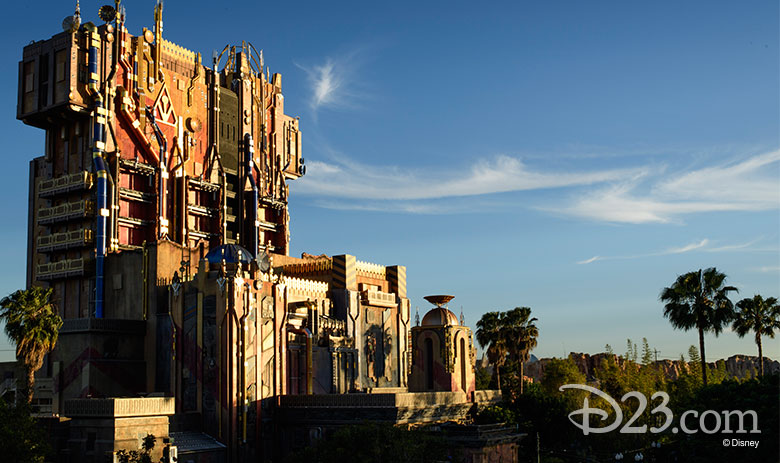 None other than Imagineer Joe Rohde himself, dressed in his best Star-Lord-style jacket, welcomed us to The Collector's Fortress. Rohde and his team of Imagineering magic-makers have been busy of late, opening Guardians of the Galaxy – Mission: BREAKOUT! in California the same exact weekend they open brand-new land Pandora – The World of Avatar at Disney's Animal Kingdom in Orlando. Both are based on popular film franchises with easily recognizable characters.
For Mission: BREAKOUT!, guests are treated to a special tour of The Collector's Fortress. The Collector, who goes by the name Taneleer Tivan, is played by Benicio Del Toro in the films. He's an eccentric man who takes great pride in having the largest collection of interstellar fauna, relics, and species in the galaxy. Heck, he even has an elaborate collection of sounds that guests will experience as they wait in the queue. But in Mission: BREAKOUT!, Taneleer shows off his latest—and most prized—display yet: the captured Guardians of the Galaxy. Star-Lord, Gamora, Drax, Rocket Raccoon, and Baby Groot—they're all there. But rest assured, they don't intend to stay captured for long, especially Rocket, who—as fans of the films know—prides himself in breaking out of every jail cell he's ever been put into. And this one is no different—except this time, he needs our help.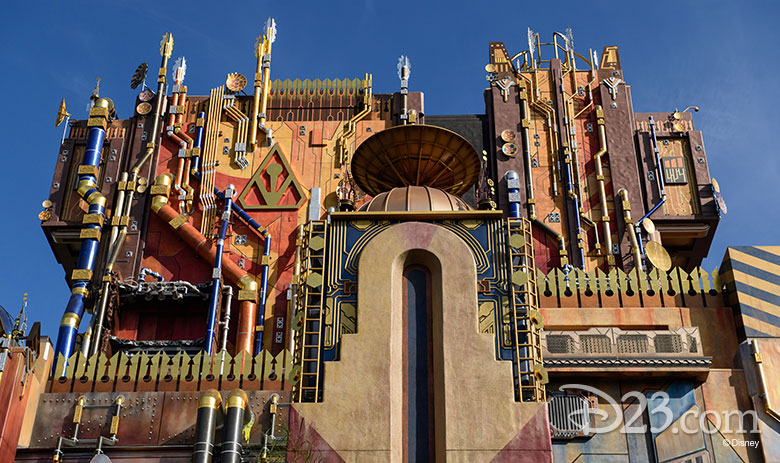 "It's a very familiar story," says Rohde as we prepare to enter the Collector's Fortress. "It's an inside job where a guy on the inside, Rocket, is going to use our security clearance to open the doors to free his friends, who are imprisoned within the Collector's vast, extremely power-consumptive facility where he holds all of these precious objects that he's collected from around the various galaxies for his VIP guests. We are his VIP guests."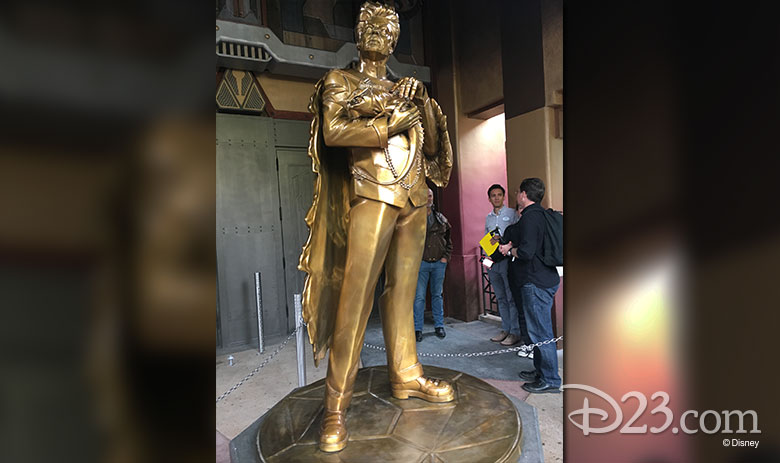 Rohde explains that all the elaborate metalwork on the outside of the building represents a couple things: First, it represents the arrogance of its owner, Taneleer (there's even a life-sized golden statue of him at the entrance). It also displays all the energy that the Fortress eats up. To free his friends, Rocket needs to shut down that power grid.
Inside the Lobby
Once inside, guests are going to have a heyday as they take in the extensive displays. "These items are from all around the universe," says Rohde. "Some of them are alive; some are precious, precious objects that have been collected and held here." The display cases are everywhere—hanging from the ceiling, lining the walls, up on shelves. Everywhere. Guests will be hard-pressed to see everything on their first few visits, especially since the displays will be ever-changing and ever-rotating, just like an actual museum. On the big screen at the end of the hall is a video made personally by The Collector, where he introduces his prized Guardians of the Galaxy. After the video, guests are taken to Taneleer's private office, where it's discovered that Rocket has escaped and is poised to cause mayhem as he tries to free his friends.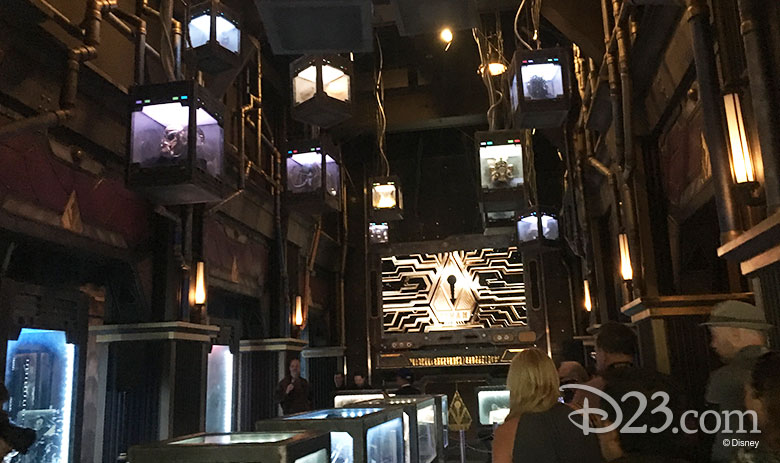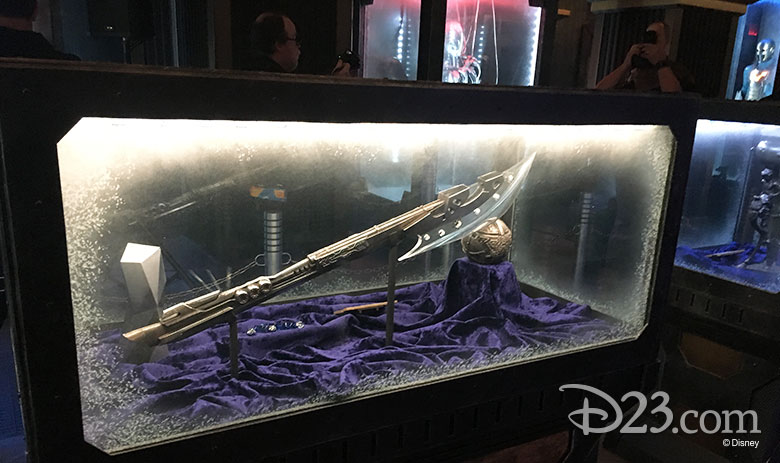 And without spoiling any of the surprises, you'll love how Rocket jumps aboard your Gantry Lift, plugs in some of Star-Lord's favorite tunes, and off you go! And when I say, "Off you go," I mean fast. You're immediately launched straight up into the adventure to free the Guardians.
You Don't Need to Know About the Films
And here's what's cool: If you're a fan of the Guardians films (and who's not?), you'll absolutely love this new attraction. However, if you haven't seen the films, no worries—you don't need to know anything about the Guardians to enjoy Mission: BREAKOUT!, because it's a completely self-contained story. And boy, what a story it is!
"It is distinctly meant to be its own universe," says Rohde. "The dimensional universe will grow and expand. We really tried to not simply reflect on an existing narrative, but to extend the narrative and expand it."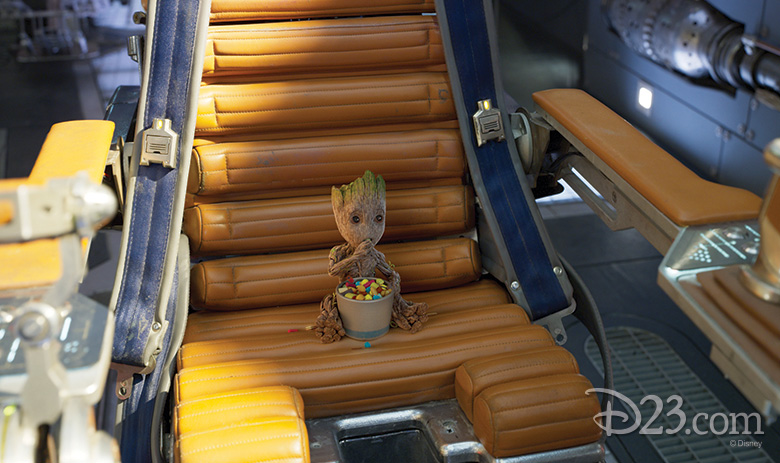 While filming Marvel Studios' Guardians of the Galaxy Vol. 2, writer/director James Gunn pulled together the cast and directed multiple all-new scenes for the attraction. We don't want to ruin the scenes, but let's just say it's hard not to fall in love with Baby Groot all over again. In addition, Chris Pratt's Star-Lord, Zoe Saldana's Gamora, Dave Bautista's Drax, and Bradley Cooper's Rocket join the fun multiple times throughout the attraction and—based on which profile you get—the scene changes each time you ride.
In true Guardians fashion, there's a cameo or two thrown in for good measure (one of our favorite parts of the entire attraction). Oh, and lest you think that all the fun is left to the Marvel afficionados, Disney fans will find plenty to keep them coming back, too. Hint: Make sure to look closely inside those display cases and especially up in the rafters as you enter the Gantry Lift area of the Collector's Fortress—you just might see a large, fur-covered "beast" who has been known to roam the Matterhorn.
There are six different vignettes, or ride profiles, that will mix and match scenes, accompanied each time by one of six different songs, ranging from Elvis Presley's "Burnin Love," to "Give Up the Funk" by Parliament, to "I Want You Back" by the Jackson 5.
Dave Bushmore, vice president, Franchise Creative & Marketing at Marvel Studios, really enjoyed the collaboration with Imagineering. "Joe and all the Imagineers were great to work with," he says. "For us, we're always excited to see any iteration of our characters, whether it's in the comics, or animation, or film. It's a thrill to have them translated into the theme parks and it's been an awesome experience—and Joe's been great. When we first started working together, he actually secluded himself to just take in what this universe was all about and came back to us and shared what he believed it to be, and we totally bought in."
Why Guardians of the Galaxy? Why were these the first Marvel characters to be featured in a Disney attraction in the United States? According to Rohde, "There's something about the Guardians—there's an energy to it, there's an irreverence to it," he says. "This is something that can come out of nowhere. It's fun, it's funny, it's not so serious. It's super-energetic, super-accessible."
Of course, when Rohde says, "nowhere," he could also be referencing, "Knowhere," the actual location in the first Guardians film where we first meet The Collector.
Guardians of the Galaxy – Mission: BREAKOUT! opens just in time for summer 2017 at Disneyland Resort, and the Summer of Heroes inaugurates an ever-expanding universe of Super Hero stories at Disney California Adventure. In addition, guests in the park's Hollywood Land will join some favorite Super Heroes for epic, new experiences for a limited time.
But, of course, the main attraction is Guardians of the Galaxy – Mission: BREAKOUT! We loved it—and we're already planning our next escape. We'll see you there!