By The D23 Team
It's the event we've all been waiting for—the Disney Upfront presentation, which is when we find out all the awesome new must-see shows we'll be putting on our calendar. Yesterday, Disney announced all the exciting TV series and specials we can expect to see this next year from ABC, Freeform, FX, Hulu, ESPN, and National Geographic. Disney's exciting 2021 Upfront presentation included talent and executives from all across Disney's TV and streaming platforms. Here's just some of what we can't wait to watch:
ABC
NEW FALL SERIES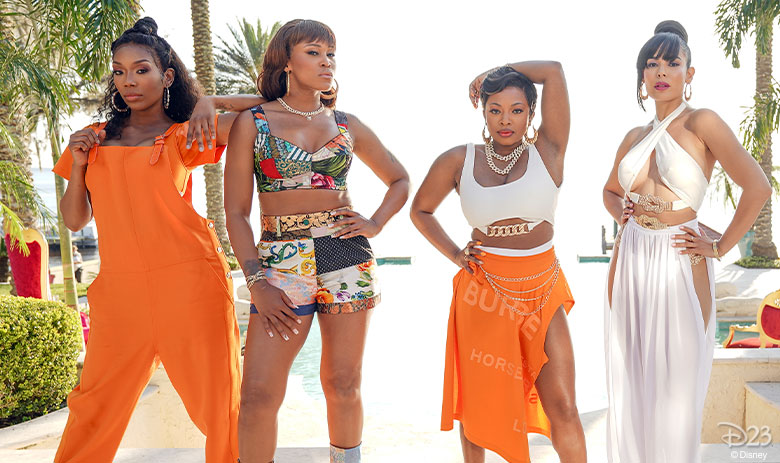 Queens (Tuesdays, 10 p.m. ET)
Estranged and out-of-touch, four women in their 40s reunite for a chance to recapture their fame and regain the swagger they had as a '90s group that made them legends in the hip-hop world. Queens stars Eve as Brianna, Naturi Naughton as Jill, Nadine Velazquez as Valeria, Taylor Selé as Eric Jones, Pepi Sonuga as Lil Muffin and Brandy as Naomi. Zahir McGhee, Sabrina Wind and Tim Story are executive producers.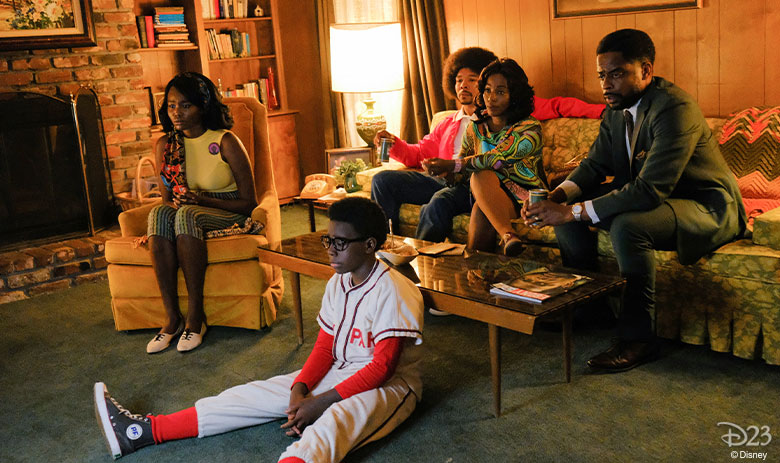 The Wonder Years (Wednesdays, 8:30 p.m. ET)
Inspired by the beloved award-winning series of the same name, The Wonder Years is a coming-of-age story set in the late 1960s that takes a nostalgic look at a Black middle-class family in Montgomery, Alabama, through the point of view of imaginative 12-year-old Dean. The Wonder Years stars Don Cheadle, narrating the series as adult Dean Williams, Elisha "EJ" Williams, Dulé Hill, Saycon Sengbloh, Laura Kariuki, Julian Lerner, Amari O'Neil, and Milan Ray. Saladin Patterson serves as writer and executive producer. Lee Daniels and Marc Velez of Lee Daniels Entertainment also executive produce along with original series star Fred Savage.
NEW MIDSEASON SERIES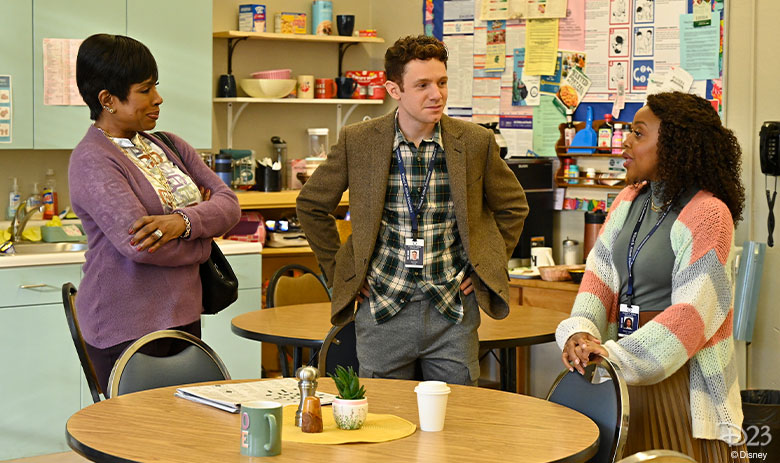 Abbott Elementary
In this workplace comedy, a group of dedicated, passionate teachers—and a slightly tone-deaf principal—are brought together in a Philadelphia public school where, despite the odds stacked against them, they are determined to help their students succeed in life. Abbott Elementary stars Quinta Brunson, Tyler James Williams, Janelle James, Chris Perfetti, Lisa Ann Walter, and Sheryl Lee Ralph. Brunson serves as writer and executive producer alongside Justin Halpern and Patrick Schumacker.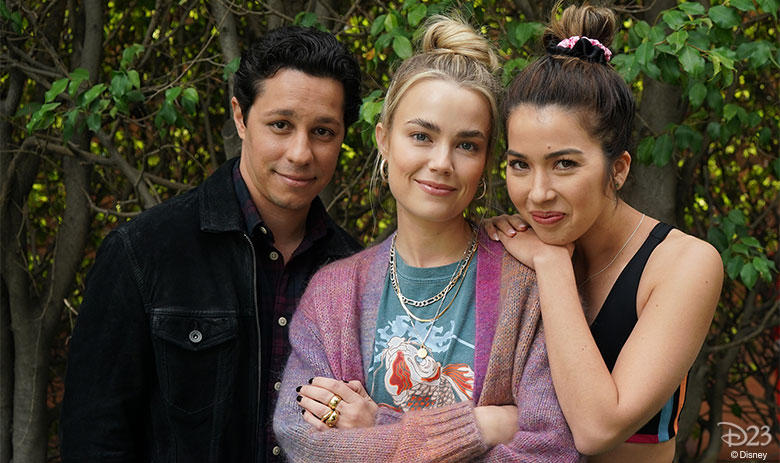 Maggie
Based on the short film by Tim Curcio, Maggie follows a young woman trying to cope with life as a psychic. Maggie regularly sees the future of her friends, parents, clients, and random strangers on the street, but when she suddenly sees a glimpse of her own future, Maggie is forced to start living in her own present. The series stars Rebecca Rittenhouse, David Del Rio, Nichole Sakura, Angelique Cabral, Leonardo Nam, Ray Ford, Chloe Bridges, Kerri Kenney, and Chris Elliott. Maggie is written and executive produced by Justin Adler and Maggie Mull. Evan Hayes and Jeff Morton also serve as executive producers. The series is produced by 20th Television, a part of Disney Television Studios.
Women of the Movement
Women of the Movement tells the story of Mamie Till-Mobley, who in 1955 risks her life to find justice after her son Emmett is brutally murdered in the Jim Crow South. Unwilling to let Emmett's murder disappear from the headlines, Mamie chooses to bear her pain on the world stage, emerging as an activist for justice and igniting the Civil Rights movement as we know it today. The limited-series stars Adrienne Warren, Tonya Pinkins, Cedric Joe, Ray Fisher, Glynn Turman, Chris Coy, Carter Jenkins, and Julia McDermott.
Women of the Movement is produced by Kapital Entertainment. Marissa Jo Cerar serves as executive producer and showrunner. Executive producers are Aaron Kaplan, Dana Honor, and Michael Lohmann (Kapital Entertainment), Jay-Z, Jay Brown, and Tyran "Ty Ty" Smith (Roc Nation), Will Smith and James Lassiter (Overbrook), Rosanna Grace (Serendipity Group Inc.), Alex Foster and John Powers Middleton (Middleton Media Group), David Clark (Mazo Partners), and Gina Prince-Bythewood.
NATIONAL GEOGRAPHIC
RETURNING SERIES
Gordon Ramsay: Uncharted
Gordon Ramsay laces his boots, grabs his knives, and buckles up as he hits the road to embark on more exhilarating adventures, exploring world cultures through food in the fourth season of National Geographic's Gordon Ramsay: Uncharted. Gordon Ramsay: Uncharted is executive produced by Gordon Ramsay, Lisa Edwards, Jon Kroll, and Tom Willis for Studio Ramsay.
Life Below Zero, Life Below Zero: Next Generation, and Port Protection, Alaska
The common theme in Life Below Zero and Port Protection, Alaska is people who have left traditional society behind. They have chosen a different life, with varying degrees of danger and challenges, in their remote regions of Alaska. In Life Below Zero: Next Generation, an all-new cast has abandoned contemporary life in favor of freedom in the brutal Alaskan wilderness. Executive Producers are Travis Shakespeare and Joseph Litzinger for BBC Studios.
Running Wild with Bear Grylls
Last season, the hit outdoor adventure series Running Wild with Bear Grylls found its new home on National Geographic with bigger action and wilder destinations than ever before. World-renowned survivalist Bear Grylls returns for another season, leading a brand-new slate of celebrities into the wildest corners of the planet for epic, life-changing adventures. Running Wild with Bear Grylls is produced by Electus, a Propagate Company, and The Natural Studios. For Electus and The Natural Studios, Bear Grylls serves as executive producer along with Chris Grant, Drew Buckley, Ben Silverman, Howard Owens, Liz Schulze, Rob Buchta, and Delbert Shoopman.
Trafficked with Mariana van Zeller
Award-winning journalist Mariana van Zeller continues her harrowing exploration into the underworld's most dangerous black markets. Armed with National Geographic's trademark inside access, each episode follows Mariana as she works her way inside a different black market or global trafficking network—from meth, marijuana, and stolen cars to outlaw bikers clubs and Amazon mafias—where she meets the players and learns the business, all in an effort to understand the inner workings of the world's multitrillion-dollar shadow economy. For Muck Media, Executive Producers are Mariana van Zeller, Darren Foster, and Jeff Plunkett.
Wicked Tuna and Wicked Tuna: Outer Banks
National Geographic's hit series Wicked Tuna is back on the high seas. Follow a group of salty commercial fishermen from the nation's oldest seaport in Gloucester, Massachusetts, as they earn their living through rod-and-reel fishing in pursuit of the prized bluefin tuna.
Later this year, the popular spinoff Wicked Tuna: Outer Banks returns. Wicked Tuna: Outer Banks follows a southern fleet of top captains battling to catch bluefin in the dangerous waters off the coast of North Carolina. Wicked Tuna is executive produced by Craig Piligian and Mike Nichols, and co-executive produced by Lorene Machado for Pilgrim Studios.
SPECIALS: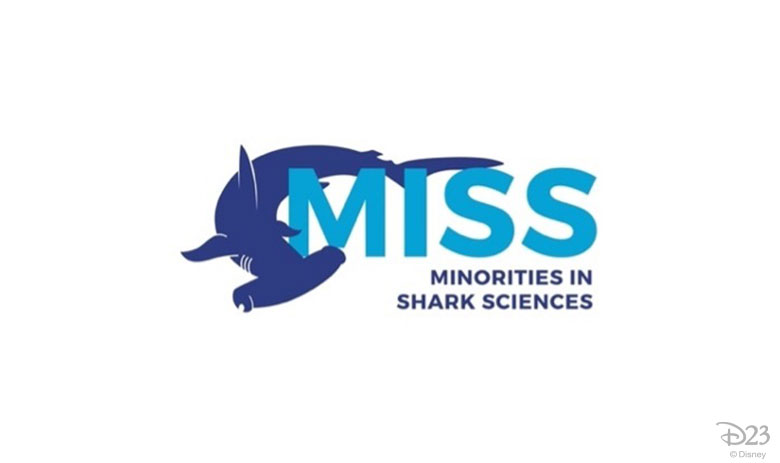 10th Annual Sharkfest Summer 2022
National Geographic's 10th annual Sharkfest takes you up close and personal with one of nature's most feared—and often misunderstood—predators. Throughout its decade-long history, more than 100 hours of new shark programming has premiered, helping viewers gain respect and understanding for these mysterious underwater creatures. In celebration of this milestone, National Geographic has announced a new partnership with Minorities in Shark Science, working to encourage diversity and inclusion in the field of shark science and inspire the next generation of scientists.
Explorer
National Geographic's Explorer, a hallmark of Nat Geo storytelling since it first launched in 1985, is set to return as a series of specials produced in partnership with ABC News, who will bring familiar faces to the series. Good Morning America co-anchors Michael Strahan and Robin Roberts follow the progress of the expeditions, especially at critical turning points. Explorer will cover timely topics, a featured magazine story, and more, further deepening viewers' understanding of the world through provocative storytelling. For Lincoln Square Productions, Drew Pulley is executive producer, and Jeanmarie Condon is senior executive producer.
The Hot Zone: Anthrax
The three-night limited series The Hot Zone: Anthrax, starring Daniel Dae Kim and Tony Goldwyn, will premiere Sunday, November 28. With the world still reeling after the attacks on 9/11, America faces a second wave—the anthrax letters. The Hot Zone: Anthrax follows FBI Special Agent Matthew Ryker (Kim) as he tracks down the killer, finding himself ensnared in an unstable web of psychological warfare. Bruce Ivins (Goldwyn) is the brilliant microbiologist who becomes embroiled in the hunt.
Kelly Souders and Brian Peterson serve as executive producers and showrunners. Scott Free Productions' Ridley Scott and David W. Zucker are executive producers, with Jordan Sheehan also serving as executive producer. Lynda Obst is an executive producer. Richard Preston is a co-executive producer on the series. The series is produced by 20th Television and Scott Free Productions.
National Parks
The award-winning creative team behind iconic natural history films and series like Disneynature's Earth and Elephant, as well as BBC's Planet Earth and Frozen Planet, brings you National Parks, shot using cutting-edge technology including long lens cinematography, remote camera traps, and the latest high-resolution drone technology. Leading us on this journey is narrator Garth Brooks.
ESPN
The Captain featuring Derek Jeter
ESPN Films announced a multi-part documentary series that will tell the story of one of the greatest icons in modern sports. Derek Jeter's arrival with the New York Yankees helped transform a struggling franchise into a storied dynasty, all within a time of great change in New York City. As he prepares to enter Cooperstown this July, he is pulling back the curtain to reveal what it was really like to be The Captain.
Emmy-winning director Randy Wilkins will tell the story of Jeter's professional and personal triumphs and challenges. The series is being executive produced by Spike Lee, Mike Tollin, Mandalay Sports Media, Excel Sports Management's media arm Excel Media, and Connor Schell, in association with The Players' Tribune and Major League Baseball. It is slated to premiere on ESPN and ESPN+ in 2022.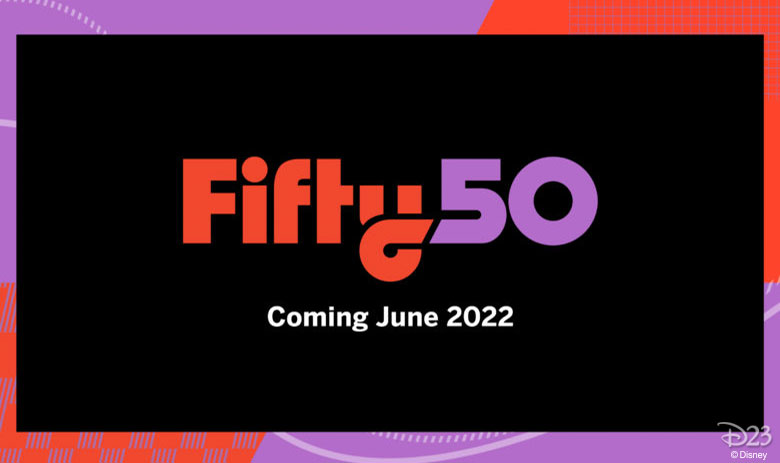 Fifty/50
Fifty/50 will commemorate the 50th anniversary of the June 23, 1972, passing of Title IX, the federal civil rights law that prohibits sex-based discrimination in any educational institution that receives federal funding, which gave women the equal opportunity to play. June 2022 will be declared "Fifty/50 Month," a wide-ranging initiative focused on the intersection of women, sports, culture, and the fight for equality. Highlighting it will be 50 women's stories told in multiple formats, including long-form reporting, documentary storytelling, podcasts, features, and digital and social platforms.
In addition, ESPN+ announced its slate of upcoming projects:
Quest for the Stanley Cup
A seven-part, behind-the-scenes docu-series that provides an all-access pass, both on and off the ice, as the NHL's top teams pursue the coveted Stanley Cup. Coming June 4.
Peyton's Places Expansion
Stars from a variety of sports, including Abby Wambach, David Ortiz, Ronda Rousey, Vince Carter, and Eli Manning, take on Peyton's signature show to bring fans the people and places that make their sport what it is today.
Bettor Days with Mike Greenberg Season 2
Bettor Days with Mike Greenberg is a character-driven reenactment show that brings to life the true stories of unforgettable gambling adventures. Hosted by ESPN's Mike Greenberg, the series uses in-depth interviews and comedic reenactments to relive the wildest, funniest betting tales—and their unexpected outcomes. Coming in August.
Man in the Arena: Tom Brady
After 21 seasons in the NFL, Tom Brady will share a personal firsthand account of his 10 Super Bowl appearances. Each episode focuses on a single Super Bowl appearance and centers not just on the pivotal moments, but everything that leads to them, illustrating the series of small steps that seem insignificant at the time, but when reflected upon, show the distance traveled.
HULU
Nine Perfect Strangers (August 18)
Based on The New York Times bestselling book by author Liane Moriarty, Nine Perfect Strangers takes place at a boutique health-and-wellness resort that promises healing and transformation as nine stressed city dwellers try to get on a path to a better way of living. Watching over them during this 10-day retreat is the resort's director, Masha, a woman on a mission to reinvigorate their tired minds and bodies. However, these nine "perfect" strangers have no idea what is about to hit them.
The eight-episode series stars Nicole Kidman, Melissa McCarthy, Michael Shannon, Luke Evans, Bobby Cannavale, Regina Hall, Samara Weaving, Melvin Gregg, Asher Keddie, Grace Van Patten, Tiffany Boone and Manny Jacinto. The series is co-written by David E. Kelley, John Henry Butterworth and Samantha Strauss, and co-showrun by David E. Kelley and John Henry Butterworth.
Only Murders in the Building (August 31)
Only Murders in the Building is a comedic murder-mystery that follows three strangers with a shared true crime obsession who suddenly find themselves wrapped up in one. The series stars Steve Martin, Selena Gomez, Martin Short, Aaron Dominguez and Amy Ryan. It was co-created and written by Martin and John Hoffman. Short, Gomez, Dan Fogelman, Jamie Babbitt, and Jess Rosenthal serve as executive producers.
McCartney 3,2,1 (July 16)
The Hulu Original six-episode documentary series event McCartney 3,2,1 features intimate and revealing examinations of musical history from two living legends, Paul McCartney and super producer Rick Rubin. The series is executive produced by McCartney, Rubin, Scott Rodger, Peter Berg, Matthew Goldberg, Brandon Carroll, Jeff Pollack, Frank Marshall, and Ryan Suffern with Leila Mattimore serving as co-executive producer. All six episodes premiere Friday, July 16, on Hulu.
Immigrant
Immigrant is the true story of Somen "Steve" Banerjee (played by Kumail Nanjiani), the Indian-American entrepreneur who started Chippendales. The series will detail the insane, darkly comedic, crime-ridden story behind the unique male revue that became a cultural phenomenon. The series is written by Robert Siegel and executive produced by Siegel, Nanjiani, Dylan Sellers, and Emily V. Gordon as well as Rajiv Joseph and Mehar Sethi, who will also write on the series. 20th Television serves as the studio on the series.
FX
Welcome To Wrexham
Welcome to Wrexham is a docuseries tracking the dreams and people of Wrexham, a working-class town in North Wales, UK, as two Hollywood stars take ownership of the town's historic yet struggling football club. In 2020, Rob McElhenney (It's Always Sunny in Philadelphia) and Ryan Reynolds (Deadpool) teamed up to purchase the team in the hopes of turning the club into an underdog story the whole world could root for. The worry? Rob and Ryan have no experience in football or working with each other. That said, they are serious about their investment in Wrexham, improving the club, and doing right by the townspeople.