By Jessica Benda
For fans of the past 37 years of beloved Pixar films, there's a place to visit where animation collides with reality: Pixar Pier.
Nestled deep within Disney's California Adventure Park in Anaheim, California, Pixar Pier is a whirlwind of vibrant attractions and lively characters. From the comfortable whimsy of the Lamplight Lounge to the spun sugar of Bing Bong's Sweet Stuff, the pier abounds with tributes to our favorite movies.
Pixar feaures are known for their Easter eggs—look for an "A113" hidden in every film to date, for example—so it's no surprise that this corner of the park is an Easter egg hunter's paradise. Even seasoned Magic Key holders might find something new to appreciate on each visit.
In celebration of today's anniversary of Pixar's founding, see whether you've caught these creative details before.
Lamplight Lounge's Menu
Pixar enthusiasts will be quick to recognize a few names while perusing this entertaining menu. Overlooking the water or tucked indoors, guests sip themed drinks like "Goofball Island," a nod to one of Riley's personality islands in Inside Out. Fans of Monsters, Inc. won't hesitate to recognize the frozen mocktail "2319" or its adult counterpart, a rum cocktail dubbed "Scream Canister."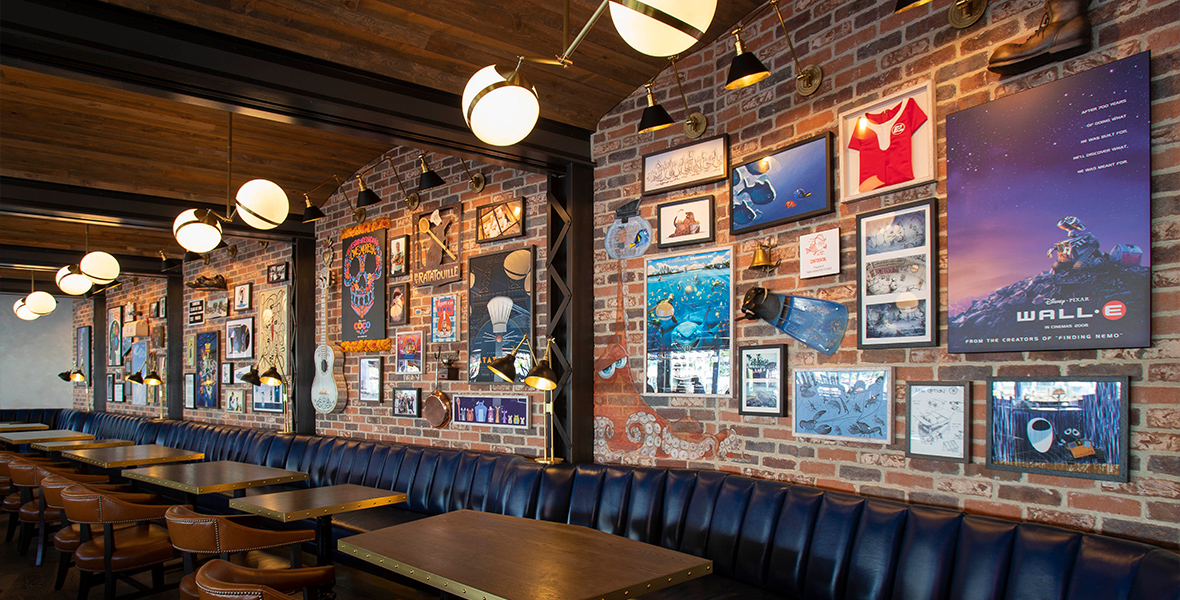 Handwritten Notes
It's hard to miss Lamplight Lounge's paper-like chandeliers, but it's slightly harder to read what's on them. While most feature character sketches, guests who squint will find scribbled film quotes as well. These quotes continue in the hallway to the restrooms, handwritten by Pixar employees for a personal touch. Lamplight Lounge is the James P. Sullivan of Easter eggs, so it's the perfect place on the pier to take a closer look.
Small Fry
Hunger is easily remedied by several snack stalls—all of which are cleverly themed. Even Pixar novices will likely know the films behind Adorable Snowman's Frosted Treats (Monsters, Inc.) and Señor Buzz's Churros (Toy Story 3), but one pier eatery has a more subtle inspiration. Poultry Palace, known for its seasoned chicken drumstick boxes, is seen in the 2011 short Small Fry.
In the second installment of the Toy Story Toons series, Bonnie and her family dine at a fast-food chicken restaurant called Poultry Palace. Chaos ensues as the kids' meal toys, including a Mini Buzz Lightyear and a Mini Zurg, turn out to have minds of their own. If you have an especially quick eye, you might also have seen Poultry Palace briefly in Toy Story 4.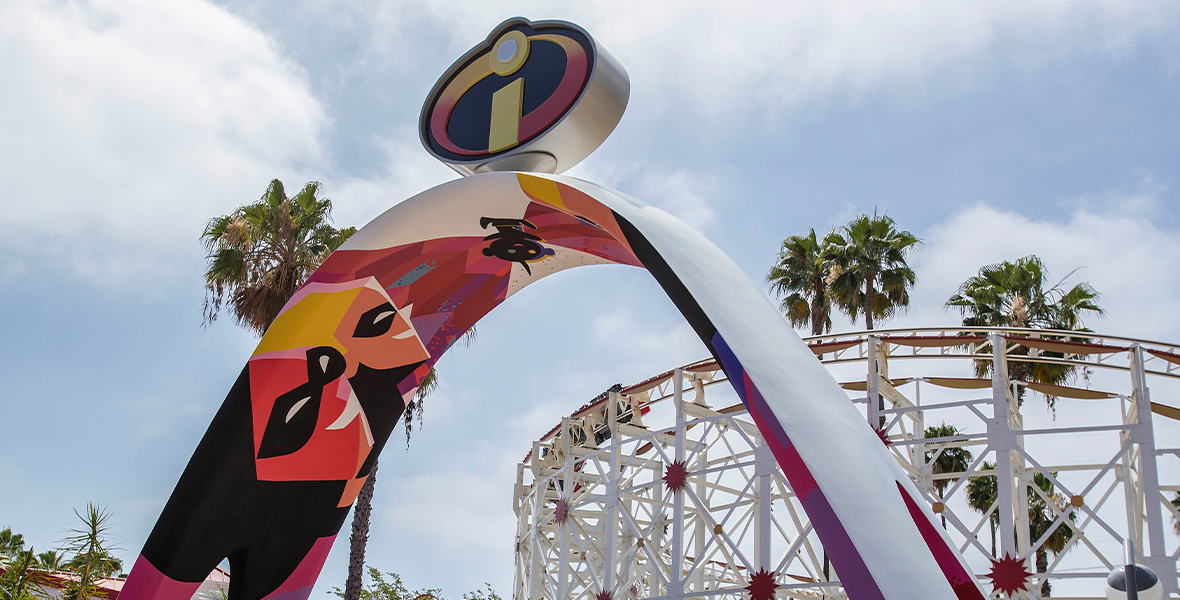 The Smell of Cookies
Whether it's the smell of sea breeze and fresh grass in Soarin' Around the World or the sweet aromas of Main Street, U.S.A., the Disneyland Resort is steeped in iconic scents. Pixar Pier continues this trend with the Incredicoaster, a red pump of adrenaline across the Southern California skyline. If you weren't too busy fighting for your life, you might have noticed the scent of chocolate chip cookies before plunging down one of the coaster's rises.
And if those cookies smelled good enough to eat, which they did, stop by Jack-Jack Cookie Num Nums just outside the exit.
Inside Out Emotional Whirlwind
Pixar Pier isn't the first zone to honor Pixar characters: Radiator Springs still thrives in the park's Cars Land while Orlando guests roam Andy's backyard in Disney's Hollywood Studios' Toy Story Land. But regular parkgoers will also likely remember "a bug's land," the a bug's life-themed oasis that pre-dated the Avengers Campus.
The spirit of that mini-land's spinning attraction Flik's Flyers is now embodied by Inside Out Emotional Whirlwind. Guests once boarded old animal cracker boxes and applesauce containers to fly through the air, while they now ride the boisterous emotions of Inside Out. With eyes closed, it's almost like Flik's Flyers has returned.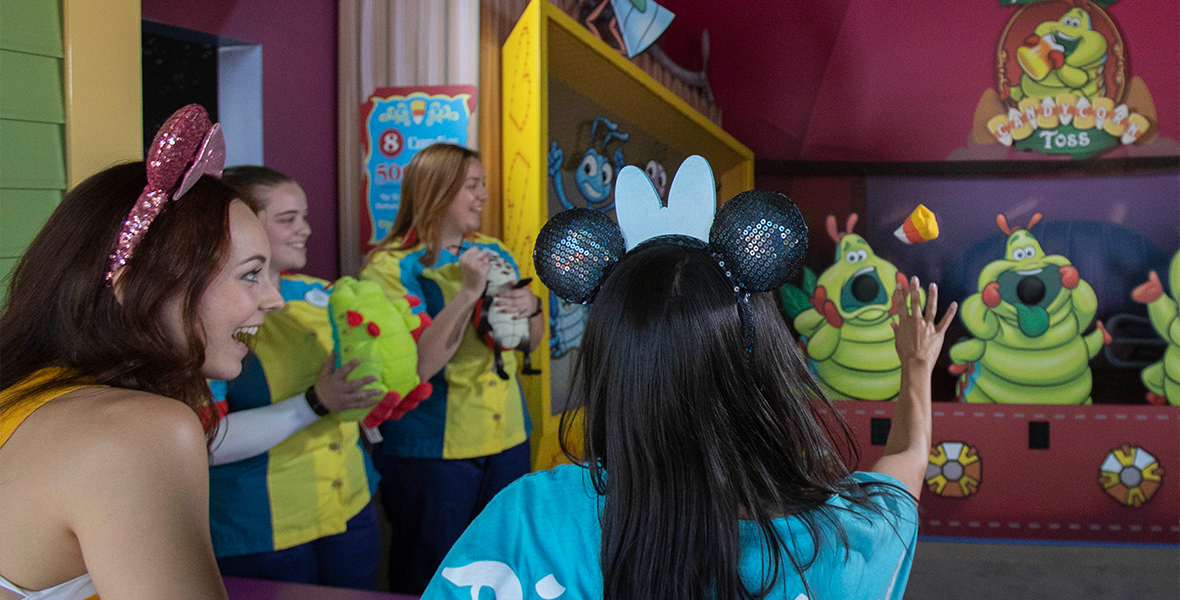 Heimlich's Return
There's more than one nod to "a bug's land" on Pixar Pier. One of the midway's four game booths is Heimlich's Candy Corn Toss, where guests throw oversized candy corns into the caterpillar's mouth. You might remember Heimlich's Chew Chew Train, where Heimlich took guests through a huge watermelon, sweet-smelling animal crackers, and candy corn. Though Heimlich's tours have been retired, you can still hear his voice at his midway game.
Neighborhoods
While Disney California Adventure is divided into themed lands, Pixar Pier included, the pier itself merges its own neighborhoods—and their clever names aren't on the directory. Guests may enter through Pixar Promenade, home to Knick's Knacks and Lamplight Lounge, and continue to Incredibles Park. Past this is Toy Story Boardwalk, which boasts the iconic Toy Story Midway Mania! and game booths, then head out through the brightly-colored Inside Out Headquarters.
Subtle Pixar Characters
Under the Pixar Promenade canopy, it's easy to be so distracted by the vibrancy around you that you don't notice the details above. Silhouettes of Pixar characters embellish the space between the canopy beams, from Edna Mode to Bruce the shark. Four rows guarantee plenty of characters, so look up to find your favorite.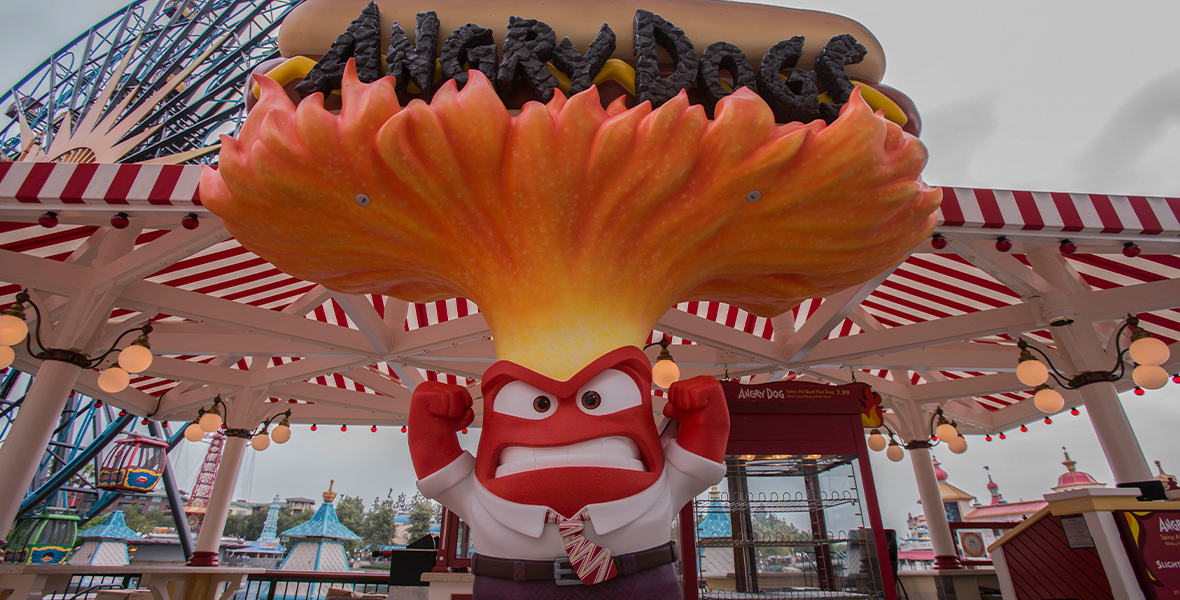 Everything About Angry Dogs
Perhaps leaning the most into its theme is Angry Dogs, an Inside Out-inspired snack stall. We're not completely sure about the backstory, but it looks like Anger has taken his rage and funneled it into something productive: hot dogs. Enjoy an Angry Dog, a spicy hot dog with hot "fries," or a Slightly Annoyed Dog, a plain hot dog with potato chips. Our favorite part is the detail of the condiments, which span from "Keeping It Together" (ketchup) to "Raging" (Buffalo hot sauce).
Luxo Jr.
This detail may be an obvious one, but it's one of our favorites. Pixar's mascot and beloved lamp, Luxo Jr., watches over guests from atop the dazzling "Pixar Pier" marquee. He often turns to look at the crowds below, and even sneaks a peek at the "World of Color" water spectacular. Stop by to make eye contact—or lightbulb contact?—with Luxo Jr. before enjoying the pier.