Dean Jones, the star of such iconic Disney live-action films of the 1960s and 1970s as That Darn Cat!, The Love Bug, and The Shaggy D.A., passed away in Los Angeles on Tuesday, September 1, 2015. He was 84.
A native of Decatur, Alabama, Jones moved to New Orleans as a 15-year-old to make a career for himself as a singer. While awaiting his big break, Jones held a series of jobs that included coal loader, timber cutter, cotton picker, and restaurant dishwasher. After a brief stint singing in a French Quarter club, Jones returned to Decatur to finish high school and then attended Asbury College in Kentucky as a voice major.
"I didn't want to play Hamlet. To make people laugh was a good thing to be about."
After a year at Asbury, Jones embarked upon four years in the Naval Air Corps, where, during his off time, he took part in entertainment programs at his San Diego naval air base—and was eventually transferred to Special Services, where he was the producer and star of a local television program, Liberty Call.
When his service ended, Jones stayed in Southern California, working as a singer at Knott's Berry Farm where he was "discovered" by composer Vernon Duke, who introduced him to a producer at MGM, Arthur Freed. Freed arranged for a screen test, and Jones was soon working for MGM as an actor. Jones' early, non-Disney films include Somebody Up There Likes Me and Jailhouse Rock.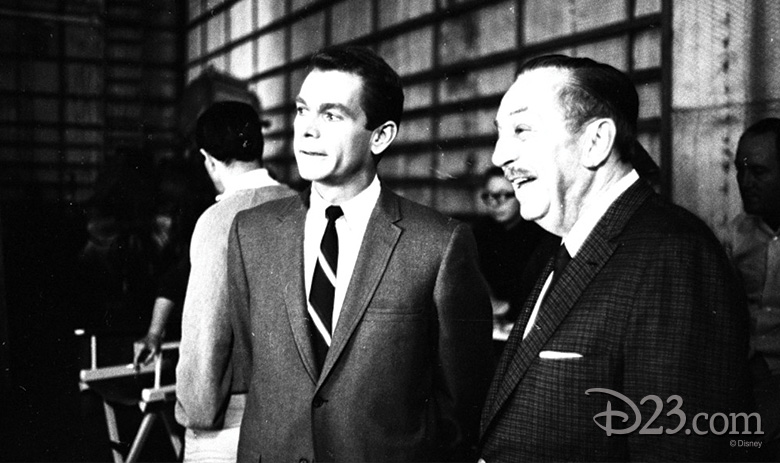 Walt Disney saw Jones on the television show Ensign O'Toole—which aired right before Walt Disney's Wonderful World of Color—and cast him in the 1965 feature film That Darn Cat! Jones would appear in 11 films for Disney, including The Ugly Dachshund, The Love Bug and its follow-up Herbie Goes to Monte Carlo, The Shaggy D.A., and the 1997 remake of That Darn Cat! In a 1991 interview with USA TODAY, Jones spoke about his long association with Disney family comedies: "I didn't want to play Hamlet. To make people laugh was a good thing to be about."
Dean Jones was inducted as a Disney Legend in 1995.
"Dean Jones was the embodiment of Disney films from the mid-1960s through the mid-1970s,"
. . . says Walt Disney Archives founder and fellow Disney Legend Dave Smith. "Having appeared in more than ten major live-action films for the Studio, as well as several television specials, Dean really became associated with Disney productions and their wholesome family quality. He was also very religious, which was evident in his whole attitude toward life."
Jones is survived by his wife, Lory Basham Jones; three children, Caroline, Deanna, and Michael; eight grandchildren; and three great-grandchildren.